10 Best Cordless Circular Saws in 2023 – Top Picks & Reviews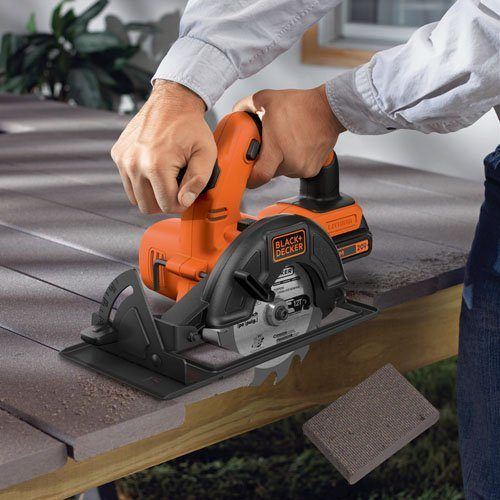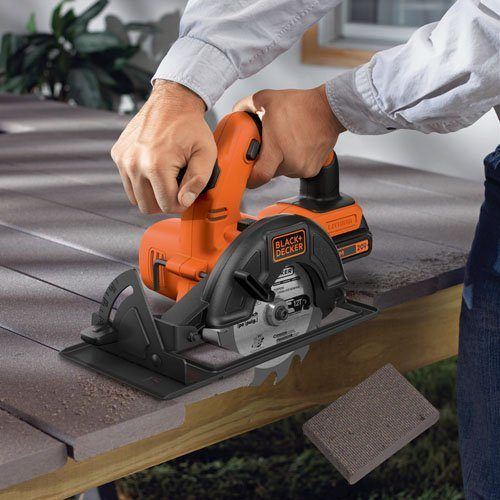 There it is: the finest oak 2×4 you've ever seen, clamped down to sawhorses at the end of your driveway. You approach with your corded circular saw, ready to start cutting for the greatest woodworking project of your life.
Suddenly, disaster strikes. Your cord pops out of the wall. Strangers laugh at you as your blade sputters to a halt. Your rival swoops in, makes the crosscut himself, wins Rock the Block, and marries your wife. If only you'd had a cordless saw!
All joking aside, cordless circular saws can be insanely convenient. There's nothing better than a tool you can use literally anywhere. If you've never owned one before, our reviews are the perfect place to start: we've ranked 10 of our favorite cordless circular saws to help you decide which cordless circular saw is best for your needs.
---
A Quick Comparison of Our Favorites in 2023:
Rating
Image
Product
Details

Best Overall

DeWalt DCS391B 6½″ Circular Saw

Powerful motor
Great longevity
Well-calibrated
CHECK PRICE

Makita XSS02Z Circular Saw

Lightweight
Long battery life
User-friendly blade guide
CHECK PRICE

Best Value

BLACK+DECKER BDCCS20C Circular Saw

Low price
Excellent set of features
Battery and charger included
CHECK PRICE

PORTER-CABLE PCC660B 6½″ Circular Saw

Affordable price
Comfortable to grip
Decently strong motor
CHECK PRICE

Ryobi P506 18V Circular Saw

Very light
Relatively powerful
Wide range of depth and bevel options
CHECK PRICE
The 10 Best Cordless Circular Saws:
1.

DeWalt DCS391B 6½″ Circular Saw – Best Overall
A product like the DCS391B circular saw is a great illustration of why we're so regularly inclined to trust DeWalt. With a 5,150 RPM motor, a lightweight body, an exceptionally comfortable grip, and the power to make bevel cuts up to 50 degrees, this saw is a no-brainer for first place.
With this saw in your toolbox, you'll have no trouble making clean rips and crosscuts — we tested it on 2x4s and plywood and were amazed at how easy it was to hold a straight line. It's relatively deep, too, and also great at taking punishment: like most DeWalt products, this saw can stand up to heavy use for a long time.
Our main complaint isn't about the saw itself, but about the price. It seems like a budget-friendly value tool, but that's only the corded version: the battery just about doubles the cost. With all that said, we still believe that this is the best cordless circular saw of the year.
Pros
Comfortable grip
Well-calibrated
Great longevity
Good depth and bevel range
Powerful motor
---
2.

Makita XSS02Z Cordless Circular Saw
If you can't get your hands on a DeWalt DCS391B, the Makita XSS02Z is our runner-up choice. It shares the DeWalt's 50-degree bevel range and 6½-inch depth, losing out only because its motor is slightly less powerful at 3700 RPM.
The XSS02Z is a high-quality circular saw that checks a lot of our boxes. It's got an ergonomic handle and a reliable guide. It's lightweight at only 7.3 pounds, which not only makes it more portable and user-friendly but further improves your chances of making straight, professional-looking cuts. The battery lasts for a ridiculously long time.
With all that to recommend it, though, the torque deficiency is pretty striking. Unlike the DeWalt at #1, the XSS02Z practically requires you to change out a blade with a higher tooth count, in order to not bog down. It cuts just a little slower, and dulls blades just a little faster, keeping it in second place.
Pros
Lightweight
Makes deep cuts and bevels
User-friendly blade guide
Long battery life
Cons
Less powerful motor
Cuts more slowly
Much worse when blade has a lower tooth count
---
3.

BLACK+DECKER BDCCS20C Cordless Circular Saw – Best Value
In addition to our favorite overall, we also wanted to decide on the best cordless circular saw for the money. The decision to put the Black + Decker BDCCS20C in that spot was unanimous. At a rock-bottom price, you get not just a saw, but a 20V battery, a charger, and a carbide-tipped blade.
The saw offers a wide range of features, including tool-free depth adjustment and a 45-degree bevel adjustment, that distinguish it beyond its low price. Our favorite touch was the handle you can use to retract the blade cover from a safe position behind the blade, which should reduce the chance of accidents.
Sadly, there are a few places where BDCCS20C does feel like an economy-priced tool. The baseplate is sticky, especially in hot weather, which can foul cuts if you're not careful. The included blade wears out very quickly despite being carbide-lined. Finally, the motor is not very powerful, which can lead crosscuts to take a while.
Pros
Low price
Battery and charger included
Excellent set of features
Cons
Sticky baseplate
Underpowered engine
Factory blade wears out quickly
---
4.

PORTER-CABLE PCC660B 6½″ Cordless Circular Saw
On paper, the Porter-Cable PCC660B is a decently powerful cordless saw with a 6½-inch depth and a 50-degree bevel range. If you're having flashbacks to the Makita at #2, you're not alone, but there are a few things setting the Porter-Cable model apart.
That's both a good thing and a bad thing. On the good side, it's cheaper, almost a whole pound lighter, and its motor can reach 4000 RPM. We also really like the battery life. Taken together, that makes this circular saw a pint-sized powerhouse that has no trouble spending the whole day in the woods or workshop.
On the bad side, its factory-installed blade is even flimsier than the usual standard. The blade guide is also not calibrated nearly as well as the Makita saw's, and Porter-Cable has some general issues with quality control, meaning you're never quite sure if you're getting the best they have to offer.
Pros
Affordable price
Good depth and bevel range
Long battery life
Lightweight and comfortable to grip
Decently strong motor
Cons
Unreliable blade guide
Factory blade needs to be replaced
Quality control issues
---
5.

Ryobi P506 18V Cordless Circular Saw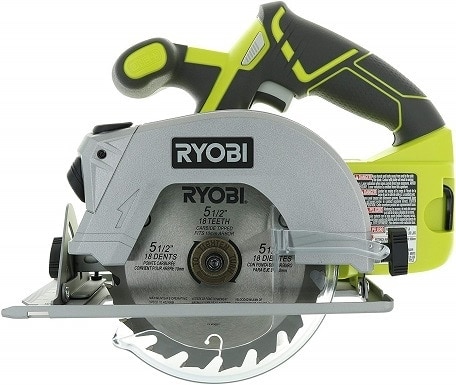 The first thing you'll notice about the Ryobi P506 is that it's one of the lightest power tools you've ever held. Combined with its well-designed rubber grip, the P506's weight makes it the best circular saw on our list for carpenters with mobility issues. It's a joy to hold.
Don't let the weight fool you into thinking this is a beginner's tool. The motor is capable of 4700 RPM, making it one of the more powerful cordless options on the market. With a 5½-inch blade and 1½ inches of depth adjustability, the P506 chewed through a good range of treated lumber in our tests.
We placed it at #5 (which we want to caution is still a very good rating) because of a few aggravating design flaws. The moving blade guard gets choked with sawdust easily, making it hard to close. The laser sight cannot be turned off, and it's bright enough to cover up your pencil marks. Finally, the way the arbor is constructed leads the blade to heat up rapidly, meaning you'll need to oil it a lot to keep it from burning up.
Pros
Very light and grippable
Relatively powerful
Wide range of depth and bevel options
Compatible with most Ryobi batteries
Cons
Blade guard gets clogged with sawdust
Laser sight can't be turned off
Frequently overheats
---
6.

Milwaukee 2630-20 Cordless Circular Saw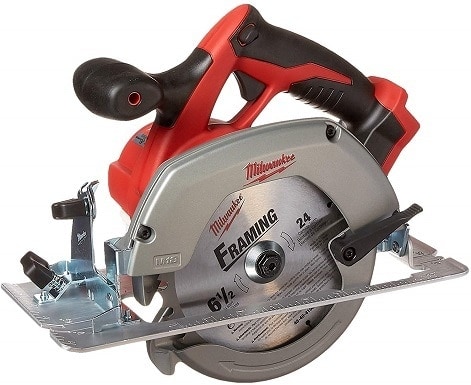 The Milwaukee 2630-20 comes with a middling set of specs. An 18-volt battery powers a 3500-RPM motor, set inside a blade well reinforced with magnesium. Its 6½-inch blade can be adjusted up to 1½ inches, or 45 degrees for bevel cuts. The factory blade is carbide-tipped and has 24 teeth, making it good for ripping.
There's not much there to set it apart from the other saws on our list, but the more we used the 2630-20, the more we did become impressed with a few things. The magnesium-reinforced body is great if you're the sort of woodworker who drops things a lot (we know the feeling), and the blade stops quickly once you're done cutting, thanks to its electronic brake.
A few other things make this saw distinctive in the wrong way. While the blade guard is built like a tank, we can't say the same about the thin and flimsy foot. Blade adjustment is possible, but it requires you to force the blade so hard it feels close to breaking. The worst thing, though, is that this saw has a very hard time staying straight, wandering on soft wood and bogging down on hard wood.
Pros
Reinforced construction
Electronic brake stops blade quickly
Decent factory blade
Cons
Doesn't want to cut straight
Not very powerful
Guard stopped rolling back after a few weeks
Very heavy 8.5 pounds
---
7.

SKIL 20V Cordless Circular-Saw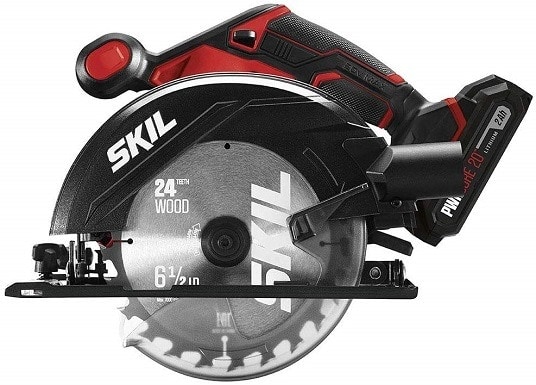 This saw from SKIL spools up to a respectable 4500 RPM to make quick work of cutting normal lumber. Despite the decent speed, the motor isn't very strong and will bog down if you try to cut through two-inch thick wood quickly. The platform does tilt, allowing for a beveled cut up to 50 degrees.
Cordless saws are meant to be ultimately portable, but at 7 pounds, this one can definitely start to wear you out after making a series of cuts. Especially since you need to push slower due to the less-than-stellar power of the motor. The final nail in the coffin for the SKIL saw is the dismal battery life. If you plan on working all day, you're going to need to stock up on several batteries and keep them all fully charged because you will be going through them.
Pros
4,500 RPM
50-degree bevel
Cons
Heavy at 7 pounds
Dismal battery life
Not as strong as others on the market
---
8.

TACKLIFE Cordless Circular Saw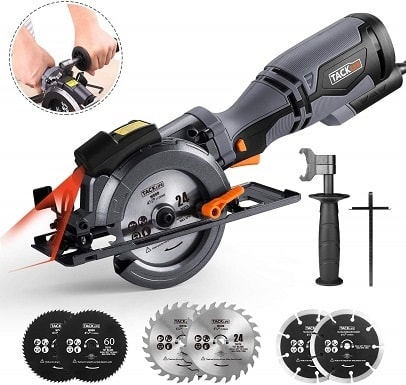 And now for something completely different: a TACKLIFE cordless saw small and light enough to use one-handed, with 6 blades included — three sets of two identical blades each. The 24-tooth and 60-tooth blades are for cutting wood, plastic, and soft metals, while the diamond-tipped abrasive blades are best for cutting tile.
You'll like the flexibility offered by the interchangeable blades and the optional second handle. But the fact is that a saw with a maximum cutting depth of less than two inches has limited utility. It's also baffling that this "compact" saw weighs in at 8 pounds, the same as some saws more than twice its size.
Pros
Excellent for cutting plywood
Works on soft metal, plastic, and tile
Ships with 6 blades for a low price
Cons
Can't cut wood 2 inches thick or more
Unnecessarily heavy
Unreliable laser guide
Low power
Laser guide not usable
---
9.

WORX WX523L Lithium-Ion Circular-Saw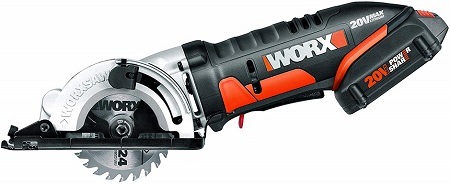 It's hard to miss how tiny the blade on this WORX cordless circular saw is. At 3⅜ inches, it's the smallest one on this list. This makes it a bit difficult to find the blades you want, especially if you want a specialty blade. Although you'll have less blade selection, the tiny blade also means this saw has a tiny stature and comes in at a very maneuverable 4.5 pounds. That said, you're not going to use this to cut any real lumber since its max cut depth is 1.062 inches.
Overall, this is a very usable saw, except for the worst thing we noticed which is a pretty glaring safety hazard. The safety latch for the blade is right next to the blade, and we could see how someone may accidentally end up getting their finger while trying to unlock the blade. This is a terrible oversight that keeps this otherwise very usable saw in the final position on our list.
Pros
Compact and small
5 pounds
Cons
Tiny 3⅜" blade
Max cut depth 1.062"
Safety latch is too close to blade
Not a common blade size
---
10.

Hilti 3482502 18V Cordless Circular Saws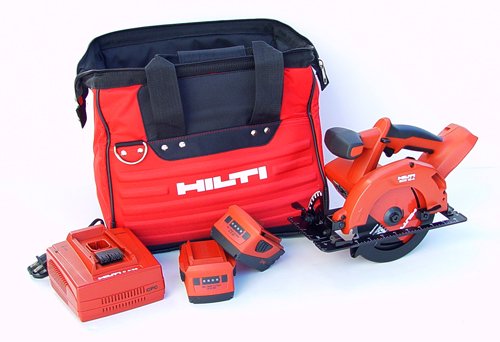 After reading our review of the WORX plywood-cutter at #9, you might be wondering how one of our "favorite" cordless circular saws could be worse than that. It's simple: nothing makes a cordless saw less useful than a price so high no hobbyist can afford it.
The cordless version of the Hilti 3482502 is a perfectly good saw. It has a 6½-inch blade that's good at ripping or crosscutting 2-inch planks. It comes with two batteries, a charger, and a carrying case.
There's nothing in there to justify the sky-high price. Even a professional might balk at this if they're still in the early stages of business. For that reason alone, we've put the Hilti 3482502 at the bottom of our list.
Pros
Good motor and features
Comes with carrying case
Cons
Incredibly expensive
For professionals only
---
Buyer's Guide – Choosing the Best Cordless Circular Saw
Before you commit to a cordless circular saw versus a corded model, be sure to think about the pros and cons of both sides. Neither one is inherently better, but either corded or cordless saws can be superior for certain people, jobs, or sites. Here's a quick rundown on the corded versus cordless choice.
Power
Lithium-ion battery technology has come a long way, but on average, battery backs still can't compete with plugged-in power.
Cordless saws are best for smaller projects or jobs around the house. They excel at cutting plywood and softer boards. If that sounds like what you need, cordless saws will change your life, but if you're working with harder woods or greater quantities, corded is the better choice.
Size
Cordless saws have smaller blades, which limits their cut depth. Bigger blades require stronger power sources to work efficiently, so they're most often going to be corded. If you anticipate having to make a lot of deep cuts, think twice about buying a cordless circular saw.
Blade Choice
The blade you choose is just as important is the saw you go with, but it's also only sort of related. Most circular saws make it so easy to swap out the blade that veteran woodworkers get better blades for brand new saws as a matter of course.
Conveniently, many blade manufacturers write the relevant information about the blade's size and purpose right on it. Here's a general guide to the different choices:
Blades for wood come with clearly defined teeth, from over 100 small ones down to 24 large ones. A few large teeth are best for bigger, rougher cuts, while many smaller teeth make it easier to be smooth and precise. Having more teeth generally makes a blade better at crosscuts, while having fewer makes it best at rip cuts. Wood blades are also suitable for cutting through plastic, as long as you take it slow.
Blades for stone, concrete, and other masonry are also called "abrasion blades." They have no teeth, instead of cutting with an abrasive material that's a lot like sandpaper. Coarser abrasion blades can saw through concrete and brick, while finer blades are good for cutting tile.
Blades for cutting metal are also toothless but have channels built-in for dissipating heat.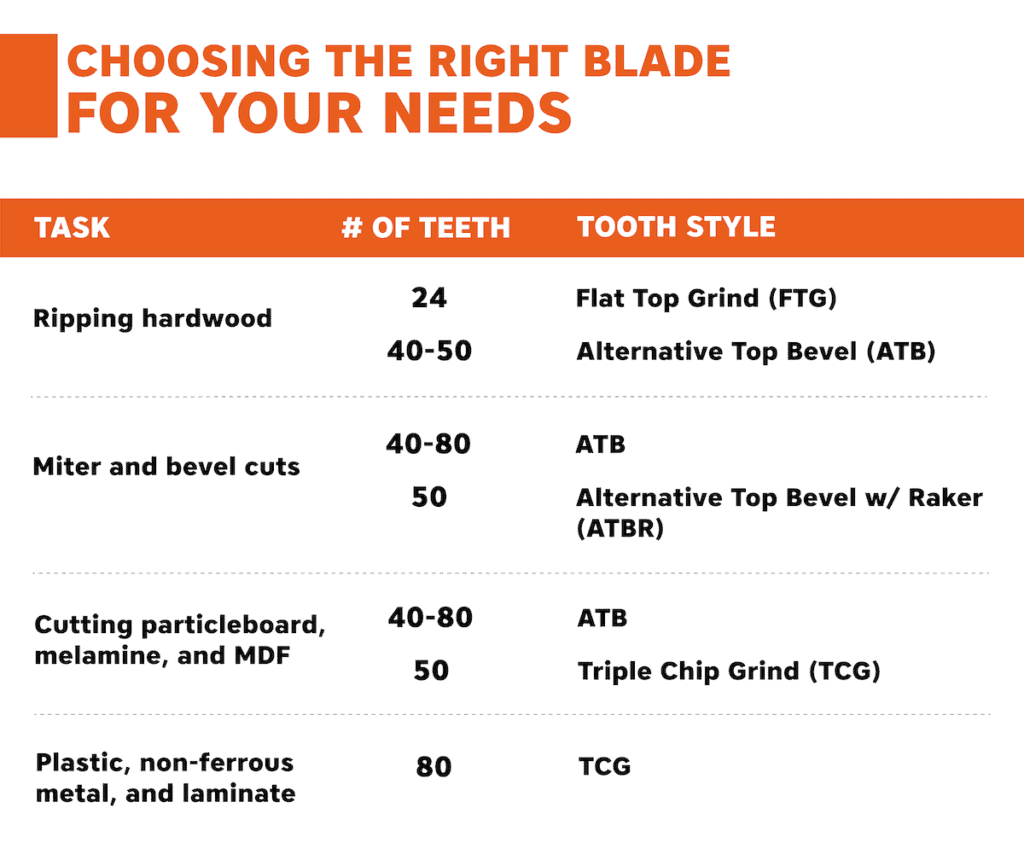 Other Considerations
Once you've got the right type of blade, there are a few other points to consider.
Blade material. Most blades are made of steel. Some are carbide-tipped, which makes them last longer but cost more. The most durable and expensive blades are tipped with industrial diamond.
Kerf. This refers to the width of the cut. Blades with a thin kerf cut through less material at a time, meaning it takes less power to move the blade through the wood. This makes thin-kerf blades ideal for cordless circular saws, which have a very low horsepower on average. A thinner kerf means less chance of bogging down mid-cut.
Size. You can save money on circular blades by getting a miter saw and table saw that accept the same size blades as your cordless circular saw.
Ease of switching blades. If you're planning to cut multiple materials with several different blades, look for a circular saw that makes it easy to switch the blades out. Newer saws have blade-release switches, but on older saws, you might have to loosen some bolts. Some saws come with an attached wrench to make this easier.
Battery Life
With a cordless saw, you can only work for as long as your battery lasts. While some batteries are stronger than others, factors other than power capacity influence how long you'll be able to use your saw.
If you're working continuously, the battery will die faster than it will if you take breaks.
You can use the saw for longer if you charge the battery to full.
Rechargeable batteries have an expiration date. However, good habits prolong their lives. Recharge your saw's battery regularly, and try to never leave it in the charger for too long after it's finished.
Replace the battery every 2-3 years.
Usability
When buying a cordless circular saw, pay some attention to how it feels to use. Is it easy to grip? How heavy is it, especially if you need to use it above your head, or in a tight spot?
While shopping, you might not notice things like the comfort of the grip, or whether it's hard to reach the safety and the trigger with one hand. We guarantee you will notice those things after a weekend of crosscutting. A bit of thought now can save a lot of cramping later.
Safety
Don't buy any circular saw that doesn't have these two safety features.
Blade guard. A circular saw has two blade guards: the fixed blade guard where the handles are mounted, and the moveable blade guard that covers the blade whenever it is not in use.
Trigger safety. This is a button you have to depress before you can start the saw blade moving. Ideally, it should be easy to reach with the same hand you use to squeeze the trigger.
Also, while this isn't part of the saw itself, make sure you wear safety equipment no matter how small the job. Always wear goggles, ear protection, and gloves when using a power saw.
Price
Corded and cordless saws tend to go at similar price ranges, so this comes down to your needs and preferences. Some cordless saws are bundled with batteries — it's usually a good idea to get one of these, though they're expensive. Batteries perform best when working in products from the same brand.
Storage
No one has yet invented a cord that is a joy to deal with. Cords are a hassle, but battery packs just line up snugly on the outlet back home, charging for the next day.  Throwing all the battery packs into a bin is a much easier way to end your day than managing all the cords.
Flexibility and Brand Loyalty
All the major tool manufacturers offer an array of battery packs that fit all their cordless tools. If you stick with one brand, you can build an arsenal of tools that all use the same few batteries, saving you money and hassle in the long run. But interchangeable battery packs don't help you if you've got five different brands in your shop – you only get the flexibility from being brand loyal.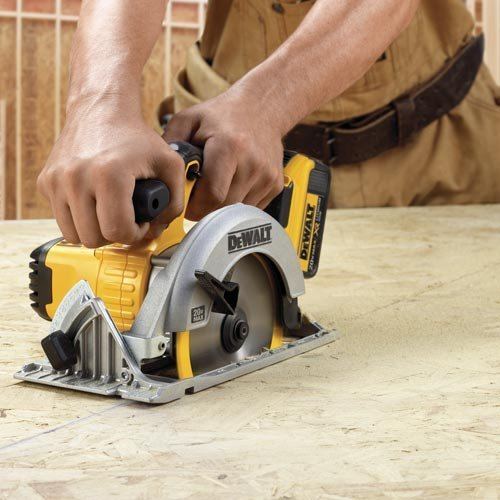 Conclusion
The DeWalt DCS391B is our Top Pick cordless circular saw.  It delivers powerful cutting performance, is easy to maneuver, and can saw all day long with the right battery.  This is a solid choice for both the DIY-er and the professional.
Coming in as the best cordless circular saw for the Money is the Black + Decker BDCCS20C.  Sold with the saw, a battery, and a charger means one-stop shopping, and this model delivers enough performance for any garage woodworking enthusiast.
In this day and age, you don't have to sacrifice performance to get a cordless tool.  Batteries have come a long way and offer versatility and flexibility you cannot get when attached to a power cord.  When you're ready to add a cordless circular saw to your stash of tools, you can be confident that our reviews will help you find the best cordless circular saw for the job.