5 Best Corded Circular Saws of 2023 – Reviews & Buyer's Guide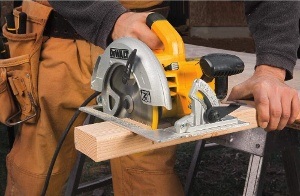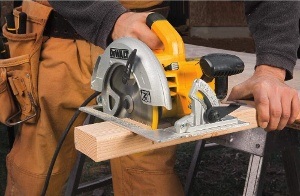 Manly men may be surprised to learn that a woman is credited with inventing the circular saw in America – and that she used her spinning wheel to create a mock-up of the first model. According to lore, she watched the loggers in her neighborhood struggle to operate pit saws and was inspired to invent a smarter way to cut through lumber, or at least one that didn't require one guy to stand in a hole, under the wood, and under the saw, in an era before helmets and OSHA.
Nowadays it may be a lot safer to run into your local tool supplier to shop for a saw, but you're going to be faced with choosing amongst dozens of models, which might be nearly as harrowing a prospect. Let our reviews help you navigate the selection process, leaving you with time to ponder how an 18th-century woman thought to turn a spinning wheel into a saw.
---
A Quick Comparison of Our Favorites in 2023
Rating
Image
Product
Details

Best Overall

DEWALT DWE575SB Circular Saw

Versatile and sturdy
Easy blade changes
Electric brake
CHECK PRICE

Makita 5007MG Circular Saw

Delivers powerful cutting
Sturdy
Included rip fence and case
CHECK PRICE

Best Value

SKIL 5280-01 Circular Saw

Integrated dust blower
Attached wrench
Same specs with expensive models
CHECK PRICE

Best Compact Pick

WORX WX429L Circular Saw

Powerful enough to cut 2x4s
Super-light
Small enough for tight spaces
CHECK PRICE

Bosch CS5 Circular-Saw

Left-handed saw even some righties prefer
Improved sightlines
Good cutting power
CHECK PRICE
The 5 Best Corded Circular Saws – Reviews
1.

DEWALT DWE575SB Corded Circular Saw – Best Overall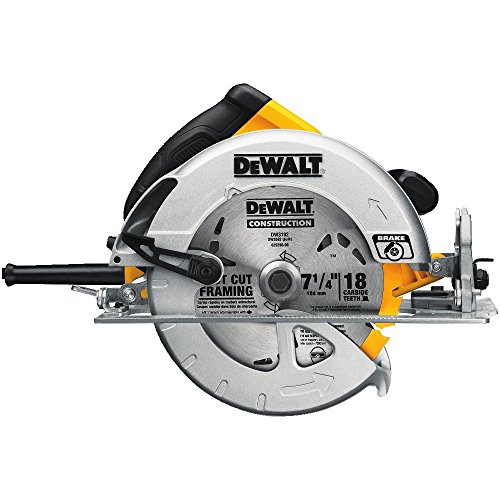 Powerful, durable, and ergonomic, the DeWalt DWE575SB is one of the most popular corded circular saws available. The 15-amp motor runs at 5,200 RPM (no load) with an electric brake that's initiated when you release the trigger. The 7.25" blade offers a maximum depth cut of 2.56" and can bevel up to a 57-degree angle, with stops at 45 and 22.5 degress. At 8.8 lbs., it feels sturdy without being too heavy for extended use. The integrated dust blower keeps the mess out of your face and off your cutting line, while the onboard wrench storage helps make blade changes quick and easy. The DWE575SB package includes a quality carrying bag with space for extra blades. Some users complain that the electric brake could stop faster; but otherwise, DeWalt has clearly taken the time to get the details right.
All in all, we think that this is the best corded circular saw of the year.
Pros
Plenty powerful
Versatile and sturdy
Easy blade changes
Electric brake
Designed with attention to key details
Cons
Electric brake could engage faster
---
2.

Makita 5007MG Corded Circular Saw
The Makita 5007MG is a great saw, but ranks just below the DeWalt DWE575SB. With 15 amps driving up to 5,800 RPM, the 5007MG's 7.25" blade gives a max cutting depth of 2.5" and a 56-degree bevel. Like the DeWalt, it has a built-in dust blower and attached wrench for quick blade changes. Weighing over 10 pounds, the saw feels sturdy but not unwieldy. The package includes carrying case rip fence – a little perk the DeWalt doesn't provide.
However, the Makita lost points with its blade guard design – particularly when making angled cuts. Users want for a third hand to move the guard out of the way, while others are unhappy with sections of the base being tapered instead of square.
Pros
Delivers powerful cutting
Sturdy
Included rip fence and case
Cons
Issues with blade guard
Base isn't square
---
3.

SKIL 5280-01 Corded Circular Saw – Best Value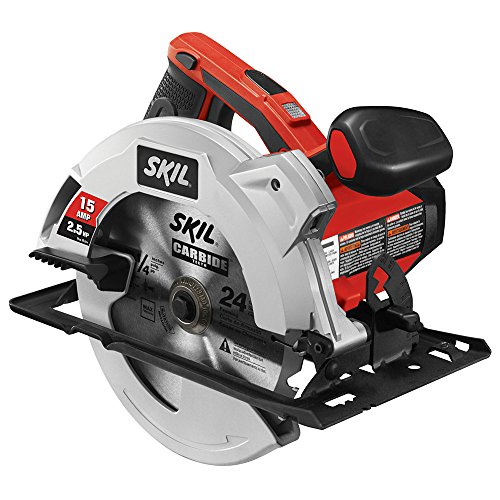 If you want a circular saw for occasional, non-professional use, the SKIL 5280-01 is a capable and affordable performer. It's a 7.25" saw that runs at 5,300 RPM and provides a 2.375" max depth cut and 51-degree bevel angle.  It has an integrated dust blower and attached wrench for easy blade changes and weighs just over 8.5 pounds. What's missing is an electric brake, which is not only a convenience but arguably a safety feature.
SKIL was the first to make these saws back in the day and this model seems to be an effort to add a decent and affordable saw for the average homeowner or hobbyist to their line-up.  This is a perfectly good little saw for the novice and is priced accordingly. Overall this is the best corded circular saws for the money we have tested this year.
Pros
Affordable
Integrated dust blower
Attached wrench for easy blade changes
Many of the same specs and features as more expensive models
Cons
No electric brake
Not for professionals
---
4.

WORX WX429L Circular Saw – Best Compact Pick

This WORX WORXSAW WX429L is a fun little circular saw. Hold it in one hand, kind of like you'd grip a gas pump, and you'll feel like a superhero with the ability to cut through 2x4s at your fingertips. Its 4.5" blade is remarkably effective at fast, small, tight-space jobs, and since it weighs about half of its heavier above-mentioned cousins, its versatility is unmatched. It can even handle up to 45-degree bevel cuts.  It doesn't come with its own carrying case, but it practically fits in your pocket. Can you frame a house from the ground up with this? No, but you'd have a great time trying.
All in all, we think that this is the best corded circular saw that's compact.
Pros
Small enough for tight spaces
Powerful enough to cut 2x4s
Super-light
One-handed by design
Cons
No case
Can't cut anything much bigger than a 2×4
---
5.

Bosch CS5 Corded Circular-Saw
This is almost a fantastic circular saw but the Bosch CS5 fails to deliver on its promise. Lefties will be glad to hear it's got a left-handed blade and even a fair number of righties applaud the improved sightlines this blade placement provides. Although there are no complaints about its powerful cutting ability, there are complaints about nearly everything else.
Dust is the primary issue here, with the improved sightlines being obscured by dust shooting into your face and all over your shop.  Bosch does make a dust chute for the right-hand version of this saw, but not for this model. It has no case or bag, no brake, and no safety on the trigger. Any remaining excitement about the saw being left-handed goes away when you have trouble finding leftie saw blades to buy. Add in a flimsy baseplate that makes it tough to cut a truly straight line and a motor that's prone to flat out failing and you can see that Bosch's great idea for a saw failed to materialize into a tool anyone would want.
Pros
Left-handed saw even some righties prefer
Improved sightlines
Cons
No tool bag
No brake
No dust chute means dust shoots into your face
No safety on the trigger
Harder to find left saw blades
Many reports of motor failure
Complaints about the baseplate being flimsy
---
How to Find the Best Corded Circular Saw
A corded circular saw is a powerhouse tool for any shop. Despite its relatively small size, it can pack enough punch to cut through a variety of materials.  The primary feature you need in any circular saw is power – can it push the blade through the material? Once you know it's good at doing that, you can look for features that are more about convenience.
Dust – does it blow the dust away from you and your sightline?
Bevel cuts – can it do effective bevel cuts?
Ergonomics – does it feel professional, sturdy, and comfortable in your hands, and is the trigger easy to operate?
Blade changes – can you easily change the blades?
Tool case – does it come with a carrying case that fits the saw, the cord, extra blades, and maybe a rip fence, speed square, or tape measure?
Before you go shopping, though, read on to be sure you're up to speed on some of the nuances of circular saws.  Here are some details you may not have thought of.
What can you cut?
Wood, obviously. The key to getting your saw to tackle all these jobs is choosing the proper blade. Within the blades suitable for wood, you can find ones that have few teeth, making them suitable for rough framing jobs, and blades with lots of teeth are best for plywood or when you want a smooth cut. You can get blades just for rip cuts, or blades just for crosscuts. Some blades have a thin "kerf," meaning they create a particularly narrow cut, and others are designed to avoid getting pinched within the wood. Whatever wood you're cutting, rest assured there's a special blade for it.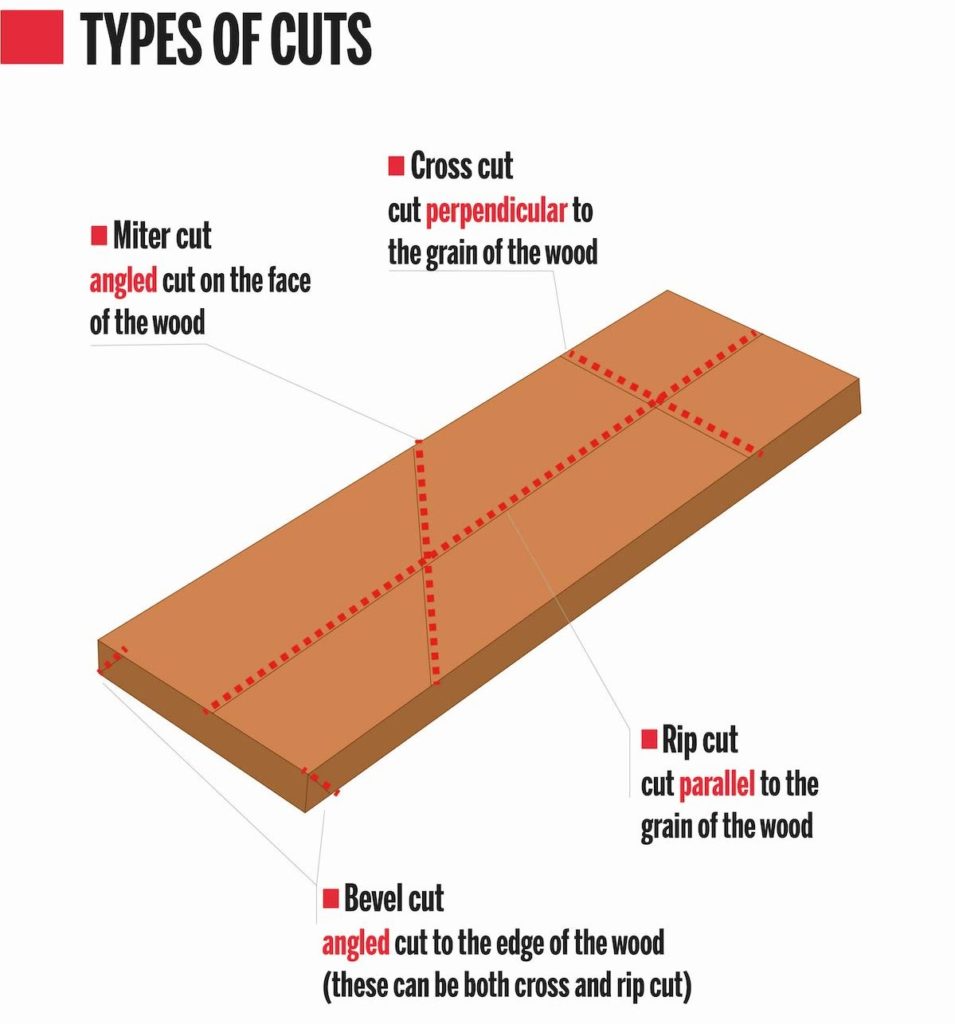 But you can also cut plastic, metal, and even masonry, and there are special blades for each of these tasks. If you want to be happy with your saw's performance and lifespan, take the time to change out the blade for the job in front of you.
What if you're left-handed?
If you were shopping for chainsaws, you'd be out of luck, but circular saws do come in both left and right-handed. Aside from the difference in which hand is doing which job, handedness also impacts your ability to see the line you're trying to cut. Regardless of which of your hands is dominant, it's worth a trip to your local tool supplier to try out both versions to see which is more comfortable for not only your hands but also your sightline.
How big can your saw be?
The most common handheld circular saw blades range from 5½" to 7¼", and although you might stumble across some larger ones, you aren't going to have use for them in your garage or work site. Handheld circular saws can work at a set of sawhorses, but you can also use them above your head or out in front of you. A larger blade will give you a slightly deeper cutting depth, but for any wood thicker than around 2½", you'll need a different tool to cut it (like a table saw).
How do you safeguard the wood you're cutting?
Aside from using the correct blade, there are a few things you can do to keep your wood in good shape. Start by putting the finished or pretty side down, since the saw is much more likely to rough up the top edge of the cut. If you want two pretty sides, you can also affix masking tape to the surface before marking your cutting line. The little bit of stickiness the tape gives will help the cut edge remain cleaner and smoother. After cutting, remove the tape. And the last tactic you might try is to score the line before cutting. Presuming you want a straight line, use a box cutter or heavy Exacto knife along a straight edge on top of your cut line. Just that little bit of head start will help keep the cut line tidy.
Is a circular saw the same as a Skilsaw or a buzzsaw?
A Skilsaw is a brand name of circular saw. The first on the market years ago, it became synonymous with its brand name over time (like Kleenex).  Skil still makes circular saws – there's one reviewed on this list – but they no longer dominate the market like they once did.  A buzzsaw is also an old-fashioned name for a circular saw.
What is a speed square?
A speed square is a triangular device, usually metal, that you can hold in your one hand while operating the saw with the other.  You push the shoe of the saw up against one side and hook the lip over the top edge of what you're sawing.  A speed square can help you get perfectly straight and square cuts, and as a bonus, it can usually double as a short ruler.
What is a rip fence?
A rip fence is a bar that attaches to the base of your saw on one side and loops around the edge of your board on the other. Used properly, it guarantees that your cut will be perfectly parallel to the existing edge of the board. The rip fence helps you make parallel cuts and the speed square helps with straight and perpendicular cuts.
Once you've chosen a project and the right blade to go with it, all that's left to do is select a saw.
Conclusion
The DeWalt DWE575SB is our clear Top Pick amongst corded circular saws. DeWalt has not only made a powerful saw but they've made sure all the little details have been taken care of, too. Whether you're a pro or a weekend hobbyist, this model's got you covered.
For the occasional user or anyone watching their bottom line, the Skil 5280-01 is our Best for the Money choice. If your job site is your backyard or garage, or if this is your first ever circular saw, you can buy this model with confidence because Skil made this with you in mind.
A circular saw is likely to become one of the most used tools in your shop.  Whether you're planning to cut wood, plastic, or stone, there's a saw to do it for you.  Let our reviews help you zero in on the best choice for you.
We truly hope that our guide helps you find the best corded circular saw for your needs. Good luck!
Related Reads:
---
We also have a buyer's guide for cordless circular saws found here.