7 Best Drill Presses For Woodworking of 2023 – Top Picks & Reviews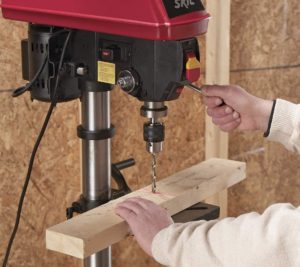 The drill press is an integral part of the workshop. Whether you're a professional woodworker, a keen DIYer or you've taken to woodworking as a hobby, the drill press affords uniform, straight, and effortless hole boring precision. Swap the drill bit for a mortising attachment and you can drill square holes. You can even use some woodworking drill presses for sanding spindles and other woodworking jobs.
Primarily, choose between freestanding and workbench models. Try to get as much power, measured in HorsePower or HP, as your budget will allow, and do ensure that it is robust and stable. There is nothing worse than a loose drill press. A wobbly drill not only causes uneven holes but you'll lose the confidence you need to successfully use one of these devices. Popular drill press manufacturers include SKIL, WEN, and Delta, and most manufacturers offer two or more different models, so you do have a lot of choice.
Our reviews of the seven best drill presses for woodworking will help you navigate the choice of presses to get the model that best suits your woodworking prowess and the type of jobs you and your drill press will undertake.
---
A Quick Comparison of Our Favorites
Rating
Image
Product
Details

Best Overall

SKIL 3320-01 Drill Press

Affordable
5 variable speeds
Laser light ensures accurate drilling
CHECK PRICE

Best Value

WEN 4210 Drill Press

Decent 1/3HP power
Variable speeds up to 3
050 RPM
Laser guide light
CHECK PRICE

Premium Choice

JET 354170/JDP-20MF Floor Drill Press

5-HP motor
Suitable for professional use
150 – 4
200 RPM variable speeds
CHECK PRICE

Delta 18-900L 18-Inch Laser Drill Press

Decent 3/4 HP motor
16 variable speeds
CHECK PRICE

Eurotool DRL-300.00 Benchtop Drill Press

Cheap
Variable speed up to 8
500 RPM
Compact
CHECK PRICE
The 7 Best Drill Presses for Woodworking – Reviews 2023
1.

SKIL 3320-01 Drill Press – Best Overall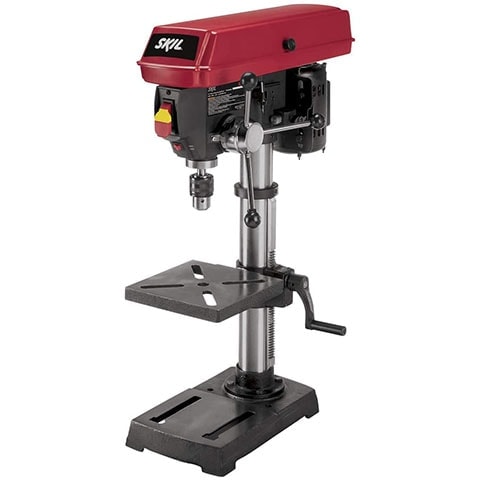 The SKIL 3320-01 Drill Press is an adjustable drill press. It is a small and lightweight drill press that is geared towards the keen home user. Its 3.2-amp motor offers 5 speeds, ranging up to 3,050 RPM, which enables you to choose the appropriate speed for whatever job you're undertaking. Although the manufacturer does not list its power, several users have commented that it is ¼ HP and could do with being more powerful.
As well as variable speed level, the drill press table can be tiled up to a 45° angle, allowing for greater comfort and improved access to your workpiece. The drill has a 10-inch swing, which will allow you to work with most wood, and its ½-inch keyed chuck makes it compatible with a great variety of bits. The press includes a laser guide light, which helps ensure accurate drilling, although this does use AA batteries and they run out quickly, which means that they are an added expense. The SKIL 3320-01 Drill Press is a reasonably priced drill press that is ideal for home users. It is flexible and customizable, although it does require AA batteries for the laser light and is not powerful enough for professional or commercial use. Overall, this is the best drill press for woodworking we have reviewed this year.
Pros
Affordable
5 variable speeds
Laser light ensures accurate drilling
10" swing
45° worktable swing
Cons
Uses AA batteries for guide laser
¼ HP motor could be more powerful
---
2.

WEN 4210 Drill Press – Best Value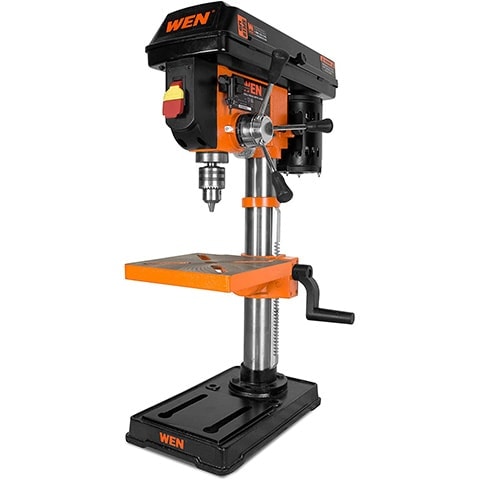 The WEN 4210 Drill Press is similar to the SKIL 3320 and can be considered the smaller sibling of WEN's range of floor models. It costs around the same as the SKIL, has a similarly adjustable worktable that can pivot and turn up to 45°, and has a ½-inch chuck that enables the use of a good variety of bits and accessories. It even has a handy little storage compartment for the chuck. The WEN offers variable speed between 600 and 3,050 RPM from its 3.2-amp motor.
Honestly, there's very little to choose between the SKIL, above, and this WEN. However, the WEN is slightly taller, weighs a little bit more, and it only has a drill depth of 2¼ inches, which is ⅛-inch less than the SKIL, although the WEN makes up for some of these shortfalls thanks to its marginally higher power output of ⅓-HP.
Because this model is usually available for a few dollars less, it is one of the best drill presses for woodworking, for the money.
Pros
Affordable
Decent 1/3HP power
Variable speeds up to 3,050 RPM
Laser guide light
Cons
More cumbersome than the SKIL
2 ¼" drill depth
---
3.

JET 354170/JDP-20MF Floor Drill Press – Premium Choice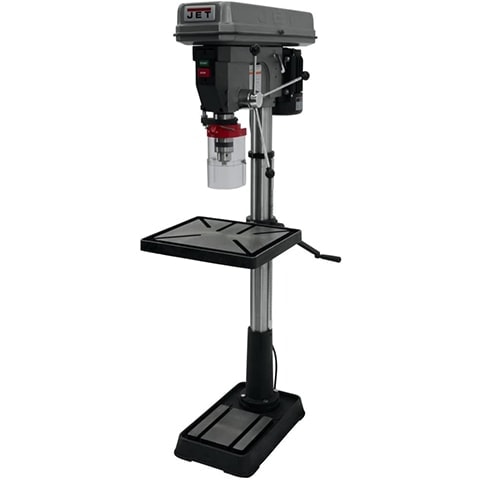 The JET 354170/JDP-20MF Floor Drill Press is a floor press model, which means that it is naturally more expensive and much larger than benchtop models. It is also more powerful and can offer a greater range of features. The JET Floor Drill Press has a 1.5-HP motor, which means that it has more than enough power to make short work of any job you can throw at it. It has 12 variable speed settings from 150 to 4,200 RPM and its ¾-inch chuck means that it is compatible with heavy-duty bits.
Although the JET is several times more expensive than the first two on our list, it is suitable for professional as well as amateur use. There are few tasks that it won't be able to complete, but it is very expensive, will require a dedicated area in your workshop so will take up a lot of room, and it will be more than most home users require. Despite its cost and the professional market, it is targeting there are some quality control issues with reports of rough table tops, bent covers, and other issues.
Pros
5-HP motor
Suitable for professional use
150 – 4,200 RPM variable speeds
Cons
Takes up a lot of room
Very expensive
Some quality control issues
---
4.

Delta 18-900L 18-Inch Laser Drill Press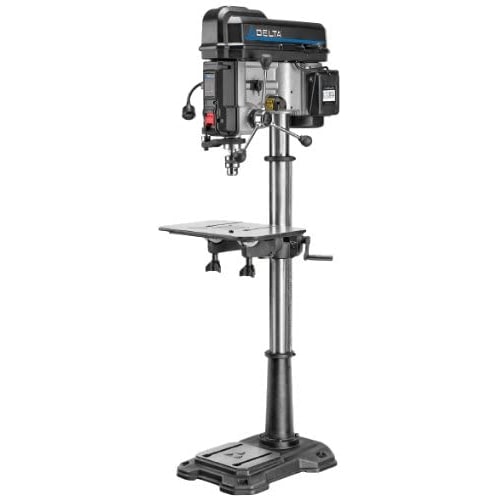 The Delta 18-900L 18-Inch Laser Drill Press is another floor model drill press that is designed for professional use, costing more than the JET model above.
If price and space are of no concern, and you have more than modest drill press requirements, the Delta is feature-rich and powerful enough for virtually any task. With that said, its motor is rated as ¾-HP, which is less powerful than the JET and only slightly more powerful than some benchtop models. It does have an oversized work table that will tilt up to 48° and, as well as an LED work light, it has twin lasers that will protect a bright red crosshair on your workpiece to ensure that you drill precisely and straight. The Delta has 16 variable drilling speeds from 170 to 3,000 RPM while the 6-inch quill stroke allows work on thick workpieces.
However, there are some serious questions over quality, with parts showing up broken and lights only lasting a matter of weeks before burning out, and Delta's customer service seems to be seriously lacking.
Pros
Decent 3/4 HP motor
16 variable speeds
Cons
Very expensive
Poor quality
Poor customer service
---
5.

Eurotool DRL-300.00 Benchtop Drill Press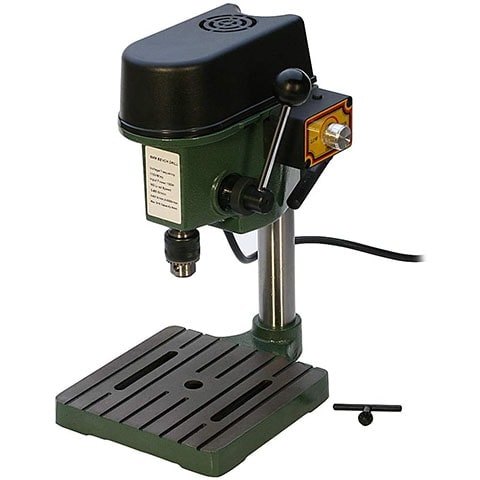 The Eurotool DRL-300.00 Benchtop Drill Press is a small but serviceable benchtop drill press. The motor offers a variable speed up to 8,500 RPM, although performance does suffer at the higher end of the scale because the motor lacks in power.
In fact, the drill press generally feels quite underpowered. It also comes coated in oil, which is obviously to protect the press from rust but is messy and largely unnecessary. The belt is quite rigid, and regular users would benefit from changing this to something of better quality. And, while the device does offer extensive variable speed control, the setting isn't always reliable and the lack of power means that the drill barely spins at low speeds and struggles at high speeds, so somewhere around the middle is the sweet spot.
However, this is the cheapest drill press on our list and for occasional, light work, it is a capable and cost-effective device.
Pros
Cheap
Variable speed up to 8,500 RPM
Compact
Cons
Low and high speeds are a struggle
The belt isn't great
Lacking in power
---
6.

SHOP FOX W1680 Floor Model Drill Press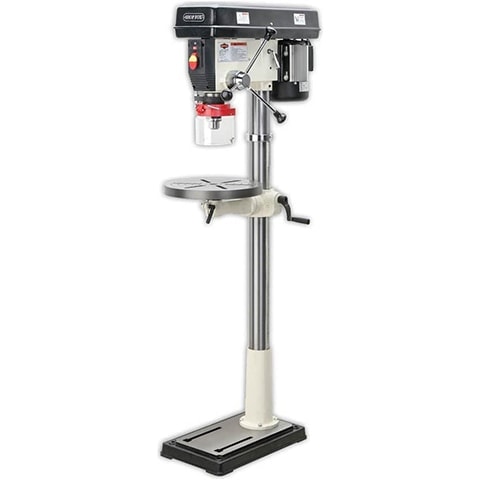 The SHOP FOX W1680 Floor Model Drill Press, as the name suggests, is a floor drill press. It has a 1-HP motor and offers a variable speed up to 3,050 RPM. The drill has a 17-inch swing but only offers a drilling depth of 1 inch, which is less than most other models available.
It is relatively cheap for a floor model and, although it doesn't have a built-in work light of its own, the W1680 does include a 110V light socket. The device is heavy, even for this type of drill, and it will require at least two people to lift and place it. The instructions aren't great, either, and it is difficult to change the belt speed to your desired RPM. The drill press is for heavy-duty home use, has a powerful motor that will make light work of most home functions, but it is heavy and it has a few problems that push it further down our list than it would have otherwise placed.
Pros
1HP motor
Decent price for a floor model
Variable speed up to 3,050 RPM
Cons
Heavy and cumbersome
Belt speed is difficult to change
Poor instructions
The light fitting is poor quality
---
7.

Lukcase Floor Drill Press
The Lukcase Floor Drill Press is effectively just a clamp that attaches to a workbench and is used to hold any of a large range of drill presses and other workbench-based items.
The product does not include the drill itself, so you will need to buy one separately, or use an existing workbench drill press. The Lukcase is compatible with power drills that have a collar diameter between 38 mm and 43 mm. It also works with die grinders and offers a cheaper alternative to floor-based drill presses, although once you add the cost of the stand and the cost of the drill together, several desktop models incorporate the drill press and work out less expensive. The bolts are a little flimsy and the Lukcase will only really work with lighter drills before it runs the risk of toppling over.
Pros
Can be used with an existing power drill
Cheaper than some
Cons
Not a drill, just a frame
Poor quality bolts
Not as cheap as a frame should be
Not heavy duty
---
Buyer's Guide – Purchasing the Best Drill Press for Woodworking
The drill press is a form of powered drill. It is connected to a stand, either its own or a separate stand, and by rotating a handle, the drill head is pulled down in a perfectly vertical line. The resulting drill hole will be perfectly bored and, as long as you secured the wood properly and used the right drill bit, it will be perpendicular to the wood base. This type of drill is preferred over a hand drill or power drill when the driller wants to ensure that they get perfectly straight lines or that they drill uniform holes in multiple workpieces. The bench press is also used when lots of workpieces need drilling because you do not have to lift or hold the drill itself while using it so it can minimize user fatigue, even during the longest job.
Woodworking Drill Press Features
Drill presses are either floor-standing or benchtop, offer various operating speeds, and can also perform other tasks such as sanding and polishing.
Floor-Standing Or Benchtop
The obvious difference between a floor-standing and a benchtop drill press is that the benchtop models attach to an existing workbench, while floor-standing variants come with their own base and stand. However, this is just one difference:
Floor-Standing drill presses are large machines. They can stand as tall as a person and can weigh more than 100 pounds. Being heavy means the drill press is difficult to move: a disadvantage when shifting it into place but essential when you're using it to drill into hardwood. The floor-standing drill press is stronger, more powerful, has a bigger worktable, and because they have a bigger gap between the chuck and the post, they can work on larger pieces of wood, too. They're also more expensive than benchtop alternatives.
The benchtop drill press is lighter, smaller, and more convenient to move around. They can incorporate a lot of the same functions as a floor-standing model, although they do tend to be restricted to minimal extra features. The benchtop takes up less room and can be fitted to an existing bench. It is also usually a fraction of the price of a similar floor-standing press.
How Do You Mount A Bench Drill Press?
Find the best position for the drill press. You should work somewhere with good lighting, so under the light or in a room with full coverage is ideal. Natural light from windows will only be present during the day, so you will be relying on artificial light most of the time. You may also want to choose somewhere that is near storage and absolutely make sure that there is ample room for you to work.
Most benchtop presses include a heavy metal base and they can be clamped or bolted through the plate and directly into the bench. If you have only connected to a free-standing bench, and it tilts during use, you will need to bolt the bench to the floor or make a dedicated drill press bench.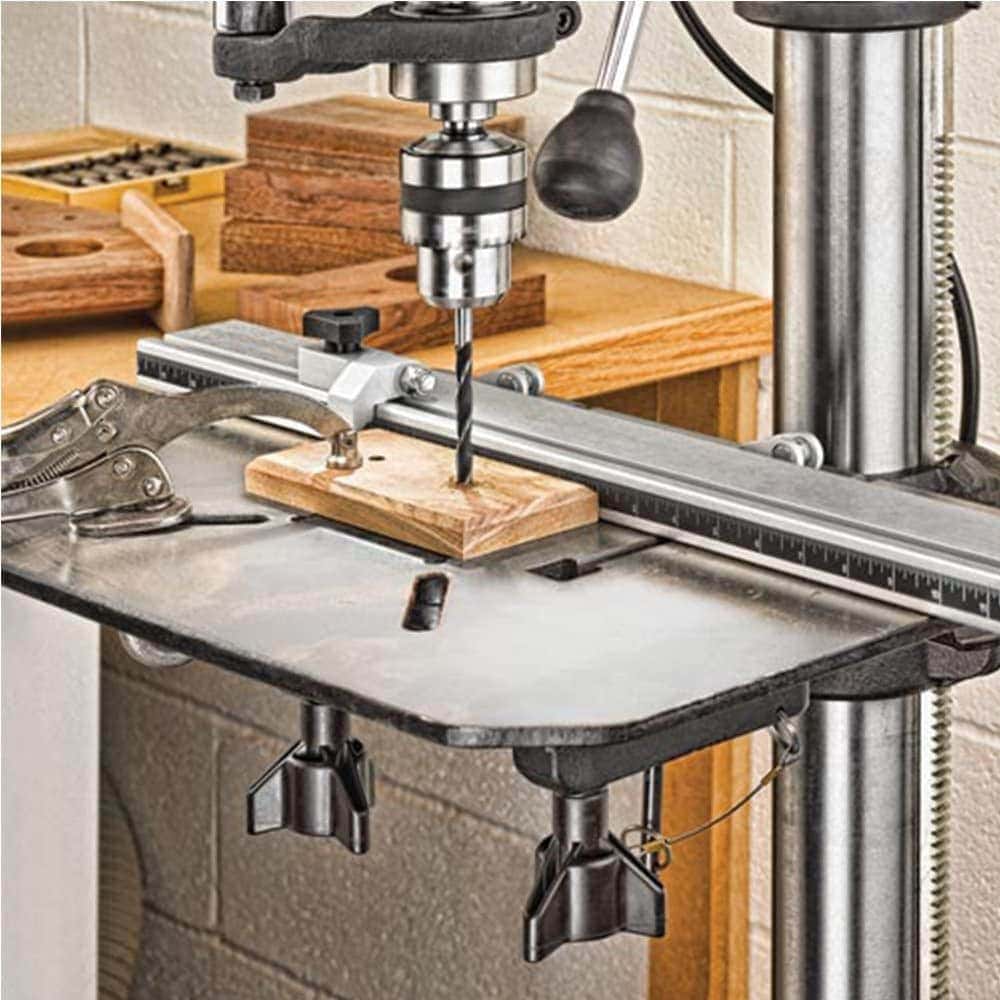 Swing
The swing is the measurement that is most often found in the name of the drill press, for example, the Delta 18-900L 18-Inch Drill Press has an 18-inch swing. Swing is twice the distance from the center of the chuck to the front of the central post.
The swing equates to the largest size piece of wood that you can use on the press and drill a hole in its center. Benchtop models usually have a swing distance of 10 or 12 inches. Floor-standing drill presses often have a swing distance of 20 inches, but it can be considerably larger. The swing distance you need will depend on the types of job you do, and the size of the workpiece that you normally want to drill into.
Variable Speed
Most presses have variable speed options from 400 to 3,000 RPM. The speed that you want your drill bit to run at depends on the type of bit and the material into which you're drilling. With a ¼-inch drill bit and drilling into softwood, the ideal speed is 3,000 RPM, but for hardwood, you would benefit from a 1,500 RPM speed setting. Using a 1-inch bit on hardwood, you will only need a speed of 500 RPM.
As well as the range of speed that a drill press offers, check the increments that it offers. To change the speed of the press, you will need to change the position of the belt. Following manufacture instructions for your specific model, but is usually a simple process.
Table Tilt
The drill press makes it easy to drill uniform, straight holes, perpendicular to a piece of wood, but a tilting table allows you to drill at an angle. Some tables tilt to an angle of 45° which enables you to drill into the wood at this angle. If you are looking to drill angled mortises, this is an important feature to look for.
Guide Lasers
Many drills include a work light that illuminates the workpiece and your work area, and an increasing number of models also include a laser guide. Most times this means a single laser guide is shone onto your workpiece, allowing you to line this up with your own mark and ensuring that you drill exactly the right spot. At least one model utilizes two lasers to create a crosshair, which is even more precise: this level of precision is not usually necessary unless you're working with small holes and very accurate measurements.
Check how the guide laser is powered. Some use AA batteries that will need replacing, and a laser pointer can use batteries very quickly. A single set of batteries might not feel like a large expense, but the cost soon adds up if you do a lot of drilling.
Drill Press Attachments
The main purpose of the drill press is to drill arrow straight, uniform, and precise holes in wood, metal, and other materials. However, the typical press comes with a good selection of attachments and extra bits. These serve to further expand the functionality of the drill press. You can expect to see bits for sanding, boring, and other tasks.

Conclusion
The drill press is a useful tool for drilling straight, uniform, and consistent holes in wood and other workpiece materials. Benchtop models are more convenient than their floor-based alternatives, but they do not usually have the same power and they are lacking in worktable space.
Benchtop drill presses can usually be installed and used in an existing home DIY workspace, like a shed, but if you're serious about woodworking and the drill press will be used for more than occasional DIY jobs and some light work, then the freestanding drill press may prove a necessity. For even more limited space or lighter requirements, some frames will work with an existing power drill. They cost less but have limited functionality and tend to be less robust than their dedicated drill press counterparts.
We found that the SKIL 3320-01 was the best overall drill press. It is small and lightweight, attaches to your existing workbench, and is affordably priced. For a little bit less, you can buy the WEN 4210, which is almost identical to the SKIL except that it is a little heavier and has a shallower drill depth, but it is cheaper and represents excellent value for money.
Hopefully, our reviews have helped you sort the best drill press from the rest and enabled you to find the model that best suits your project, your workspace, and your budget.
More pages related to drill presses:
A look at the 5 best drill presses on the market as of right now
A buyer's guide for floor drill presses
Which drill press vise is suited for your setup? Find out here