5 Best Fencing Pliers of 2023 – Reviews & Buyer's Guide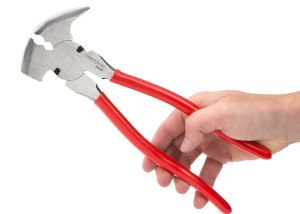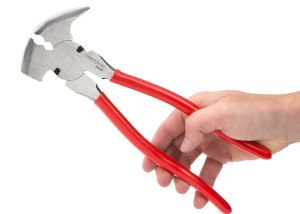 The frustrating thing about shopping for fence pliers is that you never know how they are going to perform when just looking at them at the store. Sure, you can play around with them a little bit, explore how they feel in your hand, but there is still no guessing how they will perform weeks or months down the line.
For a huge purchase, like a table saw, many buyers might be willing to buckle down and do the necessary research, but for something small like fencing pliers? No one has the time.
That's exactly why it can be handy to bring in the pros. Our job is to study the ins and outs of tools to discover not just how they will perform out of the box but also months over time.
Our fencing plier reviews are optimized to help you find the perfect product for your needs so read on and enjoy.
---
Comparison Table (Updated in 2023)
Rating
Image
Product
Details

Best Overall

Channellock 85

Moderate price
Comfort grip
Versatile
CHECK PRICE

Best Value

DEWALT DWHT70273

Versatile
Comfortable grip
CHECK PRICE

Crescent 10-7/16"

Moderate price
Special grip for removing staples
Made of forged alloy
CHECK PRICE

TEKTON 10-1/2-Inch

Versatile
Very affordable
CHECK PRICE

Michigan Industrial Tools 10-1/2-Inch

Very cheap
For light use only
CHECK PRICE
The 5 Best Fencing Pliers
1.

Channellock 85 Fencing Pliers – Best Overall

The Channellock 85 fence tool pliers are moderately priced with a simple but elegant design oriented around performance, and makes the top of our list of best fencing pliers.
The blue rubber grip designed to keep your hands comfortable while you use the tool, which is a great feature to have in instances where you have a lot of work ahead of you.
It's also very versatile. This tool is capable of both stretching splicing and cutting, ensuring you'll get about as much use out of it as you could need.
There isn't much to complain about with this tool. The metal will rust over time, but regardless it's a high-quality unit that you should get lots of use out of.
Pros
Moderate price
Comfort grip
Versatile
---
2.

DEWALT DWHT70273 Fencing Pliers – Best Value

DeWalt is our second place choice for the best fencing pliers, but that's not all. Thanks to its enormous value, it also comes in as our best for the money pick.
If you're familiar with the company DeWalt you know that they make some of the best tools on the market. You also probably know that their gear is usually very pricey. That being the case, it's nice to see them produce a reasonably priced pair of pliers.
At first look it might be hard to tell the difference between this tool and our top choice. Both feature a comfortable padded grip, and a versatile head that can cut, pull, splice, etc. as needed.
With all of these features one might imagine that the DeWalt would be our top spot, right? Not quite. This is a great tool there is one key problem that keeps it second on our list. The metal is a little bit softer than we expect to see from fence pliers, which might cause durability concerns over time.
It's still a good tool, but it will experience nicks and scratches over time.
Pros
Best for the money
Versatile
Comfortable grip
---
3.

Crescent 10-7/16″ Fence Pliers

Third, a product from the well known company Crescent. This pair of fencing pliers is made of forged alloy electrically induction hardened to (at least in theory) maximize the durability factor of the tool.
The tool comes equipped with all of the standard capabilities of fencing pliers—it can cut, pull, splice, but it also features a special fixture on the head specifically designed for removing staples, or fine wires.
The biggest issue to look out for with this tool is that it isn't very comfortable to use. It does feature a red rubber grip, but it comes off very easily. Even when it is on, however, it does very little to keep you comfortable.
Granted, these fence pliers will still perform well, but considering how long you might have this tool in your hands, it can be nice to have something made to be comfortable.
This isn't a huge problem, but there are options out there available for the same price that do have better comfort features.
Pros
Moderate price
Special grip for removing staples
Cons
Not comfortable
Grip comes off easily
---
4.

TEKTON 10-1/2-Inch Fencing Pliers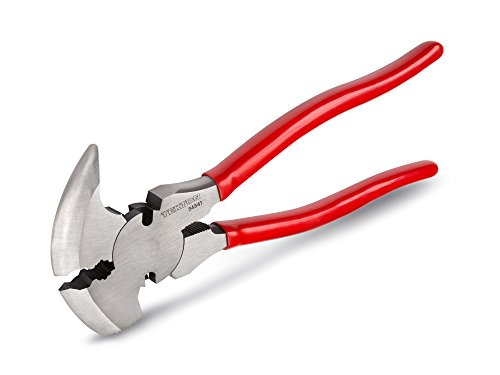 Tekton take our fourth and penultimate spot. One of the best handheld tool companies out there, it's no surprise to find this unit on our top five list. In fact, the only true surprise is that it's not ranked hire. We'll talk about why that is in a moment, but let's first highlight a few key features we really like.
The first thing many buyers will appreciate is the simple fact that this tool is very affordable. It's also hyper versatile, able to hammer, remove staples, cut and splice wire, etc.
It's an unambiguously good tool but a couple of kinks keep it from finding a more prominent position on our list.
Unfortunately, the issues are all performance-based. The jaws don't grip very well with finer materials (which is what we are usually working with when it comes to fencing pliers). It's hard to get a good grip on wires and staples.
It also gets nicked up easily which does mean the tool has a shorter life expectancy than we'd prefer to see.
Pros
Moderately priced
Versatile
Cons
Struggles working with finer objects
Durability concerns
---
5.

Michigan Industrial Fencing-Pliers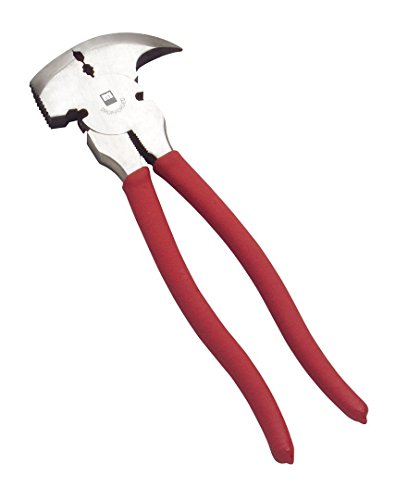 Last, the Michigan Industrial tools fencing pliers. This is the kind of tool you buy if affordability is your first and last concern. It's really cheap, but there are also pretty clear reasons for why that's the case.
It doesn't grip very well, it gets nicked very easily and it will rust over time. We've also heard from owners who say that their pliers completely fell apart after a short period of use.
If you only need this tool for light use you might be ok. Otherwise you'll want to go with something else.
Cons
Gets nicked
Rusts easily
May fall apart after short period
---
---
Conclusion
Our fencing plier reviews will tell you a lot. Hopefully by now you've learned the pros and cons of all of these awesome products. But one thing the reviews can't tell you? Which option to buy.
That's something you will need to decide for yourself. However, if you think you could use a little bit more help, there are two pairs of fence pliers you might want to take another look at.
Our pick for the best fencing pliers was the Channellock. This unit is going to be good for people that prioritize quality when they make their purchasing decisions.
However, sometimes value needs to be the primary deciding factor. In those cases, there is usually something available that performs well while respecting your wallet. Today that product is the DeWalt, an affordable high performing tool you won't want to miss.
But of course, you don't have to choose these options if you don't want to. We are tool Sherpas. Our job isn't to tell you what to buy, it's simply to give you the resources to make your own informed decisions.
Related articles: