10 Best Fertilizer Spreaders of 2023 – Reviews & Top Picks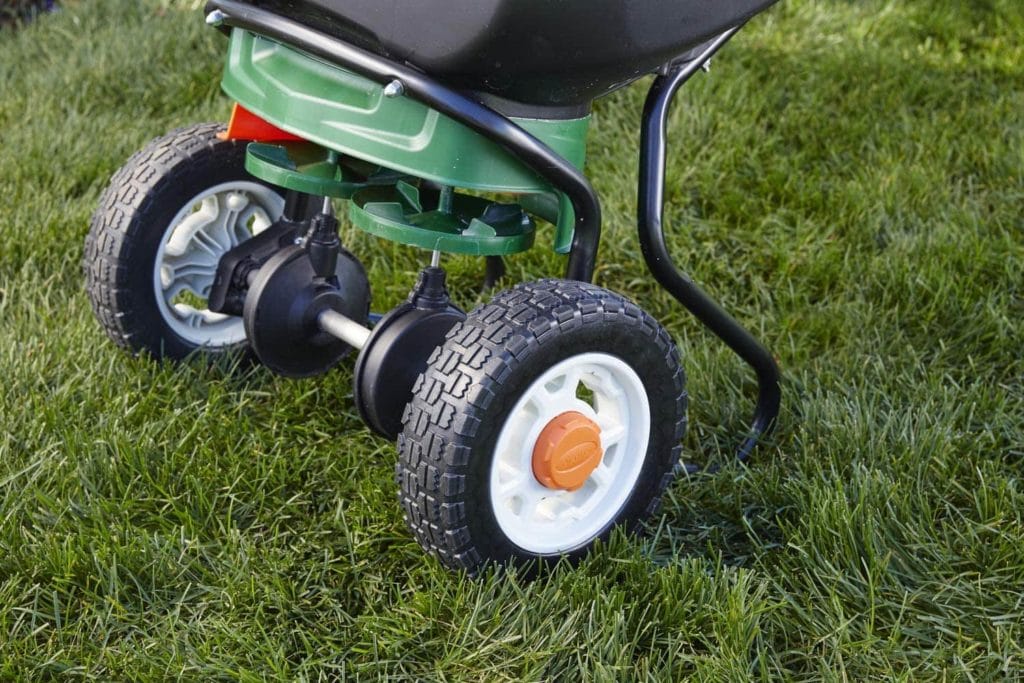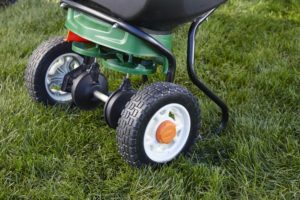 Keeping your yard looking nice can be a lot of work, and properly spreading the grass seed and fertilizer is an essential part of the process. Applying it by hand will result in a very uneven cover. Low-quality machines won't offer much improvement, however, sorting through the many brands to find one suitable for your yard can be equally challenging.
We've chosen 10 different brands of fertilizer spreaders to review for you so you can see the difference between them and learn more about the pros and cons of each. We've also included a short buyer's guide where we take a close look at the fertilizer spreader to see how it works and what specifics you should look for while you shop.
Join us while we discuss maximum capacity, spread path, deflector shields, and more to help you make an educated purchase.
A Quick Comparison of Our Favorites in 2023
Rating
Image
Product
Details

Best Overall

Scotts 75902 Elite Spreader

Dual rotor technology
Holds 20 000 square feet product
Never-flat tires
CHECK PRICE

Best Value

Spot Spreader Hand Spreader

Handheld
Easy to use
Less waste
CHECK PRICE

Premium Choice

Agri-Fab Tow Behind Broadcast Spreader

Large capacity
Enclosed gearbox
Large tires
CHECK PRICE

Titan Fertilizer Broadcast Spreader

Holds up to 50 lbs
Three flow settings
Long, comfortable handle
CHECK PRICE

Solo Portable Chest-mount Spreader

Easy to clean
20-pound capacity
Smooth operation
CHECK PRICE
The 10 Best Fertilizer Spreaders
1.

Scotts 75902 Elite Spreader – Best Overall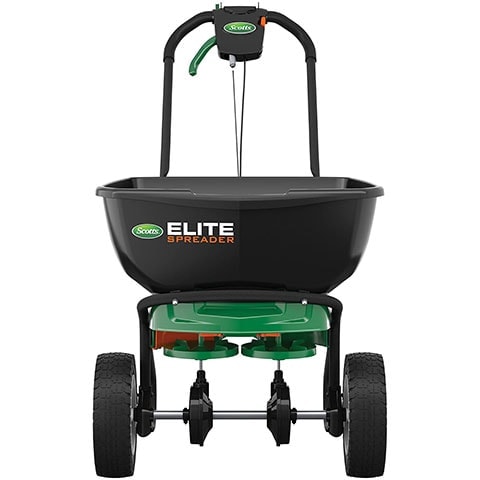 The Scotts 75902 Elite Spreader is our pick for the best fertilizer spreader overall. It features dual rotor technology, which spreads twice as much fertilizer over a larger area and can produce a 6-foot spread pattern. It provides you with 23 spreader settings that allow you to tailor the machine to your needs. It has an ergonomic handle with a smartphone holder, so you don't miss any important calls. It has never-flat tires and can hold up to 20,000 square feet of lawn product with a full load.
The only real downside we experienced while we were using the Scotts 75902 was that the settings are all for Scotts products and don't go by weight like most brands do. So, it can be challenging to set the proper spreader setting if you are using non-Scotts lawn products.
Pros
Dual rotor technology
Holds 20,000 square feet product
Never-flat tires
Ergonomic handle
Smartphone holder
23 spreader settings
6-foot spread pattern
Cons
Hard to get the setting right if you don't use Scott's products
---
2.

Spot Spreader Hand Spreader – Best Value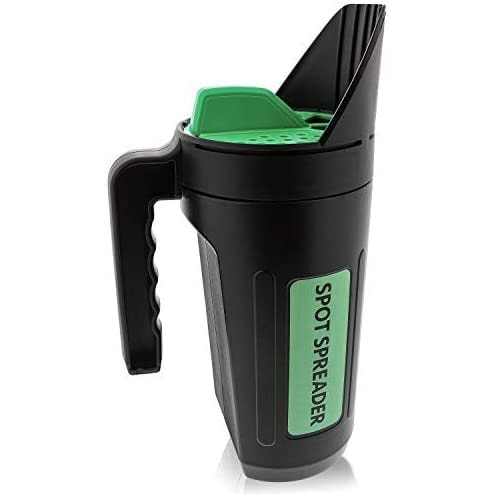 The Spot Spreader Hand Spreader is our pick for the best fertilizer spreader for the money. It's very easy to use, and this handheld spreader has an 80-ounce capacity, well suited to spreading multiple materials. Since it is so small, it's easy to control and has adjustable openings to accommodate different materials and extremely precise spreading.
The downside to the Spot Spreader is that you will need to refill it often if you intend to use it for a larger yard. These refills can add quite a bit of time to your workday. The lid is also a bit hard to get open, especially at first, increasing your time completing the task.
Pros
Handheld
Easy to use
Less waste
Adjustable openings
80-ounce capacity
Precise application
Cons
Frequent refilling
The lid can be hard to get off
---
3.

Agri-Fab Tow Behind Broadcast Spreader – Premium Choice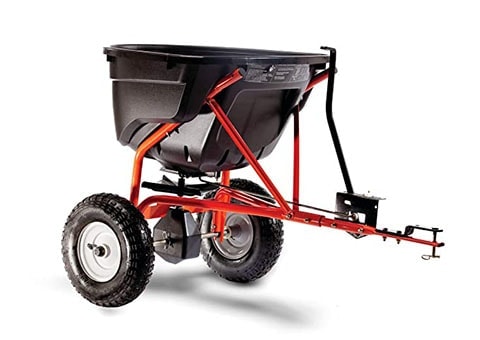 The Agri-Fab Tow Behind Broadcast Spreader is our premium choice fertilizer spreader. It features a large capacity and can hold up to 130 pounds of spreading material. The larger capacity means less refilling because you should be able to cover close to 25,000-feet per fill. An enclosed gearbox keeps out contaminants and helps promote a longer lifespan. The spreader covers a 12-foot path, and the large tires create a smooth ride while you work.
The only real downside to the Agri-Fab that we experienced was that it has a bit of a high center of gravity and is easy to tip if you make sudden turns or are spreading on uneven ground.
Pros
Large capacity
Enclosed gearbox
Large tires
Covers 25,000 square feet
12-foot spread
---
4.

Titan Fertilizer Broadcast Spreader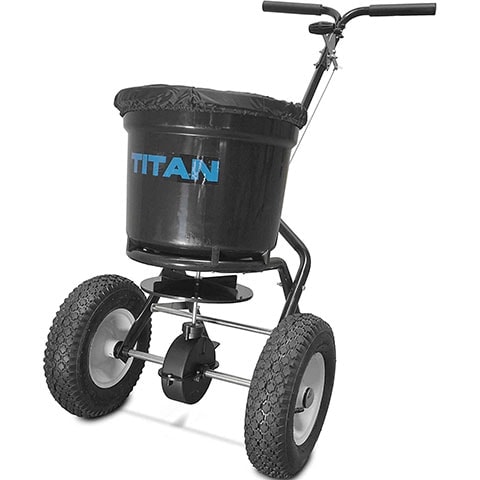 The Titan Fertilizer Broadcast Spreader is an extremely durable spreader with a steel axle that works with grass seed and other lawn chemicals and can handle rock salt, something that can clog many other lawn spreaders. It can hold up to 50 pounds of spreading material and has 3 flow settings so that you can get an even spread with any product. The long handle is comfortable and suitable for most people, and the 13-inch tires make it easy to maneuver around your yard.
The downside to the Titan is that it's very difficult to assemble and it took us quite a while, even though we make things practically every day. There is also no conversion chart included to tell you what setting to use for different products, so you will need to do a fair amount of experimentation.
Pros
Works with rock salt and grass seed
Durable
Holds up to 50 lbs
Three flow settings
Long, comfortable handle
13-inch tires
Cons
Challenging assembly
All no conversion chart
---
5.

Solo Portable Chest-mount Spreader
The Solo Portable Chest-mount Spreader is a unique, chest-mounted spreader that's perfect for smaller jobs and spreading ice melt over the sidewalk. It has a large opening that allows you to get into the machine when cleaning, and it has a 20-pound capacity and extremely smooth spreading action, even when using large bulky material like rock salt. The fully enclosed gearbox keeps out the dust and debris, and the fingertip operated controls are made of high-quality materials and are easy to use.
The downside to the Solo is that the spreading adjustment lever is against your chest while wearing it, so you need to adjust it by feel. It's sensitive, and adjusting it this way can be clumsy. It's also a bit heavy to wear when full, especially if you use heavy things like rock salt. If you have a large yard, bad back, or shoulder problems, this model may be difficult to use. One last thing that matters because it is chest-mounted is that it's for right-handed people, and lefties may find it difficult to adjust.
Pros
Easy to clean
20-pound capacity
Smooth operation
Fully enclosed gearbox
Cons
Hard to adjust control lever while wearing
Heavy
Only suitable for right-handed people
---
6.

Lesco High Wheel Fertilizer Spreader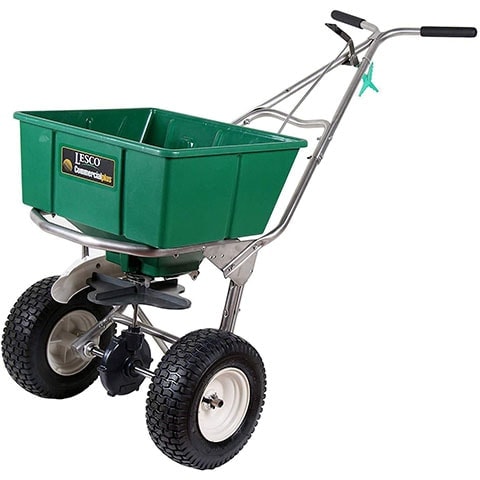 The Lesco High Wheel Fertilizer Spreader has an 80-pound capacity, so it's suitable for most jobs around the home. The manual deflector kit allows you to limit the spreading material to one side or the other, so you can leave it off to broadcast spread to both sides. It's easy to assemble and only requires attaching a few parts to an already mostly assembled unit. The 5 to 1 gear ratio offers a smooth spreading operation, and the stainless-steel frame is durable and corrosion-resistant. The oversized tires make moving and maneuvering the spreader a breeze, and the hubcaps will not rust.
We didn't like that there were very few directions included with the Lesco and even the few pieces we needed to attach were difficult to figure out. Plus, there is no conversion chart to let you know how much product to put down.
Pros
80-pound capacity
Manual deflector kit
Easy to assemble
5:1 gear ratio
Stainless steel frame
Oversize tires
No rust wheels
Cons
Poor directions
Hard to get the setting right
---
7.

Yard Tuff Shoulder Spreader

The Yard Tuff Shoulder Spreader is a unique spreader that uses a canvas bag to hold up to 25 pounds of spreading material yet weighs only 3.5 pounds when empty. It's easy to assemble and comes with a conversion chart, so it's easy to set up. It uses metal gears for added durability and comes with an adjustable shoulder strap.
We like the Yard Tuff for smaller jobs around the house because it's very fast to set up and start using. The downside is that it gets heavy quickly on the shoulder, and the strap doesn't help because it's very rigid and cuts into the shoulder as you use the machine. Another problem we had with it was that the flimsy turn crank didn't like to begin spreading the seed, so you need to grab the handle closer to the body.
Pros
25-pound capacity
Lightweight
Easy assembly
Includes conversion chart
Metal gears
Includes adjustable shoulder strap
Cons
Gets heavy
Rigid strap
Hard to get started
---
8.

Earthway Walk-Behind Broadcast Spreader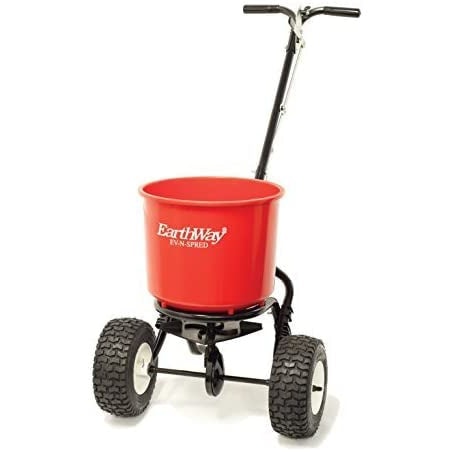 The Earthway Walk-Behind Broadcast Spreader provides users with a 40-pound capacity spreader made of durable materials. The fully enclosed gearbox prevents contaminants from causing damage to the gears, and the 9-inch tires allow smooth movement over your lawn. It also includes a conversion chart so you can set the spreader with confidence.
Unfortunately, the Earthway Walk-Behind Broadcast Spreader did not spread the seed very evenly unless we moved at an extremely fast (running) pace. It also tended to get clogged, especially after you close the feed and then open it again.
Pros
Fully enclosed gearbox
Durable construction
40-pound capacity
9-inch tires
Includes conversion chart
Cons
Not consistent spread
Gets clogged
---
9.

Chapin Tow Behind Spreader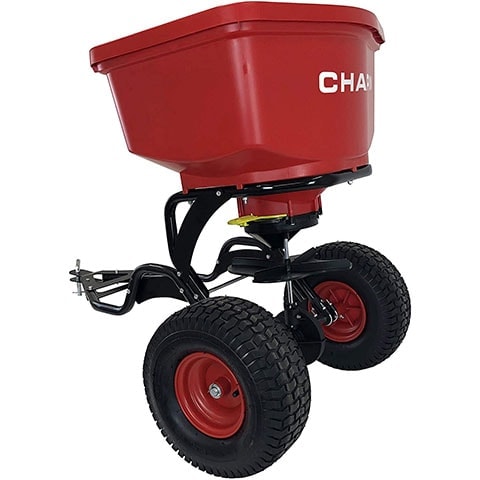 The Chapin Tow Behind Spreader is one of the largest spreaders on this list, with the capability to hold up to 150-pounds of lawn product. The auto stop dual impeller automatically stops dropping seeds when the unit stops working, so there is no need to worry about a shut-off lever. There are 11 gate adjustments for spreading different sized materials, and it rides smoothly on large 14-inch pneumatic tires with oil impregnated bronze ball bearings.
The downside to the Chapin is that it tends to throw seed into your back, and it can be quite top-heavy when fully loaded. In fact, we topped ours more than once, slowing down our efforts and requiring a cleanup. There is also no way to stop the seed from spreading mid-route if you don't want the seed spread in a certain area of the yard.
Pros
150-pound capacity
Auto-stop dual impeller
11 gate adjustments
Oil impregnated bronze bearings
14-inch pneumatic tires
Cons
Top-heavy
No way to stop seed spread mid-route
---
10.

Brinly P20-500BHDF Push Spreader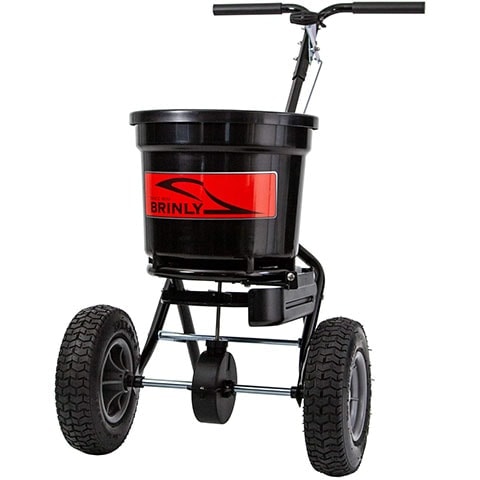 The Brinly P20-500BHDF Push Spreader is the last model on our list of fertilizer spreaders, but it may have some features you like. It has a capacity of up to 50 pounds, and it comes with a deflector that allows you to keep the seed falling to one side of the machine. The gearbox is closed to keep out debris, and it rides quite smooth on 12-inch pneumatic tires.
The thing we didn't like about the Brinly P20-500BHDF is that it didn't spread seed very evenly no matter what we tried. It clogs very easily, so you need to keep shaking it, contributing to the uneven spreading. One last problem we had was that the spread pattern wasn't very wide, and it only spreads seeds over a narrow path directly in front of the machine.
Pros
50-pound capacity
Includes deflector
12-inch pneumatic tires
Enclosed gearbox
Cons
Spread not consistent
Many cheap plastic components
Clogs easily
Small spread pattern
---
Buyer's Guide – Choosing the Best Fertilizer Spreader
These are the things we recommend thinking about before choosing a fertilizer spreader.
How Does the Fertilizer Spreader Work?
There are three main parts to every fertilizer spreader, the tank, the impellers, and the crank.
Tank
The tank is responsible for the capacity of the device. Most resemble a bucket or wheelbarrow and have a plastic, metal, or cloth construction. The tank is where you will pour your fertilizer and other lawn chemicals.
Larger tanks are great, but they often make the spreader hard to maneuver and top-heavy.
Impeller
The impeller is the part of the fertilizer spreader responsible for sorting and throwing the seed it collects from the tank. The impeller is responsible for a smooth throwing pattern and determines the spreading rate. A machine equipped with dual impellers will throw twice as much fertilizer as a single impeller model.
Crank
The crank is what turns the impeller. Most fertilizer spreaders use a gear system that transfers energy from the wheels to spin the impellers, but you can find many models that use hand cranks. Companies can make impellers spin faster by using different gear ratios. The crank gear ratio is often one of the biggest differences between high end and budget brands. High-end brands will have impellers that spin very fast, while budget models will be rougher and hard to turn.
Capacity
The maximum amount of fertilizer your spreader can hold will likely be one of the first things you will want to look at when choosing a fertilizer spreader for your home. A larger capacity will mean less frequent refills. So, you will complete your task in less time, and the spread will be more consistent because it tends to sputter as it runs low and dumps a little heavier when it's full.
The best way to learn how much capacity you need is to measure your lawn to get the square feet and compare it to the square feet a fertilizer bag can cover. Most 10-pound bags cover about 5,000 square feet of lawn, so if your yard is roughly this size, you will need a spreader with at least 10 pounds of capacity.
Style
There are three main types of fertilizer spreaders you will need to choose between portable, push-carts, and pull-carts.
Portable Fertilizer Spreaders
Portable fertilizer spreaders are the type you wear on your body or carry. Most rest on your chest and spread the fertilizer out in front of you while you walk. Turning a crank handle spins the impeller and spreads the product. These machines are very handy for small jobs and will often double as a rock salt spreader in the winter to clear your sidewalks, but it will get too heavy to cover a large area, and the frequent refills would make it impossible for such a task. Portable units are inexpensive, easy to clean and store, and are quick to set up.
Pros
Inexpensive
Easy to clean
Easy to use
Doubles as a rock salt spreader
Cons
Gets heavy
Frequent refills
Only suitable for smaller jobs
Push-Carts
Push-carts are likely the most popular type of fertilizer spreader. This type of spreader puts the tank on two or more wheels and supplies the user with a long handle to push the machine over the grass. As the user pushes, a gear mechanism attached to the axle spins the impellers and spreads the seed. These devices often have a large tank and can be equipped with dual impellers to spread more fertilizer faster. The only downside to these units is that many inexpensive brands use low-quality construction materials that can cause early failure.
Pros
Easy to use
Covers large yards
Wide variety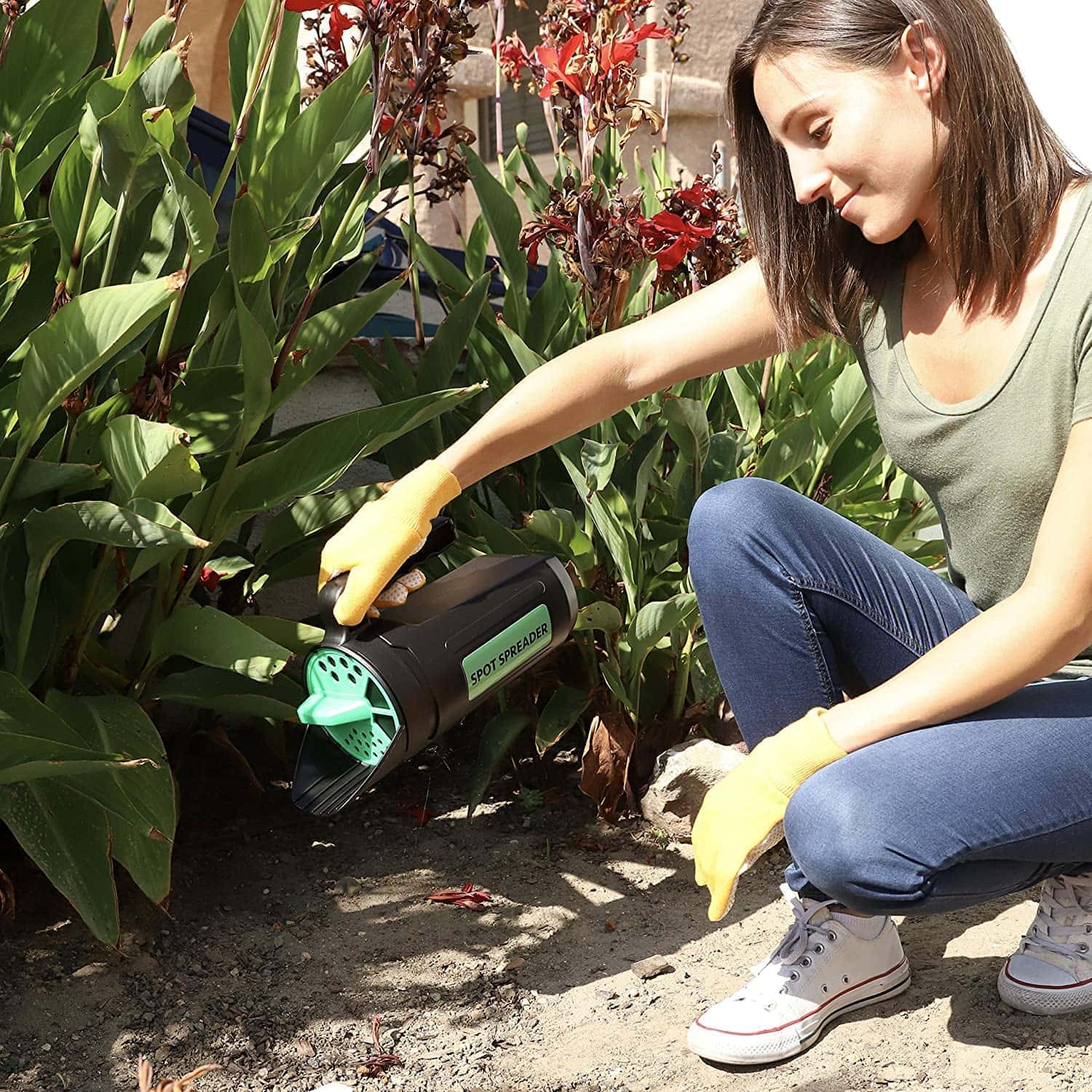 Pull-Carts
Pull-carts are very similar to push carts in many ways, but you can pull them, and they often connect to a lawn tractor. These spreaders are usually more expensive than the other types and are better suited for large jobs where it is impractical to walk the spreader. This kind of spreader usually uses durable, construction-grade materials, but they can often be too large and cumbersome for smaller projects.
Pros
Suitable for large jobs
Durable
Cons
Expensive
Too large for smaller jobs
Adjustments and Settings
Another important thing to look for when selecting a fertilizer spreader is how many settings it will allow you to make. More adjustments will allow you to spread more items, and your machine will be more versatile. You will also need to look for a conversion chart to tell you what setting to use for a specific product you are using. Most fertilizers will have a spreader setting listed on the package for many popular brands, but if your model isn't among them, you will need a conversion chart.
Deflector
The deflector is often an attachment that directs the spreading material to one side or the other. It's useful if you are walking along a street or sidewalk, and you don't want the seed thrown in that direction. Deflectors are handy, but they aren't as important as tank size or spread evenness.
Wheel Size
Wheel size is critical to a smooth rolling machine. Many yards are far from flat and larger wheels will pass over the surface easier. Larger wheels are often a sign of higher quality, and the transmission gears responsible for transmitting energy to the impellers are usually more durable. We tried to list the wheel size for each model, and if you are having a difficult time choosing between two, we recommend going with the one with larger wheels.
Balance
One last thing you will want to look for when choosing your fertilizer spreader is that it's well balanced and comfortable in the case of portable spreaders. Many wheeled spreaders can get top-heavy when filled, and a tip can result in wasting expensive fertilizer. Portable units can be too bulky, or the straps might be too rigid to remain comfortable for a long work session. We tried to point out any top-heavy or uncomfortable models on our list but consider these things when you shop elsewhere.

Conclusion
When choosing your next fertilizer spreader, we highly recommend the Scotts 75902 Elite Spreader, our pick for the best fertilizer spreader overall. This brand is very popular, and most fertilizers list the proper settings for this machine on the package. It has enough room to cover 20,000 square feet and uses never-flat tires. There are plenty of settings for all types of seeds and chemicals, and it spreads in a wide 6-foot pattern. If you are looking for a smaller sized spreader, we recommend our pick for the best fertilizer spreader for the money. The Spot Spreader Hand Spreader is perfect for spreading fertilizer over a small area and doubles as a rock salt spreader in the winter.
We hope you have enjoyed reading over these reviews and found the right one for your yard. If you have found our buyer's guide informative and think it can help others, please share these 10 best fertilizer spreaders on Facebook and Twitter.