5 Best Folding Ladders of 2023 – Top Picks & Reviews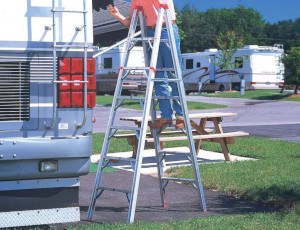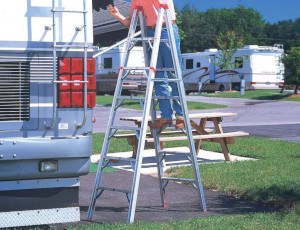 Did you know that an average of 175,000 ladder-related injuries are reported every year? Although some of these are a result of negligence and human error, faulty ladders play a big part in these incidents. Picking the most suitable folding ladder for your needs is therefore not only crucial to your work but your safety as well. Unfortunately, finding the ideal ladder is not as simple as you'd expect, because certain details have to be considered. To take some weight off your shoulders, we have written detailed reviews of a few folding ladders, to help you identify the most suitable one for your requirements.
---
A Quick Glance at our Favorites for 2023:
Rating
Image
Product
Details

Best Overall

GP Logistics Ladder

Compact
Lightweight
Easy to transport
CHECK PRICE

Best Value

Delxo 4-Step Ladder

Sturdy
Stable
Affordable
CHECK PRICE

Bowoshen 16.5ft Telescoping Ladder

Durable
Easy to carry
Extends to 16.5 feet
CHECK PRICE

Good Life 13 Foot Multi-Ladder

Versatile
Ergonomic
Easily converts to any position
CHECK PRICE

Idealchoiceproduct 15.5′ Aluminum Ladder

Flexible
Reaches high
Can be assembled in several positions
CHECK PRICE
The 5 Best Folding Ladders:
1.

GP Logistics Folding Ladder – Best Overall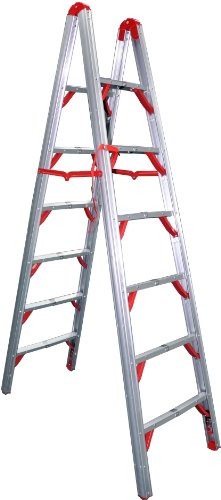 The GP Logistics SLDD7 7' Compact Folding Ladder is ideal if you're in search of a portable and compactly foldable ladder that you can use in different places. Its lightweight of only 25 pounds makes it easy to carry, and it's designed in such a way that it can be folded and stored conveniently. It's made of aluminum for durability while keeping it light.
The weight rating on this ladder is 225 pounds. That includes the user and the equipment, so you need to be sure to stay within that rating to maintain the ladder's lifespan and for safety.
The ladder is constructed in a way that makes it very stable and sturdy, so it's unlikely to slip while you climb on it. The steps are metallic, but they do not include non-slip features such as rubber. Overall we think this is the best folding ladder available this year.
Pros
Compact
Lightweight
Stable
Easy to transport
---
2.

Delxo Folding 4-Step Ladder – Best Value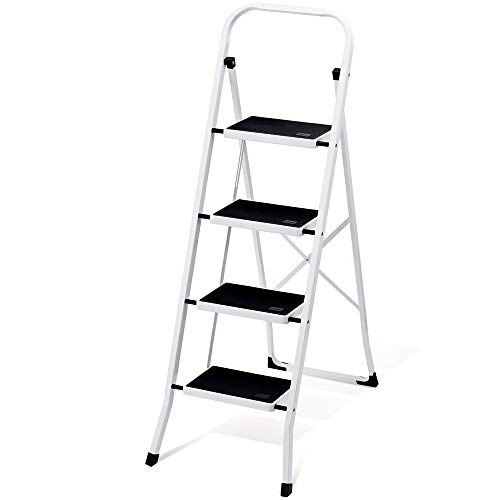 The Delxo Folding 4 Step Ladder is a reliable choice for additional safety measures. It features non-slip wide steps and rubber grips on the feet. The crossed bars improve stability and sturdiness.
This ladder is best to save space, because of its compact abilities. The steps fold in completely at a 4.5'' width and lock into place for safe storage. This ladder allows you to grip the sidebars comfortably while mounting or dismounting. It's ergonomic and safe.
The weight rating on this ladder is 330 pounds, which gives you room to carry a bag of equipment with you. In addition to all these desirable features, it's significantly affordable.
An issue with this ladder is that, unlike our first choice, it doesn't reach very high. Reaching higher ceilings will definitely be challenging with this ladder.
Pros
Stable
Sturdy
Ergonomic
Compact
Affordable
Cons
Not suitable for higher heights
---
3.

Bowoshen 16.5ft Folding Telescoping Ladder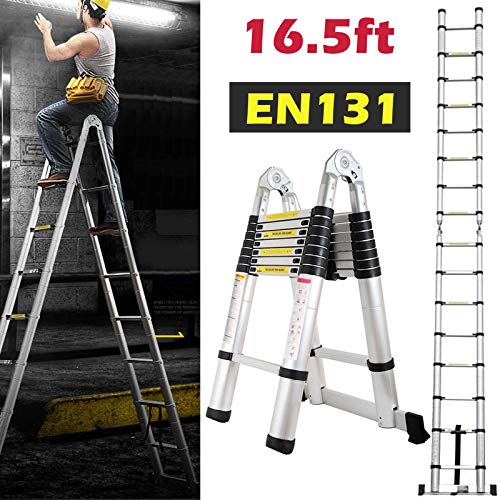 If you need a ladder that reaches higher than most folding ladders, but is also compact, the Bowoshen 16.5ft Folding Aluminum Telescoping Ladder will be a reliable choice. It contracts to a height of only 2.8 feet and expands to 16.5 feet. It's very compact and easy to carry, although it does weigh slightly more than most folding ladders, with a weight of 37.5 pounds.
The height can be adjusted conveniently to suit the user's needs, using the independent locks on the sides. The rubber grips on the ladder's feet and the extended bar with rubber grips at the bottom of the ladder act as safety measures to help prevent slipping.
The ladder features a certified weight of 330 pounds. It's made of aluminum for durability.
The steps are rather thin, which makes mounting and dismounting uncomfortable, and the ladder comes with instructions that are challenging to decipher.
Pros
Compact
Stable
Easy to carry
Extends to 16.5 feet
Durable
Cons
Heavy
Thin steps
Complex user guide
---
4.

Good Life 13 Foot Folding Multi-Ladder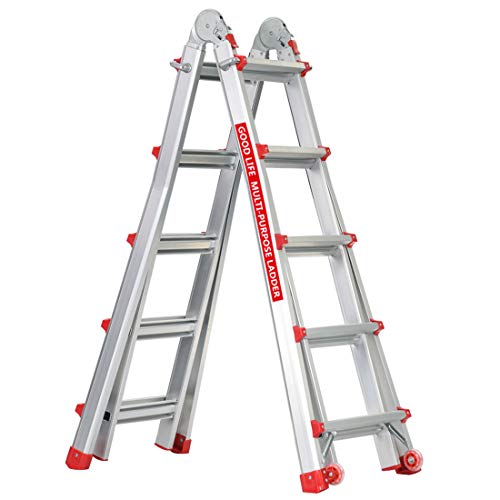 The Good Life 13 Foot Folding Multi-Ladder promises to be versatile. It can be folded in three different positions, and it contracts and expands, making it very compact.
It has rubber grips for greater stability, and the handle bars are ergonomic. The weight rating of the ladder is 330 pounds, yet it begins to wobble as soon as you exceed 150 pounds on it.
It reaches a decent height of 13 feet when expanded, but the parts make a squeaking sound when you mount the ladder. The steps are very thin, and they do not include non-slip components, so you are more likely to slip off this ladder. Although its compact qualities make it easy to carry, it's downplayed by the fact that it's rather heavy, weighing 26 pounds.
Pros
Versatile
Compact
Ergonomic
Cons
Unstable
Loose parts
Thin steps
Lacks non-slip components on steps
Heavy
---
5.

Idealchoiceproduct 15.5′ Aluminum Folding Ladder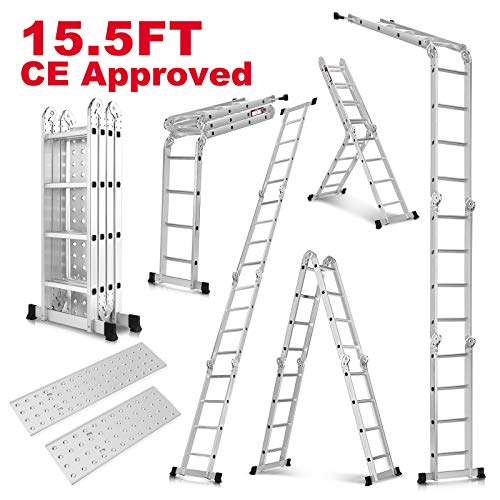 For greater versatility, the Idealchoiceproduct 15.5′ Giant Aluminum Multi Purpose Folding Ladder is a reliable choice. It can be assembled and folded in several positions to allow you to work on multiple surfaces. It reaches a maximum height of 15.5 feet, and it can be folded down to a height of nearly half its maximum.
It includes heavy-duty rubber pads for sturdiness, and the multi-purpose smooth hinges allow the different positions.
This ladder may appear to be very reliable, but it's actually unstable. The parts also make a loud squeaking sound when you're mounting or dismounting. The ladder takes up lots of space, even when folded, and its heavy-duty nature makes it difficult to carry around. The steps are thin and lack non-slip components.
This is our least recommended folding ladder, because it features shortcomings in several aspects.
Cons
Unstable
Loose parts
Heavy
Thin steps
Lacks non-slip components on steps
---
Buyer's Guide – Choosing the Best Foldable Ladder
The following qualities should be given careful thought before choosing a particular folding ladder.
Material
You may have to carry your ladder back and forth to position it where you need to be working, so a lightweight ladder would be ideal. The material of the ladder should be light, but durable. The purpose of the ladder will also determine the type of material needed. For example, for electric work, a ladder made of non-conductive material is best.
Height
Pick a ladder that allows you to reach the desired height without you having to reach up, thereby destabilizing yourself and the ladder.
Weight rating
This refers to the maximum weight that the ladder can carry safely. This is especially important to prevent the ladder from breaking, as this could cause serious injuries.
Additional features
Look at safety features such as non-slip components and the ladder's overall stability. Ensuring that the parts of the ladder are properly designed and fitted is crucial to prevent injury.
---
Conclusion
The GP Logistics SLDD7 7' Compact Folding Ladder is undoubtedly the most reliable choice because it has the most outstanding qualities. The Delxo Folding 4 Step Ladder is also exceptional, and it's the best for the money, but its inability to reach higher heights lands it in second place. These product reviews have hopefully given you enough knowledge to allow you to pick the most suitable folding ladder for your needs.