7 Best Garage Heaters In 2022 – Reviews & Top Picks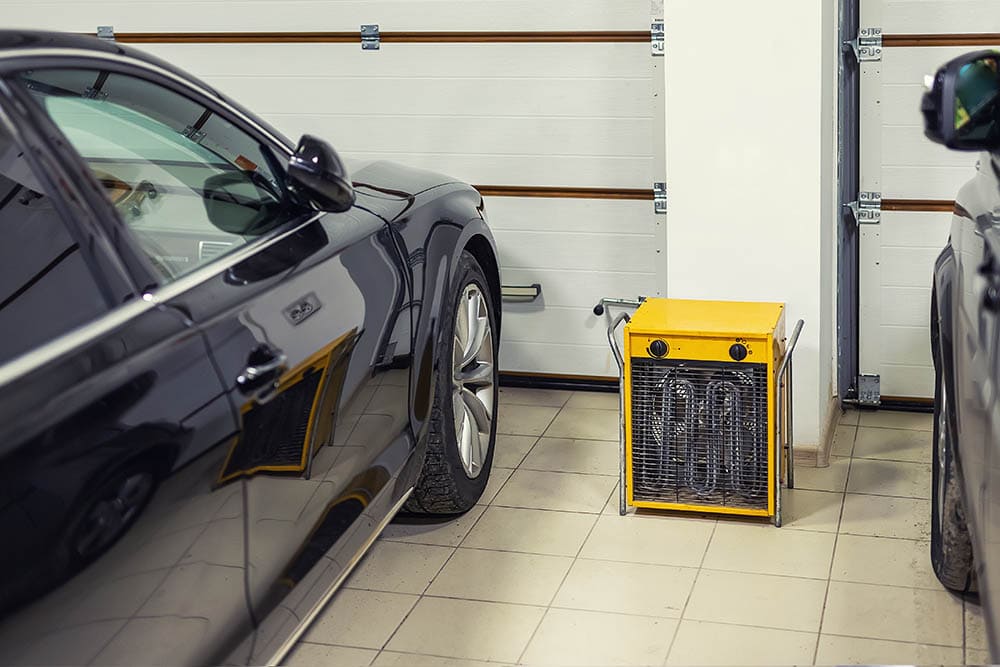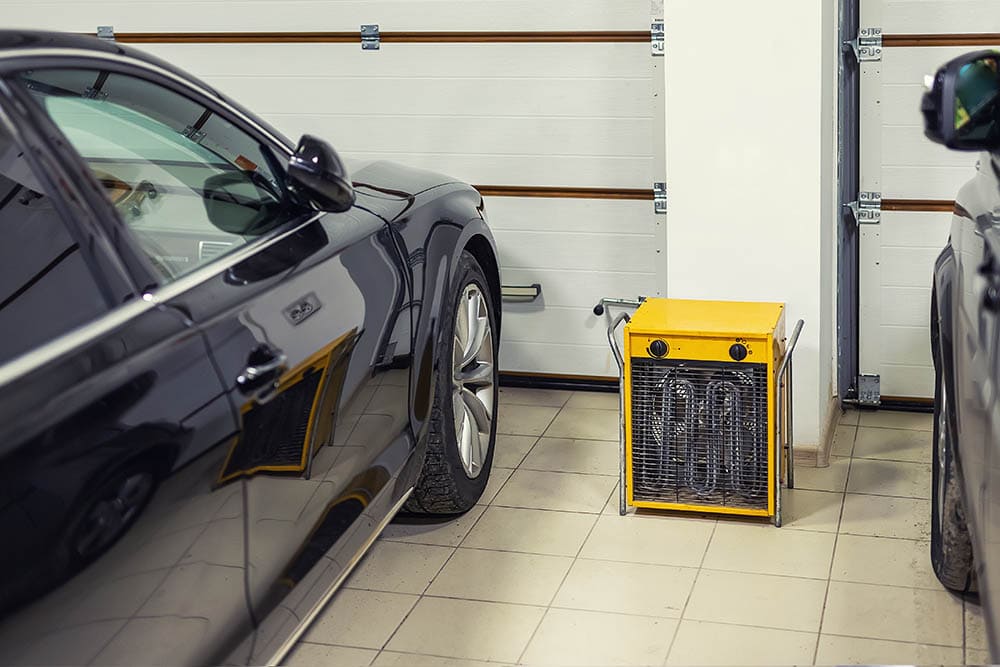 There are few things as miserable as a cold garage. If you have ever had to fiddle with a water heater, engine, or workbench in below freezing temperatures, you know how awful it can be. Being hunched over a bench with unwieldy gloved hands as steam pours from your mouth is not a way anyone wants to spend a dreary afternoon. You can ensure that this situation never happens to you again by purchasing a garage heater. There are garage heaters of all shapes, sizes, and fuel types to fit every type of garage.
This guide will recommend seven of the top picks for garage heaters in 2022. It also includes a brief buyer's guide of things that a potential buyer needs to keep in mind before making a final purchase. By the end, you should know exactly what type of garage heater will work best for you so you can say goodbye to frigid garage errands for good.

A Quick Comparison of Our Favorites of 2022
[winner_comparison_table id="81924″]
The 7 Best Garage Heaters
1.

Best Overall – Fahrenheat FUH Electric Garage Heater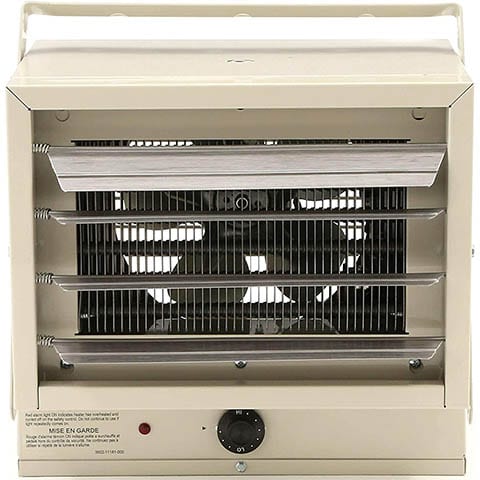 | | |
| --- | --- |
| Power Source: | Hard wired electric |
| Heating Method: | Forced air |
| Weight: | 24 lbs. |
The best choice on our list is the Fahrenheat FUH Electric Garage Heater. This unit takes the top spot because it combines some of the best features across the board into one reliable heater. First, it runs on electricity, so you don't have to deal with propane or natural gas if that is not your thing. Second, it can be installed anywhere. The handy mounting kit and pleasant square design allow you to mount it in a variety of different places to put the heat exactly where it needs to go. Mounting it on the ceiling can keep the heater out of the way, so you don't lose valuable floor space in a crowded garage. This heater is not fancy, it is not complicated, and it is not low-grade. It does its job well without fuss and can heat a two-car garage with the flip of a switch.
This heater can crank all the way up to 135 F for large spaces, but it is also safe. It has an automatic shut off that kicks in in the event of overheating or electrical issues. It has adjustable louvers and an included thermostat for precision accuracy in the garage.
The only con for this unit is that it requires a solid mount (included) to hold it up. It weighs 24lbs. It also needs to be hard wired into your garage's electrical system. This unit does not require any fancy wiring, but it does need to be spliced in. The unit can run on 208 or 240-volt circuits. It can really be installed anywhere. You can put it over your car, in the corner, by the door, or over your workbench. Once installed, the unit works well, provides good heat, and won't be a hassle. The Mr. Heater F232000 MH9BX Buddy 4,000-9,000-BTU Portable Propane Heater has the best combination of functionality, warmth, safety, and affordability.
Pros
Provides a lot of heat
Can be installed anywhere in the garage
Provides targeted precision heat
Mounting it up high keeps it out of the way
Cons
Needs to be wired in for best results
Can be expensive to run continuously
---
2.

Best Small Garage Heater – Mr. Heater F232000 MH9BX Buddy 4,000-9,000-BTU Portable Propane Heater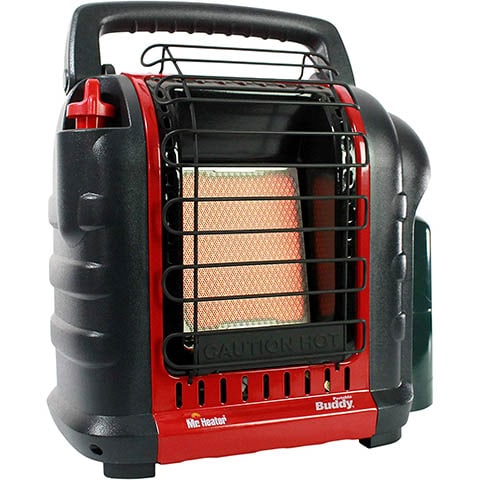 | | |
| --- | --- |
| Power Source: | Propane |
| Heating Method: | Radiant |
| Weight: | 9 lbs. |
Not everyone needs an involved garage heater to get the warmth they desire. Some people just need something small, affordable, and easy to take down and put up. The Mr. Heater F232000 MH9BX Buddy 4,000-9,000 BTU Portable Propane Heater is a compact heater that runs off a small propane tank that can output 4,000 to 9,000 BTUs of adjustable heat. The unit is great for short bursts of heat that won't break the budget.
Running a large heater can be expensive, and not everyone needs 2,000 sq. ft. of heat or wants to pay for it. This heater is perfect for someone who just needs a little bit of warmth for a short amount of time every once in a while. The upfront cost is affordable, and the operating cost is affordable. It can run at full blast for three hours or half heat for six hours. This heater can also work for camping, outdoor sports events, and yard work since it is easily transportable from the garage to your outdoor activity.
The biggest drawback to this unit seems to be the finicky pilot light. Since the unit is so small, the pilot light tends to go out rather easily, which can be frustrating in windy or drafty situations. The pilot light problems can make the heater hard to light and have caused some people to think the whole unit is defective. Pilot lights can be tricky in general and having a weak pilot light could be an issue for some casual users.
Pros
Affordable
Portable
Small and manageable heater
Great for short bursts
---
3.

Best Large Garage Heater – Mr. Heater F260550 Big Maxx MHU50NG Natural Gas Unit Heater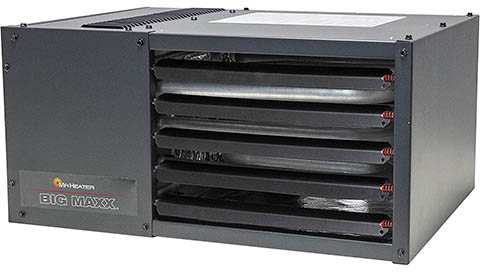 | | |
| --- | --- |
| Power Source: | Natural gas |
| Heating Method: | Forced air |
| Weight: | 63 lbs. |
If you are looking for a heater that can warm a very large garage or workshop, then you need to check out the Mr. Heater F260550 Big Maxx MHU50NG Natural Gas Unit Heater. This large heater puts out an impressive 50,000 BTUs of heat and is perfect for a three or even four car garage. The Big Maxx heater can run on a natural gas line, or it can be converted to run on propane giving you the option to choose the power source that is best for you. This heater has a powerful circulating fan and a large exhaust port and comes with everything you need to install it. It even has the option to ship with a thermostat for easy adjustment.
This heater has to be mounted high on the wall or from the ceiling. The recommendation is for 8 feet of clearance from the base to the floor, which limits where it can be installed. It is also a bulky 63 pounds. Installation is not that complicated, but it does need to be installed on a natural gas line and mounted. If you want it to run on propane, you need to install the included natural gas to propane converter. Once the unit is installed properly, it is a solid source of heat that will keep your garage toasty for years to come.
Pros
Natural gas or propane
Can heat large areas
Smooth running after installation
Cons
Very heavy
Can't sit on the floor
Involved installation process
---
4.

Best Electric Garage Heater – Comfort Zone 5000W Fan-Forced Ceiling Mount Heater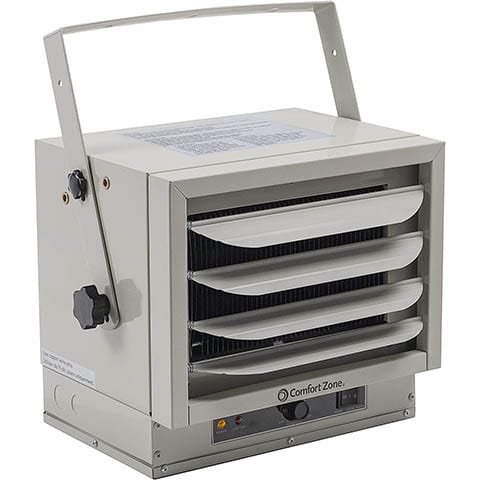 | | |
| --- | --- |
| Power Source: | Hardwire electric |
| Heating Method: | Forced air |
| Weight: | 16 lbs. |
If you are looking for a solid electric heater for a typical garage, look no further. The Comfort Zone 5000W Fan-Forced Ceiling Mount Heater is a great heater for a regular garage that experiences brief periods of extreme cold or relatively mild winters. This heater gets mounted to the ceiling, so it is out of the way. You can mount it over your workshop, in a corner that is more frequent, or over your car.
This heater provides constant, reliable heat that is safe and out of the way. The louvers and the brackets can be tilted to provide targeted heat, giving you more control over the temperature of your garage. This heater is built from rugged steel that can hold up in the garage for years. It also has a shut off that kicks in in the event that the heater gets too hot, which improves the safety of the unit.
The biggest downside to the Comfort Zone 5000W Fan-Forced Ceiling Mount Heater is the fact that it needs to be hardwired into a suitable circuit. This might require the use of an electrician or contractor to get it right. There have also been a few reports of the fan going bad in the unit, which is what circulates the heat, and the fan is not replaceable. The whole unit needs to be replaced in the case of a bad fan. The good news is that this heater is very affordable, and once you have the area set up for it, installing a new one should not be too much of an issue.
Pros
Nice ceiling mount
Provides consistent heat that doesn't get too hot
Targeted heating to specific areas
Affordable
Cons
Requires involved installation
Internal fan is not replaceable
---
5.

Best Infrared Garage Heater – Dr. Infrared Heater Portable Space Heater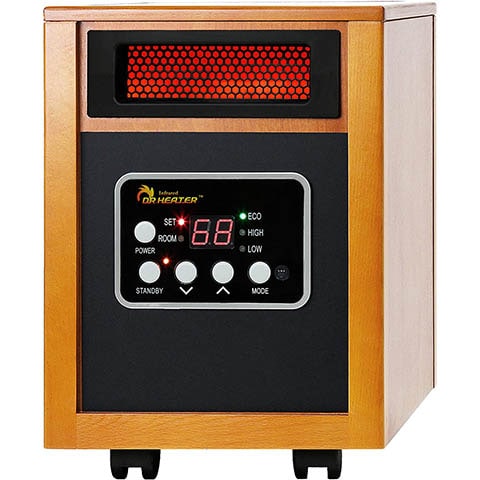 | | |
| --- | --- |
| Power Source: | Outlet |
| Heating Method: | Radiant |
| Weight: | 24 lbs. |
The Dr. Infrared Heater Portable Space Heater is a fantastic infrared garage heater that produces constant and safe heat for your garage space. Unlike some other heaters, this heater is perfect for people with children or pets or someone who is just a little clumsy. The Dr. Infrared Heater Portable Space Heater features an automatic shutoff if you leave it on by accident for more than 12 hours. It also features anti-tip over technology that keeps your garage safe in the case of an accident. It is also safe to touch, so you won't accidentally burn yourself or catch a trailing coat on fire.
In addition to all of that, this unit comes on casters so that it can be easily moved around the garage. It is compact and does not take up very much room, and it can heat a garage in a short amount of time. The flaws with this unit include a propensity to melt the nearest outlet if it is allowed to run too close to the wall. Multiple users reported that the heat levels were high enough near the unit to cause damage to cords and outlets. That is something to watch out for. The other issue that people report is that the fan can be very loud, and sometimes the unit heats a space beyond the temperature that you set it to. All in all, this is a great compact infrared heater that is perfect for any garage.
Pros
Heats well
Compact and on wheels
Runs of a typical outlet
Super safe for kids and pets
Cons
Heat damage to nearby cords
Loud fan
---
6.

Best Propane Garage Heater – Mr. Heater MH60QFAV 60,000 BTU Portable Propane Forced Air Heater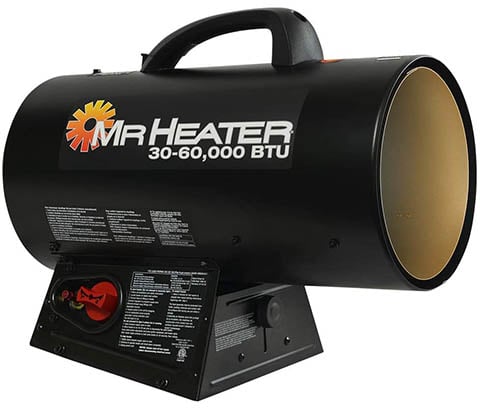 | | |
| --- | --- |
| Power Source: | Propane |
| Heating Method: | Fan with Forced Air |
| Weight: | 13 lbs. |
The Mr. Heater MH60QFAV 60,000 BTU Portable Propane Forced Air Heater is an effective and affordable way to heat a large space in a hurry. This propane heater puts out a solid amount of heat, runs on a typical propane tank, and will raise the temperature of a garage in minutes. The 60,000 BTU output can reliably heat up to 1,500 sq. ft. of space during the dead of winter. This is the perfect heater for people who use their garage as a workshop or a gym and struggle with bitingly cold temperatures in the winter. This heater is portable, compact, and quiet. It can run continuously on low for up to 14 hours on a typical propane tank.
When it comes to a small and hot propane heater, there are few better options than the Mr. Heater MH60QFAV 60,000 BTU Portable Propane Forced Air Heater. However, there are a few drawbacks. First, propane heaters are considered unsafe by some. This heater is not good for anyone with children or pets. Second, if you plan on using this heater continuously in the winter, your propane bill could get a little high. You will run through a tank every couple of days if you are planning on spending hours in your unheated garage.
Pros
Heats large spaces quickly
Easy to move
Great for garage workshops or gyms
Affordable
Cons
Burns a lot of propane if left on continuously
Unsafe for kids and pets
---
7.

Best Natural Gas Garage Heater – Dyna-Glo 30,000 BTU Blue Flame Thermostatic Garage Vent Free Wall Heater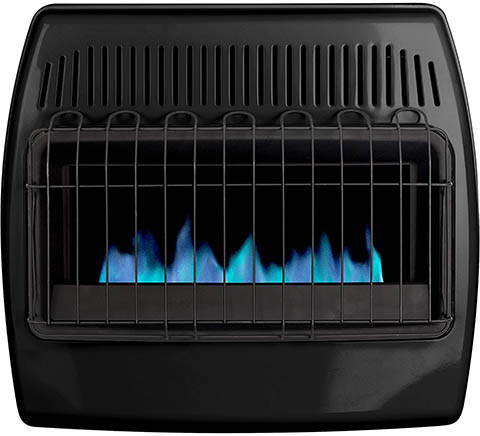 | | |
| --- | --- |
| Power Source: | Natural gas or liquid propane |
| Heating Method: | Convection |
| Weight: | 28 lbs. |
Losing power during a period of extreme cold can be dangerous. In extreme situations, it can take days to get the power back on after an ice storm. If you live in an area with intense winter weather, it could be a good idea to get a natural gas-powered heater that will run even if the power is out. The Dyna-Glo 30,000 BTU Blue Flame Thermostatic Garage Heater is a great choice for a natural gas heater because it runs completely without electricity. The heat is distributed via convection, the gas is lit via a safe pilot light, and it can even take liquid propane in a pinch. If the power goes out, you will still have at least 1,000 square feet of warm space that you can retreat to.
One of the best things about this heater is that it is packed full of modern safety features. It includes a built-in oxygen depletion sensor (ODS). The ODS will immediately shut down the heater if carbon monoxide or lack of oxygen is detected. It also has a smart electric pilot light, a wrong fuel detection system, and an automatic shutoff in the case that any of these sensors are tripped. This keeps your garage warm without worrying about the safety of a gas heater.
The downside to this heater is that since it runs off of a natural gas line (or 100-gallon propane tank), it will require professional installation in order to get it right. The heater will have to meet natural gas building codes for your area to ensure its safety.
Pros
No electricity required
Can use natural gas OR propane
Great for emergency situations
Plenty of safety features
Cons
Requires professional installation

Buyer's Guide: Picking the
Best Garage Heater
Typical Usage
Perhaps the most important thing to consider before buying a garage heater is the typical usage. Some people work in their garage every day and need to keep the space warm constantly. Other people only need to heat their garage maybe once or twice a month. The amount of heat you need, and the frequency of the heat are critical factors to keep in mind. People who do not need to heat their garage regularly might be fine with a small portable heater, while someone who wants a consistently heated garage might want to opt for a permanent fixture. The usage will often dictate the budget as well. Small portable heaters are often more affordable than beefy heaters designed to heat the garage all day.
Garage Features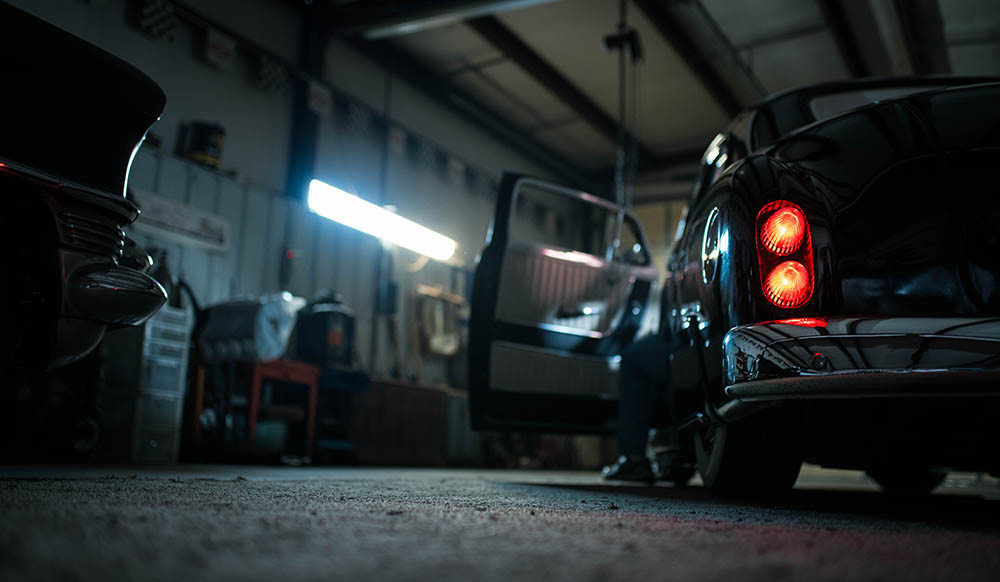 Is your garage insulated? Is your garage finished? Is your garage attached or unattached? These are questions that you need to ask yourself before deciding on a heater. Unfinished and uninsulated garages will require more heat to keep them warm in the winter. The attached garages can exchange heat with the connected house. You might not want to use an open flame or super-hot heater in an attached garage in case the unthinkable happens, and a fire breaks out. A finished and well-insulated garage will probably require less heat to get it up to temperature and keep it warm longer, so you can probably afford to go with a smaller and safer heater. Not all garages are created equal, and it is important to know what features your garage has before making a purchase.
Power / Fuel Source
There are a variety of different fuel sources for garage heaters, including outlets, hardwired cords, natural gas, or propane. Your familiarity with these fuel sources will influence your decision. Some people use propane regularly, while others have never touched a propane tank. Natural gas heaters are super-efficient and safe, but they require professional installation and more money on your monthly gas bill. Be sure to check what kind of power source the garage heaters use before settling on a final option.
Safety
Not all garage heaters are safe for children and pets. Any heaters that use an open flame or exposed electric coils can be a burn risk or a fire risk. Some heaters are hot to the touch and can cause burns to unsuspecting people. These are risks inherent to any number of heaters, so it is important to know the safety features and the safety risks of any heater you are considering. If you have children or a dog that likes to spend time in the garage, you must consider the heating method to avoid accidents.
Installation
Some garage heaters require no installation. Portable units can be plugged in or loaded with propane and simply turned on. Other heaters require mounting, hard wiring, or pipe fitting to get up and running. Some installations are complicated and might require the use of a professional to meet building codes and ensure the safety of the unit. If you do not want to deal with an advanced installation, make sure you are getting a portable unit that does not require much work. However, well-built heaters that are installed properly are often out of the way and permanent and require little maintenance after they are installed.
Overall Costs
Cost is a big factor in any purchasing decision. In the case of a garage heater, there are two main sources of cost that need to be considered. First is the upfront cost of the unit. Some garage heaters are expensive on the front end, but they provide a lot of reliable heat for years at a time. The second cost is the cost it takes to run the unit.
This is just as important as the upfront cost. Some garage heaters are extremely expensive to run consistently, whether that is additional money on your electricity bill or frequent trips to the hardware store to get refills on propane. The amount of time you need to run your heater, the size of the heater, and the power source will all factor into how much it will take on a monthly basis to keep your garage at a comfortable temperature during the day.
You could feel like you are getting a good deal on the front end only to find out that the monthly costs are way higher than you expected. You have to consider the running costs in addition to the purchasing cost before making a final decision.

Conclusion
There are a variety of different heaters of all sizes and types here that will appeal to a large audience. Whether you just need a small rolling heater for a few hours a month or a large, mounted heater to keep your garage warm throughout the winter, there is a product here that will fit your needs. Browsing the provided list of garage heaters in conjunction with the included buyer's guide should give you all of the information you need to make an informed decision that you will feel confident about.
---
Featured Image Credit: Gorloff KV, Shutterstock