12 Cool Home Garage Gym Trends in 2023 (With Pictures)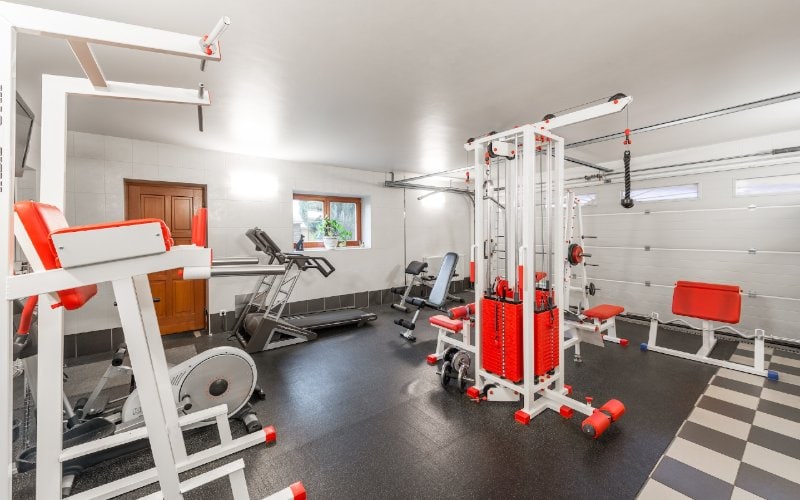 Getting into a regular workout routine is ideal, but getting to the gym is usually where the actual challenge lies. It may be the monthly gym fees, the morning traffic, or even the "crowds" of influencers taking their time on the equipment while they film their daily content. That's why setting up a home gym is a great solution and helps minimize your excuses for getting into the gym. Converting your garage into a gym space is convenient, motivating and will save you money in the long run.
You can easily throw dumbbells into the corner alongside a treadmill, but you will soon lose motivation, and your workout space should be appealing. To help you achieve that and your fitness goals, we've found home garage gym trends that are as inspiring as your workout playlist!

The 12 Home Garage Gym Trends
1.

Mirror Wall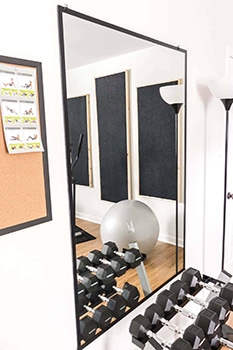 | | |
| --- | --- |
| Materials: | Large mirrors, strong double-sided tape |
| Tools: | Scissors, measuring tape |
| Difficulty Level: | Easy |
Have you ever seen a public gym without any mirrors? Mirrors help you assess your form and technique, and of course, they make the best backdrop for a gym selfie! A mirror wall can also help make the space appear bigger, which is great for a small gym you set up in a garage. You can easily install the mirror wall without spending a fortune.
---
2.

Zen Gym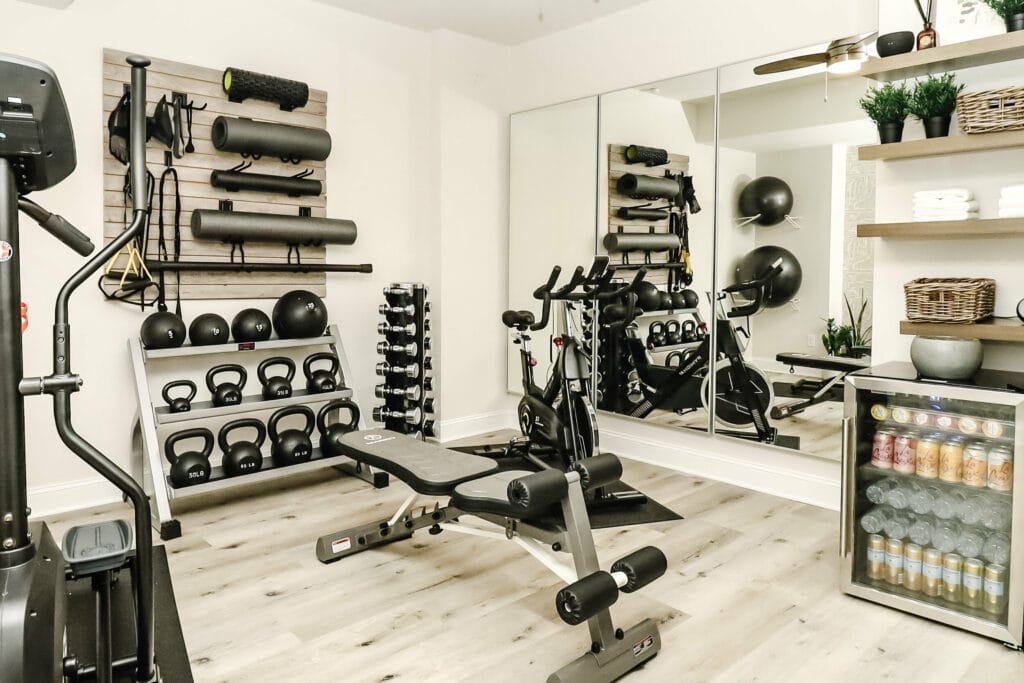 While the gym should motivate you to work out, it can also have a tranquil, Zen feel, especially if you enjoy practicing yoga. This can be achieved by incorporating a few simple elements that will help you create a calm space. To achieve a Zen-like space in your garage gym, add your favorite greenery, natural materials, ambient lighting, fragrance, music, and even a small water feature.
---
3.

Faux Brick Accent Wall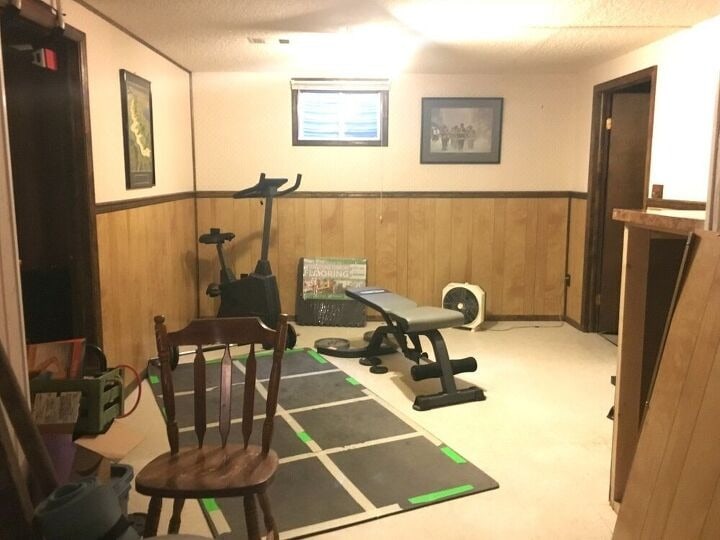 | | |
| --- | --- |
| Materials: | Faux brick panels, nails |
| Tools: | Table saw, jigsaw, hammer |
| Difficulty Level: | Easy to Moderate |
An accent wall is a great trend that works well in most rooms of the home, including a garage gym. You can add character to your garage gym by adding a trendy faux brick accent wall, and it will only take an hour or two for you and your gym partner to put together; the project can be considered part of your workout for the day!
---
4.

Garage Gym Jungle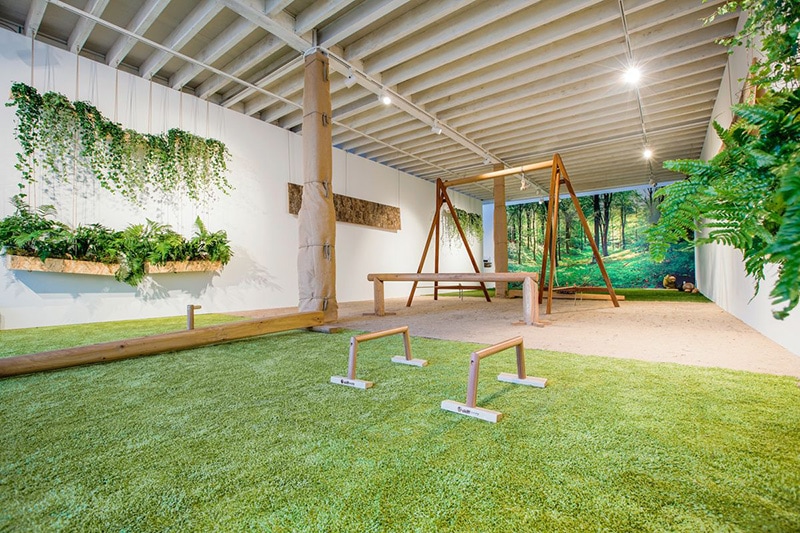 | | |
| --- | --- |
| Materials: | Assorted plants, faux grass mats, botanical prints |
| Tools: | Drill, hammer |
| Difficulty Level: | Easy |
Greenery and foliage can brighten almost any room. The living room, the office, the classroom, and even gyms! Adding plants to your gym space can create a more calming environment and help bring a little of the outdoors into your home. Natural equipment made of timber can also add to the organic aesthetic.
---
5.

Wall Mural
| | |
| --- | --- |
| Materials: | Wall paints, painter's tape |
| Tools: | Paint brushes, paint rollers |
| Difficulty Level: | Easy to Difficult |
This one is for the artists or someone who knows a talented artist who can help. Adding a mural as an accent wall can add a motivational and personal touch to your gym. If you are an artist and haven't completed a project of this kind, this is a great inspiration for you to get started!
---
6.

Add a DIY Neon Light
| | |
| --- | --- |
| Materials: | Neon rope light, acrylic sheet backing, super glue, 24-gauge speaker wire, end caps, masking tape |
| Tools: | Drill, soldering iron kit, wire strippers, AC adaptor, Jigsaw, Stanley knife |
| Difficulty Level: | Moderate to difficult |
Including a neon light with your gym's name or a motivational word or phrase is a top trend for gyms in 2023! You can set it up at your entrance or on an accent wall where you can always see it. This project requires computer skills, crafting skills, and electrician skills, but with patience, perseverance, and a little research, you can make an epic neon light for your garage gym that you will be proud of!
---
7.

Pegboard Wall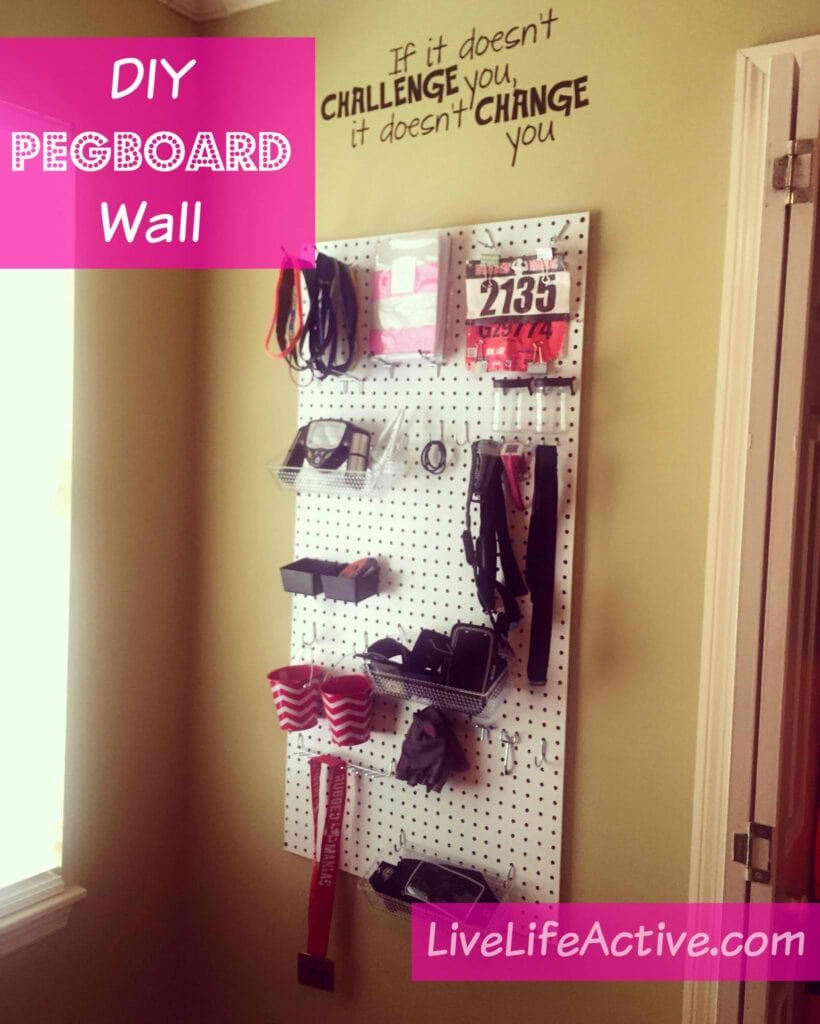 | | |
| --- | --- |
| Materials: | Pegboard and pegboard kit, spray paint, drywall screws |
| Tools: | Drill, measuring tape |
| Difficulty Level: | Easy |
A pegboard wall is a great new trend for home garage gyms, and they are simple to install. They are a great way to hold all your supplies, and they can be as big as you need them to be. They make your small equipment and tools easily accessible and provide a great aesthetic to your workout space.
---
8.

Have Fun with Color!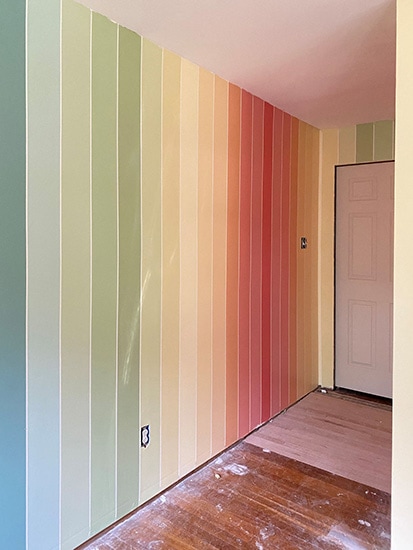 | | |
| --- | --- |
| Materials: | Paint, Paint tape |
| Tools: | Measuring tape, paint brushes and rollers, stir sticks, bubble level |
| Difficulty Level: | Moderate |
Your workout space doesn't need to be a serious place, and adding color is a fun and popular trend for gyms in 2023. Bright colors could give you that burst of energy that you need and can positively influence your mindset. This tutorial is a fantastic idea, but it requires a lot of patience! However, the results will be worth it.
---
9.

Install a Smart Tv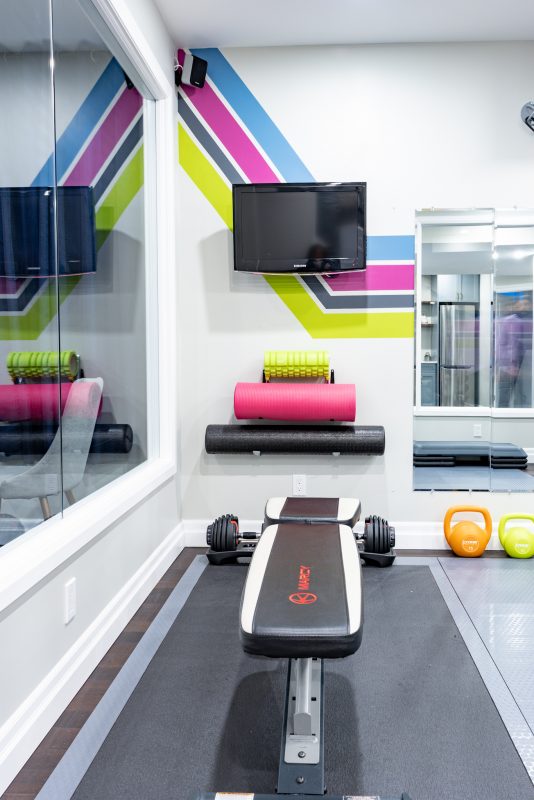 | | |
| --- | --- |
| Materials: | Smart Tv, speakers, HDMI Cable, audio cable, ethernet cable, wall cable covers |
| Tools: | Drill |
| Difficulty Level: | Easy |
What is a trendy gym without a smart television, right? Installing a smart tv in your home garage gym is ideal for streaming workouts, music videos, or concerts if that motivates you. A regular tv can work just as well, and you can use a media streaming device such as Firestick or Roku. Position your TV so that it is visible from all your workout areas but also so that it is at a comfortable height. A wall mount is ideal, so you can adjust it accordingly.
---
10.

Easy Install DIY Rubber Flooring
| | |
| --- | --- |
| Materials: | Rubber flooring |
| Tools: | Stanley knife, tape measure, set square |
| Difficulty Level: | Easy to moderate |
Rubber flooring in a gym is not only trendy, but it is also durable, convenient, soft, and DIY user-friendly. There are a few options on the market, but rubber flooring is generally made from quality rubber that is 100% flat and anti-porous, which makes it perfect for a home gym. The best part is that you can install it yourself!
---
11.

DIY Space-Saving Storage Rack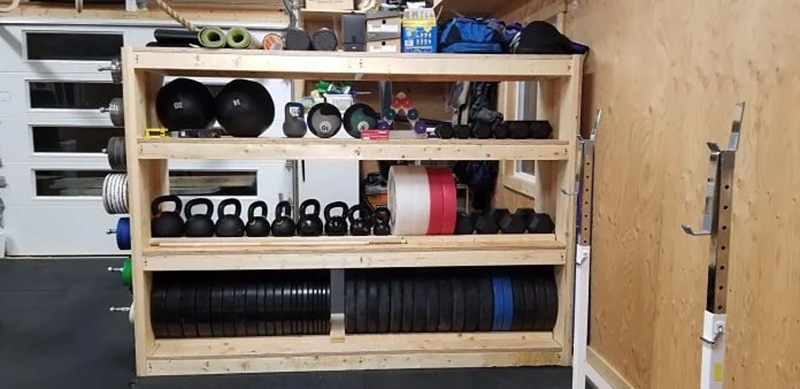 | | |
| --- | --- |
| Materials: | Timber, construction-grade plywood sheets, fasteners, galvanized floor flanges |
| Tools: | Table saw, jigsaw, drill, measuring tape, set square |
| Difficulty Level: | Moderate |
DIY is not only an admirable trend, but you can also create custom items to suit your needs while saving money. This DIY storage rack is ideal for a home garage gym since it saves space and can easily store a wide range of equipment. The tutorial provides all the dimensions and walks you through the process so that any intermediate woodworker can put it together.
---
12.

Don't lose Your Garage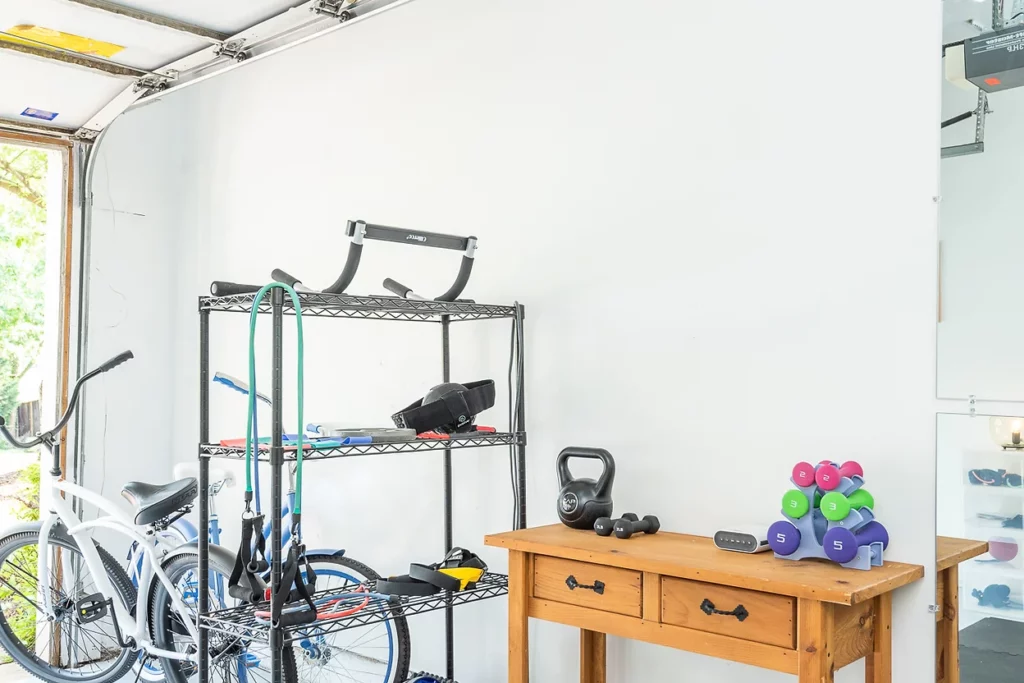 Your home garage gym can still be a perfect workout space without losing your garage for your storage needs. With a coat of paint, extra storage shelves, and some careful planning, you can have a gym that will keep you motivated without losing your garage for storage.
Home Garage Gym Tips
Converting your garage into a home gym doesn't mean it has to be boring, simple, or expensive. Whether you have already converted your garage, are busy building your gym, or planning on creating a garage gym, here are some simple steps and tips to help you get started and improve your space, budget, and ideas.
Before you start, assess your available space for the type and amount of equipment you want. Decide if you need to use the whole garage or just part of it, and think of smart storage options and organization options to make the best use of the space.
Research local building codes and apply for necessary permits to ensure you are compliant with local regulations.
Ensure your garage is waterproof and insulated, and make sure any gaps are sealed.
Consider your budget. This will play a significant role in how your garage gym turns out and what you can and cannot do.
Think about the type of equipment you may need or want and what you need to appropriately store that equipment.
Look around for secondhand equipment to help you save money.
Start out with just the essential equipment and add new items only when necessary.
Consider ventilation. Are there enough windows? Do you plan on installing an air conditioner or a few fans?

Final Thoughts
There are several trends you can incorporate into the design and layout of your home garage gym that will keep you motivated and inspired. Whether it's a splash of color, a more tranquil setting, DIY equipment, accent walls, or smart storage ideas, you can create an extraordinary gym that follows the trends of this year! Just remember that trends always evolve and change, and so will your ideas and even your workouts, and you'll likely make small changes as you go along to keep your space motivating and functional.
---
Featured Image Credit: Max Vakhtbovych, Pexels