7 Best Gas Hedge Trimmers of 2023 – Reviews & Top Picks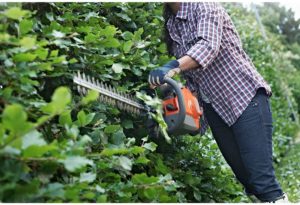 Anything worth doing is worth doing right, and landscaping, tree trimming, and simple lawn maintenance are not exceptions.
For the best, longest-running, and most versatile landscaping equipment, gas-powered is still the top choice. And with new EPA standards, gas-powered items like mowers and hedge trimmers put out fewer emissions and waste less fuel than in the past. This is excellent news if you wish to keep your carbon footprint low and still do exceptional yard work.
We have put together seven of the best gas powered hedge trimmers on the market, and if you are looking to buy your first hedge trimmer or need to replace your old model, we think these reviews will help you pick the perfect choice for your landscaping needs.
A Quick Comparison of Our Favorites in 2023
Rating
Image
Product
Details

Best Overall

PROYAMA Multi-Functional Gas Hedge Trimmer

Multi-functional
EPA Certified
Shoulder harness
CHECK PRICE

Best Value

Poulan Pro Gas Powered Dual Sided Hedge Trimmer

Cuts up to 1-inch
Double-sided
Anti-vibration
CHECK PRICE

Premium Choice

Husqvarna Dual Action hedge Trimmer

Smart Start engine
Air purge carburetor
Anti-vibration
CHECK PRICE

Craftsman Gas Hedge Trimmer

25cc engine
135° of movement
Easy Start Technology
CHECK PRICE

EASYG 23.6cc Gas Hedge Trimmer

Lightweight
Long blade
Quiet
CHECK PRICE
The 7 Best Gas Hedge Trimmers
1.

PROYAMA DG260 Multi-Functional Gas Hedge Trimmer – Best Overall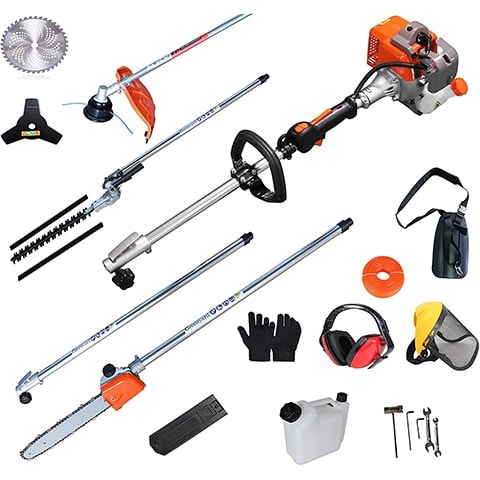 The POYAMA DG260 is not just a gas edge trimmer — it is the Swiss Army knife of gas hedge trimmers. When they named this fantastic set multi-functional, they undersold its multitude of features. Not only does it make short work of hedges, but it also has a chainsaw attachment, a weed eater attachment, and plenty of protective gear included.
But that isn't the half of it. The 26cc engine is EPA certified to release less exhaust, causing minimal additional pollution. It comes with a pole extension so you can get those high branches or trim deep into a large bush without strain or the potential for injury. Plus, it has a very convenient shoulder harness, reducing muscle strain.
Given that the extra features are not originally built-in, there is a possibility of pieces not meshing well with the original unit. That seems to be the case with this model. The extension gears don't correctly mesh with the main body gears and tend to rattle loose without any ability to put them back into place. Besides that though, we give it a firm thumbs up, and our recommendation as the best gas hedge trimmer available.
Pros
Multi-functional
EPA Certified
Shoulder harness
Extension poles
---
2.

Poulan Pro PR2322 Gas Powered Dual Sided Hedge Trimmer – Best Value
For the money, you can't beat this hedge trimming gem. The Poulan Pro PR2322 is not only versatile but also quite stylish, boasting a double-sided cutting surface, a 23cc 2-stroke engine, and stainless-steel blades that can make short work of limbs up to 1-inch in diameter. And it is very lightweight when compared to other hedge trimmers.
If you are worried about the vibration or grip comfort, it comes with a rotating handle to give you just the right grip for long periods of use, and advanced anti-vibration support, giving you a high degree of control when cutting. It starts easy, it runs like an engine should, and is made in the USA. We think it's easily one of the best gas trimmers for the money.
The issue that seemed to be the most reoccurring had to do with the pull string. Some users had the pull string come entirely free of the starter crank, and others had the plastic pull grip break within days of taking it out of the box. There have also been a few instances of subpar customer service experiences with Poulan.
Pros
Cuts up to 1-inch
Double-sided
Anti-vibration
Adjustable handle
Cons
Bad customer support
Pull string faulty
---
3.

Husqvarna 9665324-02 Dual Action hedge Trimmer
In gray and orange, you can tell from a distance that the 9665324-02 is definitely a Husqvarna product. But then you hear the Smart Start engine fire up, and that seals the deal; you are working with a quality machine. Not only does the engine start up with ease, but the air purge system in the carburetor also ensures it will every time.
You don't need to worry about forgetting to put the start switch in the right position when cranking the unit. After using the stop switch to turn it off, it automatically returns to the start position — a very convenient feature. And it has anti-vibration dampeners to limit how much stress and soreness you will accrue when using it.
While the Smart Start feature is terrific, the carburetor could use some work. Many users found it only worked well at half choke, and it is believed to be due to poor calibration during the manufacturing process. When power was applied over a certain level, the unit would stall. Adjustments are possible, but only with a very special tool.
Pros
Smart Start engine
Air purge carburetor
Anti-vibration
Cons
Carburetor poorly tuned
Need a unique tool to fix
---
4.

Craftsman CMXGHAMD25HT Gas Hedge Trimmer
It wouldn't be a list of tremendous tools without a contribution from our friends at Craftsman, and the CMXGHAMD25HT follows in the grand tradition of quality products you have come to expect from this brand. With its 25cc engine and 22-inch trimmer length, plus handle extension, this hedge trimmer came to get the job done.
It is lightweight and has Easy Start Technology to allow simple and clean pull starts, coupled with an electric starter available for user convenience with a small upgrade. Trim your hedges with speed and efficiency with 135° of movement at any angle, and do it comfortably with the adjustable handle, adding to the ease of use.
This model, despite the Craftsman brand history of quality, had issues right off the bat. In many instances, it just wouldn't start. In others, it broke within a short time after use had begun. The gearbox seems to be the issue. It is failing with startling regularity, and it seems very underpowered despite the large engine.
Pros
25cc engine
135° of movement
Easy Start Technology
Cons
Gearbox faulty
Underpowered
Faulty units
---
5.

EASYG 23.6cc Gas Hedge Trimmer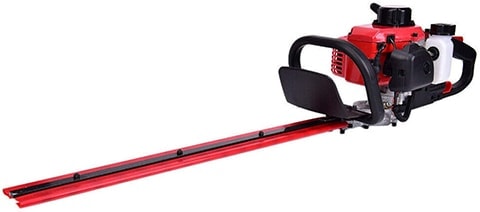 When you want to get your yard work finished and return to spending time doing what you love, having a larger cutting deck than the standard makes a huge difference. The EASYG Trimmer answers that call with a whopping 24-inch blade and a SmartStart feature to give you back more of your day.
It has a throttle lock feature to give your hands a rest and has shock absorbers built-in to reduce vibration. Even with the 23.6cc engine and the double-sided blade assembly, it is still very quiet when running. It might be due to the fact that it is pneumatic, or it may be the air filter cover. Either way, you can bet your neighbors will appreciate it.
The problem we had here is with the kit itself. It is sold as a bundle with accessories, and some aren't included when the unit arrives. And it seems the throttle cable is not the right length to allow the trimmer to operate at optimal speed. Beyond that, it is reliable in the power category and very lightweight overall.
Pros
Lightweight
Long blade
Quiet
Cons
Kit items missing
Throttle cable length
No carbon filter
---
6.

SENIX HT4QL-L Gas Hedge Trimmer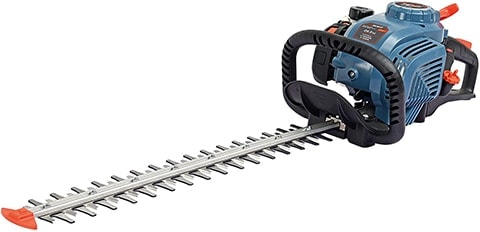 If you were waiting for a beast of a hedge trimming machine, the time has come. The SENIX HT4QL-L decimates your errant branches with its 26.5cc, 4-stroke engine capable of cutting up to a 1.1-inch thick branch without bumping. And despite the monster power coefficient of this model, it still has minimal vibration.
The rear handle swivels to allow cutting in many directions adding to the ease of use when trimming foliage with the 22-inch, laser-cut dual-action blades. And for safety, it comes with a blade cover for when it is not in use. It does not require the traditional gas and oil mixture that many models need to run and is very lightweight overall.
Again, the pull string is our biggest problem with this model. After a handful of pulls, it snaps, and winding a new string seems impossible unless you are a certified repair expert. There have been instances when the unit won't fire at all, which might explain the pull string issue, if it is being pulled too hard or too often while initiating the starter.
Cons
Won't start
Weak pull string
Shuts off when too hot
---
7.

Echo HC-2022 Gas 2-Stroke Cycle Hedge Trimmer
Having the biggest hedge trimmer has its perks, but sometimes the little guy is a better option for tight spaces and better versatility. For your close quarter trimming needs, we give you the Echo HC-2020. It has a 21.2cc engine, is 2-cycle, and has a cutting blade of only 20-inches, smaller than every other trimmer in this series of reviews.
It has a double-blade with razor edges for superior cutting performance and efficiency and is very lightweight at just shy of 14 pounds. It has a long rear handle for increased grip comfort, and the handle is adjustable for different angles of approach when trimming. It's easy to use and has lots of heart in a tiny package.
While there haven't been actual complaints, it is entirely possible that this model is too small and underpowered to be as effective as its larger counterparts. Having a more diminutive cutting surface can add to the time it takes to do the job, and a lack of trigger lock might lead to grip fatigue, but this speculation.
Cons
Too light
Low power
Small blade
---
Buyer's Guide – Choosing the Best Gas Hedge Trimmer
Choosing Your Gas-Powered Hedge Trimmer
When picking the best gas powered hedge trimmer for you, and before deciding to hit the stores or the internet, first determine how often you will use it and the terrain, shrubbery, and size of the area you will need it for. These factors can make a difference, even before you check out with your new gas-powered lawn tool.
For a landscaper, for instance, who works on larger yards and needs their trimmer to be in top form every day, a large-bladed model with a bigger engine and perhaps an extension handle would logically be the way to go. For the homeowner who pulls their trimmer out on Saturdays, something more compact and simple would make sense.
And that doesn't speak to details, like odd shrubs that need an alternate approach, or if you have a yard full of decorative and elaborate topiary bushes. Trimming a topiary is like carving ice with a chainsaw; the smaller the better for those intricate details.
Details and Specs
The primary features of a hedge trimmer that matter most are:
Engine size
Blade size
Cut size
Weight
Versatility
Other add-ons might sell you on a specific unit like accessories or significant noise reduction technology. Still, for the long haul, these are the points that will speak to the trimmer's efficiency, which is important information when thinking about the work you will have to do with it.
Engine Size
All hedge trimmers are measured in cubic centimeters. They range from 21-27cc as a standard but can be smaller or larger for specialty and custom models. A good baseline for trimmer engines is between 24cc and 25cc for the weight. Any more than that, the unit is too heavy. Any less, it is likely to lack the power needed to do the job.
There are options if you need a heavy-duty trimmer to attach a shoulder harness, similar to the one offered for gas-powered weed eaters. This will give you the power you want without the aches and pains after hours of using it. And as for smaller engines, as long as you keep your expectations and your workload manageable, they can come in handy.
Blade Size
The cutter on your trimmer will more often than not be double-sided, and the industry-standard is about 22 inches. They can be longer or shorter, and each has its benefits and deficits, but for the most part, they come in a uniform length for easy part swapping during services.
Again, the blade size changes the dynamic of your efficiency. If you want to get the job done faster, a longer blade will accomplish the goal over a standard or smaller model.
Smaller blades are better for those tight areas or smaller plants up against walls. If you want to do detailed work, add some flair to your shrubs, or only need to take a little off the top and sides, a smaller blade is superior. It's run by a smaller engine, will waste less fuel, and is often very quiet.
Cut Size
The length of the blade is only one part of the efficiency of the trimmer. The is also cut depth to consider. The distance between the blades and how deep they are set changes how the blades cut and at what thickness. Some hedge trimmers can cut a branch up to 1¼ inches in diameter, others can only cut something with half that width. The power of the engine is a variable in this as well.
Weight
The heaviest part of any hedge trimmer is the engine. With the motor, carburetor, fuel, and other components, these trimmers can weigh overall up to 6 pounds. The larger the engine, the heavier it becomes. However, you can have a small machine with several attachments and have it weigh just as much.
Pole extensions, for instance, not only add to the weight but throw off the balance of the trimmer. This is why it is wise to always invest in a shoulder rig, just in case. It will help stabilize the trimmer and take the strain off your arms as you attempt to keep that weight under control.
Versatility
With their lightweight design and fixed directional blade, hedge trimmers are already pretty easy to control and maneuver. But, with different angles and terrains to consider, many trimmer manufacturers have gone the extra mile to make it more comfortable to use as well. That is where adjustable handles come into play, and they are a godsend.
The versatility of a trimmer can also be measured in features. Attaching extension poles for hard to reach areas is a wonderful addition to the already impressive hedge trimmer arsenal. And lighter models can be used with only one hand, offering you the option to use two simultaneously if you feel so inclined, although this isn't recommended.
Safety
One of the fantastic features our top pick has is personal protective equipment. It comes standard with the kit, including gloves and goggles. Protecting yourself when using any tool that cuts wood and uses sharp blades is an absolute necessity. Ear protection is always a wise choice, too.
Safety is also critical when doing routine maintenance, like changing a blade or cleaning the engine. The upside of these trimmers is they are only started by a pull cord, so when doing anything to your trimmer, there is no fear of it turning on when you have your hand in a mechanical area.
That being said, some models offer an optional feature that allows you to start your trimmer automatically with a push button. If you have added this option, be extremely careful when doing maintenance. The consequences of distractions or mistakes can be life-threatening. Never lose focus when fixing bladed machinery.
Warranties
One last consideration is the warranty. When it comes to repairs, a licensed shop must do some maintenance, and some can be done by you, the owner. Know which is which before you service your hedge trimmer. The last thing you want to do is void a beneficial warranty.
Use your best judgment if you want your tool to be repaired correctly by expert hands and keep the warranty intact.

Conclusion
Our top pick for the best gas hedge trimmer was given that spot for a good reason. The PROYAMA DG260 Multi-Functional Gas Hedge Trimmer not only came with a cadre of extra features, including a chainsaw and weed eater attachment, it also came with personal protective gear to keep you safe during use. And it is a very impressive machine with all the perks we look for in a hedge trimmer.
For our most economical choice, a brand we all know in yard maintenance tools, the Poulan Pro PR2322 Gas Powered Dual Sided Hedge Trimmer won the trophy hands down. It is a tremendous machine, it had plenty of great benefits, and with a price tag that won't hurt your wallet or your pride, it can't be beat for the best value.
We certainly hope this list of reviews, plus our buyer's guide, gave you new insight into the world of gas-powered hedge trimmers and helped you pick one for your landscaping desires.