Kia Sorento vs. Toyota Highlander: Which One's Best For Me?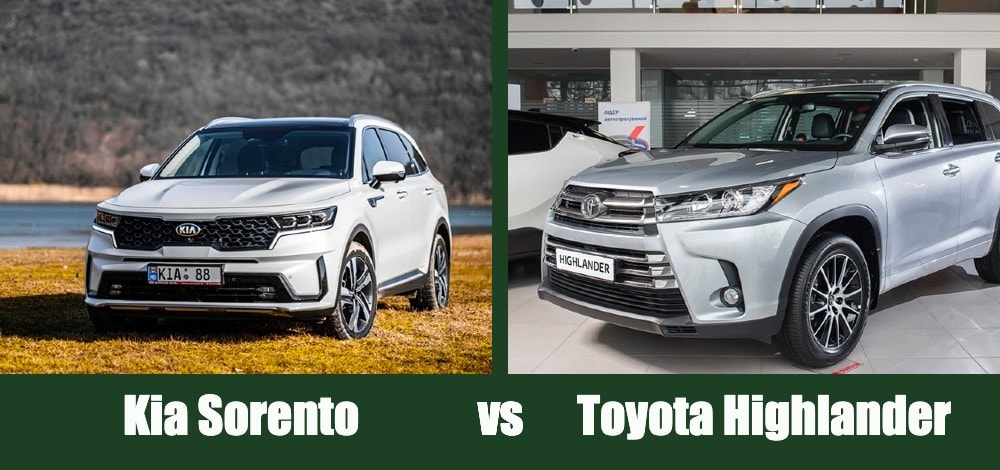 SUVs are the best type of vehicle to drive if you have a large family or play chauffeur to lots of people, but it can be hard to choose which is the best for your money. Two of the newest SUVs are the Kia Sorento and the Toyota, both 3-row SUVs with competitive prices. How do these two compare when pitted against each other, and which is right for you? Let's find out.

Review Summary
The Kia Sorento is a great budget SUV, although it can't directly compete with the Highlander.
If you're not that interested in performance or cargo space, consider checking out some of the Sorento's premium trim packages. Even with numerous add-ons, you'll likely pay less than a factory standard Highlander.
The Highlander has more spacious third-row seats than the Sorento, but the Sorento has more spacious front and second-row seats.
The Highlander has a much more powerful engine than the Sorento, for the performance-minded folks.
The Sorento has slightly better fuel economy and offers several hybrid options that include a plug-in model. If you're interested in a hybrid SUV, the Sorento is the better pick.
Fun fact: the Kia Sorento is the best-selling Kia vehicle in Canada!
At a Glance
Let's take a peek at the raw specifications of each SUV so you can get a better idea of their capabilities.
Kia Sorento
Horsepower: 191 HP
Engine: 2.5L 4-cylinder
Starting MSRP: $29,590
Fuel economy: 24 mpg city/29 mpg highway
Cargo space: 75.5cu-ft
Number of seats: 6-7
Toyota Highlander
Horsepower: 295 HP
Engine: 3.5L 6-cylinder
Starting MSRP: $35,405
Fuel economy: 21 mpg city/29 mpg highway
Cargo space: 84.3 cu-ft
Number of seats: 7-8

Overview of Kia Sorento:
The Kia Sorento was newly remodeled for 2022 with premium interior features and options, including faux wood inlays, quilted leather seat stitching, and metal textures. Overall, the interior feels exactly how Kia's designers described it: refined boldness. With a 12.3-inch digital instrument cluster and a standard 8-inch touchscreen, the Sorento isn't devoid of modern amenities.
As far as safety, the Sorento comes with a blind-spot monitor and 360-degree surround view that helps keep you safe. Premium trim packages offer numerous upgrades to the interior, the most notable of which is a wireless charging center console, ambient LED lighting, and JBL surround sound speakers.
The Sorento is simply a great budget SUV, which explains why it's so popular in Canada. It has great gas mileage for an SUV, which only gets better if you go with the plug-in hybrid. It doesn't offer anything special as far as power, but that's not such a big deal.
Pros
Plug-in hybrid options are available
$10,000 cheaper than the Highlander at MSRP
Excellent premium trim options
Slightly better fuel economy than the Highlander
Slightly smaller exterior length helps cornering and parking
Taller front and second-row seats than the Highlander
Cons
Weaker engine than the Highlander
Fewer seats
Less cargo space
Can only tow up to 3,500 pounds
Smaller third-row seats

Overview of Toyota Highlander: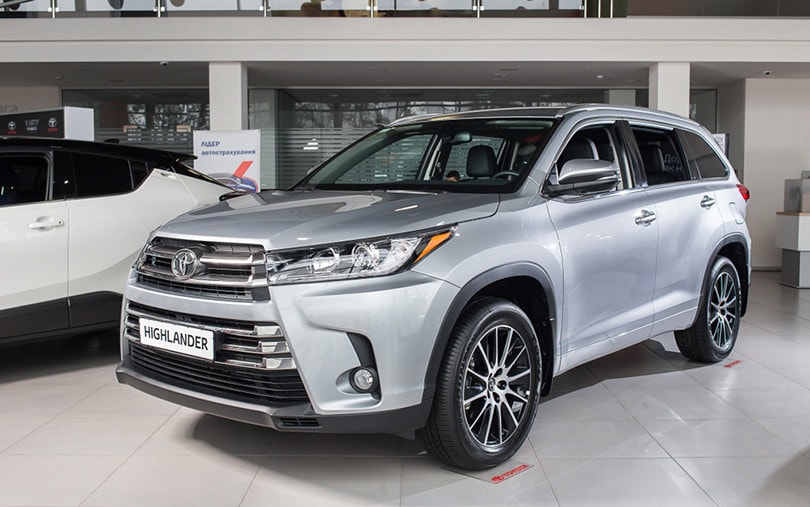 The Toyota Highlander is a powerhouse disguised as an SUV. With a 3.5L 6-cylinder powertrain, you'd be hard-pressed to find a better-performing SUV. Along with that power comes a remarkable 5,000lb towing capacity, which is vital if you regularly fish or haul other heavy equipment. Speaking of hauling, the Highlander has a palatial 85 cubic feet of cargo space, which paired with the towing capacity, makes it a great fishing vehicle.
The Highlander also benefits greatly from Toyota's legendary reputation for reliability, which helps the car retain its resale value for years. That's great if you plan to trade in or sell it later, but it makes buying a used Highlander difficult.
Pros
More cargo space than the Sorento
1 more seat than the Sorento
More powerful engine
Able to tow up to 5,000 pounds
Taller third-row seats than the Sorento
Cons
Starting MSRP is almost $10,000 more expensive than the Sorento
Worse fuel economy than the Sorento
Slightly longer exterior makes cornering and parking incrementally more difficult
No plug-in hybrid option
Smaller front and second-row seats than the Sorento
More expensive when buying used

What Are The Differences Between Them?
Overall, the Highlander is a better SUV, but it's important to note that the Sorento is significantly cheaper. Let's check out how they compare in several key areas.
Performance
Edge: Toyota Highlander
With its 3.5L 6-cylinder engine, the Toyota Highlander enjoys an impressive 295 horsepower. This makes the SUV very punchy and responsive
Price
Edge: Kia Sorento 
Starting at a full $10,000 cheaper than the Highlander, the Sorento is the perfect SUV budget pick. If you want something a bit fancier, you can always opt for premium trim and second-row captain-style seats. You'll still come out a lot cheaper than the base Highlander, which is at least worth considering.
Cargo Space:
Edge: Toyota Highlander
With almost 10 more cubic feet of cargo space than the Sorento, the Highlander is a lot more suited to hauling lots of items. No matter exactly what you're transporting, you'll be grateful for the extra space in the back and throughout the cab.
Seating:
Edge: Toyota Highlander
If you're buying an SUV, then chances are having a lot of seats is important to you. If you have a very large family or frequently haul cargo with your vehicle, it's worth mentioning that the Highlander has one more seat than the Sorento.

What the Users Say
Users note that the newly remodeled Kia Sorento is very nice but won't be as reliable as the Highlander, and nor will it hold its value as well.
People note that the Highlander is a better pick if you intend to use it for a long time, but that the Sorento has more amenities and would be better if you intend to trade it in after a couple of years.
Drivers say that the Highlander is the objectively better SUV, but that the Sorento is an excellent choice if you're trying to save money.
Users note that if you're looking for a Sorento, you should wait and shop around for deals. Kia dealers are known for frequent promotions and special financing deals.
One user mentioned that the Highlander feels great to drive and is very useful for cargo, but that the Kia has better value for a much lower price.

Conclusion
Both the Kia Sorento and Toyota Highlander are great SUVs, but they're separated by a $10,000 price gap. If you can afford the extra cash, go with the Highlander. If you're looking for something cheaper, the odds are good you can find a Sorento significantly marked down. Either way, you can't go wrong.
---
Featured Image Credit: (Left) Daniliuc Victor, Shutterstock (Right) BONDART PHOTOGRAPHY, Shutterstock