10 Best Commercial Hedge Trimmers 2023 – Reviews & Top Picks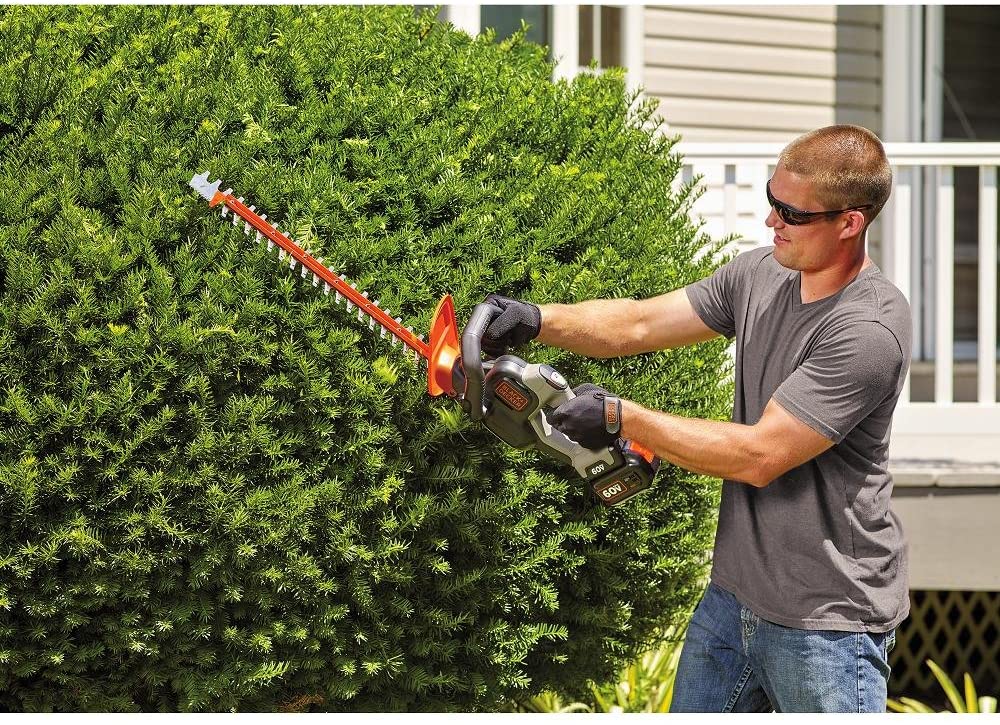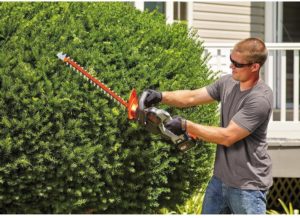 Homeowners everywhere look to beautify their yards by adding beautiful shrubs and hedges to their front and side yards. Sometimes we use hedges to hide air conditioners, trash cans, and other unsightly things. We also use ornamental shrubs to create beautiful eye-catching landscaping. A well-manicured lawn and precision sculpted shrubs can not only add value to our properties but also make for desirable neighborhoods.
With these landscaping additions comes maintenance. We can hire gardeners of course, but if you are like most homeowners, you do it yourself. Therefore, you will need to purchase some gardening tools, both hand tools, and power tools. One useful piece is a reliable, good quality hedge trimmer. We have reviewed several commercial hedge trimmers to help you make a worthwhile decision. Read on to see our best overall and best value hedgers that are user-friendly and operate efficiently. Our reviews have also given us a premier choice, slightly higher in price, but known for its quality and reliability. Our reviews have been extensive and are designed with the consumer in mind to help narrow your search.
A Quick Comparison of Our Favorites (2023 Update)
Rating
Image
Product
Details

Best Overall

Greenworks PRO Cordless Hedge Trimmer

Lightweight
Variable speed
80V battery
CHECK PRICE

Best Value

BLACK+DECKER Cordless Hedge Trimmer

Dual-action blade
1½" saw blade
Lightweight
CHECK PRICE

Premium Choice

Husqvarna Dual Action Hedge Trimmer

Smart start feature
Vibration dampener
4050 SPM
CHECK PRICE

Poulan Pro Gas Powered Dual Sided Hedge Trimmer

Less expensive
Stainless Steel blade
Lightweight
CHECK PRICE

DEWALT Hedge Trimmer

Lightweight
Good quality
Easy to use
CHECK PRICE
The 10 Best Commercial Hedge Trimmers
1.

Greenworks PRO Cordless Hedge Trimmer – Best Overall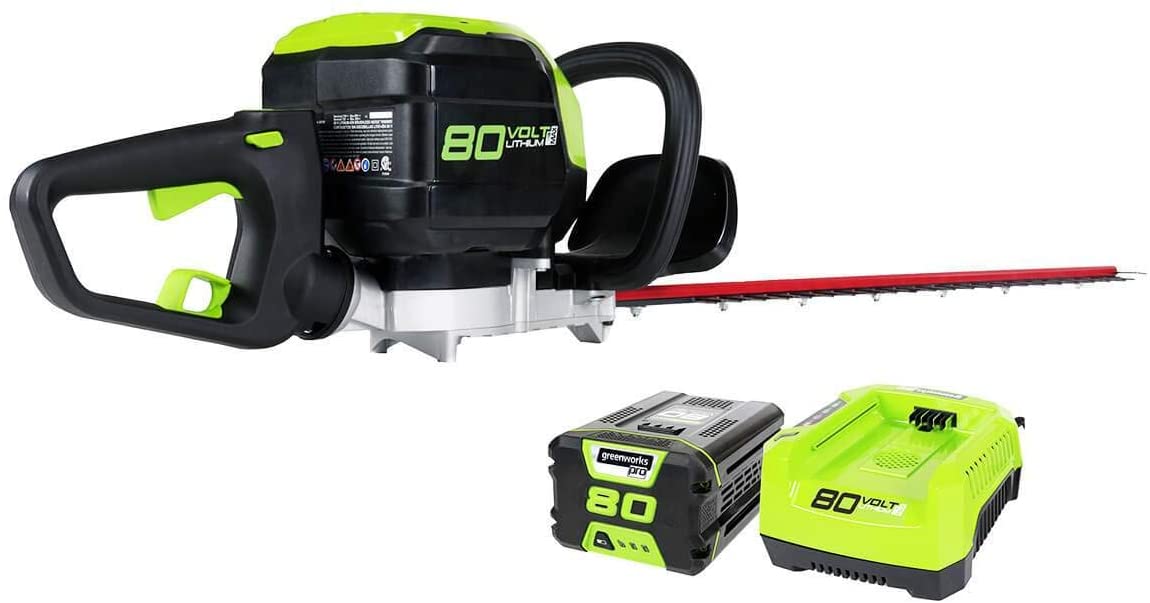 Looking for a hedge trimmer to cut back your vegetation or trim those unruly bushes and hedges? The Greenworks PRO GHT80321 Cordless Hedge Trimmer is a user-friendly trimmer for both the homeowner and the professional gardener. It has a 26-inch dual-action blade that can cut through branches up to ¾-inch thick. Because it is lightweight, weighing in at only 11 pounds, you can cut the taller hedges more easily. Use the 180-degree rotating handle so you can cut the sides and tops of all your bushes to precision.
The Greenworks PRO comes with an 80-volt lithium battery that gives you gas-equivalent power for 60 minutes on a full charge. The variable speed lets you adjust the SPM, or strokes per minute so that you can cut a variety of plant types. Equipped with a brushless motor, you'll experience smoother cutting and a hedge trimmer that will last longer.
Pros
Lightweight
Variable speed
80 V battery
26" dual-action blade
Brushless motor
180-degree rotating handle
---
2.

BLACK+DECKER Cordless Hedge Trimmer – Best Value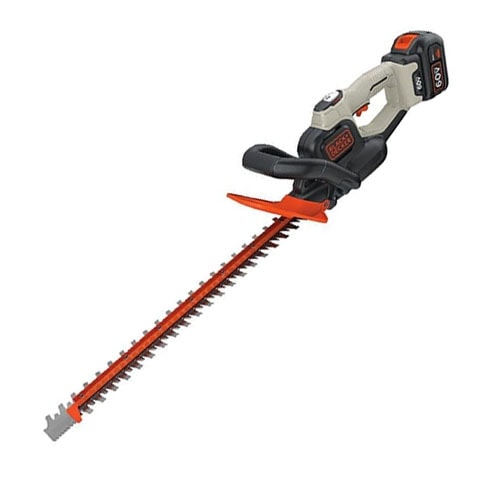 If you want value, consider the Black+Decker LHT360FF Cordless Hedge trimmer. The 24-inch trimmer uses a 60V lithium-ion battery to help you power through your landscaping needs. The dual-action blade will cut branches up to 1 inch thick. If you use the 1½-inch saw blade on the end trimmer, you can saw-cut your way through the more demanding branches. The additional push-button power cut will provide you with a little extra power when your blade becomes stuck.
You may have to get a bit more creative when cutting some of your taller or more architecturally challenged hedges because you do not have the convenience of a rotating handle. The lighter weight, however, will help in being able to maneuver the trimmer and make those intricate cuts. All in all, this hedge trimmer has many convenient and valuable features for a great price. This makes the Black+Decker our choice for the best value hedge trimmer.
Pros
Dual-action blade
1½" saw blade
Lightweight
Nicely priced
Cons
No rotating handle
60 V battery
---
3.

Husqvarna Dual Action Hedge Trimmer – Premium Choice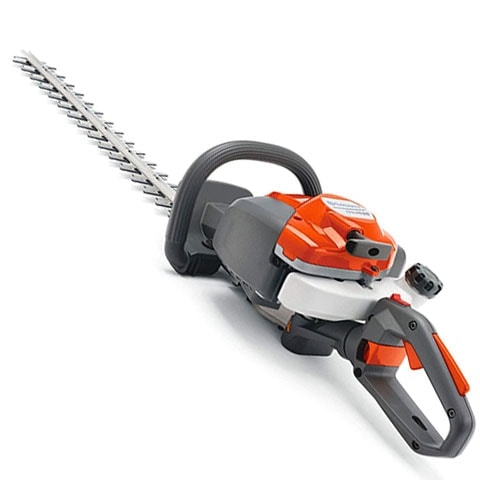 Husqvarna is recognized for its reliability and quality. This dual-action hedge trimmer is no exception. It has a Smart Start, low noise, 21.7cc gas engine. The carburetor air purge system removes the air in the fuel system and the carberator to promote an easy start. For your convenience, a LowVib feature dampens vibration, to reduce fatigue on your arms and hands. Add to that the trimmer only weighs 10.8 pounds, your experience in using it will be a comfortable one.
If you are needing the power of a commercial-grade trimmer or just merely wanting that little extra, then enjoy this Husqvarna. It's 24-inch cutting blade, adjustable handle, and 4,050 strokes per minute (SPM) will help you beautify your landscape or your clients. You will be able to create an eye-catching yard that will be the envy of your neighbors. This is why this is our premium choice.
Pros
Smart start feature
Vibration dampener
4,050 SPM
Lightweight
---
4.

Poulan Pro Gas Powered Dual Sided Hedge Trimmer

Another gas-powered option is the Poulan Pro PR2322. The 22-inch, stainless steel blade comes in a little smaller than some of the others. But what it may lack in size, it certainly does not lack in power. It has a 23cc, 2-cycle engine that is powerful enough to trim all sorts of hedges up to 1-inch thick. The pull cord can be a bit difficult at times and is known to get stuck.
To use more easily, the 11.1-pound trimmer has an adjustable handle to let you trim at various angles more easily. It has an anti-vibration feature and a softer handle to make it comfortable and reduce fatigue. Regular users will find this to be an appropriate choice. The lighter price tag is an added plus.
Pros
Less expensive
Stainless Steel blade
Lightweight
---
5.

DEWALT DCHT820P1 Hedge Trimmer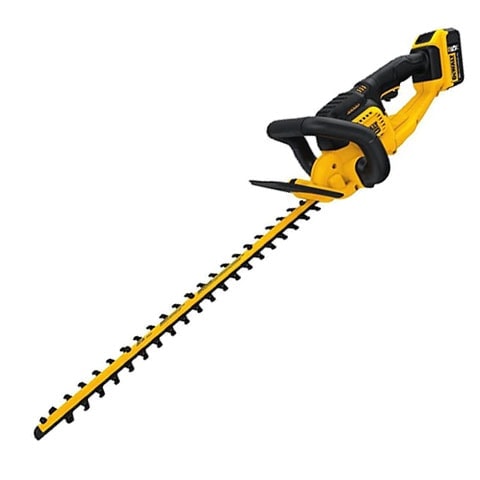 Dewalt is another notable name in power tools. Quite similar to the previous trimmer, but in a cordless variety. It has a 22-inch dual-action blade and can cut up to ¾-inch branches. Weighing in at 11.5 pounds, your cutting experience will be an enjoyable one.
This is a practical trimmer for the homeowner who will be using their trimmer regularly. The Dewalt can handle long-running periods because of its 20V, 5Ah powerful battery, which is included in the purchase price of this model. The cordless feature makes it convenient to use for both the professional gardener and the homeowner.
Pros
Lightweight
Good quality
Easy to use
---
6.

XtremepowerUS 2-Cycle Gas Powered Hedge Trimmer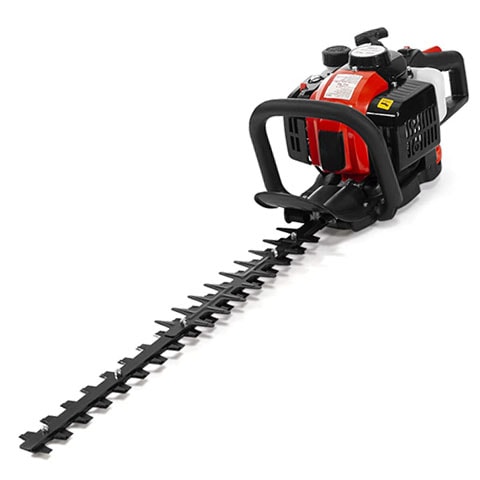 One of the more powerful gas-powered trimmers we reviewed is the XtremepowertUS 26 cc Gas powered hedge trimmer. This commercial-grade trimmer is substantially heavier than most of the other hedgers in its category. It tops off at 16 pounds, which can make your arms fatigue more quickly and make for a lengthier cutting experience. It has an overall length of 43 inches, which makes it a substantially large trimmer. This can make it somewhat more difficult to handle or get into those tighter spots.
If you are a gardening professional, you will appreciate the added power of the 26cc 2-cycle engine that is air-cooled. Additionally, it has an easy pull start feature that helps when starting a cold engine. The 24-inch blade is also sharp and double serrated to make cutting more complete with only one pass.
Pros
Powerful engine
Easy pull start
Cons
Longer length
Weighs 16 lbs.
---
7.

Tanaka TCH22EAP2 Gas Hedge Trimmer

Another commercial grade gas hedge trimmer to take a look at is the Tanaka TVH22EAP2. One of the key features of this trimmer is the 21.1cc 2-cycle engine that claims to have fast and easy starting with the use of the purge bulb. The added S-Start feature is said to reduce the amount of pull force by 50%.
You, as the homeowner, can rely on the 20-inch reciprocating blade to trim up your yard efficiently. It too has a 5-position rotating handle to help you take on the taller hedges. It weighs in at only 9.5 pounds, so you can work a bit longer without fatigue.
Pros
Easy starting
Only 9.5 pounds
Cons
Small blade
Difficult to find parts
---
8.

Makita Brushless 30″ Hedge Trimmer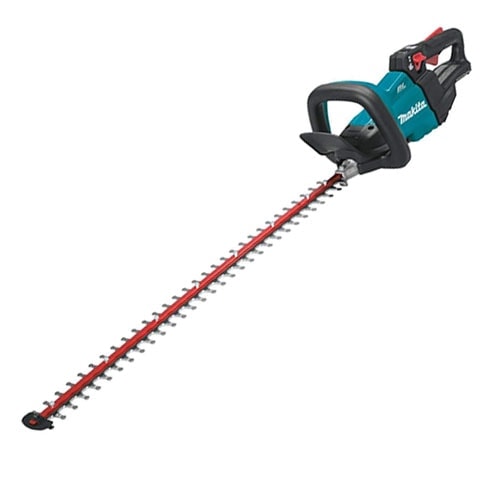 The Makita XHU08Z Brushless 30″ Hedge Trimmer has one of the longer blades on the market. Although that may mean you will have a greater cutting capacity, it also makes the unit more difficult to control. If safety is a concern, and it should be for the average homeowner, this may not be a worthy option. It does have a five-position rotating handle to assist you in reaching the sides of your shrubs and along the top only. It weighs only 9 pounds with the battery, but the longer blade creates an unbalanced feel.
A three-speed button option provides a bit more control over the SPM, but that can be awkward when trying to make consistent passes over your hedges to keep uniformity. Should your hedger get jammed, there is a reverse switch to help clear the jam. It operates on an 18V lithium battery, which is generally sufficient for smaller jobs. The higher price tag makes it a difficult choice for homeowners who are possibly looking for more moderate prices on their garden tools.
Pros
Lightweight
Rotating handle
Cons
30-inch blade
Only 18v battery
3 speeds
Higher priced
---
9.

ECHO COMMERCIAL SERIES HEDGE TRIMMER
Sculpting landscape shrubs and hedges is an art and many commercial gardeners are masters at creating aesthetically beautiful landscapes. The right tool can make all the difference when creating masterful pieces and trying to squeeze into those tight places next to buildings The Echo SHC-225C Commercial Series Hedge Trimmer has a 20-inch shaft that can add unneeded length and make cutting difficult in those tighter spaces.
The Power Boost Vortex engine is 21.2cc, sufficient for all your cutting needs and the i-30 technology reduces your starting effort significantly. A 20-inch double-sided and double-reciprocating blade is available on the Echo SHC-225S. This short shaft hedge trimmer comes with at a high price.
Cons
High priced
Sculpting is difficult
Awkward in tight places
Safety for homeowner
---
Buyer's Guide – Choosing the Best Commercial Hedge Trimmer
After reading our reviews, you may have questions now that it comes to finally make a purchase. You have noticed that there are several things to consider before making your ultimate choice. We will look at a few of them now. First, ask yourself a few questions about what exactly you are looking for. How often do you think you will be using your hedger? How large of an area do you have?  The answers to these two questions will begin your journey of choosing the appropriate hedger.  Let's look a bit deeper into some of the major differences.
Battery-operated
We reviewed both gas-powered and battery-powered hedgers. Traditionally, it is said that a gas-powered tool is always stronger. However, today, with all the battery-operated tools out there, batteries have improved immensely. Voltage has increased, run time has increased, and charging time has decreased in most of the batteries on the market. With that being said, battery-operated hedgers can be a nice option. If you have a smaller yard and you won't be using your hedger that often this is probably the way to go.
Your only worry with a battery-operated hedger is making sure that your battery is charged. YOu have the convenience of dropping the battery in your tool and it is ready to go. No gas tank to fill or pull cord to tug on; you're ready to start your landscaping maintenance. You'll have an hour to two hours to complete your beautification.
Pros
Best for the smaller area
Usually lighter
Portable
No gas needed
Quieter
Cons
Requires charging battery
Not as powerful
Less running time
Gas-Powered
The gas-powered hedger is cut out for the larger yard projects or those that require some heavy-duty cutting. You will need a can of gas so that you can keep the gas tank of your hedger full; and don't forget, most of the 2-cycle engines require a gas additive. The starting features of the gas engines have one thing in common, a pull cord that requires some generous tugs to get your hedger running. Many find this to be difficult and sometimes a workout.
You may be toting around a more powerful hedger, but more than likely it will be considerably heavier; a trade-off that you may find worth the taking. Keep in mind too, your gas-powered hedgers can be somewhat pricier, but the overall quality is probably better.
Pros
Best for larger areas
Trims and cuts more quickly
Portable
Cons
More expensive
Usually heavier
Requires gas and oil additive
Rotating Handle
A rotating handle on your hedger has a few advantages over one that doesn't. When the handle rotates, either 180 degrees or in 3 or 5 specific positions, it allows you to manipulate your hedger more easily to be able to cut taller hedges or the sides of the hedges. Having the correct angle when cutting makes for smoother lines on your shrubs and hedges and can help reduce fatigue in your arms and hands.
Length of the Blade
What effect does the length of the blade have on your cutting? A longer blade cuts more area in one pass. It also allows you to reach areas that further away from you. If you are a taller individual, you will not have to bend as much when trying to reach the bottom of your shrubs, this will take the strain off of your back.
A longer blade can also make your hedger a bit awkward, even unbalanced, so extra care needs to be taken during operation.
Weight
Depending on the amount of work you have, the weight of the hedger you choose makes a big difference. A lighter weight trimmer makes it easier to hold and to use. You will be able to trim for a longer period with a lighter trimmer. Tip: know your limitations, be realistic about the amount of yard work you will do.
Price
Price does not always equal quality. It's true in nearly everything we buy. Sometimes we think that the more expensive an item is, the better it is. In the case of these hedge trimmers, the gas trimmers we reviewed were priced between $150 to $450, and the battery-operated from $100 to $300. As we have mentioned previously, the higher-priced gas models are typically purchased by the professional landscapers, and the battery-operated, because of their user-friendly features are purchased by homeowners.

Conclusion
So, now what? You have a wealth of knowledge about commercial hedge trimmers. Now you must narrow it down to best commercial hedge trimmer for you, given your needs. Here is a checklist to help you decide what a good product is.
A good product:
Offers a variety of user-friendly features
Is reliable
Has built-in quality
Sufficient power for your needs
Appropriate weight
Preferable power source
Budget-priced
We have taken all of these into consideration and have concluded that the Greenworks Pro GHT80321 Cordless Hedge Trimmer is the best commercial hedge trimmer overall. Our best value trimmer is the Black+Decker LHT360CFF Cordless Hedge Trimmer. It met the parameters of a good product and all for a value price.
You are on the verge of choosing a power tool that you will be using for many years. We hope we have given you the necessary information you need to choose well.