3 Best Gas Log Splitters of 2023 – Reviews & Top Picks
You may think that a gas-powered log splitter is unaffordable, but you'd be surprised at the value you can get with models on the market today. Log splitters are a great investment if you have ready access to wood and like to use firewood.
However, the question of which model is right for you remains unanswered. Sometimes shopping online can be more frustrating than enlightening, but that shouldn't drive you away from investing in a tool that you need.
We believe that a well-informed consumer makes good decisions, which is why we've done the hard work for you and assembled this list of the best gas powered log splitters of the year. You should be able to use this list to find a model that works well for you. We also created a buyer's guide so that you can learn everything you need to know before you buy.
Our Top 3 Picks Compared (Updated in 2023)
Rating
Image
Product
Details

Top Pick

Dirty Hand Tools 100950

11-second cycle
Includes log catcher
Approved for transportation
CHECK PRICE

The Runner-Up

Southland Outdoor Power Equipment SLS20825

Massive capacity
Internal oil delivery system
Horizontal or vertical splitting
CHECK PRICE

Best for the Money

Champion 90720

Price
Good engine
Chemical resistant
CHECK PRICE
The 3 Best Gas Log Splitters
1.

Dirty Hand Tools Gas Log Splitter – Top Pick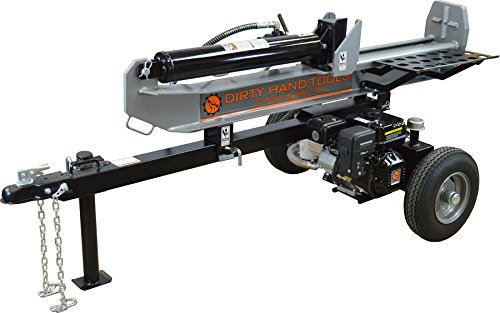 The Frictionless World Dirty Hand Tools 100950 is our pick for the best gas log splitter. It comes with a trailer hitch and 16" tires that the DOT has approved for use. Each cycle takes only 10.9 seconds, so you can get your jobs done faster. This model can handle logs up to 25-inches long, which is huge, and some users have reported success splitting logs up to 30-inches wide, as well, so this machine is a monster when it comes to its capacity.
It includes a log catcher, which keeps some or all of the split wood from falling to the ground after the cut, which saves you some time and some bending over. You're getting a good deal for the price, though the engine could be better. It's a bit hard to get to the oil fill location, which is an unnecessary pain. You can also get an engine with the same power on a less expensive model, so it would be nice to see a more powerful one included in this one. However, this machine still has a massive capacity and enough power to the job done, no matter the size of the log.
Pros
Approved for transportation
11-second cycle
Big capacity
Includes log catcher
---
2.

Southland Outdoor Power Equipment Gas-Powered Log Splitter – The Runner-Up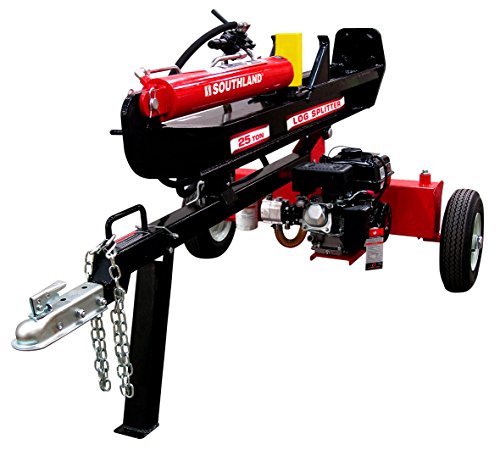 The very best thing about the Southland Outdoor Power Equipment SLS20825 gas log splitter, the runner-up on our list of the best gas log splitters is its engine. The 208cc engine is one of the most powerful ones you'll find among log splitters, and you can't go wrong with more power with a task like splitting logs. It comes with an excellent internal oil delivery system that provides more lubrication that most systems, which keeps things running smoothly, reduces wear, and extends the life of the engine.
This gas log splitter also has a massive capacity, as it's able to cut logs up to 26-inches in length. Or, you can turn it vertically to cut logs that you're unable to lift to the tray when it's positioned horizontally. All of these good features come at a price, as this model is about 50% more expensive than the last one. It also has a longer cycle time at 17-seconds, which is slower than you'd like to see on a model this expensive. This model works very well, but you're paying a hefty premium over our top-rated model for some extra power and the ability to turn this machine vertically while losing some time per split. It's not a bad machine, but it is pricey.
Pros
Good engine
Internal oil delivery system
Horizontal or vertical splitting
Massive capacity
---
3.

Champion 90720 Gas Log Splitter – Best for the Money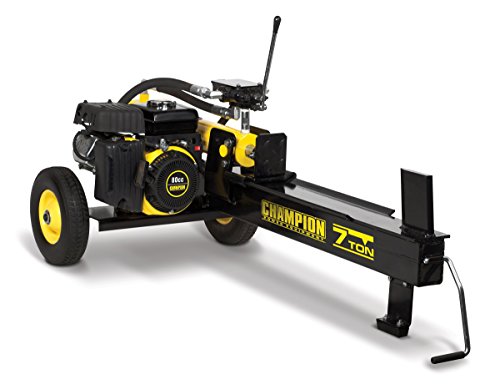 The Champion 90720 gas log splitter is a great choice for people who need a powerful log splitter, but don't need top of the market speed or capacity. This model comes with a good 196cc engine, which is powerful enough to split most kinds of wood. It's also chemical resistant, which makes it good for use in places where it may come in contact with salt water, wastewater, or mild acids and bases. And, the price is far lower than the first two entries on our list, which makes it a good deal for just about anyone.
Its capacity is slightly smaller, at just 19-inches in length for logs. That's not underwhelming by any means, but it's about half a foot shorter than the other models on this list, which is noteworthy. The cycle time is also the longest by far at 20 seconds, which is almost double the first model on our list. That's not a good thing, and it will slow you down a lot relative to that model. If you need to do a lot of big work, fast, this may not be the model for you, but its price makes it a good deal.
Pros
Chemical resistant
Good engine
Price
---
Buying Guide – Finding the Best Gas Log Splitter
We hope that our reviews have given you some insights into what makes for a good gas-powered log splitter. If you don't feel like you have a good understanding yet, don't worry. This buyer's guide is for you. We've packed it full of good information about these kinds of log splitters, and generally teach you everything you need to be aware of before you buy. With this information in mind, you should be able to find the model that is right for you, and that won't cost more than it's worth.
Capacity
Capacity is easily one of the most important things to consider when shopping for a gas-powered log splitter. While you might think that engine power is most important, there's a case to be made that the power isn't nearly as important as how efficiently its applied, which you see in different processes. You could get a model with a massive engine, but if it's slow or has a small capacity, you're not going to get a lot done.
So, the bigger the piece of wood the machine can take, the better. There's no direct correlation between that feature and engine power, but the manufacturer would get a lot of angry feedback if they made the capacity too large for the engine. Also, keep in mind that it's the length of the wood that's referred to when talking about capacity. There are limits to the width of the log you can use on these machines, but you're likely to run into other problems, like how heavy they are, before you exceed those limits.
Speed
You certainly want to be safe here, so you don't want a gas log splitter that fires with guillotine-like speed, but you also don't want to be wasting time on a machine that works slowly. On our list, we have machines that take from 11 to 20 seconds to split a log. That's almost double the amount of time that it would take at the upper end than it is at the lower end.
This is why you should prioritize speed. 11 seconds is short enough to be efficient, without being dangerous, so don't be afraid of it.
You'll also want to consider how long your gas log machine will take for maintenance and for powering up at the start of the process. Some engines start the first time, while others take a lot of pulls of the ripcord. Some can run for years, even when you forget to oil them, and others will freeze up even when you thought you did a good job. The point is that you should research the gas engine in addition to the piston arm before buying because most people want to spend as little time as possible on maintenance.
Portability
All of these gas powered log splitters are very heavy, weighing between 143 and 474 pounds. They're not necessarily machines that you're going to want to move around on their own, so you're going to need a vehicle that's up to the task.
You should also examine the tires. Will they work on the freeway? What about bad country roads? These are important things to figure out before you buy, especially if you're not yet sure where you're going to be using the splitter. Bigger wheels are generally better, as they do better in high-speed situations and also do better on gravel or dirt roads.
You'll also want to see what kinds of trailer hitches, if any, they come with. If they don't have one, you may be looking at some expensive aftermarket modifications if you want to travel with the splitter. Beyond this, you should find out what kinds of stabilization legs the frame uses. Log splitting isn't a light task, and you'll want to make sure that all parts of the frame can live up to those stresses without bending or breaking.
Which gas-powered log splitter is right for you?
We've presented you with three excellent gas log splitters that exist at three very different price points. So, if price is your primary consideration, that's a good metric to use to find the model that will be best for you.
However, if price is no object, be sure to factor in the capacity, speed, and portability of each model. While the result may be the same, some of the models are going to work more quickly and have less-frustrating maintenance. Whether that's worth the extra money or not is totally up to you, but with purchases this large it's important that you weigh each feature carefully and make a reasoned decision.
---
Summary
The Frictionless World Dirty Hand Tools 100950 is our pick for the best gas-powered log splitter, coming with a good capacity, easy transportation options, and a very short cycle. The Southland Outdoor Power Equipment SLS20825 has a bigger engine and the option to go vertical to cut heavy logs but is expensive and features a longer cycle time. The Champion 90720 provides the best value for the money, coming with a chemical-resistant frame and an excellent engine, all available at a low price.
We hope that our reviews and buyer's guide have helped you learn about the best gas log splitters. Using this information, you should be able to find the model that's right for you.