5 Best Log Splitters of 2023 – Top Picks & Reviews
Sometimes, chopping wood with an axe is just not right for you. Maybe, the volume of work is just too much to manage with axes, hammers, and wedges. Maybe, you hate how much time it took to get the job done, or like me, you like chopping wood – but it just takes too long. Or, perhaps your body is protesting against all that stress and strain. Whatever the reason, what you want now is a safer, faster, and easier way to split wood.
Now, you're on a mission to find the best log splitters on the market for your unique set of needs. That's a tough question to answer. But, this comprehensive guide will save you a ton of effort and time, and get you where you need to be.
The first part is our list of the best log splitters of the year for different customer profiles and types. You can generally choose a product in this section that will fit the bill. Once you're familiar with some of the products, read the detailed buying guide that follows. The guide explains everything you should know to make an informed choice. This is especially helpful in giving you the context in which we chose our top picks.
Are you ready to find out what log splitter you should get? Great, let's begin with our top pick – the Boss Industrial ES7T20 Electric.
---
Our Favorite Models Compared (Updated in 2023)
Rating
Image
Product
Details

Best Overall

Boss Industrial ES7T20

Reasonable price
Excellent performance
2-year warranty
CHECK PRICE

Best Value

Pow' R' Kraft 65556T

Economical
Two-handed operation
2-year warranty
CHECK PRICE

Champion Power 100251

Extremely powerful
Large capacity
Low cycle time
CHECK PRICE

YTL 23101 Forest King

Economical
10-ton capacity
Manual operation
CHECK PRICE

WEN 56206

Very economical
Good build quality
2-year warranty
CHECK PRICE
The 5 Best Log Splitters
1.

Boss Industrial Electric Log Splitter – Best Overall
If you've had it with splitting logs manually, and you're looking for the best log splitter on the market for home use, consider buying the Boss Industrial ES7T20. It's a 7-ton electric log splitter that can split logs up to 10" in diameter and 20.5" in length.
Now, 10 inches can seem a little short for a machine in this price range. After all, there are 4-ton machines on the market that claim to split logs 12 inches in diameter. Well, the thing is a 4-ton machine will split 12-inch logs under ideal conditions. But, thanks to the powerful 1500 W motor and a 3500 psi hydraulic system, the ES7T20 will split a 10-inch log no matter what.
It has a cycle time of 14 seconds, which in my opinion is in the 'just right' Goldilocks zone for cycle time. After splitting the wood, the piston retracts automatically within 5 seconds. From a build quality perspective, the parts are made of durable material, the joints are strong, and the connections are secure. This machine is built to endure. Perhaps, that's the reason that Boss offers a 2-year limited warranty on this product.
Probably, the only negative I see in this machine is one-handed operation. For me, safety is extremely important. That's why I prefer log splitters that have two-handed operation. But, this is really a matter of personal choice. For you, one-handed operation can be a plus. That aside, this is the best electric log splitter on the market.
Pros
Reasonable price
Excellent performance
Reliable operation
Very good build quality
2-year warranty
Cons
One-handed use
Draws a lot of current
---
2.

Pow' R' Kraft Log Splitter – Best Value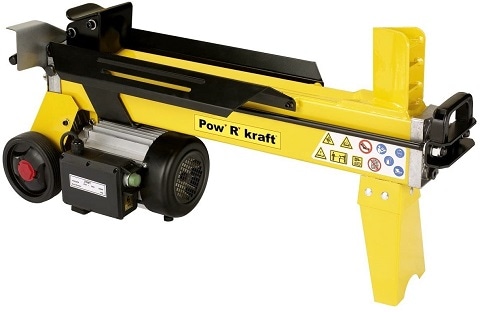 The 4-ton 65556T is not as powerful as the 7-ton ES7T20. The strange thing is, the manual says the 65556T can split logs 20 inches long and 10 inches wide. But, how come? It's only a 4-ton machine. To explain this discrepancy, you should understand that they're talking about peak performance, not reliable performance.
For a 4-ton machine, you can expect reliable performance across seasoned logs up to 6 inches in diameter. So, don't get hyped about the stated capacity.
Ok, let's talk about where this machine shines. The 65556T is an excellent low-cost log splitter. It runs on a 1500 W motor and a 2320 psi hydraulic system. The machine has a cycle time of 15 seconds and it comes with an auto-return piston. This is a clue that this was designed with a tuned-down pressure setting. The Boss machine has a 1500 W motor and it puts out 3500 psi. So, why can't this one do it? It's possibly a matter of it not being able to take the same punishment.
Unlike the Boss ES7T20, this machine has the ZHB control system that requires two-handed operation. I prefer this to one-handed operation because if my hands are on the controls, they can't be anywhere else, and so remain out of harm's way.
Even though this is a low-cost product, it comes with a 2-year limited warranty. Overall, if you're looking for budget-friendly electric log splitter for 6 inch logs, then this is the best log splitter for the money.
Pros
Economical
Two-handed operation
2-year warranty
---
3.

Champion Power Gas Log Splitter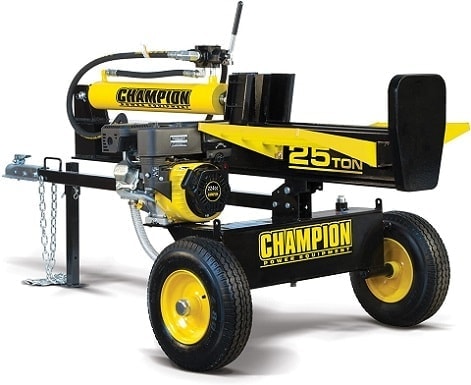 Now, we venture into the realm of the giants of the log splitting world – gas-powered log splitters. Designed for mobility and power, these log splitters are meant for industrial applications. Among the many gas-powered splitters on the market, the 100251 delivers the best performance relative to price.
This machine generates a splitting force of 25 tons and makes quick work of logs 22" wide and 23.8" long. Since this is a dual-position machine, you can split wood horizontally or vertically. And, with a cycle time of 12 seconds, and an auto-return piston, you can get a lot of heavy work done in a short period. Plus, the machine has a built-in log stripper and catcher.
The 100251 is also incredibly mobile. Using the 2" coupler, you can tow the machine behind your vehicle. The wheels can withstand speeds up to 40 mph. This is a testament to the machine's durability and build-quality. Any machine that's built to tow at 40 mph has got to be robust.
All this comes with a two-year limited warranty. Overall, this is a great machine if you want to earn money from splitting wood. But, its cost is probably prohibitive for non-commercial use.
Pros
Extremely powerful
Large capacity
Horizontal and vertical operation
Towable
Low cycle time
Cons
Expensive
Not suitable for home use
---
4.

YTL Forest King Manual Log Splitter
In the low-tech arena, you have the YTL23101 manual log splitter. This machine puts less strain on the body than conventional manual methods of splitting wood. However, it cannot compete with electric, and certainly not gas-powered, log splitters when it comes to cycle time.
So, a manual log splitter like this one is best suited for people who don't want to split an entire cord in a single stretch. Manual splitters also cost a lot less than powered log splitters do. In terms of capacity, the YTL23101 works best for logs less than 8" wide and 18" long.
It requires little to no maintenance because there's no motor. Instead, you can operate the hydraulic pump manually using two handles. The machine can generate a splitting force of 10 tons, which is enough for most types of seasoned wood. It will even take care of heavily knotted wood, but it will require a couple of attempts.
Another plus point is that you get a 2-year limited cover on your purchase. Considering the price, build quality, performance, and capacity, the YTL23101 is the best manual log splitter available. If you're shopping for one, give it a try.
Pros
Economical
10-ton capacity
Manual operation
Excellent build quality
---
5.

WEN 56206 Log Splitters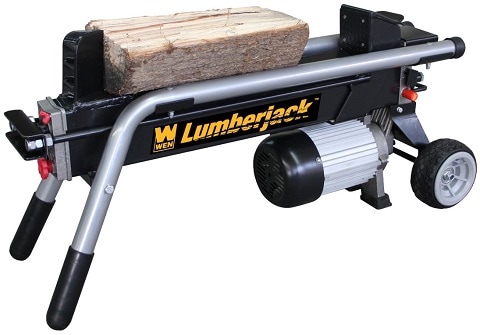 The WEN 56206 is another budget-friendly 6-ton electric log splitter. It's cheaper than the Pow' R' Kraft 65556, and it has a higher splitting force too. This splitter has a rated capacity to split logs 10 inches wide and 20.5 inches in length.
Powered by a 1500 W motor and a 3000 psi hydraulic system, the 56206 comes close to our top pick in terms of power and capacity. So far, this seems like a good option. But, there's just one problem – the cycle time.
This machine has a cycle time of 25 seconds. This means it is only half as fast as the Pow' R' Kraft 65556 and the Boss ES7T20. But, it is a lot faster than a manual log splitter. Feature-wise, the 56206 comes with an auto-return piston, a two-handed operation procedure, and a 2-year limited warranty. So, it's not missing anything important.
Although this machine is powerful, it is slow. But, there is a market for this. The product is suitable for those who are on a strict and limited budget. It's also perfect for those who don't have a lot of splitting to do in a single stretch. Remember, a 25-second cycle time is still 4 to 5 times faster than splitting wood with a manual splitter.
Pros
Very economical
Powerful
Good build quality
Good capacity
2-year warranty
---
Buyer's Guide – Choosing the Best Log Splitter
When shopping for any product, it helps to follow a system. An organized scheme for comparing cost, performance and features eliminates oversight and promotes clarity. By following a system, you get the best out of every dollar you spend. Not to mention the mental and emotional satisfaction you get from getting it right. The purpose of this buying guide is to introduce you to such a system in a simple question and answer style.
I see there are many types of log splitters. Which one is best for me?
Yes, you're right, there are many different types of log splitters on the market. But, as far as home users go, the only two types you need to look at are electric splitters and gas splitters. Before we discuss the differences, let's look at the similarities.
The basic principle and mechanism behind electric and gas splitters are similar. Both machines use a wedge and a hydraulic piston to split the wood. However, the hydraulic pump that actuates the piston can be electric-powered or gas-powered.
Gas-powered splitters are more powerful than electric-powered ones. But, they are noisy and produce smoke. Electric splitters, on the other hand, produce less noise and do not emit smoke. However, electric splitters do consume a lot of electricity. You need a high current socket to power it. Such sockets aren't available everywhere.
Gas splitters don't suffer from this limitation. You can roll this machine to your preferred spot, fuel it, and you're good to go. At the same time, you run the risk of abruptly running out of fuel. That can never happen for electric splitters. At the end of the day though, that is just planning, like keeping any other machine fueled. Another point for electric splitters is that they are easier to maintain than gas splitters.
In addition to this, there's the manual log splitter. They are easier to use and faster than using traditional splitting tools, such as axes, hammers, and wedges. But, the power to run the machine still comes from the operator. I would recommend a manual splitter to people who do a little bit of splitting every day, rather than doing a lot of splitting at one time.
The first part of the puzzle is selecting the right type of splitter. If you desire power and mobility, buy a gas-powered splitter. If you want economy, go for an electric splitter. Now, one place where people get stuck is, "How much power is enough power?" So, let's address that issue.
How much power should my splitter have?
Manufacturers express the power of a splitter in tons. To choose the upper limit of the number of tons, you should consider the type, diameter, length, shape, dryness, and grain structure of the wood. After I discuss the importance of each factor, I'll share some general guidelines to follow.
Type: For the same diameter and length, softwood is easier to split than hardwood is.
Diameter: For a given type of wood, the power required to split it increases with increase in diameter.
Length: For a given type of wood, the power required to split it increases with an increase in length.
Shape: Log-shaped wood is easier to split than prism-shaped wood.
Dryness: The drier the wood, the easier it is to split it.
Grain Structure: Logs with closely spaced grains are harder to split than logs with loosely spaced grains. Also, the logs with knots along the grain increases the force needed to split the log.
Now that you know what the parameters are, let's see how you can approximate how many tons your splitter requires. 10 tons is enough for splitting seasoned and green wood less than 6" in diameter. A 10-ton machine is also sufficient to split seasoned wood between 6" and 12" in diameter. But, to split green wood between 6" and 12" in diameter, go for a 15 to 20-ton machine. For any seasoned piece, up to 24" in diameter, use a 20+ ton machine. For greenwood, use a 30+ ton machine.
Remember, diameter isn't the only factor affecting performance. In the next section, we'll look at some of the important features a good log splitter should have.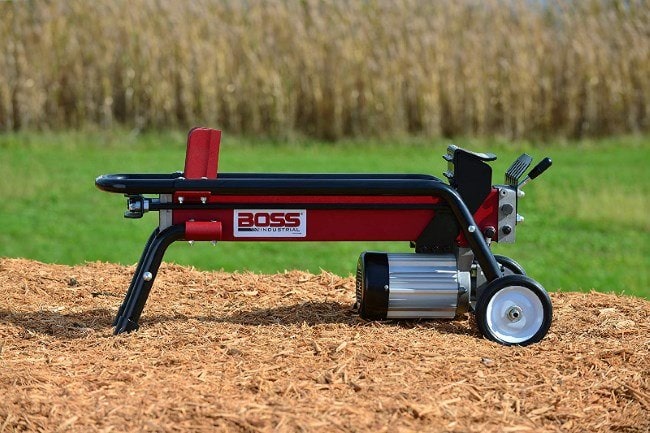 What are the features I should look for in my splitter?
Splitting force is the obvious point of comparison. But, in addition to the amount of force a machine exerts, here are some other features you should look at:
Cycle Time: The cycle time represents the time taken to complete one operation. 10 to 15 seconds is the ideal 'Goldilocks' range for cycle time because it helps build a sustainable rhythm.
Auto-Return: Once the log splits, the auto-return feature brings the piston to the starting position without your involvement. You can use this time to prep the next piece of wood for splitting. This saves time and helps build a steady tempo.
Two-Handed Operation: People have mixed feelings about this. But, I prefer two-handed machines because they are safer. Since both hands are on the controls, it's less likely that you'll place them in the line of fire.
Motor and Hydraulic System: A good log splitter should have a powerful and reliable motor. Don't go by the horsepower alone. Make sure the motor is from a reputable manufacturer. The same goes for the hydraulic system.
Warranty: Make sure you get a good warranty on the hydraulic system and the motor.
Is there anything else I should know?
Yes, people usually go overboard with the tonnage. Sadly, most of the tonnage they pay for is hardly ever utilized. Take the time to know your logs. For instance, if you never split hardwood or green wood, there's no need to buy a 20+ ton splitter. If you're smart about the size and type of wood you pick, you can save a lot of money.
At the same time, you should know when to go for a high-capacity splitter. For example, if you plan on selling cords, buying a heavy-duty gas-powered splitter makes sense. But, for most domestic users, an electric splitter will work well.
Great, what are my options?
We have a good selection of log splitters on our list of the best log splitters. The products in the list cater to the needs of a broad base of customers. So, you'll find what you're looking for right off the bat. But, in case you don't, use the information in the buying guide to research products on your own. If you plan on doing your own research, check out the full range of products by WEN, Boss, Pow' R' Kraft, Champion Power, and Powerhouse.

Conclusion
Some people end up getting head-splitting headaches over which log splitter to buy. But, I hope this article has made things much easier for you. Before we conclude, let's quickly recap what we've discussed.
First, choose the type of splitter – manual, electric, or gas-powered – depending on power, economy, speed, mobility, and workload. If you're going for a gas-powered splitter, the Champion 100251 is the best log splitter on the market. If you want to buy a manual log splitter, the YTL23101 is the splitter for you.
When it comes to electric log splitters, you have a few options. If you have the budget for it, the Boss Industrial ES7T20 is the best product you can buy. For people with a slightly lower budget, the Pow' R' Kraft 65556 is a viable option. Now, there's the WEN 56206. It's more powerful and cheaper than the 65556, but it is also twice as slow. If speed isn't important, then you could save some money by going for the WEN 56206.
My final verdict on which product to buy is the Boss ES7T20. I recommend this product because it performs consistently. Unless you're sure you'll never split logs more than 6" diameter, you should go for the Boss.
A few years ago, you could find log splitters only in lumberyards. Today, everyone who needs one can afford one. Even though the number of choices can seem overwhelming at first, finding the right product isn't difficult if you have the right knowledge and guidance. And I sincerely hope that this guide delivers on its promise of connecting you with the best log splitter for you.
More buying guides like this: