Ryobi vs DeWalt: Which Power Tool Brand is Better in 2023?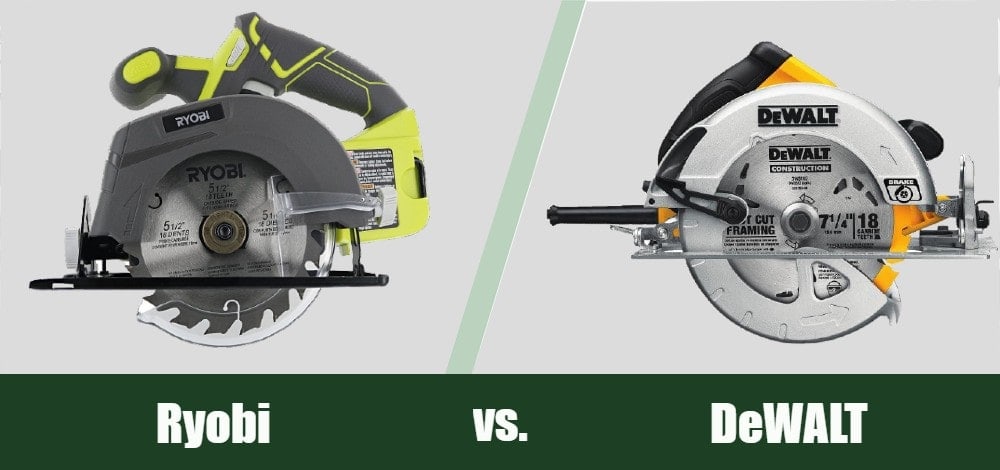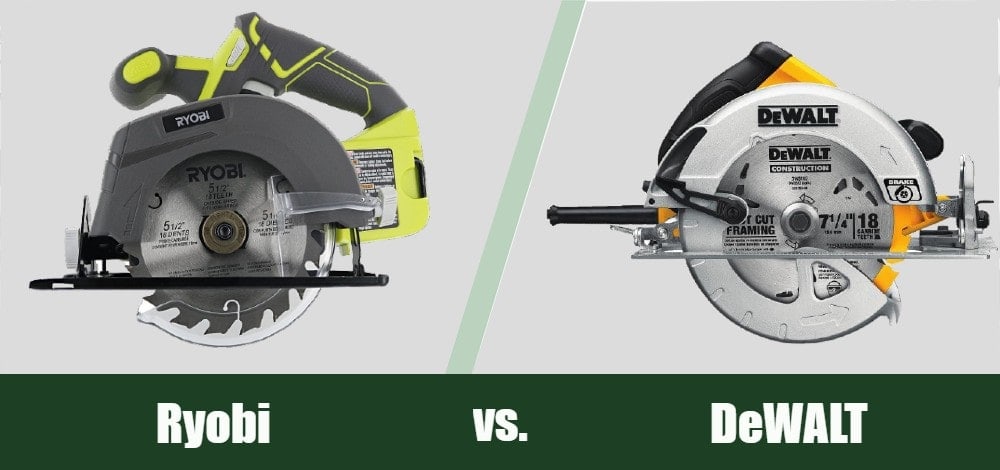 Ryobi and DeWalt are two of the leading power tool brands worldwide. With both brands having global reach, they are consistently ranked high in performance and usage. They both are compact and lightweight and produce various tools for just about any power tool need.
Because of these numerous similarities, it is often confusing to determine which brand is best. For this reason, we created this guide to help you find out which brand is better for your needs.
In this comprehensive guide, we will compare many aspects of these brands. This includes their histories, product lines, performance, individual products, and more. Let's drill into these power tool brands to find out which one you should buy this year.

A Quick Comparison
Image
Product
Details

Ryobi

Established: 1943
Headquarters: Fuchu
Hiroshima
Japan
Product Line: One+ System
Brushless Compact Series
Outdoor tools
Parent company/ major Subsidiaries: Techtronic Industries
CHECK PRICE

DeWalt

Established: 1924
Headquarters: Baltimore
MD
Product Line: Cordless
20V MAX System
FLEXVOLT
Parent company/ major Subsidiaries: Stanley Black & Decker
CHECK PRICE

Brief History of Ryobi
Ryobi is known for reliable yet affordable power tools that are a favorite among DIYers and hobbyists, though some professionals also use them. In 1943, Ryobi Seisakusho Co., Ltd. was founded. One year later, it started selling die-cast products. The company continued to develop and venture into new sectors. It wasn't until 1968 that Ryobi started producing power tools.
In 1973, the company name was changed to Ryobi. By that time, it also had 12 manufacturing facilities spanning six countries. It wasn't until 1985 that Ryobi opened a production site in Shelbyville, Indiana. It happens to be the only manufacturing location within the United States.
The power tool side of Ryobi was developed in 1988 when they purchased all of the assets of the Diehl Motor Company. It was the supplier of Sears Craftsman, which popularized the company throughout North America.
Ryobi is known for its power tools today, especially throughout North America and Australia. It is licensed under Techtronic Industries in Hong Kong. This company also manufactures other power tool brands, such as Milwaukee, AEG, Hoover US, and more. Most Ryobi power tools are now sold through Home Depot and online.
---
Brief History of DeWalt
DeWalt is easily one of the most reliable power tool brands. They are a favorite among most professionals, though some hobbyists find their prices too steep. Though DeWalt wasn't founded until 1924, the founder Raymond DeWalt started perfecting woodworking machines in 1922. Two years later, the company was founded and was known for its electric universal woodworking machine. By 1941, the company grew exponentially to help build defense and wartime machinery required by the government.
This expansion led to DeWalt extending operations North into Canada by 1953. Just two years later, the company had to add more manufacturing space to keep up with demand.
1992 was a turning point for DeWalt. They introduced their first line of portable electric power tools. These tools were specifically designed for residential use as well as professional woodworkers. In 1994, they introduced 30 new cordless tools that revolutionized the system. By 2001, DeWalt had created over 200 electric power tools and 800 accessories.
Despite its success, DeWalt didn't stop there. By 2010, the company started introducing comfortability and compact design into their tools with the 12V MAX system. They started partnering with charities like the Wounded Warrior Project and added even more manufacturing locations throughout the United States. From all this hard work, DeWalt is highly revered as the go-to for professional power tools.

Ryobi vs DeWalt: Manufacturing
Ryobi
Ryobi is a global phenomenon, allowing them to run manufacturing plants in over six countries. Only one of these manufacturing plants is in the United States in Shelbyville, Indiana. Though this plant created a lot of tools in the '80s and '90s, most Ryobi products are made in China today.
If you want a tool made exclusively in the United States, Ryobi is not the brand for you. For this reason, expect most of your Ryobi tools and parts to be manufactured in China simply because their manufacturing prices are much cheaper. This allows Ryobi to keep their prices cheap for the business and you. The US plant typically only manufactures accessories, not entire tools.
DeWalt
DeWalt is also a global manufacturer, but you have a higher chance of getting American-made tools with this brand. DeWalt manufacturing locations are in the United States, Brazil, Mexico, China, the United Kingdom, Italy, and the Czech Republic. Currently, the US manufacturing facilities are located in Connecticut, Kentucky, Maryland, North Carolina, South Carolina, and Tennessee.
Even though there are some accessories and tools not made in the United States, most US customers will receive USA-made tools from DeWalt. That's because DeWalt has made it a point to manufacture tools within the United States despite also having locations elsewhere.
---
Ryobi vs. DeWalt: Product Line
Ryobi
Today, Ryobi is primarily known for its compact, easy-to-use, and affordable power tools. These power tools are specifically designed for the home user, which is why they are affordable and intuitive. However, as Ryobi becomes a more trusted brand, they've also incorporated advanced technology into their product lines.
One+ System
One of the most extensive product lines within Ryobi is its One+ system. Most of the tools they make now fit into the system, though some of their older ones do not. The One+ system means the tools share the same battery and charger.
Brushless Compact Series
As brushless technology is becoming increasingly vital to this industry, Ryobi has been transforming more of its modern tools to brushless technology. That is why they came up with the Brushless Compact Series. These tools are designed to be lightweight, compact, and powerful, and they're ideal for hobbyists who need a little extra umph and durability from their tools.
Outdoor Tools
Ryobi is also known for its outdoor products. They make pressure washers, blowers, and various other outdoor tools. Like their power tools, the outdoor products are affordable, lightweight, and ideal for homeowners.
---
DeWalt
DeWalt is known for its professional-grade tools. As a result, almost all of their products are durable and high performing, regardless of the series.
Cordless
DeWalt produces cordless and corded options. Cordless tools are ideal for those who need to work on the go or get into tight spaces. Almost all of their cordless models are incredibly compact and lightweight, making them some of the most impressive on the market.
20V MAX System
DeWalt also makes products within a 20V MAX system. These tools offer way more power and longevity than others. DeWalt claims that the system produces 29% more power than other systems. This makes them an excellent option for those who need as much power as possible from their power tools.
FLEXVOLT
The FLEXVOLT battery system means you will not need multiple chargers or batteries for your different tools. Instead, buying tools within this line means you only need one charger for all your power tool needs.
Ryobi vs. DeWalt: Price
In terms of price, Ryobi is almost always more affordable, while DeWalt is more expensive. This price difference makes Ryobi a favorite among hobbyists and DeWalt a favorite among professionals. Nevertheless, both tools are wildly loved.
Ryobi
Ryobi is known for its affordable prices. Most of the regular tools fall under 18V One+ systems. This means that they take the same battery, reducing the amount of clutter in your workspace.
Ryobi offers some premium products for the more advanced homeowner. There One+ Brushless Compact Series is a much more premium buy. The tools in the system all use the same battery operation, brushless technology, and comfortable designs. They are still affordable, too.
DeWalt
Of the two products, DeWalt is the more expensive brand. Even their "budget" items can cost more than Ryobi's premium items. With that in mind, it's hard to list any DeWalt product as a budget pick.
Nevertheless, some options are more expensive than others. Products within the 20V MAX system tend to be much more expensive than others. This premium pick series is powerful and only for those with big pocketbooks and frequent power tool needs.
---
Ryobi vs. DeWalt: Warranty
The warranty is another major factor related to the price. Since power tools are relatively expensive, you want the tool to have some kind of guarantee to help offset the price in case it breaks prematurely. Since professionals typically use DeWalt, many assume it offers a better warranty, but that is not the case.
Though DeWalt is more expensive, both brands offer about the same warranty. A 3-year limited warranty is available on all power tools for both brands.
Ryobi
All Ryobi portable power tools, bench stationary tools, outdoor power tools, batteries, and chargers come with a 3-year limited warranty.
DeWalt
DeWalt products come with a No Break Guarantee and a 3-year limited warranty. This warranty ensures that the company will repair defects from faulty materials after 3 years from the purchase date. The warranty does not cover normal wear and tear or tool abuse.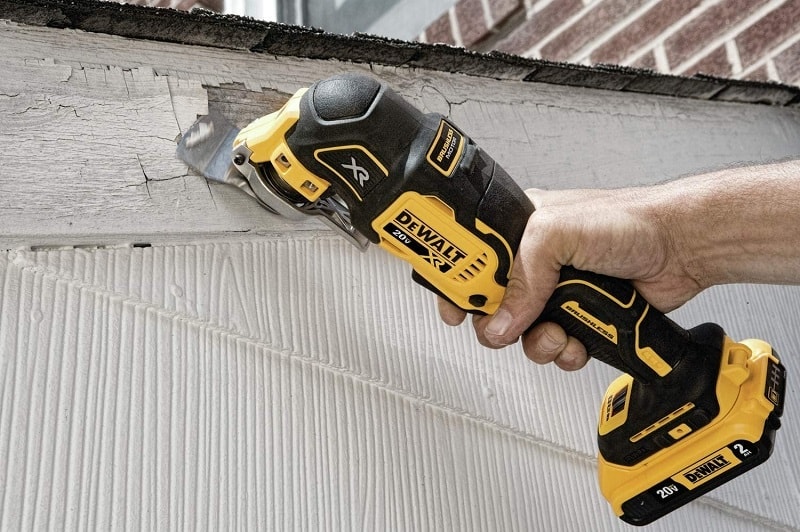 Ryobi vs. DeWalt: Customer Service
Customer service can be a make-or-break decision for customers. Overall, DeWalt has superior customer service, ensuring that you can get help in case you have any questions about your product. Ryobi doesn't necessarily have bad customer service. They just aren't as impressive as DeWalt.
Ryobi
If you have any issues with your Ryobi tool, they have toll-free customer service that you can reach Monday through Friday, 9:00 AM through 6:00 PM. Their products do not come with a customer support warranty like DeWalt.
DeWalt
Customer service is impressive with DeWalt. On top of the 3-year limited warranty, they also offer free 1-year customer support. Users generally agree that customer service with DeWalt is much more efficient and reliable than other power tool brands.

Head-to-Head:
Ryobi vs DeWalt Brushless Technology

Today, brushless motors are all the rage. Especially for power tools, a brushless motor is almost required in today's market. Brushless motors allow the tool to perform better, offer more power, and work longer. These substantial improvements also make brushless technology more expensive.
One of the more impressive brushless technology of Ryobi is the 18V One+ 6-Tool Li-Ion Combo Kit. This kit is hard to beat in terms of performance and value. It is still affordable, yet it comes with durable tools that will last 8 to 10 years. This kit is a great option for homeowners and hobbyists, though it may not be the best for professionals.
Similar to the Ryobi kit is the DeWalt 20V MAX 5-tool Cordless Combo. These tools tend to be much better in quality, construction, and performance than the Ryobi products. Still, they are way more expensive.
Our Verdict
In terms of performance and comfortability, DeWalt is the clear winner. Professionals or those who must use tools frequently need what the DeWalt kit offers. However, this DeWalt kit will be too expensive for hobbyists and homeowners. Go with the Ryobi if you don't need these tools regularly.
---
Head-to-Head:
Ryobi vs DeWalt Drills
Drills are crucial tools for homeowners and professionals alike. Both Ryobi and DeWalt offer drills that are highly effective, lightweight, and long-lasting. By using brushless technology and a cordless design, Ryobi and DeWalt drills are highly portable yet strong.
The Ryobi 3/8-inch 12 Volt Drill/Driver Kit is affordable yet portable. The kit has a drill/driver, one battery, and a charger. It weighs 33% less than drills with Ni-Cad batteries, making it great for tight spaces. Still, it's not the most durable option on the market.
The DeWalt 12V MAX Cordless Drill/Driver Kit is compact, lightweight, and powerful. With a 2-speed transmission, it provides optimum control for professionals and others with more intense needs. Of course, these additional features come with a hefty price tag.
Our Verdict:
Much like the brushless technology, DeWalt drills are more impressive if you need to use them professionally. The additional speeds and accessory features make it much more convenient if you need to use the drill for a long time. In contrast, the affordable price of Ryobi will make it the clear winner for around-the-house use.
---
Head-to-Head:
Ryobi vs DeWalt Saws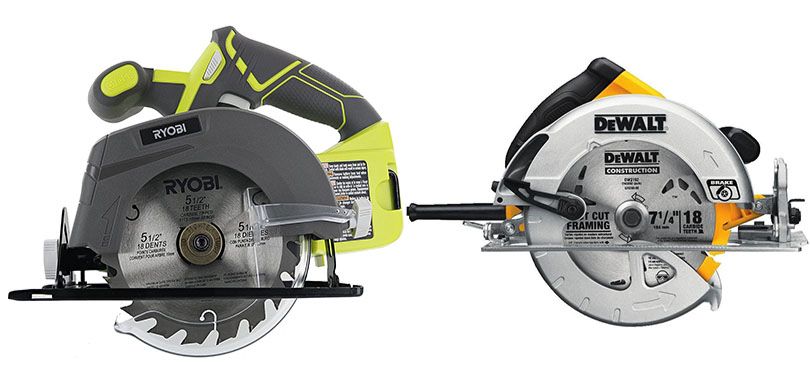 Saws may not be used as frequently as drills, but they are essential tools to consider for more intense hobby needs or professional jobs. Ryobi and DeWalt produce impressive circular saws that you may want to consider for woodworking purposes.
Ryobi's P505 is lightweight yet effective. Its small design makes it perfect for smaller people and those less comfortable with a circular saw. Because of its smaller frame, the P505 is unsuitable for professionals or those who need to cut large pieces of wood.
Carpenters and contractors will probably like the DeWalt DWE575SB more. This circular saw is much more robust and powerful, making it a better option for professional use. At the same time, the tool is also portable, making it great for those who have to transport their saws to different locations.
Our Verdict
As you have probably guessed by now, the DeWalt saw is more impressive by a long shot. Professionals should choose the DeWalt over the Ryobi. However, homeowners can save money and get the Ryobi instead.

Overall Brand Reputation
Performance
Edge: DeWalt
Looking at performance alone, DeWalt is way more impressive than Ryobi. Its tools come with much more accessories that are reliable and precise. For the advanced performance features, professionals prefer the DeWalt.
Ryobi is also impressive in terms of performance, but they are not designed for professional or intense uses. As a result, they don't come with as precise or advanced features as the DeWalt.
---
Price
Edge: Ryobi
The one area where Ryobi beats DeWalt is in price. Ryobi is notably less expensive than DeWalt, sometimes half the price for the same product. Those on a budget or homeowners with less intense needs should opt for the Ryobi because of its affordability. Especially when considering that it has the same warranty as DeWalt, its price is tough to beat.
DeWalt is expensive, even for its offerings. Unless you have enough money to spend on the products or you know you will need to use them intensely for many years, DeWalt may be out of your price range.
---
Durability
Edge: DeWalt
DeWalt tools are more durable than Ryobi's products. Those who are concerned about the longevity of their tool, especially if they use the tool intensely, should opt for the DeWalt.
Ryobi products aren't terrible in terms of durability. They simply aren't as impressive as DeWalt. Still, Ryobi does offer the same warranty as DeWalt, which suggests that Ryobi is still durable.
---
Comfortability
Edge: DeWalt
Since DeWalt is designed for professionals who use the tools a lot, their products tend to be much more comfortable. Typically, Ryobi and DeWalt products are similar in weight, but DeWalt products feel more comfortable and sturdier in your hand.

Conclusion
It's no wonder that Ryobi and DeWalt are the two leading power tool brands. If you are having trouble deciding which brand to select this year, the answer is pretty simple. If you are a professional who needs the most durable and high-performing brand, DeWalt is your best bet. Conversely, homeowners and hobbyists should go with Ryobi because it is more affordable yet dependable. Considering your budget and how often you use power tools can determine which brand to select.