10 Best Glass Water Bottles of 2023 – Reviews & Top Picks
We are all encouraged to drink more water on a daily basis, and when we can't get to a faucet or the water is undrinkable, we turn to bottled water. Plastic bottles, though, can take up to 700 years to fully dissolve, with the remainder going to landfill or ending up in the world's oceans. And even BPA-free plastic bottles are being shown to be potentially harmful.
Glass bottles are reusable, they're easy to clean, and they're leak and spill-proof while also being highly durable.
There is a lot of choice when it comes to finding the best glass water bottles, which is why we've compared some of the most popular on the market. Using our reviews, and list of the best bottles, you can find your new bottle for the car, work, the gym, or sipping from while you're at home.
---
A Quick Comparison of Our Favorites in 2023
Rating
Image
Product
Details

Best Overall

Ello 852-0841-061 Syndicate Glass Water Bottle

Available in a range of colors
One-touch lid
Dishwasher safe parts
CHECK PRICE

Best Value

Contigo 72907 Purity Glass Water Bottle

Cheap
Dishwasher safe
Lid tether
CHECK PRICE

Premium Choice

bkr Glass Water Bottle

Some people love the narrow mouthpiece
Easy to carry
Textured, attractive silicone sleeve
CHECK PRICE

ZULU 952-0361-023 Atlas Glass Water Bottle

Full silicone sleeve
Carrying loop on the back
One-touch locking lid
CHECK PRICE

Chef's Star Glass Water Bottles

Really cheap
Pack of six
Includes sleeves with carry handles
CHECK PRICE
---
The 10 Best Glass Water Bottles
1.

Ello 852-0841-061 Syndicate Glass Water Bottle – Best Overall

The Ello Syndicate glass water bottle, our pick for the best glass water bottle overall, is a 20oz bottle that has a one-touch flip lid. When the lid is open, it means that you are drinking directly from the glass, rather than plastic. It also includes a silicone sleeve that fits snugly around the bottle and helps to prevent scratches and chips and comes in a great variety of color choices and designs.
The sleeve and lid are made from food-grade silicone and the glass used in the bottle construction has been chosen for its clean taste as well as for the fact that it is odor and stain-free. All parts are dishwasher safe, which means that you don't even have to clean it yourself before using it again. The bottle is a good price, especially when you consider that Ello includes a lifetime guarantee with every bottle it sells.
After very extensive use we had one case of a lid hinge breaking, but that was the result of a lot of wear and tear on this otherwise solid bottle.
Pros
Available in a range of colors
One-touch lid
Dishwasher safe parts
Odor and stain-free glass
Cons
Lid can break after heavy use
---
2.

Contigo 72907 Purity Glass Water Bottle – Best Value

The Contigo 72907 is the best glass water bottle for the money, costing less than most other bottles in this list. Despite its low price, the Contigo has some excellent features.
For a start, it's made from high-quality glass that doesn't stain or have a glassy taste. It is also covered in a silicone sleeve, which includes a viewing window so that you can check how much of your drink you have left and when you need to fill up. The lid, which has a tether to keep it attached to the bottle and prevent loss, is leak-proof and has an extra-wide opening so you can drink straight from the glass. You can also add ice cubes and pieces of fruit or slices of lemon without having to crush them in. All components, from the leak-proof lid to the BPA-free silicone sleeve are dishwasher safe, which makes this a convenient water bottle to own.
It will hold 20oz of fluid, and it is a great quality bottle, although we did find that the lid isn't as good a quality as the rest of the bottle and has a tendency to leak.
Pros
Cheap
Dishwasher safe
Lid tether
Wide opening
---
3.

bkr Glass Water Bottle – Premium Choice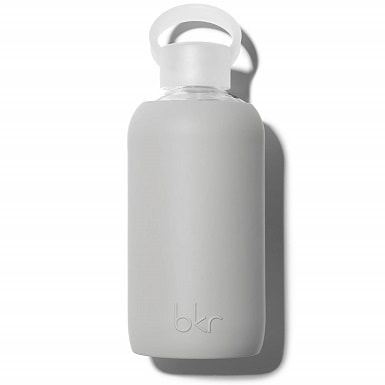 The bkr (pronounced beaker) glass water bottle is a smaller glass bottle, holding 16oz of fluid and having a narrower mouth that is reminiscent of disposable plastic bottles. The glass is reasonably thick, although it is likely to break if you drop it from too high, which would be an expensive accident because the bkr is more expensive than other glass bottles. The silicone sleeve offers some protection, while it is also textured enough to offer a decent grip when you grab it, even if you're sweating after an intense workout.
The narrow mouth might be a signature of the brand, but it also means that this bottle is inconvenient for those that like to add fruit, teabags, or ice to their water. Even if you can get the extra ingredients into the bottle, you will have a tough time getting them back out. If you fill your water bottle from the fountain at the gym, then this can also prove more of a struggle with the thin mouth, but it does feel great to drink from.
There have been some complaints that the bottle broke quite easily, and we found on occasion that the lid was difficult to seal. However, if you need a smaller bottle that is convenient to carry, and you enjoy the feel of drinking from a plastic bottle because of the narrow mouthpiece, this could be your best glass water bottle option. Just be prepared to pay a premium.
Pros
Some people love the narrow mouthpiece
Easy to carry
Textured, attractive silicone sleeve
Cons
Expensive
Lid doesn't seal easily
Can't add fruit or other ingredients
---
4.

ZULU 952-0361-023 Atlas Glass Water Bottle

This 20oz Zulu Atlas glass water bottle is covered in a silicone sleeve, which is meant to provide grip and offer some protection for the glass of the bottle. The locking flip-top lid means that it is easy to get into when you want a drink but should remain securely closed when being carried. And when it is being carried, there's a flexible carry loop on the back of the lid. The loop could do with being a bit bigger, but it's still a handy feature to have. The bottle is priced modestly, at around the middle level of all the bottles we've reviewed.
Unfortunately, when it came to our stress tests, this bottle didn't do quite as well — when it was dropped from low heights it cracked. You should always expect a glass bottle to have some fragility but be warned before you purchase and treat this one too roughly.
What's more, there are a number of reports of a somewhat toxic smell coming from the bottle upon purchase, which is especially surprising considering the reason most people buy a glass bottle is to avoid the toxins in plastic.
Pros
Full silicone sleeve
Carrying loop on the back
One-touch locking lid
Cons
Easy to break
Funny smell
---
5.

Chef's Star Glass Water Bottles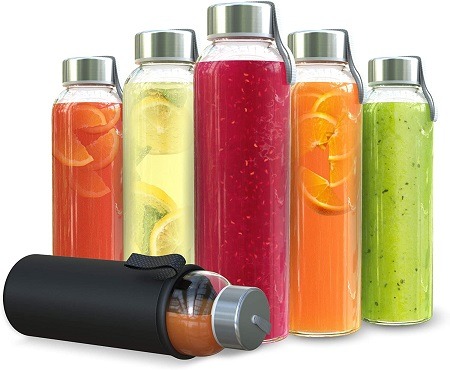 The Chef's Star glass water bottles actually come as a pack of six, and they work out to be by far the cheapest on our list of reviews. They are 18oz water bottles and come complete with a nylon sleeve, which has a carry handle sewn onto it. The lids are airtight and leak-resistant, although they do take both hands to open, which may not be convenient if you want to use them while on the machines at the gym.
Unfortunately, and perhaps expectedly due to the really low price, there have been a number of complaints with the bottles, the lids, and the nylon sleeves. The sleeve seems to have a toxic smell. The carry handle is sewn on, and there are multiple occasions where this has come unsewn and left us having to carry the bottle. The glass is also not the best quality, often turning up warped and misshapen with bubbles in them. This isn't purely an aesthetic problem, either, because there were also instances where our bottles cracked after mild and minimal use.
Pros
Really cheap
Pack of six
Includes sleeves with carry handles
Cons
Handles come off easily
Sleeves are nylon and smell funny
Glass is warped and misshapen
Break too easily
---
6.

ZULU 839-0199-436 Studio Glass Water Bottle

The Zulu Studio glass water bottle is a mammoth water bottle that holds 26oz of fluid and includes a silicone sleeve for texture and comfort. The sleeve should also provide protection against chips and cracks that can easily form on glass bottles. The one-touch flip lid is designed so that your mouth touches the glass of the bottle when drinking, further enabling you to avoid the plastic. All parts are dishwasher safe, which makes them really easy to clean and maintain, too. The bottle is priced well, especially considering the extra volume it will handle when compared to most other bottles.
Unfortunately, the bottle has not proven as robust as other Zulu models, breaking after falling from table height. We also found the cap to be low quality. In particular, the button has a tendency to break, although Zulu does seem quite responsive in sending out replacement lids. There's also a bit of a funny smell coming from the bottle itself.
The extra volume that the bottle holds also means that you should expect this bottle to weigh more than its competitors, and glass bottles are already heavier than lightweight plastic and metal alternatives.
Pros
One-touch lid
Drink from the glass, not the lid
Silicone sleeve offers protection
Holds 26oz
Cons
Heavy because of extra volume
Lid button tends to break
Too easily damaged
---
7.

Lifefactory LF230214C4 BPA-Free Glass Water Bottle

The 22oz glass water bottle from Lifefactory holds slightly more than the typical water bottle, which should mean fewer stops to refill. It also has a silicone sleeve that makes it easier to hold and grip the bottle and offers some protection if you happen to drop it.
It is worth remembering that glass bottles are more prone to breaking than metal, but glass is taste-free so is often preferred because the bottle material flavor doesn't leach into the drink itself. Lifefactory also sells a number of different caps, meant for different purposes, although the bottle itself comes with the traditional cap fitting.
The silicone sleeve fits right around the bottle, providing extra protection. The holes in the silicone design provide extra texture and give grip so that you're less likely to drop it in the first place. The bottle and parts are dishwasher safe, so it is easy to care for.
Once again, we had an issue with the smell of the silicone sleeve and lid, and in our experience, the bottle chipped easily.
Pros
22oz drink capacity
Silicone sleeve with holes offers textured grip
Different styles of cap available
Dishwasher safe
Cons
Funny smell from the lid
The lid breaks
The glass breaks quite easily
---
8.

HydroMATE Motivational Glass Water Bottle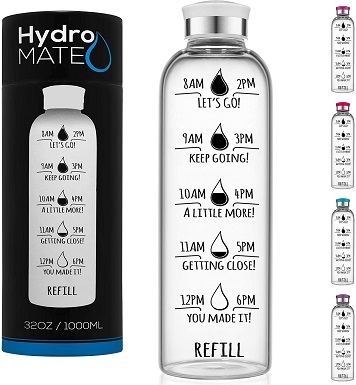 The HydroMATE motivational glass water bottle is a massive 32oz bottle and is seemingly designed for daily use while at work or at home, rather than for the gym. It has motivational quotes down the side of the bottle that are meant to encourage you to drink the recommended amount of water on a daily basis.
This means that it doesn't have the silicone sleeve that is present on a lot of other models, so will be too slippery for use during exercise. The inspirational quotes are also based on time of day, so are irrelevant for use in the gym. The screw-top lid will require the use of both hands, so it can't be used mid-exercise or while using gym machines, and the 32oz capacity makes this a really heavy bottle.
It does also have a carrying strap, but we found the string snapped after very little use. Also, it seems that there might be some structural problems as the bottom of the bottle broke easily.
If you're looking for a water bottle to monitor your daily intake and will only use it on a sturdy table, its quotes and design could be ideal. Otherwise, you would be better off looking elsewhere.
Pros
Massive 32oz capacity
Inspiration quotes to encourage hydration
Decent price
Cons
Flimsy strap breaks easily
No sleeve so bottle is slippery with sweat
Too heavy for use when running or working out
Bottom breaks easily
---
9.

Invigorated Water pH HYDRATE Glass Alkaline Water Bottle
The Invigorated Water pH Hydrate water bottle looks expensive, at first glance, but this is because it is more than a glass bottle: it also has a water filter that removes free radicals, heavy metals, fluoride, chlorine, chloramine, and any bad taste in the water that you pour in.
As well as the anti-slip silicone sleeve, it has a nice looking bamboo lid with a steel handle and is made from borosilicate glass, which is hardened glass that is designed to be shatterproof, should the worst happen.
Unfortunately, the filter in the bottle may well serve its purpose, although it didn't match up with our pH test results. What's more, it takes up a lot of room so the bottle is heavy but it doesn't hold a lot of water. This bottle also didn't pass the drop test, cracking after little use. The lid handle we found to be flimsy and easily breakable as well.
Pros
Filtered water on the go
Silicone sleeve
Looks good
Cons
pH value of water doesn't change
Filter takes up too much room
Lid breaks
Glass breaks
Expensive
---
10.

Contigo 74180 AUTOSPOUT Straw Ashland Glass Water Bottle

The Contigo Autospout is a 20oz glass water bottle. It includes a silicone sleeve and a lid that includes an auto-lock button as well as the company's autospout drinking spout. There's a spout cover, too, which helps to prevent germs from getting in your water when you're not drinking from the bottle. The clip-on handle enables you to attach the bottle to your bag or backpack for easy carrying. The lid and body can be put on the top rack of the dishwasher.
Unfortunately, after continual use, we found that the spout broke off, and the bottle easily cracked, which was disappointing. Additionally, we noticed that the lid and spout are made from plastic, which goes against the purpose of buying a glass water bottle and not a plastic one in the first place. We also experienced a slight mildew buildup with this bottle, causing us to give it a pass on our recommendations.
Pros
Drinking spout
Silicone sleeve
Cons
Only some of it can be put in the dishwasher
Lid breaks
Spout breaks
Glass breaks
Can create mildew buildup

Conclusion
There is a wide range of glass bottles on the market, and it is important that you buy one that is strong and sturdy, easy to drink from, and easy to maintain. Avoid those that use plastic in the construction, otherwise, you might as well buy a hard-plastic water bottle that is cheaper and less likely to break. Hopefully, our reviews have helped you choose the best glass water bottle for your use.
While compiling our reviews, we found the best glass water bottle to be the Ello Syndicate glass water bottle because of its modest price, its ability to be put in the dishwasher, and its strong resistance to any cracking. If you're on a budget, then the Contigo Purity is cheaper, and it offers strength and sturdiness at an affordable price.
You might also like:
---
Featured Image Credit: satit sewtiw, Shutterstock