10 Best Dishwasher Safe Water Bottles in 2023 – Reviews & Top Picks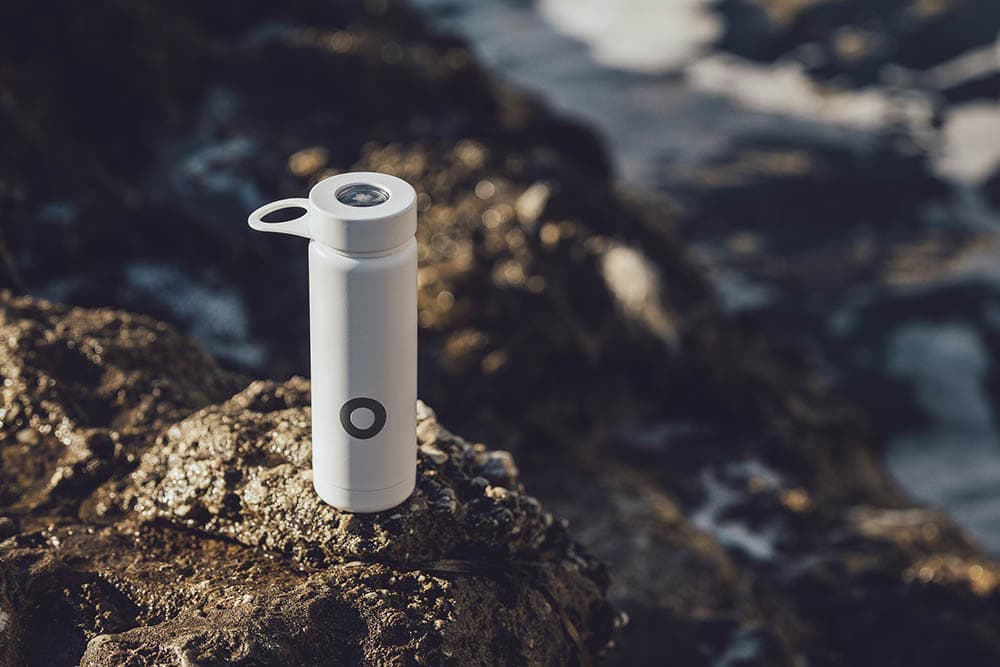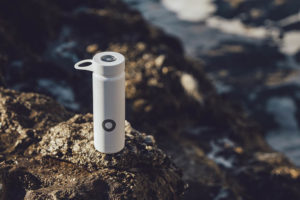 We're routinely told that we need to drink more water every day. In fact, experts say we should be consuming anywhere from 75 to 100 ounces of water or more, but it isn't always that easy.
One way to increase your intake and ensure that you consume an appropriate amount of water is to carry a reusable water bottle. It makes it easier to measure the volume you drink, negates the need to find a clean water source everywhere you go, and is considerably cheaper and more environmentally friendly than drinking water from the shop.
However, you need a bottle that is convenient, reusable, doesn't taint the flavor of your water, and is easy to carry. A dishwasher-safe water bottle is arguably the most convenient option, but there are a lot of alternatives available. We've curated a list of reviews of the best dishwasher-safe water bottles so that you can choose the one that best fulfills your requirements.
---
A Quick Comparison of Our Favorites in 2023
Rating
Image
Product
Details

Best Overall

HYDRO CELL Stainless Steel Water Bottle

Excellent thermal insulation
Sweat-resistant powder coating
Selection of sizes and colors
CHECK PRICE

Best Value

Rubbermaid 2003501 Leak-Proof Chug Water Bottle

Cheap
Wide opening for easier drinking
Mouthpiece cover to stop debris
CHECK PRICE

Premium Choice

Bubba 2035563 Trailblazer Stainless Steel Water Bottle

Keeps water cold for up to 24 hours
Useful choice of lids
Durable
CHECK PRICE

Nalgene 2178-2024 Tritan Wide Mouth Water Bottle

Wide mouth
Leakproof
Durable
CHECK PRICE

Pogo 233-0432-041 Plastic Water Bottle

Cheap
Fits in cup holders
Decent carry loop
CHECK PRICE
The 10 Best Dishwasher Safe Water Bottles
1.

HYDRO CELL Stainless Steel Water Bottle – Best Overall
Stainless steel water bottles, especially double-walled versions like the HYDRO CELL, keep hot drinks hot and cold drinks cold. They are also more durable than plastic and glass.
The HYDRO CELL is modestly priced and comes in various sizes, from 18 ounces (oz) to monster 40-oz bottles. The double-wall stainless steel offers excellent thermal insulation to keep your drink at the desired temperature. In fact, it will keep cold drinks cold for 24 hours and hot drinks warm for up to 8 hours. Also, it has been designed for use while exercising and playing sports so it has a textured, sweatproof cover.
Another beneficial feature of the HYDRO CELL is that it comes with two caps: the standard stainless-steel screw top and a sports top with an integrated straw. There is a good selection of colors to choose from, so you can match it to your sportswear or your mood.
Its double-walled stainless-steel design is a little heavier than some other bottles, especially if you opt for the giant 40 oz bottle. However, it remains our top pick for the best dishwasher-safe water bottle overall.
Pros
Excellent thermal insulation
Sweat-resistant powder coating
Selection of sizes and colors
Reasonable price
Durable
Cons
Some debate over dishwasher compatibility
Heavier than some alternatives
---
2.

Rubbermaid Leak-Proof Chug Water Bottle – Best Value
The Chug water bottle from Rubbermaid is affordable, includes a carry loop for convenient transport, and has a wide mouth that is made for easier drinking but also allows you to add ice and other ingredients.
Its BPA-free Titan plastic is rated safe for placement on the dishwasher's top rack, and various colors are available. While some bottles come in an almost baffling array of sizes, the Rubbermaid is available as a 24- or 32-oz bottle. Designs include a straight, geometric, or contoured design that is easier to hold.
Although the cost and features of this bottle make it the best dishwasher-safe water bottle for the money, there are some issues with the lid not sealing correctly and causing leaks. It also won't fit in the cup holder of most cars, which is inconvenient for daily use. It is less effective at keeping water at the desired temperature than other bottles, especially stainless-steel variants. Overall, though, it is an excellent option for the money.
Pros
Cheap
Wide opening for easier drinking
Mouthpiece cover to stop debris
Cons
Tends to leak
Too large for cup holders
Won't keep water cold for long
---
3.

Bubba Trailblazer Stainless Steel Water Bottle – Premium Choice
Stainless steel water bottles are more expensive than their plastic counterparts. The raw material is more expensive and poses a greater challenge to form and work with. Even so, the Bubba Trailblazer Stainless Steel Water Bottle comes in at the high end of the price range, even for a stainless-steel bottle.
Despite that, it is a highly recommended product. It comes in 24, 32, or 40-oz models, is available in several colors, and the stainless steel will keep hot drinks hot for up to 12 hours without it causing sweating on the outside of the bottle. It will also keep your cool drinks cool for up to 24 hours.
You can also choose from a selection of lids, including the wide mouth lid, one with a push-button opening, a straw sports lid, or a simple lid. The three-finger handle is well-designed and sturdy enough not to break under normal circumstances or heavy use. In most cases, it does an outstanding job of keeping drinks cold, but you need to ensure that the lid thread is properly aligned when replacing it.
Pros
Keeps water cold for up to 24 hours
Useful choice of lids
Durable
Cons
Lid doesn't always thread properly
Expensive
---
4.

Nalgene Tritan Wide Mouth Water Bottle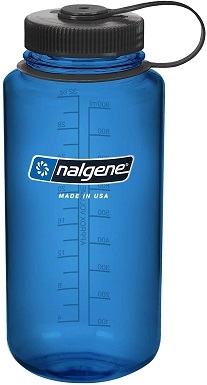 The Nalgene Tritan Wide Mouth Water Bottle is a relatively simple but reliable BPA-free Titan plastic bottle. It holds 32 oz of water and can be placed on the top rack of the dishwasher for easy maintenance and care. One of the problems with many water bottles is that you can only get a few drops of water at a time, making downing 75 oz a day a real struggle. Which is why we love wide-mouth water bottles like the Nalgene.
It is priced reasonably but more expensive than many of the alternative plastic models. However, it's more durable than most of the competition. It is leak-proof and will sustain bumps and bangs, no matter how rugged your hiking terrain is.
The one aspect that's disappointing is its thermal insulation. Water only stays cold for an hour or two during regular use. This problem pervades the plastic water bottle market and can be resolved with a lightweight insulating cover.
Pros
Wide mouth
Leakproof
Durable
Dishwasher safe
Cons
Pricey compared to similar models
Doesn't keep contents cold for long
---
5.

Pogo Plastic Water Bottle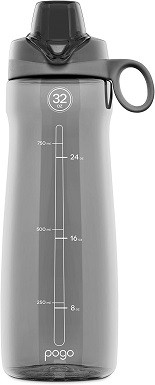 The Pogo plastic water bottle holds up to 32 oz of water, comes with a selection of chug, straw, or Aikido lids, and is available in various colors. It is also one of the cheaper plastic reusable bottles available. The soft-touch carry loop makes it easier to lug around, and its tall design means that it will fit in most cup holders.
Unfortunately, the Pogo is vulnerable to mold if it isn't cleaned and dried every time you use it, and the plastic is not great at retaining its shape. It can easily become malformed when left in a hot car, and once that happens, water will leak from the opening and the lid. It also loses color, and the ink on the measurement markings will quickly fade.
The Pogo will sweat if you put ice in the water, and the water will only stay cold for a couple of hours without ice. If you aren't too bothered about it losing color and shape but want something cheap for occasional use, it is a decent option.
Pros
Cheap
Fits in cup holders
Decent carry loop
Cons
Sweats with ice
Discolors and malforms in heat
Needs thorough drying to avoid mildew
---
6.

CamelBak Chute Mag Water Bottle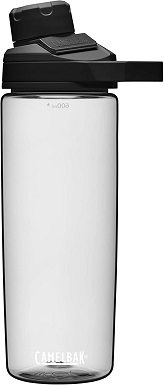 The CamelBak Chute Mag Water Bottle comes in an almost confusing array of colors and sizes. This includes a massive 50-oz bottle. While it only comes with a single lid, it is compatible with many other lids, including the carry cap and the hot cap lid. CamelBak has recently changed its lid design to have a magnetic seal. Unfortunately, the new lid design makes it almost impossible to use with one hand, so it is not a convenient option when playing sports or driving.
It also has a carry handle on the lid, but the solid handle is less comfortable and convenient than soft handles and loops. It has a simple design, which looks attractive and regardless of the size or design you choose, it is an inexpensive water bottle.
Another minor gripe is the lack of measurement markings on the side. However, it's still a great deal for the money.
Pros
Huge range of colors and sizes
Cheap
Decent looking design
Cons
No measurements
Lid requires two hands to use
Handle is uncomfortable
---
7.

Brimma Premium Sports Water Bottle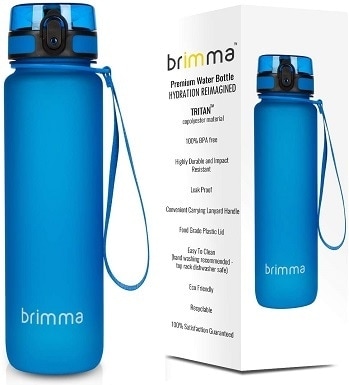 The Brimma Premium Sports Water Bottle comes in 18, 32, and 50-oz sizes and a choice of pink, white, or black colors. It is made from BPA-free Tritan plastic, and Brimma claims it is leakproof.
The flip-top lid can be operated using one hand, which should be considered a vital part of a sports bottle design. It means that you can hydrate while running or playing sports. Another helpful feature is that it is designed to fit in cup holders. Whether you're transporting the water bottle to the gym or want a reusable container for drinking water throughout the day, the slim body is nice.
The lanyard handle is flexible and easy to use, and it can be attached to bags and carabiners. Although the design is good, the Premium bottle cover tends to fade and peel away, and it is more expensive than several of the alternative Tritan plastic water bottles. The lid isn't as waterproof as Brimma claims it to be, and you will have to ensure it doesn't leak over the contents of your bag when transporting it.
Pros
One-handed lid operation
Reasonable range of sizes and colors
Fits in cup holders
Lanyard carry handle
Cons
Pricier than similar alternatives
Coating peels
Not as leakproof as claimed
---
8.

Contigo AUTOSEAL Grace Reusable Water Bottle

The Contigo Grace is a reusable water bottle made from BPA-free plastic. It holds 32 oz and boasts the company's AUTOSEAL lid that prevents spills and leaks. Although the company claims that it instinctively knows when to seal, that isn't true, and you need to hold down a button when drinking and let go when not drinking.
It prevents spills, but it isn't as convenient as drinking from a standard bottle. It also means that if the button comes into contact with a pen, lipstick, or anything else, it will open and spill, so it isn't suitable for carrying in a bag, whether it's a sports bag, school bag, or handbag.
Also, the bottle's design has a wider base than top, and the base is wide enough that it will not fit in most standard cup holders. It's a simple complaint, but considering the capacity of modern water bottles, they are meant for everyday use, so they should fit in standard holders. However, the Contigo Grace has volume markings and a carry loop that is reasonably comfortable and easy to use.
Pros
Volume markings
Leak- and spill-proof
Decent carry loop
Cons
Doesn't fit in most standard cup holders
Leakproof lid is easy to press accidentally
Not that easy to drink from
---
9.

Vitscan Water Bottle with Straw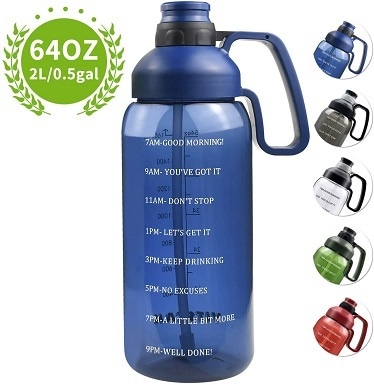 The Vitscan water bottle is a mammoth 64-oz water bottle, which holds almost enough for an entire day of healthy hydration. It also has motivational quotes, as well as standard volume markings, which might encourage some to drink more water, but they don't work because they assume everybody has the same timetable and that we all drink water at equal intervals over the course of the day.
The obvious problem with this bottle is its sheer size. Despite being surprisingly fragile, it won't fit in cup holders and is heavy once filled with water. It leaks after a few months of use. The straw reaches the bottom and is easy to drink from, and the lid is wide enough that you can easily add ice, fruit, and other ingredients to pep up your daily water.
Although it is handy to have a bottle that will hold pretty much all the water you require for one day, it also turns out that it is inconvenient because it means that the bottle is large and heavy.
Pros
Large 64 oz capacity
Wide mouth opening
Volume measurements
Cons
Inspirational quotes are largely pointless
Large bottle with inconvenient design
Leaks after a few months
Won't fit in cup holders or many bags
---
10.

Easy Clean Water Bottle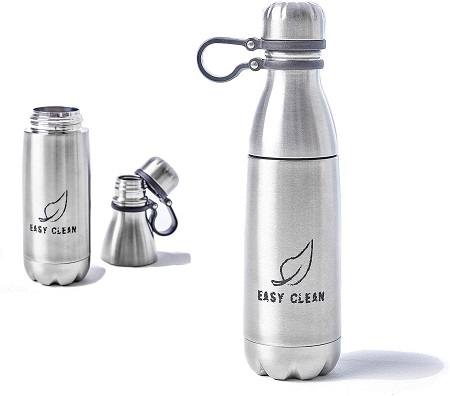 The Easy Clean Water Bottle is a stainless-steel reusable water bottle. It holds 17 oz of water, which means that you are going to need to refill it several times over the course of a day. It does have a convenient opening at the widest section of the bottle, which makes it easier to get kitchen cleaning brushes in and for adding ice.
The bottle tends to attract mildew, and the middle threading section breaks easily, so you can't disconnect it. The bottle also gets too hot when used with hot liquids and sweats when used with cold liquids, which means that tepid water is the best liquid for this bottle.
Despite the admirable design idea of separating in the middle for easy cleaning, the bottle's tiny size means that it is still challenging to get into. It also necessitates frequent filling, which isn't too bad because its design also means that you will want to refill it every hour to keep your water at the desired temperature.
Pros
Convenient design that makes cleaning easier
Stainless steel
Cons
Way too small to be useful
Not ideal for hot liquid
Cold liquid causes sweating
Mildew forms
---
Buyer's Guide – Choosing the Best Dishwasher Safe Water Bottle
Whether you're looking for a bottle to take to the gym, carry while out running, or lug around with you all day to ensure that you're staying hydrated, a dishwasher-safe reusable water bottle is best. It prevents buying and throwing away multiple plastic bottles each day, cutting the cost of your water intake and the cost to the environment. Consider the following factors to ensure you get the best bottle.
Material
Stainless steel – Since it's durable and tough, stainless steel will keep hot drinks hot and cold drinks cold for longer. It will also withstand knocks and scrapes, but stainless steel costs more than plastic.
Plastic – Always ensure that you buy BPA-free plastic and try to determine the durability of a plastic bottle before purchasing. These cost less than bottles made from other materials but may need replacing more often.
Glass – Glass has a neutral taste, unlike plastic and steel, which is why many people buy glass water bottles. However, they are heavy, can break easily, and cost more.
Size
The amount of water you need to drink in a day is determined by factors like gender, age, size, and activity levels, but your requirements are likely to fall somewhere between 75 and 100 oz of water each day.
A bottle that is too small will require regular filling, which is inconvenient and will discourage you from drinking enough. Bottles that are too large, however, will be heavy, won't fit in your bag, and won't even fit in the cup holder of your car. Typical sizes range from 20 oz to 50 oz, but there are exceptions, with some bottles holding as much as 64 oz and others holding only 17 oz.
Lid
The lid of your water bottle determines how easy it is to drink from, whether it can be opened with one hand, and whether it is wide enough to easily clean inside and fit extra ingredients like ice or fruit. Wide mouth lids are usually preferred because they are more convenient.
Carry Handle
Carry handles can vary from a solid circle that is uncomfortable to hold to loops that fit around the wrist but might be more prone to coming loose. If your bottle has no handle, ensure that it has a textured coating or a contoured design so that you can hold it without dropping it.
Volume Markers
Volume markers offer more than a design embellishment. They make it easy to determine how much you've drunk and how much more you need to consume for the day to meet your target. Some bottles include ounce markings, while others offer milliliter markings. A few also include inspirational quotes, but they are primarily gimmicks.

Conclusion
Reusable water bottles offer a convenient way to stay hydrated. They can be thrown in your gym or sports bag and refilled from any drinking tap. Some can also be used for holding and transporting hot drinks. Keeping a water bottle clean is arguably one of the biggest challenges, which is where dishwasher-safe reusable water bottles come into their own.
The best dishwasher-safe water bottle, the HYDRO CELL stainless steel water bottle, provided the right mix of price, high-grade stainless steel with double walls, and a convenient lid and opening design. For those looking to spend a little less, the Rubbermaid leak-proof Chug water bottle's wide opening and inexpensive price tag were the perfect combinations.
We should all drink more water and are encouraged to avoid using disposable and potentially harmful plastic water bottles. Hopefully, our reviews will help you make the best choice and find a reusable bottle that is ideal for your needs.
---
Featured Image Credit: Bluewater Sweden, Unsplash