10 Best Grease Guns of 2023 – Reviews & Top Picks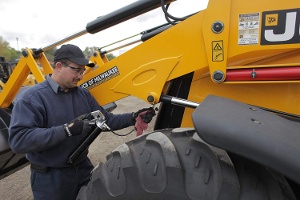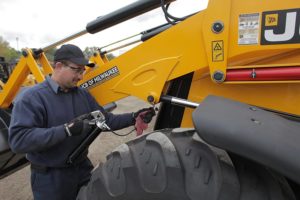 For some projects, a grease gun is a must-have. These tools are used to lubricate certain pieces of machinery, such as metal nuts and bearings. They can also help some tools from getting rusty, which can be a considerable risk in some environments. A grease gun is necessary to have in any garage and many homes as well.
As you might imagine, some grease guns are great, while others don't work nearly as well. There are many different options to choose from on the market, allowing you to make the best choice for your situation. A mechanic is going to need a different gun than your average homeowner, for instance.
In our reviews below, we'll take a look at 10 of the best grease guns on the market. We've also got a complete buyer's guide to help you make the best decision possible.
A Quick Comparison of Our Favorites in 2023
Rating
Image
Product
Details

Best Overall

Lincoln Lubrication 1134 Pistol Grip Grease Gun

Variable stock mechanism
Comes with 2 applicators
Combination filter
CHECK PRICE

Best Value

Lumax LX-1152 Pistol Grease Gun

7
000 PSI
Air bleeder valve
Heavy-duty steel
CHECK PRICE

Premium Choice

Milwaukee 2646-20 M18 Grease Gun

48" hose
10
000 PSI
Air bleeder valve
CHECK PRICE

Bravex Heavy Duty Professional Pistol Grip Grease Gun

Does not leak much
Non-slip rubber grip
Flex hose included
CHECK PRICE

GreaseTek 910100 Premium Pistol Grip Grease Gun

18" hose
Pistol grip handle
Inexpensive
CHECK PRICE
The 10 Best Grease Guns
1.

Lincoln Lubrication Pistol Grip Grease Gun – Best Overall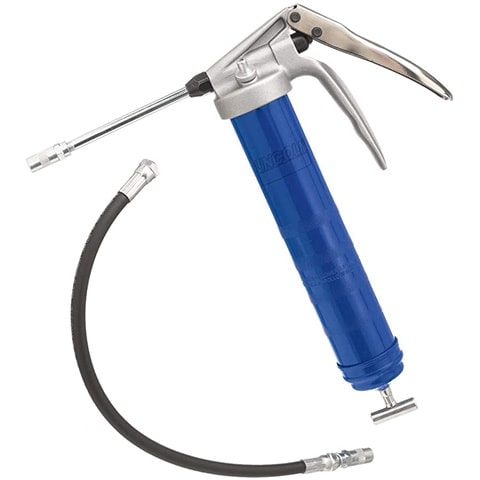 We took a look at many different grease guns for this article. Out of all those currently on the market, the Lincoln Lubrication 1134 came out on top. It develops up to 7,500 PSI and has a variable stroke mechanism for high-pressure applications. The premium dual-lip eliminates grease bypass, ensuring that your work environment remains clean and that you waste as little grease as possible. The combination filler allows you to quickly refill this grease gun and release any trapped air to keep the gun ready to go.
This gun comes with an 18-inch whip hose and a rigid 6-inch extension. Both of these applicators are useful for different situations, so the fact that this grease gun comes with both is a huge plus. We liked that the gun feels high-quality and heavy. It feels like it is built to last. This gun is the fastest to prime to date. As you might imagine, this can be a huge plus when you're just looking to get going. Overall this is the best grease gun on the market today.
Pros
Primes fast
Dual-lip
Variable stock mechanism
Comes with 2 applicators
Combination filter
Cons
Coupler is over-tightened on arrival
---
2.

Lumax LX-1152 Pistol Grease Gun – Best Value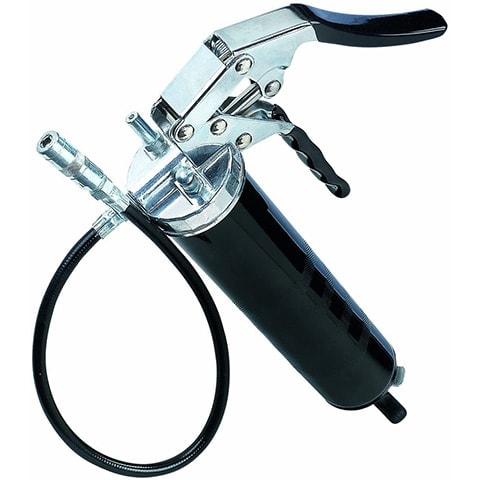 Most homeowners don't need a large grease gun. You likely won't be using it very often and likely not for very long, either. Therefore, you probably don't need to spend tons of money on one. If you fall into this category, we recommend the Lumax LX-1152. It has a heavy-duty cast head and produces up to 7,000 PSI. It also has an air bleeder valve to get rid of air pockets. The heavy-gauge steel barrel prevents unnecessary damage and elongates the lifespan of this tool. The follower rod lock prevents accidental damage as well.
The flex hose is 18 inches and is designed to stand up to quite a bit of wear-and-tear. You can also fill in a few different ways, including with cartridges. This allows you to choose whichever option works best for you.
Overall, this is a nice, small grease gun that is perfect for homeowners. If you're a mechanic or need to use a grease gun a lot, this is likely not the best option for you. It is durable, while still being much cheaper than most of the competitors. All in all, we think it is one of the best grease guns for the money.
Pros
Heavy-duty head
7,000 PSI
Air bleeder valve
Heavy-duty steel
---
3.

Milwaukee M18 Grease Gun – Premium Choice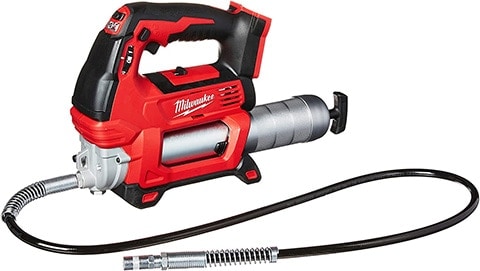 The Milwaukee 2646-20 M18 produces an industry-leading 10,000 PSI. This is more power than most people will ever need, making this gun more suitable to professionals or hobbyists who want the best of the best. The hose is 48 inches and is quite flexible and durable. It should last you a very long time. It provides you with easier access to hard-to-reach fittings. The air bleeder valve allows you to prime the gun very quickly so you can get to work faster.
The trigger can be locked on or off. We found this feature incredibly convenient and great when you're using this machine for a long time. It is powered by a Lithium battery pack, making it one of the only 18V grease guns that use a battery that is also compatible with a wide variety of tools.
With all the extra features and power, you're going to be paying quite a bit more than you would otherwise. This gun is expensive and likely falls out of most people's budgets. This gun is also a bit heavier than most. It weighs 9.3 pounds. While this isn't super heavy, it is heavier than most options on the market.
Pros
48" hose
10,000 PSI
Air bleeder valve
Lock trigger
---
4.

Bravex Heavy Duty Pro Pistol Grip Grease Gun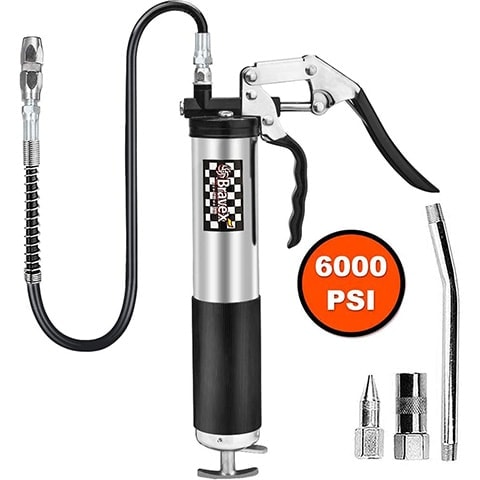 The Bravex Heavy Duty Professional Pistol Grip Grease Gun is an average grease gun. It isn't the best, but you likely won't be disappointed by its performance either. The canister is built with cold-drawn steel tubing with very high durability. It does not leak much at all, even during bulk applications. The O-ring seal allows the grease gun to produce a lot of pressure without leaking like other models tend to do. The air bleeder valve allows air pockets to be eliminated as well quickly.
We liked the non-slip rubber grip, which seems to be a pretty unique feature. This prevents you from accidentally dropping it, which can further prevent accidental damage. In total, this gun can produce 6,000 PSI. This is a little low, especially for the price. We would have liked to see it a bit higher. This is one reason it is only ranked at number four on this list.
The flex hose does seem to be high-quality, and there are various other accessories included with this grease gun. Like many high-quality options, this gun can be loaded with cartridges, suction fill, or a filler pump.
Pros
Does not leak much
Non-slip rubber grip
Flex hose included
Cons
6,000 PSI only
Poor quality control
---
5.

GreaseTek Premium Pistol Grip Grease Gun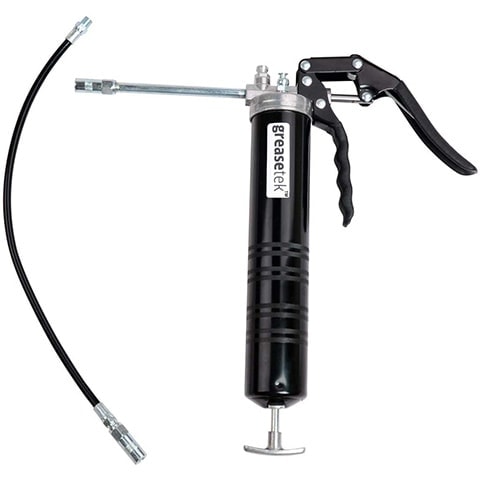 For an inexpensive grease gun, the GreaseTek 910100 may seem like a reliable option. However, there are quite a few things about it that we don't like. But first, the positives. The plunger design does make it very easy to prime and load. It is easy to use overall. It also includes an 18-inch hose, which is longer than most other grease guns on the market. The pistol grip handle and knurled handle prevent accidental dropping. Of course, it also includes a bleeder valve. The dual-positioning grease loader allows it to be used and loaded in a variety of positions.
However, the zerk fitting is poorly made. It takes quite a bit of force to get out. At the same time, the locking mechanism randomly comes undone, which can make a huge mess. This is the reason we rated it so low on our list. The mess just isn't worth it.
In the end, this grease gun is quite average. It shoots grease. It is a bit painful to use in some cases, especially when dealing with the zerk fitting.
Pros
18" hose
Pistol grip handle
Inexpensive
Cons
Poorly designed zerk fitting
Messy
---
6.

UTOOL MGG0202 Grease Gun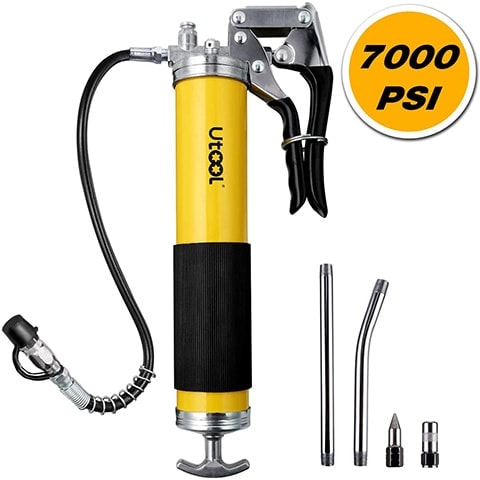 The UTOOL MGG0202 is a so-so grease gun. It has 7,000 PSI max. However, we found that it is rare to reach this PSI with this gun. It just isn't as powerful as other options on the market. The iron die cast head is durable and will probably last quite a long time. The seal is good – we will give it that. It doesn't leak very much at all. The ergonomic design is excellent. You can operate it with one hand, and the rubber sleeve prevents accidental drops that may result in damage.
The coupler locks to prevent accidental firing, which can create a huge mess. There is a short, 6-month warranty behind this grease gun as well.
Sadly, this grease gun seems to be poorly made. All the pieces don't fit together 100% well. It isn't odd for the plunger assembly to just come undone, creating a huge mess and plenty of frustration. This gun is also very light and seems less durable than other options we've reviewed thus far.
Pros
High-quality seal
Ergonomic design
Coupler lock
---
7.

Alemite 555-E Pistol Grip Grease Gun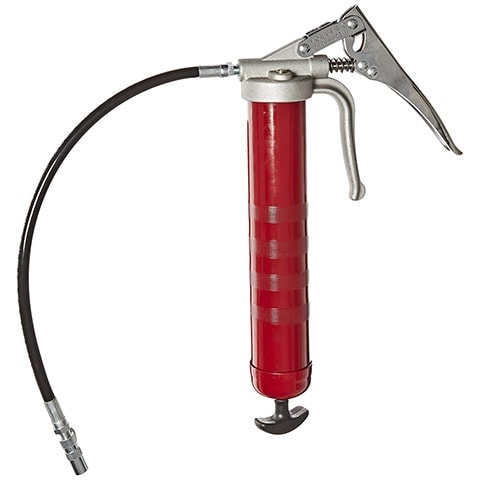 We honestly did not like this grease gun much at all. The Alemite 555-E isn't excellent, but it also wasn't our least favorite. We just think that your money would best be spent elsewhere. This grease gun has a capacity of 16 ounces. With 7,500 PSI, this gun is a bit more potent than others on our list. However, it is not as powerful as some other options. You probably won't notice the extra 500 PSI anyway. It can be bulk loaded or use grease cartridges. It also has a heavy-duty spring to keep the grease gun primed. The bleeder valve prevents the grease gun from building up excessive pressure.
This grease gun has an 18-inch flexible hose. This allows it to reach tight spaces, allowing you to use it for a wide variety of purposes.
This grease gun is designed in the USA but made elsewhere. It seems that the manufacturing has caused it to take a hit regarding quality. It just isn't made as well as other options currently on the list.
Pros
18" hose
7,500 PSI
16-ounce capacity
Cons
Poor quality
Expensive for what it is
---
8.

LockNLube Dual-Shot Pneumatic Grease Gun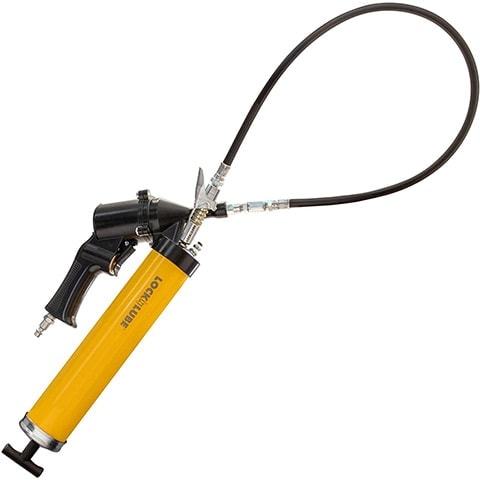 The LockNLube LNL261 is one of the first grease guns powered by compressed air. It is both single-shot and continuous, allowing it to be used for a variety of purposes. In continuous mode, it can shoot up to 5 ounces in a minute. It delivers up to 6,000 PSI, which is a bit lower. However, when you're using compressed air, you can expect the power to be a bit lower. Like most grease guns, this one comes with a coupler. We did like the loop and lock storage technology, which allows the gun to take up less room and prevents it from accidentally firing when in storage.
Despite these positives, though, there are a few things we didn't like about this grease gun. It seems to break down slowly as you replace the tubes. Eventually, it just won't prime. The attachment is vast and is not usable in small areas. You may want to purchase a different fitting adaptor, as the attachment that comes with this gun is so more extensive that it is difficult to use.
Pros
Continuous mode
Pneumatic
Loop and lock storage
Cons
Only 6,000 PSI
Wears down quickly
Large attachment
---
9.

Ryobi P3410 Cordless Grease Gun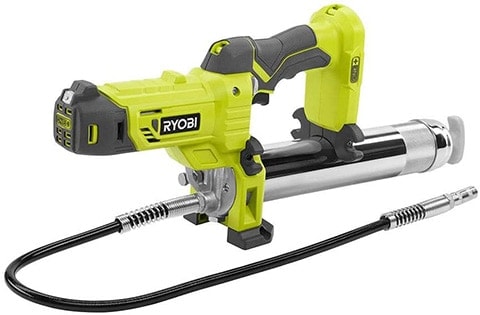 This is a mighty grease gun. The Ryobi P3410 can reach up to 10,000 PSI, making it one of the most influential models we've reviewed. It has a 7.5-ounce per minute flow rate, which is also much more extensive than most of the other options we've reviewed thus far. The grease tube is made out of steel, making it extremely durable. This grease gun can put up with quite a bit of wear-and-tear. It uses a battery that is compatible with the other 18V tools in the Ryobi system.
Because it is so powerful, you're going to pay a lot for it. It is costly and is likely above the budget of most homeowners. It may be suitable for some professionals, but there are other, better options for the same price. Furthermore, this grease gun does not come with a case. Some people might also find that this tool pumps too much grease too fast. It can be a bit messy to deal with. We felt like it was overpowered in many circumstances.
Cons
A little

too

powerful
Expensive
No case
See: Best Electric Cordless Grease Guns
---
10.

Milton S-3102 Mini Pistol Grease Gun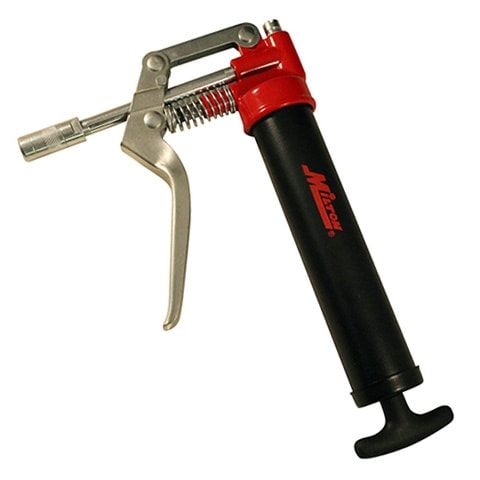 The little Milton S-3102 Mini Pistol Grease Gun is absolutely "mini." It is made for homeowners who think they can get away with such a little gun. However, trust us, you likely won't be able to. This gun is poorly made as cheaply as possible. It is very inexpensive – we will give it that. But you're sacrificing a lot for the low price.
According to the advertisement, this grease gun produces a maximum of 10,000 PSI. However, we found that this is very rare. This gun is quite powerful for what it is. With that said, if you need a more powerful option, there are other, more powerful options on this list. We recommend those instead.
This gun fails a lot, and the cartridges are impossible to use. The zerk fitting is practically impossible to use. It breaks often. Overall, the design is just poor. It was made to be as cheap as possible.
Cons
Poor overall design
Breaks often
Fails often
---
Buyer's Guide – Purchasing the Best Grease Gun
All grease guns are all made in basically the same way. However, there are some differences between them. In this section, we'll look at those differences specifically. By reviewing what makes certain guns different from others, you'll be able to more easily choose which gun works best for you and your situation.
Power
Different grease guns have different levels of power. Some are extremely powerful and can push our ounces of grease at a time. Other times, grease guns are very underpowered, which can make it very frustrating to work with.
The average homeowner needs a gun between these two machines. As you might imagine, there is such a thing as too much power. Some guns push out the grease at a surprisingly high rate. This can make working with them incredibly tricky and messy. These powerful machines may only be best used by professionals who need to oil a lot of stuff at once.
Ease of Use
A grease gun should not be complicated. These tools are straightforward and should be easy to use. Preferably, you should just have to point and fire! However, some tools make it unnecessarily complicated. We highly recommend choosing a grease gun that is extremely easy to use. Otherwise, you might run into problems, and projects can become unnecessarily frustrating.
Ergonomics
The average person is not going to be using a grease gun all the time. Because of this, you may expect that you don't have to worry about ergonomics all that much. However, we still recommend choosing a gun that is comfortable to use. After all, you don't want to get more fatigued than you have to.
In general, more massive guns are going to be less comfortable to use because they weigh more. On the other hand, smaller guns are usually easy to use for a long time because they are lightweight. You simply don't have to hold as much weight up.
Leaks
The last thing you want is for your grease gun to leak everywhere. Preferably, your grease gun shouldn't leak ever. However, most guns will leak at some point. You should choose a grease gun that is well made enough to avoid leaking most of the time.
Of course, no company is going to advertise that their gun leaks. Because of this, you have to rely on reviews like ours to figure out if a grease gun leaks or not. Usually, cheaper, poorly-made guns are more likely to leak.
Loading Options
There are multiple ways to load a grease gun. Usually, they can be loaded by a cartridge or by suction. Sometimes, a gun may even be able to be loaded in different ways. It just depends on how the gun is designed.
The cartridge method is the least messy option out there. New and old grease won't mix as well, which may improve the quality of the grease. At the same time, the suction method is less expensive, but it is a bit messier. It just depends on what you'd rather have.
Durability
The durability of a grease gun is dependent on the materials it is built out of. Most are made out of steel. However, the quality of steel varies widely. Some are very durable and will stand up to a beating. Others will dent and break quite easily. More expensive models are typically going to be more durable. High-quality materials simply cost more, which drives up the price.
However, you should not assume that all expensive grease guns are durable. Some are expensive, while also not being durable. It is essential to check reviews in this situation since companies aren't always clear about what material they use to craft their guns.
Accuracy
Accuracy and power are often on opposite sides when it comes to grease guns. Those that are powerful are often not as accurate. At the same time, those that are not very powerful are often much more accurate. Some guns have variable pressure to help you choose between accuracy and power. However, this is a decently rare feature. Because of this, you may have to decide between accuracy and power when you purchase the gun.
Accuracy is likely not as important as you may think. You can always clean up grease, for instance.

Conclusion
The Lincoln Lubrication 1134 is the best option on the market for most homeowners and professionals. It is well-made and doesn't leak very much at all. It primes very quickly, so you can get finished faster.
The Lumax LX-1152 is a less expensive option for those who are on a budget. Despite the low price, it is still quite robust and durable. We recommend it for everyone who may need to save a bit of money on this purchase.
We hope our reviews gave you an idea of all the different grease guns currently available on the market. See our buyer's guide if you need a bit more information on how to choose the best grease gun for you.

Related posts: