4 Best Handheld Pool Vacuums of 2023 – Reviews & Top Picks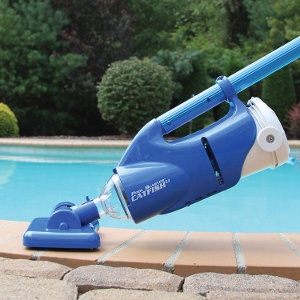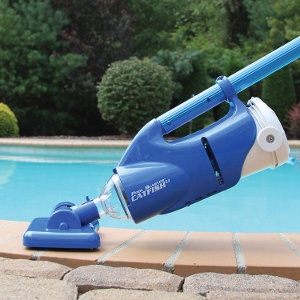 Most people prefer the ease and comfort of automatic or robotic pool cleaners. Most people also like to save money. When these things come into conflict, saving money wins more often than not. In response to the demand for (relatively) inexpensive pool cleaners, manufacturers have developed a number of handheld pool vacuums.
In the process, they've managed to litter the field with so many different types and models that it can get pretty confusing trying to figure out which one you should get. Some are good while others are garbage. How do you tell which is which?
We've already gone out and done all the hard work for you. We've gone through all the models, looked them over, and whittled the list down to a manageable size. We've analyzed and compared them to come up with a final list of reviews for your benefit, that will help you decide where your money should best be spent to give you the most bang for your buck. Take notes or copy-paste the whole thing, whatever works best for you.

A Comparison of our Favorites in 2023
Rating
Image
Product
Details

Best Overall

OASE Pondovac Handheld Pool Vacuum

Picks up fine silt
Unique operation mode
Preserves pool/pond levels
CHECK PRICE

Pool Blaster Catfish Hand-held Pool Vac

Easy to use
Rechargeable batteries
Uses pole from pool skimmer
CHECK PRICE

Best Value

PoolSupplyTown Mini Jet Hand Pool Vacuum

Easy to use
Doesn't use pool pump
CHECK PRICE

Bestway Aqua Powercell Handheld Pool Vacuum

Good batteries
Lightweight
CHECK PRICE
The 4 Best Handheld Pool Vacuums
1.

OASE Pondovac Handheld Pool Vacuum – Best Overall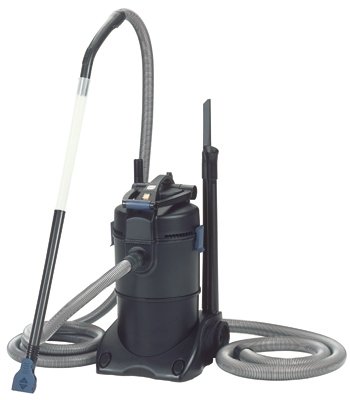 This two-tank portable pool vacuum is unique in the way it operates. It suctions water and silt into the first tank until it reaches a certain level. At that point, the vacuum actually shuts off for a moment while a valve changes the flow of the pump to the second tank. The vacuum starts up again, now pumping water and silt into the second tank while the first tank is drained out the exhaust hose. Once tank one is empty and tank two is full, the cycle repeats itself.
This results in a continuous start-stop action that can be confusing if you're not prepared for it. The instruction manual contributes to the confusion because it doesn't explain this action. Forewarned is forearmed though, so now you know.
This "shop-vac" for pools and ponds will work to a maximum depth of seven feet and doesn't require anything from your pool's pump or filter. It works like a champ picking up fine silt and small debris. Larger debris and leaves should be scooped up with a fine mesh handheld pool net.
It discharges less water than you'd expect, which preserves the water level in your pond or pool. This is an excellent vacuum.
Pros
Works great
Picks up fine silt
Unique operation mode
Preserves pool/pond levels
Cons
Terrible instruction manual
---
2.

Pool Blaster Catfish 20000CL Hand-held Pool Vac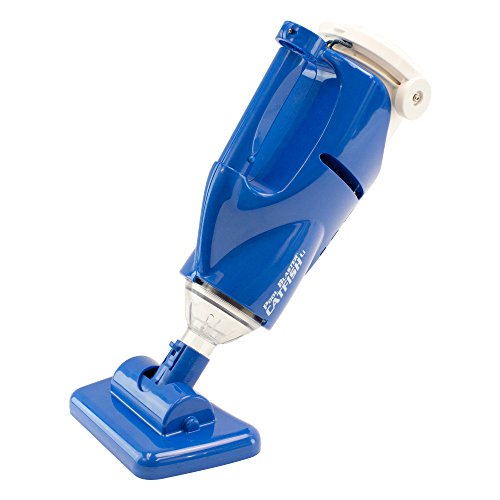 This toy-like, handheld pool vacuum is anything but a toy. It comes with an easy push-button on/off switch and rechargeable lithium batteries that recharge in only four hours, while providing forty-five minutes of run-time power during use.
The white bag that comes with it won't trap sand or silt, so you'll have to use a bit of imagination. We found that putting a nylon stocking, cut to length, over the bag will do the trick. Just don't use the two other bags that come with it. They're too thick and don't allow much suction to make it through their weave.
This tool is small and plastic, which translates into easily breakable. If you take care of it by turning it on before putting it in the water, and turning it off after taking it out of the water, it will last a long time.
This vacuum isn't as robust as the top pick, but it will certainly get the job done on a medium to a small-sized pool, or a large pond or spa. Don't be in a rush and it will work great.
Pros
Easy to use
Rechargeable batteries
Uses pole from pool skimmer
Cons
Breakable
Doesn't trap silt or sand
---
3.

PoolSupplyTown Mini Jet Hand Pool Vacuum – Best Value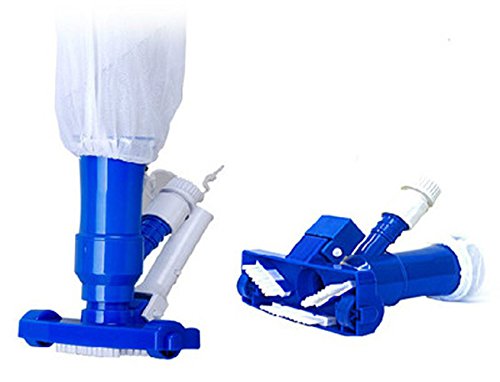 This inexpensive vacuum runs off your garden hose, whose water pressure will create a venturi effect to suction up leaves and debris from your pool, spa, fountain, or pond. It attaches to a standard 1-1/4″ pole such as the one on your pool skimmer.
Since it doesn't require the use of your pool pump or filter, you save on electricity and take some of the load off the filter, which eliminates a lot of backwashing. However, the connection to the hose has a noticeable tendency to leak.
The design is simple and easy to use, although it arrives in pieces so some assembly is required. Connect a pole and garden hose, turn it on, and start vacuuming. Fine silt and sand will pass through the provided bag, but like the runner-up above, you can add a cut-off nylon stocking to the bag to capture what the bag doesn't.
The suction isn't the same as a larger, more expensive vacuum (it's called "mini" for a reason), but for the price, it does a credible job. This is the best for the money on this list.
Pros
Easy to use
Doesn't use pool pump
Cons
Moderate suction
Hose connection leaks
Doesn't catch fine silt/sand
---
4.

Bestway Aqua Powercell Handheld Pool Vacuum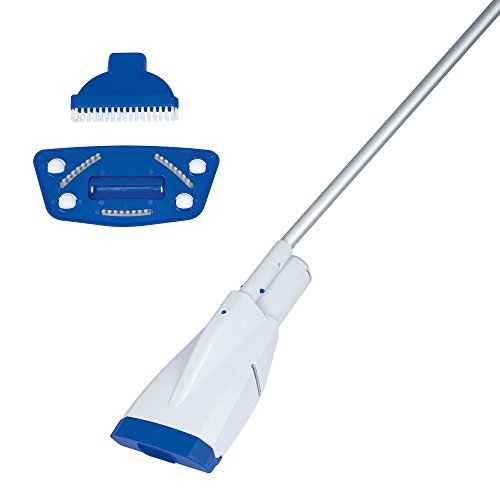 This battery-powered pool vacuum has a lot of little problems that add up to a most unusable product. The rechargeable lithium batteries function as advertised, but nothing else does.
The vacuum is too lightweight, so it constantly tries to float up off the bottom of the pool and you're always fighting to keep it down. The suction isn't very strong. You can watch it stir up silt and sand without catching it. The net isn't very large, so you have to frequently stop and empty it out. Each time you have to stop extends how long you're out there vacuuming the pool.
The cheap plastic locking cover over the net breaks easily. Moreover, this seems to be a one-shot wonder. It works once, then dies. We're not the first ones to encounter this problem either. The handles are pretty flimsy as well. They broke too. A pattern is developing here. As it turns out, the company has no return policy – zip, zilch, nada, nothing. If it doesn't work, too bad.
The batteries are pretty much the only good thing about this vacuum, and we have our suspicions about them too. Don't waste your money on this one.
Cons
Cheap plastic
Lousy suction
Breaks too easily
Floats off the bottom

Buyer's Guide – Choosing the Best Handheld Pool Vacuum
If you're buying a vacuum online, make sure it falls within the guidelines for free shipping. Some of these models might not, so keep an eye on that to avoid any unpleasant surprises when it's time to pull out your credit card.
That being the case, you might actually save some time and money by getting your vacuum from a local swimming pool shop. It becomes a contest between the sales tax on one hand and the shipping charges on the other. Check it out and make the decision that's best for you.

Conclusion
With any luck, using these reviews, we've managed to clean away some of the extraneous models littering the field and give you the kind of detailed information you need to make a good decision about which handheld pool vacuum is best for you.
The top pick on the list is the OASE Pondovac 4 50409. As a "shop-vac" for swimming pools, this vacuum has a unique two-tank design that works quite nicely once you understand what it's doing. It takes the strain off your pool pump and filter, picks up just about everything, and is easy to use.
The best for the money choice is the PoolSupplyTown Mini Jet Vac. This "mini" runs off the water pressure from your garden hose to clean your pool. Although it doesn't have quite the suction of the top pick, it still gets the job done if you give it a bit of time.
Keep a copy of these reviews close while you make your decision and you'll save some money, as well as getting the right tool for the right job.
Related Read: