3 Best Hayward Pool Cleaners in 2023 – Reviews & Top Picks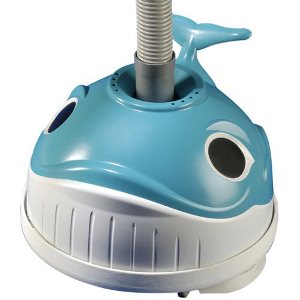 Some people only use certain brands of gasoline in their cars, even driving miles out of their way to get to the right gas station. Others are content to use "right-hand gas" – from any gas station on the right-hand side of the road, opting for convenience over a brand name. That same psychology holds true with pool cleaners. Some people are happy with any brand, but others only want cleaners from a particular manufacturer.
If you're a Hayward aficionado, you've come to the right place. The company has a whole line of cleaners and equipment for keeping your swimming pool in pristine condition. The problem is, it sometimes has so many options available that it's hard to decide which one you should get.
That's where we ride to the rescue like the cavalry in a Western movie. We've already done all the hard, difficult work for you. We've examined Hayward's offerings, compared and contrasted them, done all the analysis, and produced these reviews. All you have to do is read them and apply them. They'll make your life a whole lot easier if you do.

A Comparison of Our Winners (Updated in 2023)
Rating
Image
Product
Details

Best Overall

Hayward AquaNaut

Works well
Four-wheel drive
Climbs six inches up walls
CHECK PRICE

Hayward Navigator Pro

Very quiet
Good suction
Climbs and cleans
CHECK PRICE

Best Value

Hayward Wanda

Quiet
Works well
CHECK PRICE
The 3 Best Hayward Pool Cleaners
1.

Hayward AquaNaut 400 Pool Cleaner – Best Overall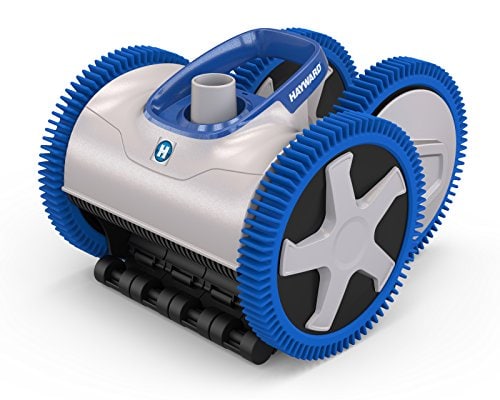 This four-wheel drive cleaner is our pick for the best hayward pool cleaner, and will get the job done in your swimming pool with minimum fuss and bother. It runs off your pool pump and filter, but the addition of an inline leaf canister will take a lot of the strain off your filter. The roller skirt maintains consistent suction when it's traversing uneven surfaces, and it will climb about six inches up the walls of the pool.
This Hayward pool cleaner comes with multiple pre-programmed steering courses built into it to make sure it covers the entire pool. Choose the one you like best and let it rip.
This cleaner is a workhorse you'll be pleased with. After a large storm blowing dust, leaves, pine needles, twigs, and other debris into a 30-foot-long pool, this Hayward pool sweep had the pool back in shape, totally clear, in only two days.
The only problem is that it falls over if the hose has a kink in it. If you hang the hose over a railing or something, it leaves a 90º kink in the hose. Hoses are stiff enough to make the cleaner fall on its side if it comes into contact with a wall. Get a leader section of hose and store it in a straight line. Problem solved.
Pros
Works well
Good suction
Four-wheel drive
Climbs six inches up walls
Cons
Tips over if the hose is kinked
---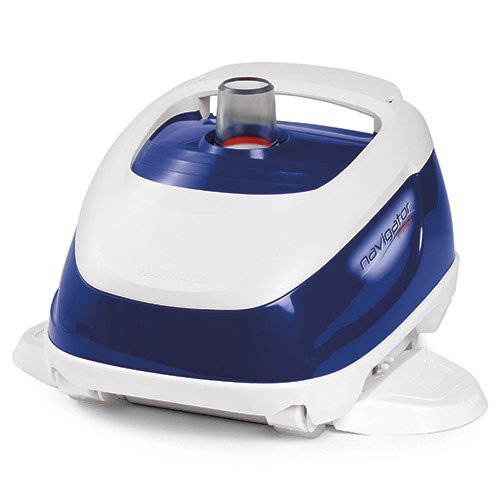 This is the runner-up on the list of best Hayward pool cleaners. It works well and is very quiet, but there are a couple of issues that keep it out of first place.
When it arrives, take a few minutes to calibrate the water flow according to the instructions in the manual. Ten or fifteen minutes of calibration will save you endless problems later. Once that's done, it climbs the walls of the pool the way it should and scoots around the bottom doing its thing.
It has good suction and scoops up nearly everything it runs across, and its random path takes it over the whole pool.
It's pretty slow. It does the job but takes too long to get it done. You'll be waiting around while it cleans the pool. Quality control at the factory seems a bit spotty, too. Every company has the occasional lemon that comes off the assembly line, but this model has more than its fair share. Be sure to keep your receipt in case you happen to get one of the bad apples. Hayward's customer service can be pretty sticky about replacing a defective unit if you don't have all the paperwork.
Aside from that, you'll enjoy this Hayward pool sweep.
Pros
Very quiet
Good suction
Climbs and cleans
Cons
Very slow
Too many breakdowns
---
3.

Hayward 'Wanda' Pool Vacuum – Best Value
Wanda the Whale has some painted-on eyes and a tail that attaches to the "back," so it resembles a whale-type of creature. Don't bother attaching the tail, though; it doesn't stay on very well.
It is quieter than most cleaners, and if you follow the installation instructions closely, will work fairly well. It does not like walls or corners, and like many other cleaners on the market, gets hung up on stairs. The installation only takes about ten minutes and is well worth your time. You'll get much better performance if you take time to get it installed properly.
You may need to order additional hoses because Wanda tips over very easily when she gets to the end of her hose. A few extra lengths of hose will prevent that from happening. Wanda is also much better in circular pools than in square or rectangular ones.
This is only meant for above ground pools, as it will not climb walls at all. Nor will it climb out of the deep end of an inground pool. Use it within its limits and you'll be satisfied. For the price, it's a good bargain.
Cons
Tail won't stay on
Above-ground pools only
Needs extra lengths of hose

Buyer's Guide – Finding the Best Hayward Pool Cleaner
If you're looking for the best Hayward pool cleaner online, please be aware that some websites will claim to be shipping you a new product, but many people have received a refurbished unit that was previously opened, and possibly returned. There's no way to ensure this doesn't happen ahead of time, and it has been known to happen on a semi-regular basis with pool cleaning equipment.
If you get a package that looks like it was damaged in shipment, or previously opened in any way, don't wait! Send it back immediately and demand a replacement that is new and in-the-box.
If you're buying from a local swimming pool store, you'll know before you leave the store if the box has been opened or if you're purchasing a refurbished unit. This means you can decide to take it or reject it before the store gets your money. It might cost a little more than buying online, and you'll have to pay sales tax, but that's the trade-off you need to consider.
What makes a good pool cleaner?
All these Hayward pool cleaners run off the pool pump, so they need to be able to do the job correctly from multiple different pumps and pressures. A cleaner that is too picky about the range of pumps or pressures it will work with isn't a good choice.
Obviously, it needs to clean the pool consistently and reliably. A good cleaner should be able to get itself out of the deep end of an in-ground pool to clean the shallow end. And since the whole point of a cleaner is for it to do the work for you, it should be able to work with a minimum of effort from the moment you turn it on.
Available Options
All these cleaners run off your swimming pool's pump and filter, but you can take the strain off the filter by getting some extra hose(s) and inline leaf canisters.
There are two inline leaf canisters available from Hayward: a standard canister and a large capacity canister. The size of your pool will dictate which one to get. Any pool that is 30 feet in diameter or smaller, or an equivalent-sized pool, will be well served by the standard leaf canister.
Any swimming pool larger than that will probably be better off using the large capacity leaf canister. Decide where your pool falls along that spectrum and buy a leaf canister accordingly.
In order to attach the leaf canister of either size to your pool cleaner, you'll need to get at least one four-foot leader hose. Attach the leader hose to the pool cleaner, attach the leaf canister to the leader hose, then attach the remainder of your regular hose to the other end of the leaf canister. For above-ground pools, that's probably all you'll need to add to your order.
For in-ground pools, you might need an extra length of hose to attach between the leader hose and the leaf canister. For larger in-ground pools, you might also require two or even three more lengths of extra hose, so the cleaner can reach all the way to the far end of the pool from the point where your hose attaches to the pump or skimmer.
Don't skimp on hoses. Extra hoses are fairly inexpensive and it's better to have too much than not enough.

Conclusion
After the cavalry rides over the hill to save the day, the dust settles, the enemy is driven off, and all the problems disappear. That's what we tried to do with these reviews. That's the goal and hopefully, we've accomplished it to your satisfaction.
The clear winner on the list and the top pick for the best hayward pool cleaner is the Hayward PHS41CST AquaNaut 400. This little four-wheel cleaner will cover your entire pool with its randomized pathways, cleaning it so you can enjoy crystal-clear water for your "fun in the sun."
The best for the money Hayward pool cleaner is the Hayward 900 Wanda the Whale. Wanda is cute, quiet, and hardworking. It's only intended for above-ground pools, and it doesn't like corners, but within its limitations, it's a good bargain. You won't be disappointed.
Print out or copy-paste these reviews and keep them with you while you make your decision on what pool cleaner to get for your needs. You'll be glad you did.