Hayward Aquanaut 400 Pool Cleaner Review 2023 – Pros, Cons & Verdict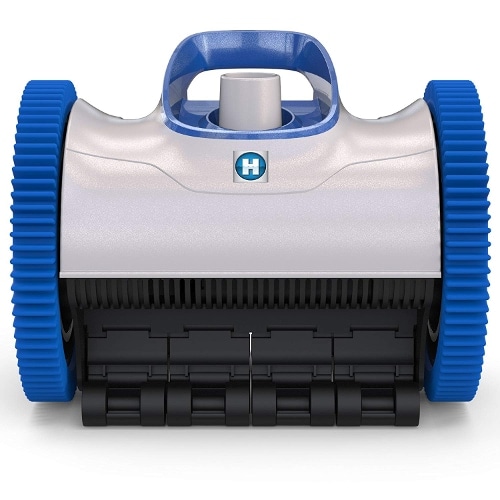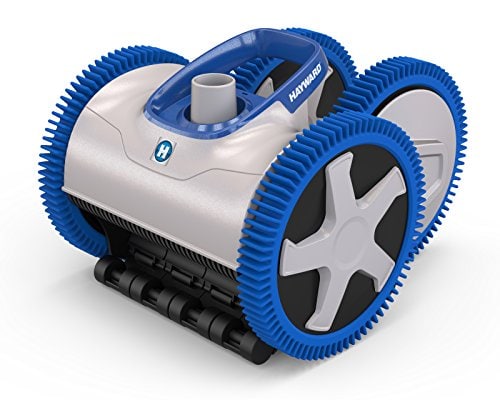 We give the Hayward Aquanaut 400 Pool Cleaner a rating of 4.2 out of 5 stars. 
Build Quality: 4.5/5
Power: 4.2/5
Features: 4/5
Price: 3.8/5
Review Summary
Built like a tank with four-wheel drive, Hayward's Aquanaut 400 connects directly to the suction of your pool filter's circulation cycle. You don't need a booster pump like many pressure-side pool cleaners and it's also easy on the wallet. It's also simple enough to just plug it in and let it go to work.
Once in the water, it can handle the deep end as well as the shallows. In fact, it's recommended as better for larger pools. It comes with three different throats to accommodate different sized debris, and different levels of suction power, making it ideal for use with a variable rate pump.
It's great at cleaning floors, but not so hot at climbing walls.

Hayward Aquanut 400 – A Quick Look
Pros
Works with variable speed pumps
Adjustable skirt prevents loss of suction at obstacles
Four-wheel drive
Cons
Doesn't climb walls very well
Specifications
Brand name: Hayward
Model: Aquanaut 400
Type: Suction side
Pool type: Inground
Dimensions: 11 x 14 x 8.5 inches
Weight: 19 lbs.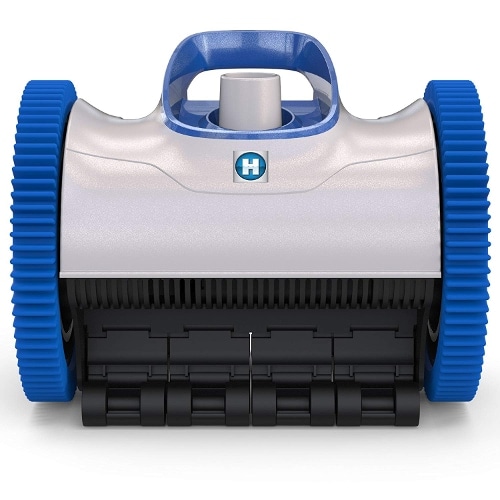 Adjustable roller skirt
The Aquanaut 400 comes with an adjustable roller skirt that helps maintain consistent pressure over uneven surfaces. If there's a wrinkle in the way or some other obstacle, the skirt will adjust itself without sacrificing much of the suction necessary to clean the pool.
Interchangeable throats
Three different throats come with the Aquanaut 400 that allow customization for different sized debris and flow rates from variable speed pumps. This allows it to dodge around minimum flow requirements that other suction-side cleaners have difficulty meeting.
Four-wheel drive
The Aquanaut 400 comes with four-wheel drive that lets it climb over obstacles and drains with no problem and makes it great for sloped surfaces instead of just flat ones. It can even do steep slopes, where other lesser pool cleaners would drift off into deep water.
Clogless operation
Hayward's V-flex technology allows large debris to slide down the suction tube without getting stuck in the tube. This allows the AquaNaut 400 to clean up fine particles and leaves without giving you cause to worry that it might get clogged and perform subpar jobs.

FAQ
What kind of warranty covers the Aquanaut 400?
A two-year limited warranty.
Does this work on vinyl pools?
The Aquanaut 400 is designed to work on all kinds of inground pools. You will want to make sure you have the right kind of wheels on it, however, and the right throat for the right kind of suction power.
Does this need a booster pump?
No. Booster pumps are really only necessary for pool cleaners that connect into the outflow side of a pool filter's circulation cycle. This pool cleaner connects to the intake side, the suction side, of that cycle. That kind of pool cleaner doesn't need a booster pump. You will want to make sure that your pump's circulation rate is enough to meet the demands of your pool cleaner, however.
What the Users Say
The Hayward Aquanaut 400 is something of an outlier when it comes to online reviews. People seems to genuinely like it. Online customer reviews for pool cleaners can be a bit depressing as they appear to be written by consumers who see it as an opportunity to vent their spleen over wrongs, real and imagined.
Not the Aquanaut 400. People who buy it seem to actually like it and like using it. While lots of reviews have lots of positive and negative reviews clustered and the top and bottom of the spectrum, the Aquanaut 400 reviews are mostly clustered at the top.
The reason why people seem to like it is not all that complicated. It does a good job cleaning. It's a tank that you connect to your suction and it goes to work, cleaning the pool. It's just that simple.
Some of the reasons why people were unhappy with it are pretty common to pool cleaners in general. Specifically, it can get hung up on drains, and sometimes, it just stops for no apparent reason. Again, these are complaints that are pretty common to all pool cleaners, so it's hard to know whether this model is actually worse about it than others or if all pool cleaners are just terrible in this way.
One complaint that stands out is the tendency it has to tip over on its side and just stay there. This is pretty model specific, so if you buy this model, keep in mind that it might tip over and sit there.
Overall, however, people are pleased with their Hayward Aquanaut 400. It's a strong suction-side cleaner designed for larger pools, and doesn't cost a lot of money. The reason why people like it isn't really complicated.
More Hayward Products:

Conclusion:
A good value for what it costs, the Hayward Aquanaut 400 is designed for large pools with deep ends where other, smaller pool cleaners might get lost. Its four-wheel drive transmission allows it to climb over underwater obstacles and its adjustable skirt stops it from losing suction power while it does. It comes with three different interchangeable throats to permit larger debris through while doing a better job at regulating suction power. That makes it great for use with variable speed pumps. It does all this without being a burden on your wallet. Just watch it on the walls. It's kind of a tank and doesn't handle those very well.