5 Best Indoor Paint Sprayers For Interior Walls 2023 – Top Picks & Reviews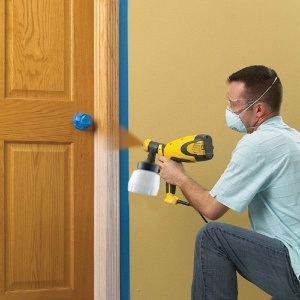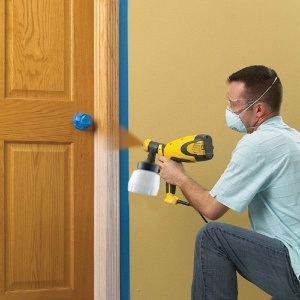 Not all paint sprayers are ideal for indoor use. For this reason, you'll want to look for an indoor paint sprayer that you can use quickly and conveniently. After all, the last thing you want is paint splatters on everything except the surface you intended! An indoor paint sprayer should allow you to provide a nice even coat of paint over a particular area. What's more, indoor paint sprayers have a number of specific advantages.
Much like an indoor paint sprayer can save you time and effort, our indoor paint sprayer reviews can do exactly the same! There's no need to spend hours researching online. Here you can find out about the top products on the market. Don't forget to read on to our buying guide for information on features, accessories, and more! Essentially, you'll be an expert by the time you've finished reading this!
---
A Quick Glance at the Winners of 2023
Rating
Image
Product
Details

Best Overall

Graco Magnum X5

Excellent power and performance
Quality metal construction
Has features that limit clogging
CHECK PRICE

Wagner Flexio 890

Insightful owner's manual
Sturdy weight
Integrated storage
CHECK PRICE

Best Value

Wagner 0518050

Variable control
Fairly easy to use
Sprays very well
CHECK PRICE

HomeRight C800766

Good size and weight
Different spraying patterns
2-year limited warranty
CHECK PRICE

PaintWIZ PW25150

Quite portable
Fairly compact
12-month warranty
CHECK PRICE
The 5 Best Indoor Paint Sprayers For Walls
1.

Graco Magnum X5 Paint Gun – Best Overall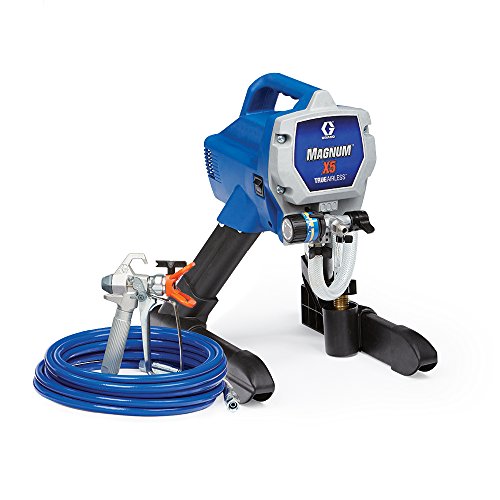 You're no doubt looking for an indoor paint sprayer that offers great performance. This is exactly what the Graco Magnum X5 provides. While it can also be used outdoors, this works extremely well as an indoor paint sprayer. In particular, the ability to adjust the pressure makes it very useful when you're tackling different types of tasks. Although it weighs almost 20 lbs, the weight shouldn't be too much of a problem if you're just using it in and around your home. It doesn't have any wheels but it does have a handle so you can easily move it from place to place. We were very impressed with the performance of this indoor paint sprayer though it's well worth covering everything else in the room unless you want to be cleaning overspray afterward!
Speaking of cleaning, the Graco Magnum X5 does have an adapter that allows you to connect it to your garden hose. This makes cleaning much quicker and easier. Performance is also enhanced since you can reverse the tip when it becomes clogged. And, knowing that there's a filter in the handle provides some peace of mind that you can keep on spraying without an issue. Another thing we like about what we feel is the best indoor paint sprayer on the market is the quality metal construction. This is far superior to budget options that are usually made of plastic and thus less durable. We're confident that you'll love this product. It's not the cheapest option on this list but it does offer the highest quality and takes our pick as the best paint sprayer for interior walls.
Pros
Offers excellent power and performance
Has some features that limit clogging
Features a quality metal construction
Adjustable pressure for different levels of power
Cons
Quite heavy and doesn't have any wheels
Cleaning is required due to overspray
---
2.

Wagner Flexio 890 Paint Sprayer
Able to cover an 8 x 10 feet wall in just 5 minutes, the Wagner Flexio 890 provides plenty of power for the price. With such power, it's important to read up on how best to use the product in advance. It's only a small thing but the owner's manual is very insightful and is well worth reading. Like most similar products, this HVLP indoor paint sprayer does produce some overspray so preparation is required to avoid unwanted mess. Wiping the nozzle regularly is required. Weighing 12.3 lbs, there's enough weight to the product that it's sturdy without being too heavy.
A large part of the weight of the Flexio 890 is the integrated storage. This has a handle on the top and has plenty of space for all of the equipment such as the hose and nozzles. It's, therefore, a great product if you're looking to keep the space your indoor paint sprayer takes up to a minimum. This indoor paint sprayer comes with two different nozzles, one of which is for general spraying and the other is finer for greater detail. These have no wearable parts so should last a long time. While the Flexio 890 is of plastic, it doesn't come across as being flimsy. Overall, it's a worthy runner-up and well worth your consideration.
Pros
Very insightful owner's manual
Weight is sturdy without being uncomfortable
Integrated storage saves a lot of space
Cons
You'll need to wipe the nozzle regularly to reduce overspray
Plastic construction isn't our favorite but it's not flimsy
---
3.

Wagner 0518050 Paint Sprayer – Best Value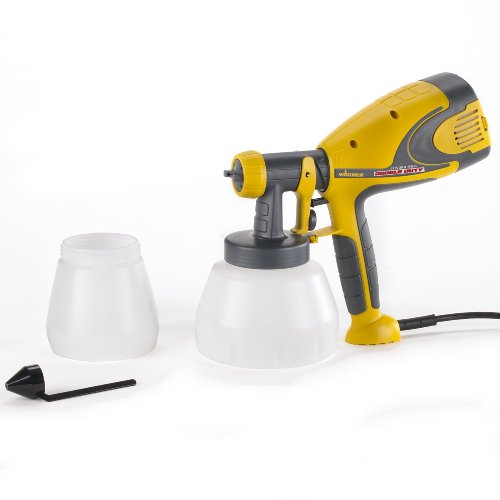 HVLP paint sprayers tend to offer very good value for money. The Wagner 0518050 is no exception. While this is an indoor paint sprayer limited to smaller tasks, it performs well for the price. When you spend well under $100 for an indoor paint sprayer, you wouldn't expect many features. But this product has variable control so it can adjust to different tasks. What's more, you have a choice of three spray patterns depending on the work that you're doing. When it comes to spraying paint, it simply performs as it should. One thing we're not keen on is having to thin the paint beforehand which can become tiresome.
A product that can be used outdoors as well as indoors, it provides you with the option to spray vertically, horizontally or in a circular pattern. This is quick and convenient to change up as required. While the weight of the product is only 4.2 lbs, this is heavier than you'd expect when you're spraying paint for more than a few minutes. Therefore we recommend the use of both hands as well as regular breaks so that hand fatigue doesn't affect the quality of results. While fairly easy to use, it's a good idea to take the time to test the Wagner 0518050 out before the real work commences! While there are some cons to consider, there are enough advantages for this to be the best indoor paint sprayer for the money.
Pros
Variable control and different spray patterns offer good value
Fairly easy to use so good for novices
Sprays very well considering it's a budget paint sprayer
Cons
You'll often need to thin paint to get the best results
It's a little too heavy for longer paint spraying sessions
---
4.

HomeRight Finish Max Paint-Sprayer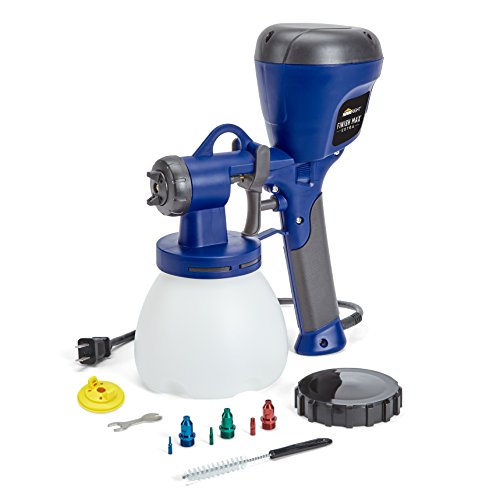 Another great value product is the HomeRight Finish Max. The small size of this product makes it ideal for indoor paint spraying. While you may need to thin the paint in order to spray it effectively, there is the option of adjusting the spray which we think is very useful. The option of spraying horizontally, vertically or even in a circular pattern gives the product a level of versatility that many budget indoor paint sprayers simply don't have. While the HomeRight Finish Max is best for small projects it at least provides the flexibility of being able to be used indoors and outdoors. Part of this is down to the fact that it's very lightweight and therefore comfortable to use. It weighs just 3.4 lbs.
While this product is made of plastic, it does at least have a brass spray needle and housing which should allow it to last a long time. However, we've found that the unit can be prone to leaking and would be improved with a better seal. Also, it does require regular cleaning though this is relatively simple to do. While there are some disadvantages to this HVLP paint sprayer, a 2-year limited warranty should be enough to ease your mind. What's more, the low price means that this is a low-risk choice and is highly suitable for novice paint sprayers.
Pros
Good size and weight which makes it comfortable to use
Different spraying patterns for a variety of projects
Comes with a 2-year limited warranty
Cons
Paint will most likely need to be thinned
Is known to leak on occasion
Regular cleaning is required
---
5.

PaintWIZ Paint Gun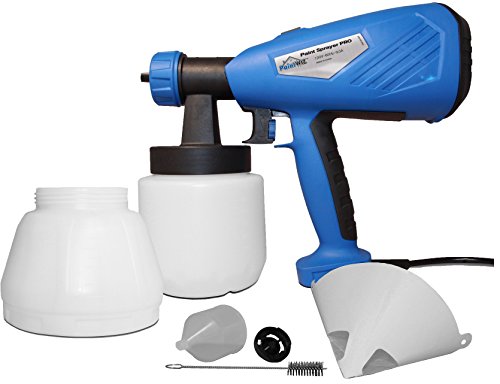 Perfect for home projects, the PaintWIZ PW25150 is a HVLP paint sprayer. This handheld product is made of plastic which makes it fairly light. However, at 4.2 lbs, you can expect some hand fatigue so using two hands is recommended for best results. It's fairly compact and with it, you can spray horizontally and vertically as well as in a circular pattern. This makes it ideal when you have a variety of different projects for your paint sprayer. It's necessary to thin paint in order to achieve good results but overspray is surprisingly low which is something we appreciated.
Should you buy this product, you'll also receive a few accessories that will help you on your way. In particular, there's a 1.3L cup as well as an additional nozzle and a cleaning brush. Cleaning is required in order to continue a high-quality level of spraying but this is quick and easy to do. We were impressed by the performance of the PaintWIZ PW25150 for the price and we encourage you to further explore this product. You won't be able to do large projects with it but it's perfectly suited to smaller tasks. Finally, it also comes with a 12-month warranty.
Pros
The size of this product makes it quite portable
There's not much in the way of overspray
Comes with a 12-month warranty and some accessories
Cons
You will likely experience some hand fatigue
Not suited to anything other than small projects
---
Buyer's Guide – How to Choose the Best Indoor Paint Sprayer For Interior Walls
Some paint sprayers can be used indoors, some outdoors and others are perfectly suitable for either! In this buying guide, we're focusing on indoor paint sprayers and what you should be looking out for. This includes features, accessories and, of course, a few tips to get the most out of your new paint spraying product!
Why choose a paint gun over a brush or a roller?
Indoor paint sprayers have a number of advantages over traditional paint brushes and rollers. Let's find out why buying an indoor paint sprayer is such a good idea!
Time: You can save so much time when you use an indoor paint sprayer. This is especially the case with compressed air sprayers and airless paint sprayers which are faster than HVLP paint sprayers. Paintbrushes and rollers can make for slow work since you often have to go back over areas in order to get an even coat. Many indoor paint sprayers allow you to cover large areas in a short space of time.
Effort/Energy: Painting for hours on end with a brush or roller can be backbreaking work and requires regular breaks. The fact that you can cover large areas so quickly with an indoor paint sprayer saves a lot of discomfort in the long run. This is particularly the case when you're painting high or low areas that can be difficult to reach. Accessories such as extension rods and hoses make indoor paint sprayers great for saving effort and energy!
Accessibility: It's not the most obvious of advantages but it becomes clearer when you're actually painting! Getting to corners and tight spots can prove tricky with brushes and rollers. The ability to spray from a distance and get an even coverage even in such places is a big plus for the indoor paint sprayer.
Ease of use: While some indoor paint sprayers have something of a learning curve, most are very easy to use from the very start. And once you've had a little practice with an indoor paint sprayer, you'll find it gets easier and easier to get that smooth finish you've been looking for.
Any disadvantages?
While there are far more advantages than disadvantages, there are a few things to consider before you buy an indoor paint sprayer:
Cost: While you will save time and energy with an indoor paint sprayer, the initial cost of an indoor paint sprayer is obviously more than that of a brush or roller! However, many paint sprayers are now under $100 and can be seen as a great long-term investment if you have enough painting to do.
Overspray: Overspray is something that many indoor paint sprayers produce. For this reason, it's well worth researching a product in advance and buying all of the necessary equipment such as protective clothing, goggles, and a mask. You will also want to ensure that any objects you're not spraying are well covered.
Features to look for
Indoor paint sprayers are relatively simple and don't typically have a lot of features. This makes them easy to use for novices and experts alike. Here are a few of the key features to look out for:
Adjustable Pressure
Indoor paint sprayers often have adjustable pressure. As you'd imagine, this allows you to adjust the pressure of your indoor paint sprayer depending on the project you're working on! In some cases, it's possible to adjust everything from the speed of the spray to the thickness. There are even options with some products to choose between horizontal, diagonal and circular spray patterns. You'll love the flexibility this feature offers so we highly recommend it!
Filters
Indoor paint sprayers are known to require fairly regular cleaning. This is because they can clog up with paint as you use them. For this reason, indoor paint sprayers with inbuilt filters are great because they limit the clogging experienced and require less regular cleaning as a result. Products with such a feature do tend to be on the more expensive side so it's worth keeping this in mind if you are on a budget.
Size
The size of an indoor paint sprayer may or may not be important to you. It's really down to how much storage space you have available. Because these products come in all sorts of sizes, it's really down to how much power you want. The more powerful the indoor paint sprayer, the bigger it typically is. If you do buy a bigger paint sprayer, you may want to consider one that has wheels or at the very least a handle for additional portability.
Weight
Connected to the size of the indoor paint sprayer is the weight. This obviously dictates the portability of the product. Some indoor paint sprayers are handheld and weigh as little as 3-5 lbs and are therefore very portable. Others can weigh as much as 20-30 lb so some consideration should go into whether these are suitable for your needs. Are you going to be taking it up and down stairs regularly? Is the area you're painting big or small? Asking such questions ensures you find the right product for you.
Capacity
How much paint your indoor paint sprayer can hold dictates how often you'll need to refill it. Obviously, this can also have a big effect on the size and weight of the product. If you have a big project that requires a lot of paint spraying then we obviously recommend a product with a larger tank. Those seeking portability will want a smaller tank but will need to refill it with paint on a more regular basis.
5 Tips for Using Your Paint Gun
First of all, make sure you clear your paint spraying area of any important objects that aren't getting sprayed. Overspray can make a mess of these so be sure to at least put some sheets down to make cleanup quicker and easier!
You can stop the paint from clogging by thinning it down beforehand. In the case of some premium indoor paint sprayers, thinning down the paint may not be necessary. However, it will be required in most cases in order to achieve good results.
Be sure to clear your work area of any potential tripping hazards or objects on which the hose could get caught. Not only does this make it much safer for you, it's also much easier to do paint spraying as a result.
Use long, straight strokes as you're spraying. You can start doing this motion before you even start spraying in preparation of the paint leaving the gun. This ensures you don't have a blotchy start and the coat is smoother as a result.
Holding the gun's nozzle 10 to 12 inches away from the surface of the object you're painting is sensible. Changing the distance by moving closer or further away will have an effect on how much paint is applied. Try to be consistent for consistent results!
---
Conclusion
Indoor paint sprayers are incredibly useful tools that can save you a lot of time and energy when it comes to painting your home, furniture, and crafts. Whether you're on a budget or looking at high-end products, there are plenty of options on the market for you to consider. The technology is constantly improving so we're seeing better products than ever before.
Be sure to ask yourself all of the right questions before making your final decision. For example, is power or portability more important to you? Do you want to invest in a product with minimal overspray? Our reviews of indoor paint sprayers and buying guide should help answer most of your questions but it never hurts to do a little extra research. Best of luck!
If you're looking for the best overall paint sprayer, we recommend you check out our best paint sprayer picks found here.