5 Best Airless Paint Sprayers of 2023 – Reviews & Top Picks
If you're seriously considering an airless paint sprayer then you're making a great choice. The best airless paint sprayer will allow you to complete painting tasks in half the time of a paintbrush or roller. It's also a very versatile tool since you can adjust the pressure to suit your needs and because you can buy different tips for different types of liquids such as latex and varnish. In short, there are many reasons to buy an airless paint sprayer! If you're not specifically looking for an airless paint sprayer, we've also written a buying guide for paint sprayers in general.
The good news is that there are plenty of airless paint sprayers on the market for you to choose from! The bad news is that it can be difficult to tell which one best suits your needs. For this reason, we recommend you take a look at our airless paint sprayer reviews. Combined with our informative buying guide, you can find out about all of the essential features to look for, which accessories you do and don't need, and more. It's nice and easy!
---
Our Favorite Picks Compared in 2023
Rating
Image
Product
Details

Best Overall

Graco Magnum X7

Portable
Start-up is very quick and easy
Paint thinning is not often required
CHECK PRICE

Graco Magnum X5

Durable build
Adjustable pressure
Clogging is reduced
CHECK PRICE

Best Value

Wagner Flexio 590

Very versatile
Lightweight
Very good power for the price
CHECK PRICE

HomeRight Power-Flo Pro 2800

Metal legs allow for stability
Offers excellent power and speed
Easy to use and clean
CHECK PRICE

Graco Magnum 257025

Sturdy
Offers stability
Built-in storage compartments
CHECK PRICE
The 5 Best Airless Paint Sprayers
1.

Graco Magnum X7 Airless Paint Gun – Best Overall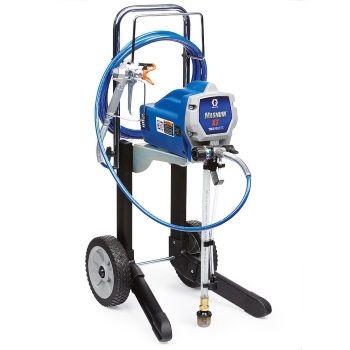 Whether power or portability is most important to you will determine how good an option the Graco Magnum X7 is. For our part, we love the power that this airless paint sprayer offers. Start-up the machine and you'll find that it's quick and reliable with the option to adjust the pressure as needed. The downside of the power and performance offered is the size of the unit which is 19 x 15 x 37 inches. It's, therefore, not quite as storable as some of the other options on the market. Despite the 26 lbs weight, it is fairly portable with a set of wheels and a handle. However, there are more conveniently sized products available.
Many paint sprayers require you to thin paint in order to get even half-decent results. Thankfully, this is not the case with the Graco Magnum X7 and this saves a lot of time and effort. While overspray isn't too much of a factor with this product, there will still be some cleaning up to do post-spraying! For this reason, you'll appreciate the garden hose connection which is very convenient. Cleaning this airless paint sprayer does take a little bit of time and patience but the quality of the spray produced makes this a small price to pay. This is the option to go for if you're in need of high-quality results and few disadvantages.
All in all, this is the best airless paint sprayer for professional and home use this year.
Pros
Start-up is very quick and easy
Paint thinning is not often required
Cleaning is made easier with the garden hose connection
Wheels and handle make this bulky unit somewhat more portable
Cons
Quite a big and heavy unit which is not the most storable
Cleaning can take some time but is worth it
---
2.

Graco Magnum X5 Airless Paint Sprayer
The Graco Magnum X7 is a great option but a slightly less expensive option is the Graco Magnum X5! So what's the difference between these two high-quality airless paint sprayers? One of the main differences is that the X5 doesn't include a cart with wheels. It's, therefore, less portable than the X7 though it is slightly lighter at approximately 20 lbs. While it won't win any prizes for its aesthetic appeal, it's the performance that matters most! It has most of the same key features including the adjustable pressure. This is particularly useful when you're spraying different types of surfaces at different distances.
The main issue that people have to contend with when it comes to paint sprayers is overspray. While this product does produce some overspray, it's nowhere near as much as some of the more budget options. It's still a good idea to cover up those valuables with plastic sheets but cleanup shouldn't be quite as extensive. Plus, cleaning is made easier with the garden hose connection on the unit. We also appreciate that there's a filter in the handle which limits the effect of clogging. Much like the X7, the X5 has a strong construction with some parts of plastic and others of metal. It should prove to be durable and last a long time.
Pros
Adjustable pressure for different types of paint spraying
Overspray is much less than budget airless paint sprayers
Clogging is reduced with the in-handle filter
Durable build so this is a good investment
Cons
Not the most portable option with no wheels
Quite an ugly looking design
---
3.

Wagner Flexio 590 Paint Sprayer – Best Value
A slightly different option to those of Graco, the Wagner Flexio 590 is a handheld airless paint sprayer. As such, it's a very portable option and weighs only 2.1 lbs with dimensions of 15.9 x 6.7 x 13.9 inches. We think that this makes the Flexio 590 ideal for both indoor and outdoor tasks. It's, therefore, a fairly versatile tool and this is further evidenced by the 9 different speeds it offers. Whether you're looking to apply detail or get the job done quickly, you'll be able to do so without any trouble.
This is, in our opinion, the best handheld airless paint sprayer for the money and this is clear in the correlation between power and price. Despite the low price, the power offered by the Flexio 590 is very good and the value is further enhanced by the nozzles and cups included with the purchase. But you'd be right to think that there must be some cons to consider with this product. In particular, the overspray produced is an issue which means that very good preparation and cleaning is required to avoid potential problems. What's more, cleaning isn't easy due to the many small parts. We feel that this good value product is best suited to those who are new to paint spraying since it's easy to use.
Pros
Very versatile as it can be used indoors and outdoors
Lightweight which makes it more comfortable to transport and use
The power offered is very good for the price
Cons
There's more overspray than we like to contend with
Not very easy to clean due to the many different parts
---
4.

HomeRight Power-Flo Pro 2800 Airless Paint Sprayer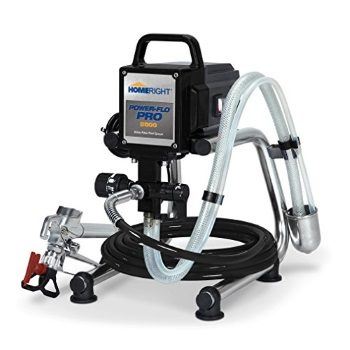 With a 1/2 HP motor and 2800 PSI, the HomeRight Power-Flo Pro 2800 is one of the more powerful airless paint sprayers we've come across. Therefore it's important that the unit has stability when spraying which is offered by the two metal legs. In particular, we recommend this product to DIY enthusiasts who have a variety of projects to tackle. While it is a powerful airless paint sprayer, it does still require the thinning of thicker paints which can be time-consuming. However, this is a common issue with such products and is even worse with cheaper options than this.
Another thing we really like about the HomeRight Power-Flo Pro 2800 is that it provides very quick spraying coverage with up to .24 gallons per minute. Despite the speed, it's actually a very easy paint sprayer to use. In particular, cleaning is very convenient, particularly in comparison to some of the other products on the market. One common theme among consumers seems to be the lack of guidelines when it comes to setting up the product for the first time. This may be something to keep in mind if you're new to using an airless paint sprayer. In summary, it works well and we're happy with the results.
Pros
Low profile design and metal legs allow for stability
Offers excellent power and speed
Easy to use and clean
Cons
Thinning of thicker paints probably required
Setup instructions aren't the best and can cause complications
---
5.

Graco Magnum 257025 Airless Paint Sprayer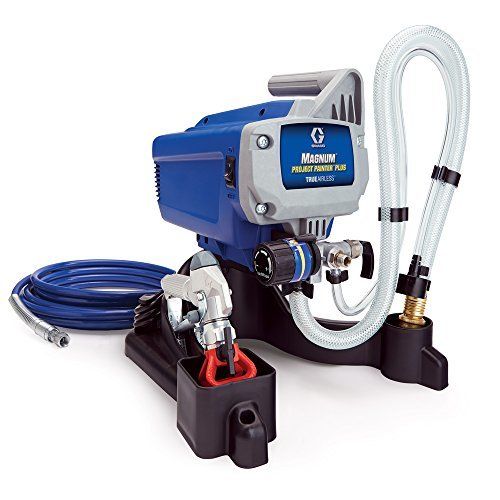 Graco is well known for their production of top quality paint sprayers, as evidenced by the three Graco Magnum products in our top 5 list! In this case, it's the Graco Magnum 257025 that we're looking at. This airless paint sprayer has all of the key features we'd look for. First of all, there's the fully adjustable pressure which lets you control the paint flow for different types of projects. With a construction of metal and plastic, this is a sturdy airless paint sprayer. A stainless steel piston pump means you can spray paint at high pressure and not worry about wear and tear. However, it does struggle with thick paint so that does need to be thinned.
Such features add up and contribute to the overall weight of 15 lbs. However, this is by no means the heaviest airless paint sprayer that we've reviewed. It has a low profile which helps with stability for a safer, more comfortable working environment. Sometimes it's the smaller features that can add up to make a product even better value. One such example in the case of the Graco Magnum 257025 is the built-in storage compartments for the sprayer accessories. There's also a PowerFlush adapter for connecting to your garden hose for easier cleaning although cleaning does still take a fair bit of time. As you can see, there are more pros than cons to this product.
Pros
Adjustable pressure for controlling the paint flow and your projects
Sturdy, low-profile construction that offers stability
A number of nice features including built-in storage compartments
Cons
Thick paint will most likely need to be thinned
Cleaning can take some time but it's worth it
---
Buying Guide – Choosing the Best Airless Paint Sprayers
If you're seeking a powerful paint sprayer then an airless paint sprayer is the right choice! Powered by a motor, an airless paint sprayer is capable of spraying paint at high pressure. As such they're ideal for anyone who has a large surface to paint as the high speed can save a great deal of time.
5 Features to Look Out For
Are you unsure what to look for when finding the best airless paint sprayer? Worry not! We can now take a look at 5 features to look out for in an airless paint sprayer. This will help you narrow down your options and find a great product to fit your DIY needs!
Power
As we've mentioned, airless paint sprayers are known to be powerful. How much power you require really depends on what you need to paint! If you're only painting small pieces of furniture then you're not likely to need a lot of horsepower. On the other hand, those who are painting entire houses (including walls, ceilings etc) will want a product that is capable of handling such a task. More power (or pressure) is required for thicker paints so this is something to keep in mind. Otherwise, you may need to thin paints yourself before spraying which does take time. With more power comes more speed so this is another advantage to think about.
Volume
It's not as obvious as power but volume is also very important when it comes to paint sprayers. The volume of paint that an airless paint sprayer can hold dictates the size of the overall unit. So if you're wanting a smaller, more portable product then you may have to sacrifice the volume of paint that it can hold. This means that you have to refill it more often which can be frustrating when you're in a hurry. On the other hand, while having a lot of volume means fewer refills, the airless paint sprayer will be bigger and heavier as a result. As such, you'll have a unit that is less portable and storable. It's therefore worth thinking about your specific situation and what fits best for you.
Adjustable Pressure and Tips
Some paint sprayers have adjustable pressure which is great since it provides flexibility for different types of projects. Having high pressure can mean getting work done faster while lower pressures are best suited to smaller, more details jobs. Many airless paint sprayers come with tips that let you change the flow of the paint. The tip you choose really depends on the material you're spraying and its overall thickness. Spray tips can become victim to wear and tear over time so it's well worth taking the necessary steps to ensure they last a long time. This includes using the appropriate soft brush to clean the tips and cleaning filters after each use.
Metal or Plastic Construction
When you buy an airless paint sprayer, you may be wanting to use it outdoors, indoors or both. For this reason, looking at the construction of the product is very important. Many products on the market nowadays are made of plastic. This is particularly the case for smaller, handheld paint sprayers that are designed to meet low budgets. While a plastic construction isn't as strong and durable as metal, the chance to have a lightweight product can tempt some into choosing them. If you're only spraying smaller things, an airless paint sprayer of plastic construction is likely fine. However, bigger projects will benefit from sprayers that are made of metal. They can better handle the power provided by the motor and withstand any wear and tear that might occur as you move from place to place with the product.
Size and Weight
While it perhaps can't be defined as a 'feature' the size and weight of an airless paint sprayer are no less important. The product you choose will determine where you can take it and where you can store it. Because airless paint sprayers are quite powerful, they tend to be bigger than HVLP paint sprayers, for example. This is down to the motor which also adds weight to the overall unit. Ask yourself if you're looking to do all of your spray painting in one place or whether you need to move around. Based on this, you may prefer to opt for a product that has wheels and a handle so that you can get around easier. Keep in mind that such products usually cost a little more but they're well worth it.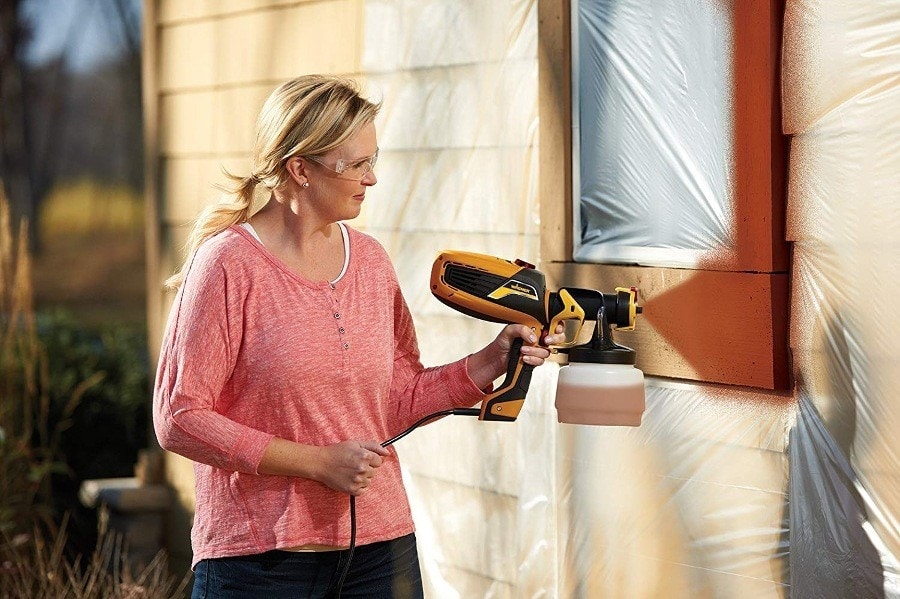 ---
FAQ When Buying the Best Airless Paint Sprayer
Perhaps the best way to provide you with the rest of the information that you need about airless paint sprayers is with an FAQ list. Here you will find the answers you're looking for!
Q. What are the advantages of using an airless paint sprayer over a brush or roller?
A. This is one of the most common questions and thankfully it's very easily answered. Using an airless paint sprayer can save you time, energy and provide a smoother, higher quality finish. While they do cost more, these various advantages make them well worth the initial investment, particularly if you can find the right product!
Q. How can I get the best paint spraying results?
A. It's important to do a spray test beforehand in order to ensure that you're happy with how it's going to look. Also, be sure to clean the target surface so that there is no dirt, oil or dust getting in the way. Regularly cleaning out your airless paint sprayer will also ensure better results as clogging will be kept to a minimum.
Q. Is it really necessary to wear safety equipment?
A. Yes! Paint fumes can be dangerous and the overspray produced by many airless paint sprayers can be significant. For this reason, we strongly advise that you wear protective clothing that covers your whole body as well as a pair of goggles and a facemask. This will ensure your safety and comfort when paint spraying, particularly over long periods of time.
Q. How often do the filters need to be cleaned?
A. In our opinion, you should really clean filters after every time you use the airless paint sprayer. This ensures that they're ready to go the next time you want to spray paint. What's more, it should mean a longer life for the product.
Q. Which materials can I use with my airless paint sprayer?
A. You can spray all sorts of materials including gloss, varnish, and emulsion. The type of material you're using will determine the type of spray tip required. It's good practice to have a variety of tips so that you can approach different projects with versatility.
---
Conclusion
As you can see, airless paint sprayers provide so many different benefits. However, there are plenty of factors to consider before you make that all-important purchase! Considering features such as power and adjustable pressure are a good place to start. Ask yourself if the product you're looking at is portable enough for your needs and whether it provides enough power.
Luckily, airless paint sprayers are constantly improving and the result is that there are so many great products available today. Whatever your budget, there's an option out there for you. Remember to take another look at our reviews of airless paint sprayers as these are some of the very best on the market! Hopefully, you'll soon be paint-spraying with the best of them!