10 Best Juicers for Beets in 2023 – Reviews & Top Picks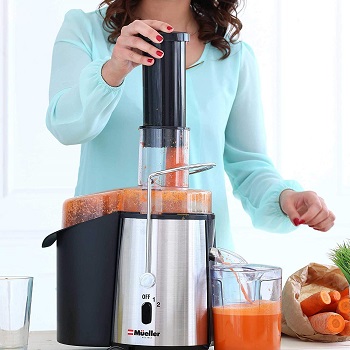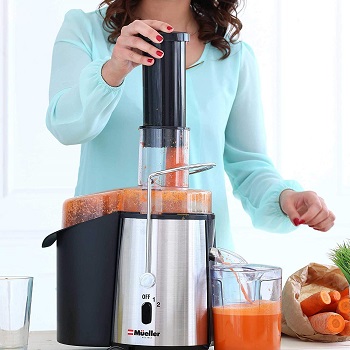 Beets are one of the best vegetables to juice because they contain vitamins and antioxidants. Unfortunately, they're also large and have a tough layer of skin that can give some juicers trouble. You can't use any old juicer to juice beets unless you're careful to chop them into fine pieces first, which can be a pain and cause you to avoid juicing them all together and missing out on all their nutritional benefits.
If you want to juice beets but need to purchase a juicer that can handle them, you've come to the right place. We've put together this set of reviews to help you pick the perfect juicer capable of easily tearing through beets but also suitable for general juicing.
We'll first run down our 10 favorite juicers for beets before going in-depth and giving you helpful tips when looking for a new juicer.

A Quick Comparison of Our Favorites in 2023
Rating
Image
Product
Details

Best Overall

Breville JE98XL Centrifugal Juicer

Extra-wide opening
Easy to clean
Not too expensive
CHECK PRICE

Best Value

Hamilton Beach 67601A Juicer Machine

Extremely affordable
800 W motor
Large 3-inch chute
CHECK PRICE

Premium Choice

Omega J8006HDS Masticating Juicer

Masticating juicer
Extracts more juice
Easy to clean
CHECK PRICE

Mueller Austria SD80A Juicer

2 juicing speeds
Powerful motor
Wide 3-inch opening
CHECK PRICE

KOIOS B5100 Masticating Juicer

Affordable
Masticating juicer
Very quiet
CHECK PRICE
The 10 Best Juicers for Beets
1.

Breville JE98XL Centrifugal Juicer – Best Overall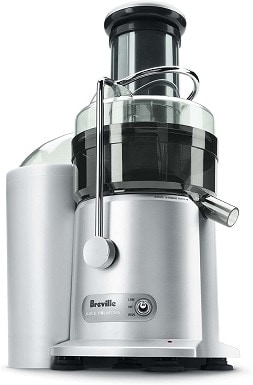 Our top pick is the Breville JE98XL Centrifugal Juicer. This juicer boasts an impressive 850-watt dual-speed motor that powers a stainless steel chamber and mesh and can quickly juice tough ingredients like beets. We like this juicer specifically for beets because it has a larger-than-average 3-inch wide chute, and with the powerful motor, you don't have to chop the beets into tiny pieces before feeding them into the machine.
We recommend using the higher speed 12,000 RPM setting for beets. The JE98XL is also easy to take apart and clean, which makes us more likely to use it since we don't dread the painful cleanup some other juicers require. Overall, this solid juicer won't set you back as much as some of the more expensive machines while still providing excellent quality juicing in an easy-to-use package.
You'll love the extra-wide chute and high-power motor if you regularly include beets in your juice recipes. To conclude, this is the best overall juicer for beets we have reviewed.
Pros
Extra-wide opening
High- powered motor is great for juicing beets
Easy to clean
Not too expensive
Cons
Centrifugal design isn't as good as masticating design
---
2.

Hamilton Beach 67601A Juicer Machine – Best Value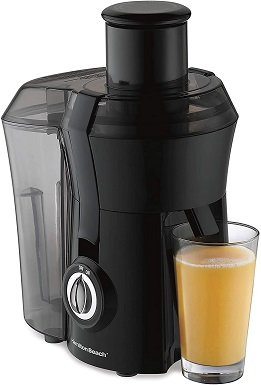 Next up, we have our pick for the best juicer for beets for the money, the Hamilton Beach 67601A. This juicer isn't as powerful as the Breville, but it still has a respectable 800-watt motor and a large 3-inch feeding tube, making it a good choice for juicing beets.
Unlike the Breville, the Hamilton Beach doesn't have multiple speed settings, so you can't coax it into a higher speed when you need extra power. We don't find this too problematic, and we haven't had much difficulty even when juicing large beets. Still, the extra speed is nice once you get used to it, and this juicer feels like a step-down. Slow juicers are great for soft ingredients but can struggle with hard ones like beets.
The primary draw of the 67601A is its price. Hamilton Beach has created an impressive entry-level juicer capable of handling whole fruits and vegetables, and we recommend it as a first juicer, especially if you're going to use it to juice beets.
Pros
Extremely affordable
800 W motor
Parts are dishwasher safe
Large 3-inch chute
Cons
Single-speed
Less powerful motor
---
3.

Omega J8006HDS Masticating Juicer – Premium Choice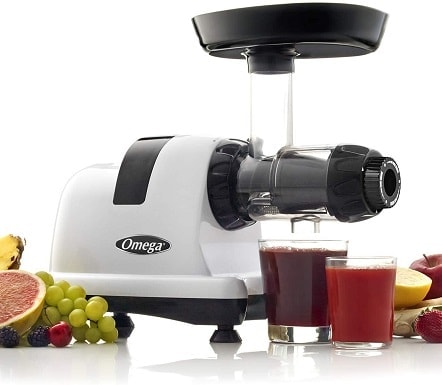 If you've been juicing for a while or have extra cash to spare, consider splurging for the Omega J8006HDS Masticating Juicer. Masticating juicers extract more juice with a higher nutritional content from your produce, making them more cost-effective.
The Omega J8006HDS is significantly more expensive than the previous two juicers, and the price prevents it from taking the top spot. This juicer is an efficient juicing monster and can easily juice beets without batting an eye.
Some studies show that masticating juicers also create more nutritious juice, and they handle leafy greens like kale and spinach more easily. If beets are your primary concern, you probably won't notice much difference between a centrifugal and masticating juicer, but the Omega is a good choice if you're interested in buying an excellent general-purpose juicer.
Pros
Masticating juicer
Extracts more juice
Easy to clean
Cons
Very expensive
Quite loud
---
4.

Mueller Austria SD80A Juicer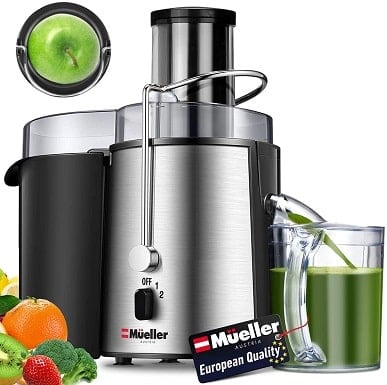 The Mueller Austria SD80A Juicer was a serious contender for the best budget juicer but ultimately fell short. It costs about the same as the Hamilton Beach and has a similar power draw of 1100 watts. Unlike the Hamilton Beach, it has two speeds, making it an attractive choice for people who want to juice soft and hard produce.
Unfortunately, despite its 3-inch-wide chute and relatively powerful motor, the Mueller complains if you don't prep beets carefully before feeding them into the juicer. We initially used larger chunks and were met with a terrible mess as the Mueller spewed juice all over the counter.
Undeterred, we tried again with much smaller pieces, which worked fine. However, it is a slight hassle, especially when other similarly priced juicers can handle beets without issues. Overall, this juicer is acceptable and can juice beets if you're careful not to make the pieces too big.
Pros
Affordable
2 juicing speeds
Powerful motor
Wide 3-inch opening
Cons
Struggles with large, hard produce
Somewhat difficult to clean
---
5.

KOIOS B5100 Masticating Juicer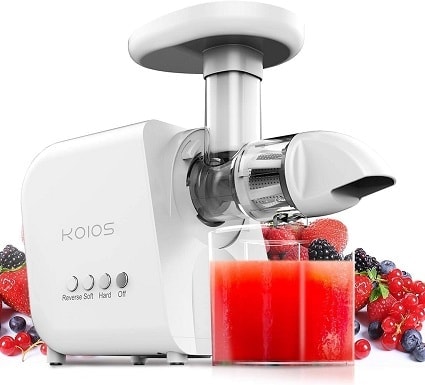 KOIOS B5100 is the second masticating juicer on our list, and its primary advantage over the Omega at number three is the much lower price tag. It has two speed settings and a handy reverse feature for detangling fibrous vegetables from the auger if it gets clogged. We're not sure what causes the difference specifically, but we noticed the KOIOS has a higher chance of clogging than the Omega, especially when we use leafy greens. It doesn't make it unusable, but babysitting the juicer while it's working requires more effort.
One of the best features of the KOIOS is the quiet design. It is much quieter than other juicers and doesn't sound like we're trying to juice rocks when we juice beets with it. It might seem like a small detail, but it's much nicer since it doesn't rattle the foundation. We also like that the KOIOS is very easy to take apart for maintenance and cleaning.
Pros
Affordable
Masticating juicer
Very quiet
Cons
Struggles with leafy greens
---
6.

Jocuu 217 Masticating Juicer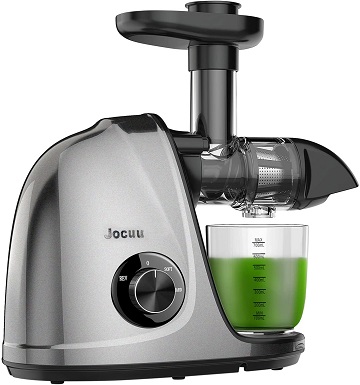 The Jocuu 217 is a masticating juicer with two speeds to choose from, depending on what you're juicing. We like that the options are clearly labeled as hard and soft, eliminating any confusion about which setting should be used for the ingredients. The hard setting is perfect for apples, pears, and beets.
We also like the simple disassembly procedure. The locking mechanism has a 1-button release, making it easy to take apart for cleaning and maintenance. The parts are dishwasher safe too, which is a nice touch.
A few minor nuisances knock this juicer down a few pegs on our list. The juice container is relatively large, which can make it unwieldy and difficult to work with. We also would love to see ounces labeled on the container alongside millimeters. These aren't huge issues, but they make it slightly harder to use the juicer.
Overall, the Jocuu is a solid juicer that can handle beets without being overly expensive. It's easy to clean and has multiple speed settings but lacks a few quality-of-life elements that would provide a better user experience.
Pros
2 speeds
Easy to disassemble for cleaning
Large chute
Cons
Only labeled in millimeters
Juice catcher is large and hard to hold
---
7.

Cuisinart CJE-1000 Juice Extractor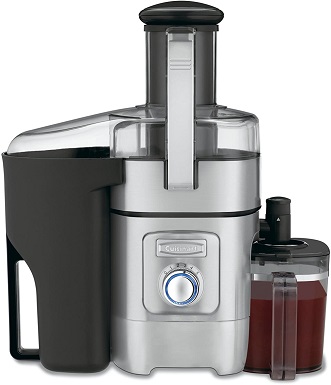 The Cuisinart CJE-1000 Juice Extractor is a premium-priced centrifugal juicer. Instead of the typical two-speed design, this juicer has five speeds. Unfortunately, five speeds aren't necessary, and although it's technically superior to having two speeds, the differences are minimal and mostly go unnoticed. We found that despite the options, we almost exclusively used the highest or lowest setting
Surprisingly, our favorite features of this juicer are the large capacity containers for juice and pulp. Having a large pulp container is very convenient since you can make larger batches without stopping to empty it as often.
So, is it worth it? In our opinion, not really. This Cuisinart juicer is expensive, and you're mostly paying for the variable-speed motor, which doesn't provide enough benefit to justify the high price. Still, if money isn't a concern, it does work well and is easy to use and clean. The only thing holding it back is the price.
Pros
2-liter pulp container
1-liter juice carafe
Multiple speed settings
Cons
Expensive
5 speeds aren't really necessary and inflate the price
---
8.

Bagotte DB-001 Compact Juicer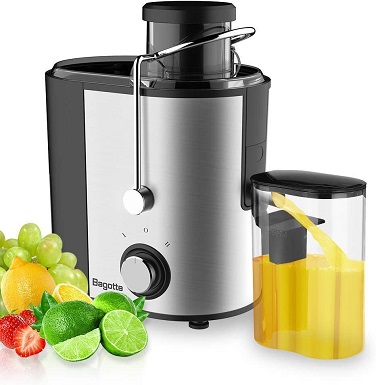 Bagotte's DB-001 Compact Juicer is a good entry-level juicer but isn't the best for extensive, long-term use. It has 2 speeds and a hefty, 3-inch wide chute, which makes it usable for hard, fibrous ingredients like beets—in theory. It worked great for a while but soon started to clog more frequently and started to leak. We solved the problem by chopping our produce into smaller pieces, but that is a temporary workaround more than a permanent fix.
The Bagotte doesn't seem to be constructed from high-quality, durable parts, and we have some concerns about its longevity. Even with relatively light use, we encountered issues that will only worsen with time. Still, as a first juicer that will only do light duty, it can get the job done.
Pros
Inexpensive
Simple operation
2 different speeds for soft and hard ingredients
Cons
Not very durable
Prone to leaking
Struggles occasionally with hard fruits and vegetables
---
9.

AICOK GS-332 Centrifugal Juicer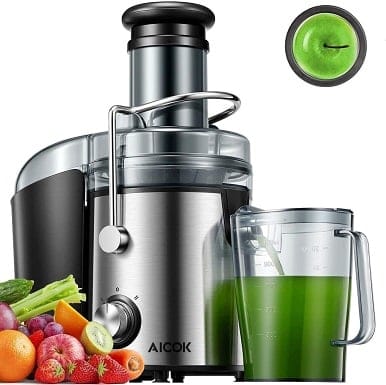 The AICOK GS-332 centrifugal juicer is an excellent juicer with a significant flaw that makes it nearly unusable for all but the most patient user. We'll cut right to the chase; the juicer leaks at the spout where juice exits the machine. It's enough to be a hassle, and we haven't found a good way to prevent it despite our best efforts. It makes a relatively large mess, which is annoying to clean and wastes juice.
The leaking is unfortunate because it works flawlessly otherwise. It has two speeds and enough power at 1,000 watts to make quick work of everything we threw at it, including beets. It makes excellent juice, and the price is right. This might be our top pick if it weren't for the incredibly annoying leaking. Unfortunately, the leaking is a significant issue, and we recommend this juicer only for people prepared to wash their counter after every use.
Pros
2-speed motor
Makes smooth, tasty juice
Great price
Cons
Unavoidable leaking makes a huge mess
---
10.

CHULUX Juicer Machine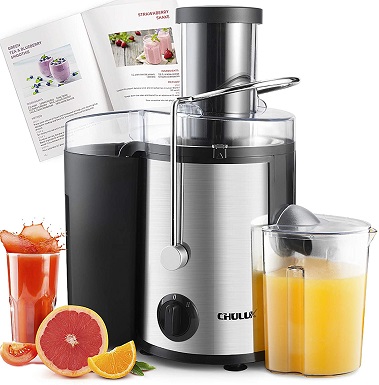 Our final juicer, the CHULUX Juicer Machine, suffers from similar problems as the other lower-ranked juicers on this list. The overall construction quality is poor, and we experienced leaking after only a few uses. We also found this juicer to be challenging to take apart for cleaning.
Despite the leaking, it works well and makes decent quality juice. It has 2 speeds and a nice, widemouthed opening, making it easy to feed in large chunks of fruit and vegetables without excessive chopping and preparation. One nice touch is the recipe book. If you're new to juicing, it's an excellent place to learn basic recipes. The bottom line is this juicer didn't impress us. It is cheap, but, unfortunately, it feels cheap and is a headache to use.
Pros
Affordable
It comes with a recipe book
Cons
Hard to take apart and clean
Leaks after only a few uses

Buyer's Guide – Choosing the Best Juicer for Beets
Now that you've read about some specific juicers, let's talk about some of the general things you should look for when shopping for your juicer.
How Juicers Work
To understand the types of juicers, you must first understand the underlying principle behind juicing. Juicers extract liquid from fruits and vegetables by forcefully pressing them through a fine mesh filter. Squeezing produce through the tiny gaps in the filter separates the solid and liquid parts before the solids are diverted to the pulp container, and liquids are collected in the juice chamber.
How the necessary force is generated determines the kind of juicer a machine is. You can buy a centrifugal juicer or masticating juicer. They both involve squeezing produce through a fine filter but do so in fundamentally different ways.
Centrifugal Juicers
Centrifugal juicers produce force by spinning rapidly, usually between 10,000 and 15,000 RPM. Fruits and vegetables placed in the rotating chamber are thrown outward from the center by the extreme centrifugal forces generated by the high-speed rotation. At the edge of the chamber is a fine mesh filter that catches the solid parts of the fruits and vegetables but lets the fluid seep through.
If you've ever been to a carnival and ridden the Gravitron ride, you've experienced the fundamental operating principle of a centrifugal juicer. The force that presses you against the wall in a Gravitron is the same force that pushes the fruit through the mesh sieve in a centrifugal juicer.
A big advantage of buying a centrifugal juicer is that they're generally cheaper. Centrifugal juicers are easier to build and have fewer moving parts, making them cheaper to produce and buy.
There are some major drawbacks to centrifugal juicers, however. The high speeds in a centrifugal juicer generate a significant amount of heat, which is high enough to change the nutritional content of the juice they produce. Enzymes denature at high temperatures, and oxidation increases as the machine heats up. Both effects combine to create a juice with less of the health benefits that most people look for when buying a juicer.
Despite the decrease in nutritional content, centrifugal juicers still provide many of the benefits of juicing. If you're just starting, a centrifugal juicer is a good option since you can save money and decide if you like juicing enough to invest in a more expensive and better masticating juicer.
Masticating Juicers
Masticating juicers use an auger to press fruits and vegetables through a fine mesh filter slowly. Instead of spinning a bowl at high speeds, masticating juicers slowly rotate a conical chamber that moves produce along the axis from the wide end to the narrow end with the help of screw-like grooves. As a piece of produce moves through a masticating juicer, it gets squeezed into tighter places before being forced through the filter entirely.
The primary benefit of masticating juicers is that they avoid the high heat generated in centrifugal juicers, meaning they produce higher-quality juice with all the nutritional content intact. They can also handle larger batches at a time since they don't need to cool down between runs. They also do a much better job of juicing leafy greens like kale and spinach than centrifugal juicers.
The two main downsides to masticating juicers are the price and the maintenance. Masticating juicers are significantly more expensive than centrifugal juicers, so they probably aren't the best for beginners who aren't sure how much they'll use one. They also need more care since the auger setup is usually more involved than the centrifuge in a centrifugal juicer.
Which is Best for Beets?
Centrifugal and masticating juicers can juice beets, so one isn't inherently better than another. Beets are one of the more difficult vegetables to juice since they're big and tough and can easily clog lower-quality juicers. If you know you want a juicer that can regularly tackle juicing beets, buy one with a strong enough motor that can produce the high force required.
Masticating juicers are better overall because they're harder to clog and don't need to spin faster to juice tough fruits and vegetables like beets. If your budget only allows for a centrifugal juicer, ensure the motor reaches at least 12,000 RPM. Most juicers have different settings for soft and hard ingredients, so be wary of any juicer with only a one-size-fits-all speed.

Conclusion
We hope you enjoyed these reviews! Juicing is an intimidating hobby for newcomers since there is a lot to know and learn that is unfamiliar to most people. If you're new to juicing and looking for a good first juicer, we highly recommend the Breville JE98XL Centrifugal Juicer. It's not too expensive, can easily handle beets, and quickly comes apart to make cleaning a breeze.
If the Breville is too expensive for you, take a look at the Hamilton Beach 67601A. It's not as powerful but is still a capable juicer that shouldn't give you too much trouble. On the other hand, if you have money to burn and want a top-of-the-line masticating juicer, check out the Omega J8006HDS. It's a capable juicer that will juice beets without a problem and is easy to clean and maintain.