8 DIY Decorative Ladders You Can Build Today (With Pictures)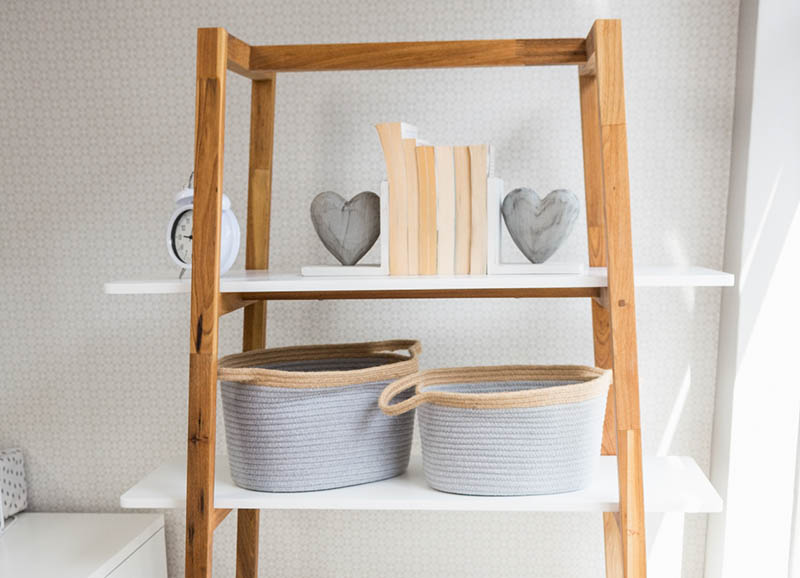 Ladders offer tons of utility. While they are typically used to access or work from higher levels, they can also come in handy when making unique, dreamy home decorations. From creating oodles of storage for easy organization to adding character and an element of interest to your rooms, ladders have great design and function potential.
Do you want to build a DIY ladder? Keep reading to find eight insanely creative suggestions for you to explore. We picked out suitable projects for folks with different skill levels.

The Top 8 DIY Decorative Ladders
1.

DIY Floating Ladder by Anika's DIY Life
| | |
| --- | --- |
| Materials: | Lumber (enough for your ladder size), 1¼" finish nails, wood glue, and paint/ wood stain |
| Tools: | Miter saw, nail gun, orbital sander |
| Skill Level: | Intermediate |
This floating ladder functions like a floating shelf. It offers plenty of options for organization, including serving as a display area for your artwork and décor. Building and installing the floating ladder is simple, although the quality of lumber you use will dictate the structure's weight capacity.
Ideally, it would be best if you used the ladder as an intentional focal point for lightweight, decorative items. However, getting a little enthusiastic with your nail gun can ensure it holds more weight without posing any hazards.
---
2.

Stylish DIY A-Frame Ladder by BHG
| | |
| --- | --- |
| Materials: | 1×10-inch boards, 1×2-inch boards, 3/4-inch square dowel, two hinges, wood glue, primer, paint, and sealer |
| Tools: | Saw, power nailer, sandpaper and sanding block, pencil, measuring tape, and paintbrush |
| Skill Level: | Intermediate |
A little greenery can liven up your living space. However, plunking down your planters on the floor or table can contribute to visual clutter. If you have a decent number of leafy friends, building this gorgeous A-frame ladder can elevate the aesthetics of your indoor garden.
You can showcase your diverse collection of greenery on each step of the structure. Also, this ladder can make sunshine more accessible, ensuring the plants maintain healthy foliage. It will also make your plants out of the reach of kids and pets.
---
3.

DIY Blanket Ladder by She Gave It A Go
| | |
| --- | --- |
| Materials: | (3) 8 ft. 2×4 lumber, 1 5/8 inch screws, 1/4 inch dowel, 1/4 inch countersink drill bit, 220-grain sandpaper, wood glue, wood stain |
| Tools: | Beginner |
| Skill Level: | Beginner |
Blanket ladders are functional and stylish. They have roared into fashion with a blast, an aspect that also makes them expensive to buy. Fortunately, you can make this DIY blanket ladder for as little as $30. Using reclaimed wood can lower the cost of the project further.
Depending on your finish, you can use this simple ladder to switch up your décor during different seasons. For instance, use it to hang warm blankets in the winter. You can then find another spot and use it to hang your towels in the summer. There are numerous creative ways to incorporate the ladder in your home to give different rooms a fresh look.
---
4.

Tiny DIY Plant Ladder Stand
| | |
| --- | --- |
| Materials: | 8 ft 1×2, (10) 1×4, (3) 1×6 lumber, wood glue and finish nails |
| Tools: | Nail gun, saw, sander, pencil, measuring tape |
| Skill Level: | Beginner |
If you have a few free hours over the weekend and want to flaunt your woodworking skills, here is one of the best projects to consider. This tiny ladder plant stand will take you less than two hours to complete. You also don't need a big budget, especially if you have access to reclaimed wood.
Sometimes, maximizing vertical space is tricky, especially for households with playful kids or pets. While this ladder is tiny with a simple design, it can hold more planters on the horizontal spots. The size allows easy moving, particularly if you want to bask in the sun with your leafy friends over the weekend.
---
5.

Birchwood Blanket Ladder DIY by Amanda Puleo
| | |
| --- | --- |
| Materials: | Birchwood branches, wood screws, polycrylic protective finish, twine of your choice |
| Tools: | Drill, sandpaper, and cotton rag |
| Skill Level: | Beginner |
If you have a farmhouse décor scheme, you can build this unique Birchwood blanket ladder to serve as an accent piece. It's one of the easiest projects on this list, and you don't need tons of woodworking experience or tools.
The complete structure can serve as a towel or blanket hanger. You can also use it as a lantern stand to add mood lighting to your outdoors. Just hang several lanterns on the ladder using twine or S hooks.
---
6.

Mini DIY Ladder by Frugal Fitz Designs
| | |
| --- | --- |
| Materials: | (2) 16″ long 1″ x 2″ lumber, (3) 10″ long 1″ diameter dowels, wood glue, 1″ Forstner bit, stain/paint |
| Tools: | Power drill, miter saw, wood clamps, and sandpaper |
| Skill Level: | Intermediate |
If you have not attempted to use mini ladders as a decorative piece, here is a simple project you'll have fun trying. All you need is plenty of glue to make this round steps mini ladder with no nails.
Mini ladders are ideal for more than just hanging tea or kitchen towels. They are a great décor piece to accent your bathrooms, shelves, and more. You can use your ladder to showcase miniature accents like shape cutouts and beadwork.
---
7.

DIY Hanging Ladder by AVE Styles
| | |
| --- | --- |
| Materials: | (2) 1" x 48" wooden round dowels, 20 ft. of ⅜" solid braid rope, 13/32"drill bit, 6/64" drill bit, pencil, measuring tape, duct tape, natural pine wood putty, wood stain or paint. |
| Tools: | Power drill, rotary saw, sandpaper and scissors |
| Skill Level: | Beginner |
Are you looking to build a decorative ladder? How about a super simple, unique, and versatile piece you can make within a few hours? This beautiful hanging towel rack can help transform your bare walls without spending a fortune.
You can freely figure out the ladder dimensions that best suit your goals. Also, play around with your choice of braid rope, wood stain, or paint color to give the structure an exciting touch.
---
8.

DIY Leaning Ladder Shelf by BREPURPOSED
| | |
| --- | --- |
| Materials: | 3/4″ plywood (enough for your desired ladder dimensions), (2) 1 x 4 x 6 pine boards, (6) .5″ x 2.5″ x 3ft. pine boards, 3/4″ trims, wood glue, wood stain and sandpaper |
| Tools: | Chop saw, drill, pencil, tape measure, sander |
| Skill Level: | Advanced |
Ladder shelves are among the most aesthetically pleasing and functional furniture pieces you can have in your home. They work great in just about any room, including your living area, kitchen, and bathroom. Also, they appear rustic and modern at the same time, making them perfect for just about any décor theme.
Why spend hundreds of dollars buying a ladder shelf when you can make one in a single weekend? Here are the simple steps to follow.

Conclusion
DIY ladders are easy to make. Most of the projects on our list only require beginner or intermediate woodworking skills. Still, crafting these unique structures can add function and an OMG factor to your space.
The main tip to remember is that the overall strength of your ladder will dictate its weight capacity. Whether you are using new or reclaimed materials, aim to build a sturdy structure that will last for a good while.