9 Best LED Shower Heads of 2023 – Reviews & Top Picks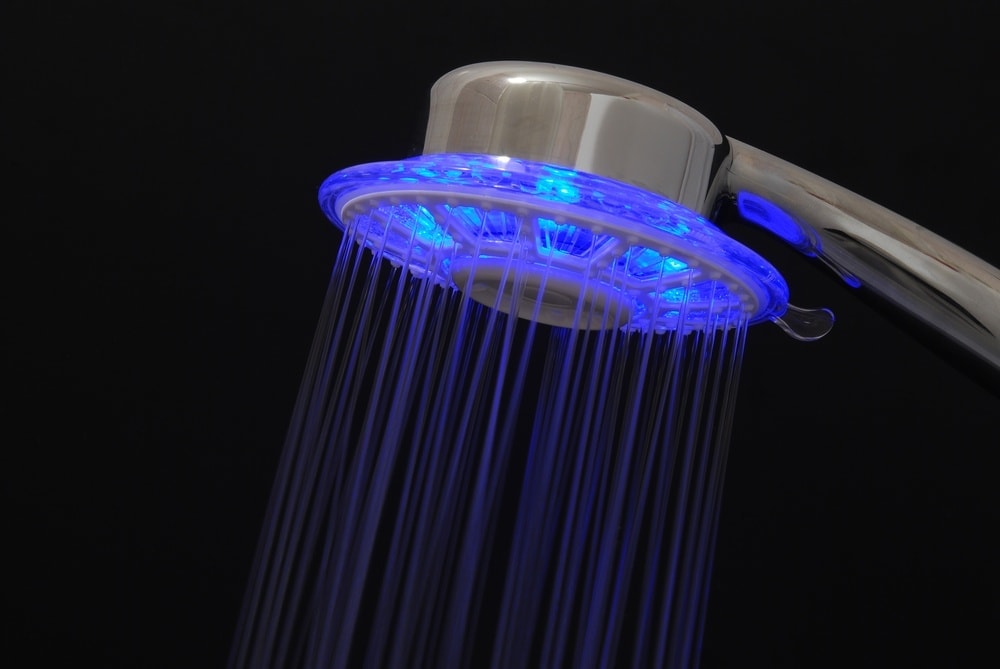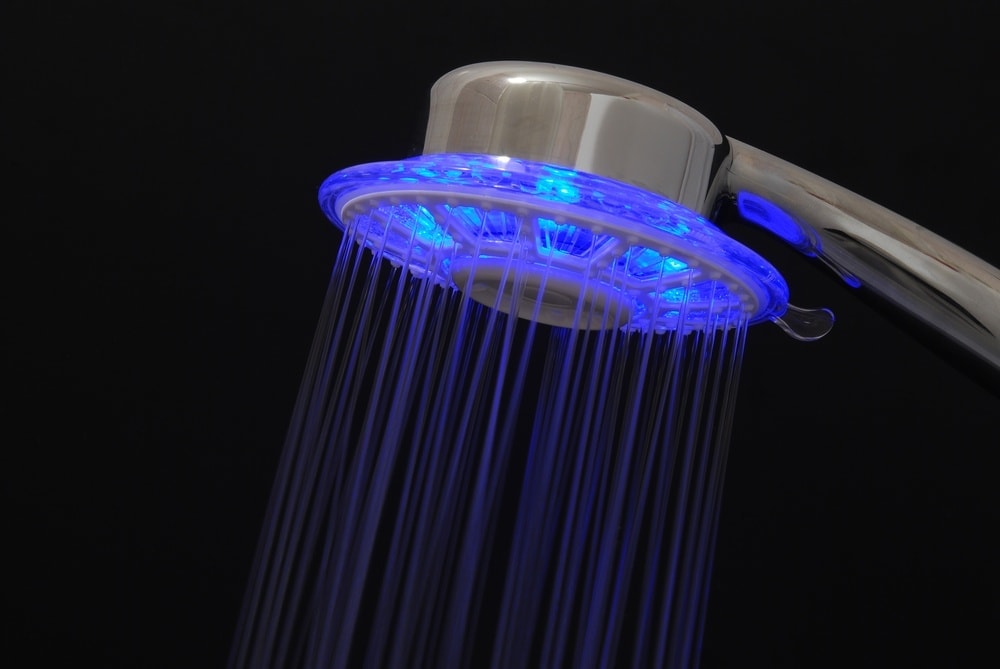 Showering with the lights off and just the illumination of your shower head sounds relaxing, doesn't it? With the right LED shower head, you could experience this yourself, anytime you wish. Alternatively, you may be looking for a shower head that changes colors according to the water temperature. This is an easy way to dial-in your water temperature without risking burning your hand. It's also great for warning children when the water is too hot to touch.
While there are many LED shower heads on the market, they're not all created equal. We've tried a lot of them. Some were great, others were disappointing. The following reviews will compare ten of our favorites, but only the top three have earned our recommendations.
---
A Quick Comparison of Our Favorites in 2023
Rating
Image
Product
Details

Best Overall

DreamSpa All Chrome

Reasonably priced
No batteries required
5 powerful shower settings
CHECK PRICE

Best Value

KAIREY Handheld

Inexpensive
4 LED colors
Self-cleaning jets
CHECK PRICE

Premium Choice

ELLO&ALLO Rain Panel

Multiple spray nozzles
Temperature display
Looks sleek
CHECK PRICE

PowerSpa

Dual shower head design
24 settings
No batteries required
CHECK PRICE

AquaDance High-Pressure

Affordably priced
7 color LEDs
5 shower settings
CHECK PRICE
The 9 Best LED Shower Heads
1.

DreamSpa 1482 All Chrome LED Shower Head – Best Overall
More than just a colored accent, the LED lights in the DreamSpa 1482 All Chrome Shower Head serve the purpose of indicating the temperature of the water by the color of the light. When it's flashing red, you know it's hot enough to burn. If the light is blue, you know it's probably colder than you'd enjoy. This is a great feature for children so that they don't accidentally burn themselves. We were surprised at how useful this feature turned out to be for everyone, since it made it very quick and easy to set your desired temperature without any guessing. You may expect the need for batteries to power the LEDs, but these are powered by the water and no batteries are necessary.
The DreamSpa shower head is an attractive looking device with a sleek all-chrome finish. Thankfully, the LEDs are also tasteful and not cheesy like they seem to be in some cheaper models we saw. This shower head also has five spray settings to choose from, but we found them a bit difficult to switch between. We also liked the high pressure 2.5 GPM flow rate that felt good on the skin and made it easy to rinse off. Overall, this is the best LED showerhead available this year.
Pros
Reasonably priced
No batteries required
5 shower settings
Powerful 2.5 GPM flow rate
Cons
Difficult to switch between spray settings
---
2.

KAIREY 8541795011 Handheld Led Shower Head – Best Value
Simple and inexpensive, the KAIREY LED Shower head brings handheld convenience and multi-colored LED illumination together at an attractive price point. The LEDs automatically change between four colors, displaying a new one every few seconds. Unfortunately, this is their only programming and they won't indicate the temperature as some other models do. But they're powered by the running water so you'll never have to worry about changing batteries. Even better, the jets are all self-cleaning and anti-clogging to prevent the buildup of limescale and hard water minerals. This helps reduce the amount of maintenance required in maintaining your shower head.
The KAIREY shower head only provides a single spray pattern, but it was a comfortable pattern with adequate pressure that none of our testers seemed to have any complaints about. The extra-long 60-inch hose makes it easy to reach around your whole body. It also makes it a great option for bathing children and pets since you'll have no problem moving it around them and children will enjoy the LED colors. In the end, we loved the combination of simplicity and affordability, which is why we think it's the best LED shower head for the money.
Pros
Inexpensive
No batteries required
4 LED colors
Self-cleaning jets
Extra-long 60" hose
Cons
Colors change randomly
Only one spray pattern
---
3.

ELLO&ALLO 6025-F4-04-03-02-S04 LED Shower Head – Premium Choice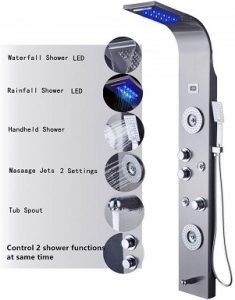 For the ultimate in LED shower experiences, look no further than the ELLO&ALLO Stainless Steel Shower Panel Tower System. This is one elegant looking device that will transform the look of your shower instantly. But more than just looks, it's an immersive shower unit that's filled with nozzles and shower heads to soak you from different areas and angles, and two of them can be used simultaneously. The LED illuminated overhead shower head provides a rain-style soaking while several body-height nozzles spray you horizontally. You also get a handheld shower head attached to a hose allowing you ultimate freedom in how you wash off.
Gone are the days of guessing your shower water temperature. With the ELLO&ALLO LED shower panel, you can dial it into an exact setting with the built-in temperature display. You also get a two-year warranty with this product, something we appreciated, especially considering the substantial investment it requires to get this installed in your home. It's pretty expensive, but we think it's a unique shower experience that not only transforms the looks of your shower but the feel of it as well.
Pros
Looks sleek
Multiple spray nozzles
Temperature display
Includes a handheld
---
4.

PowerSpa 1498 LED Shower Head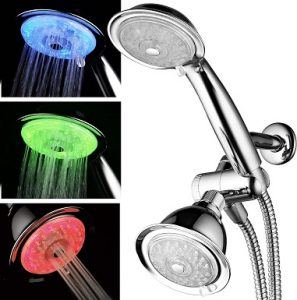 If you're having trouble deciding between different types of shower heads or you know you want the versatility of a handheld and a stationary shower head together, then a dual shower head may be the best compromise. This one from PowerSpa features colorful LED lighting in both shower heads. No batteries are required since the LEDs are powered by the water pressure. You can activate both shower heads at once if you desire, but unfortunately, there won't be enough water pressure to activate the LEDs on both heads simultaneously.
We were impressed with the versatility of this dual shower head. Between the two heads, 24 settings are available, so everyone can dial in the exact type of shower spray they prefer. Seven LED colors automatically change while you shower, but there's no way to program them. This device is more expensive than many similar competitors, but you do get the dual shower head functionality. While this is nice, we didn't think that it provided the best shower experience overall, which is why it has just missed our top three.
Pros
Dual shower head design
24 settings to choose from
No batteries required
Cons
Handheld LED didn't work on the first one
LEDs don't light up if using both heads simultaneously
More expensive than competitors
---
5.

AquaDance High-Pressure LED Shower Head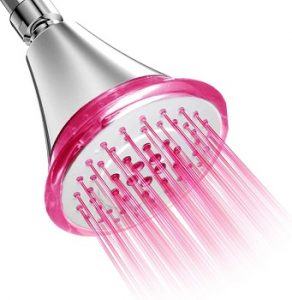 This high-pressure shower head from AquaDance is a very basic device that installs easily and offers only a little adjustability. It's very affordably priced, but it also doesn't last very long in our experience. The main feature of this product is the color-changing LED light automatically switches between seven different colors while water is running through it. Powered by water pressure, you'll never have to worry about any batteries with this shower head. Unfortunately, ours started making a loud clicking noise after the first few uses. We returned it and installed the replacement, which worked fine for a while. However, it also started making noise after just a few uses. This time it was a loud squealing noise.
Compared to similar competitors, the LEDs on the AquaDance shower head were very dim and not as visible as we'd like. We did appreciate the five different shower settings available on the head though. It was a fine shower head while it worked, especially considering the low price. But both of the ones we tested started making noise very quickly and we think it's because of the LEDs. We'd suggest picking a model with better longevity such as the KAIREY in second place.
Pros
Affordably priced
7 color LEDs
5 shower settings
Cons
LED isn't very bright
First one made a loud clicking sound
The second one made a loud squealing noise
---
6.

HotelSpa 1485 LED Handheld Shower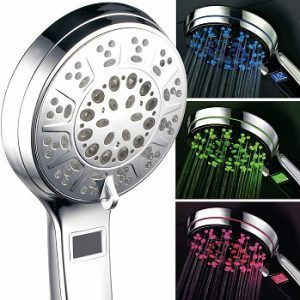 With an extra-large 4.25-inch wide face, this handheld LED shower head from HotelSpa can also be used overhead. It provides five different spray settings to choose from including a water-saving economy rain mode. A temperature display LCD is built into the handle, but the LEDs also indicate the temperature by their color. These LEDs don't look tacky and cheap like the ones on some competing models. However, the temperature sensor and the colors of the LEDs became very erratic after a few weeks of use. Suddenly, the temperature was jumping all over the place and the LEDs followed suit. The actual temperature of the water wasn't changing but the temperature sensor was malfunctioning.
Thankfully, the HotelSpa LED handheld is protected by a one-year warranty, but the failure of the temperature sensor didn't do much to instill confidence in this product. Making matters worse, this is a very noisy shower head. Since there are no batteries the LEDs are powered by water pressure, but the mechanism makes much more noise than other shower heads we tested.
Pros
5 spray settings
Temperature display
LEDs change color according to temperature
Cons
Inaccurate temperature sensor
Started displaying random readings and changing colors
Pretty noisy
---
7.

Rozin 651338 Chrome LED Rainfall Shower Head

This rainfall shower head from Rozin is one of the more expensive models that we tested. Unlike some of its competitors, this product is made from brass, making it quite heavy but also providing a more high-quality feel. Keep in mind, a rainfall shower head is mounted directly overhead, usually at ceiling height. The extra weight of this unit could make it much more difficult to install. You'll also need to have a rain-style specific mount. You won't be able to use this with a normal neck that only sticks out of the wall a few inches.
While most of the shower heads we tested for this list had multi-colored LEDs that offered three to seven different colors, the Rozin rainfall shower head only illuminates blue. This isn't a deal-breaker, and it may even be preferable in some instances. It requires no batteries to run, getting its power from the water pressure. Altogether, it's not a terrible device, but it's not the one that we'd recommend spending your money on.
Pros
Solid brass construction
No batteries needed
Cons
LED is blue only
Must have a rainfall-style overhead mount
Very heavy making it more difficult to install
---
8.

DELIPOP CM05 Led Shower Head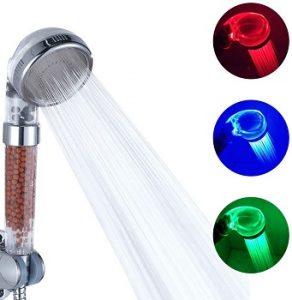 This LED shower head from DELIPOP is dirt cheap, and it looks like it. It's a handheld shower head with purifying stones filling the handle that use negative ions to purify your shower water. We liked the concept, but it didn't seem to do anything in our testing. It didn't reduce hard water spots or make our hair and skin feel any better, so it feels like more of a gimmick. The LEDs were very bright though, and they changed color according to the water temperature, a feature that we appreciate.
This simple design has just a single spray pattern, so you're not going to get much versatility. You can move it around and get it very close to your body thanks to the hose, but that's not enough to redeem it in our eyes. We think the cheap plastic construction feels and looks too cheap for our showers. The KAIREY handheld shower head that earned our pick for the best value is much more elegant looking and is even more affordable than this one.
Pros
LEDs change with temperature
Negative ions to purify water
Cons
Cheap plastic construction
Filtration didn't seem to make any difference
Single spray pattern
---
9.

Hiendure LED Rain Shower Head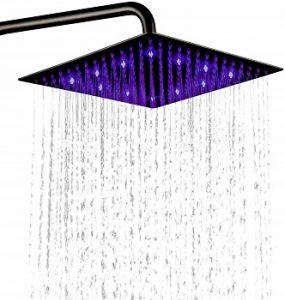 We didn't expect the Hiendure LED Rain Shower Head to be such a poor performer. In fact, it feels very solid since it's made out of stainless steel with a brushed nickel finish that looks rich as well. It's also pretty expensive, so we had high hopes for it. The LEDs change color according to the temperature of the water, a feature that we appreciate. This is a rain-style shower head so it must be mounted overhead, and it won't work on a short neck from the wall as is common in most showers. It was also more difficult for some of our testers to install, thanks to the heavy weight of the stainless steel. That would all be fine if it worked the way we hoped.
The first problem was the abysmal water pressure from this shower head. Rain shower heads are usually lower-pressure, so we expected it; but this one was exceptionally weak and less enjoyable because of it. Worse, the LEDs died after just a couple weeks of use. For the price, we were hoping to see much better longevity and function.
Pros
LEDs change according to temperature
Cons
Very heavy
LEDs died quickly
Poor water pressure

Buyer's Guide –  Purchasing the Best LED Shower Head
You've seen some of our favorite LED shower heads and you know about their differences. The question is, how do you decide which one is right for you? To help answer this question, we've put together this short buyer's guide that will discuss the traits we think are most important to keep in mind when choosing a new LED shower head.
Temperature Indicator
One of the biggest benefits of these newer shower heads is being able to get a visual representation of your water temperature. Some of these devices have built-in temperature readouts that will display the exact temperature of your shower water. But many of them opt to use the LEDs as an easy way to display the water temp. When the water is hot, the shower head will light up red. If it's scalding, the shower head will flash red to let you know that it's too hot. When the light is blue the water is cold, and it will turn green when it's a perfect shower temperature. This can be an especially useful feature if you have kids since it can prevent them from accidentally burning themselves when the water is too hot.
Type of Shower Head
Many different styles of shower heads are available with LED lights these days so you're not limited to just one type. Whether you want a traditional shower head, a rainfall shower head, or even a handheld, you can find one with LED lights inside. Keep in mind that not all shower heads work with all shower setups. For instance, a rainfall shower head is meant to be placed directly overhead so that it can drop water down on you. This means you'll need a pipe in the ceiling or an extended arm to position it properly.
Spray Settings
Just because your shower head has LEDs in it doesn't mean that it can't also have other functions. Most shower heads today offer several different spray patterns to choose from. If you like the versatility of having multiple water streams from the same head, then you may want to look for one with several options available. You may even opt for a dual shower head that has multiple spray patterns from two different heads, giving you a diverse shower experience that's even more colorful thanks to the LEDs.

Conclusion
LED shower heads can be a unique and fun way to brighten up your bathroom without breaking the bank. They can also serve as useful tools that indicate the temperature of the water in your shower without the need to burn yourself to find out. We've showered off with many of these shower heads to see which ones were the best, and three of them stood out for us. You've already read our reviews of them, but we're going to quickly summarize them again. Our favorite overall was the DreamSpa All Chrome LED Shower head. We enjoyed its high-pressure output and five-spray selection. The LEDs also change color according to the temperature of the water, a feature that we've come to appreciate.
We think the KAIREY Handheld LED Shower head was the best value, thanks to features like the self-cleaning nozzles that prevent limescale buildup and the handheld design. Though it's cheap, it doesn't look like it, which is why it beats the other shower heads in the same price range. Finally, an impressive but expensive device, the ELLO&ALLO LED Shower Panel was our premium pick. Sleek looks combined with great features like multiple nozzles, an included handheld, and a temperature display is hard to match.
---
Featured Image Credit: Mifid, Shutterstock