10 Best Rain Shower Heads in 2023 – Reviews & Top Picks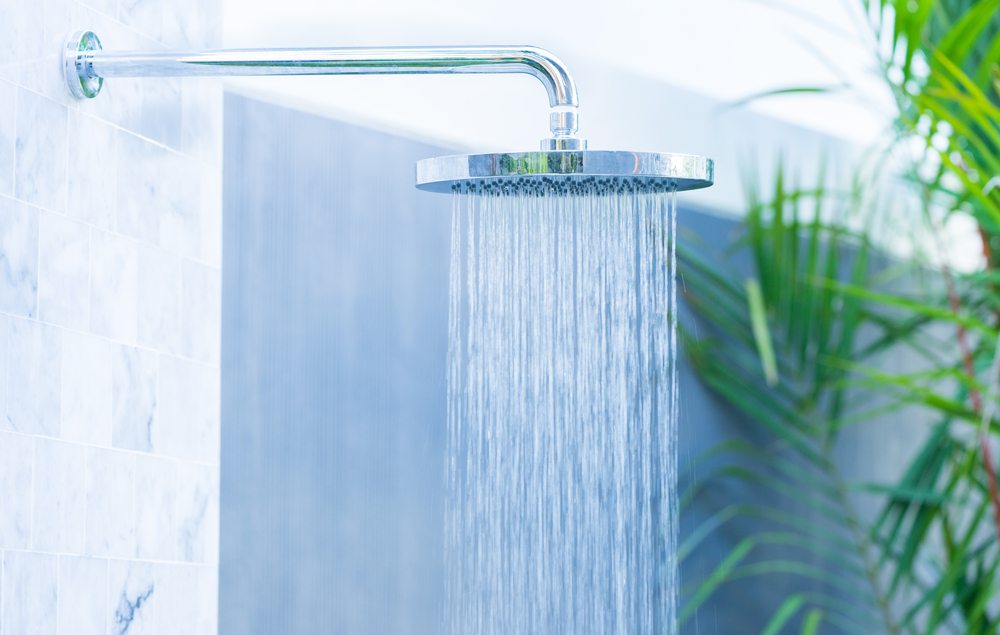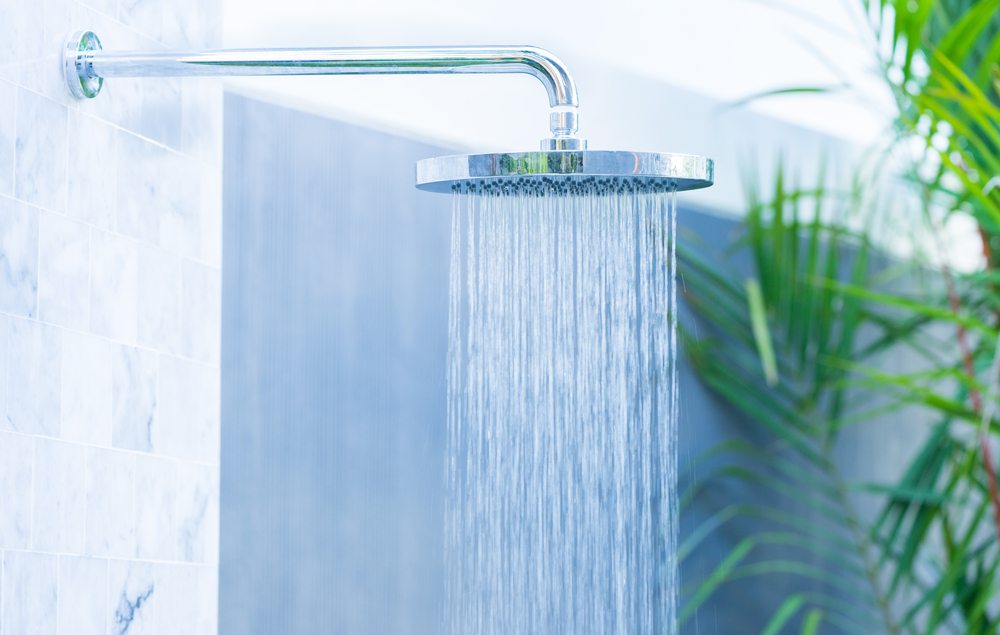 It's no secret that most people love the relaxing elements of a good rain storm. Whether it lulls us to sleep or relaxes our anxieties, a rain storm can be healing and restful.
So, why not have your own person rainmaker in the shower? While you won't get the pitter-patter sounds of rain on your roof, you will get a nice, gentle shower that covers a large area.
In these reviews, we will go over our favorite rain shower heads.
---
A Quick Comparison of Our Favorites
Rating
Image
Product
Details

Best Overall

SparkPod

Increases water pressure
Hot water lasts longer
Self-cleaning
CHECK PRICE

Best Value

WarmSpray

Self cleaning
Plastic prevents calcification
Covers your whole body
CHECK PRICE

Premium Choice

SR SUN RISE Wall Mounted

12 inches of coverage
Includes handheld shower head
Adjustable water pressure
CHECK PRICE

AquaSpa Giant

Large coverage with 105 jets
Optional adjustable shower arm
Easy to install
CHECK PRICE

DreamSpa Combo

Comes with handheld shower head
Three settings
Easy to install
CHECK PRICE
The 10 Best Rain Shower Heads – Reviews 2023
1.

SparkPod SH-3270 Rainfall Shower Head — Best Overall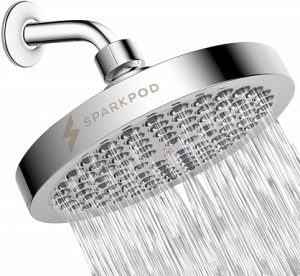 There are so many perks to the SharkPod shower head, it's hard to know where to start. This is a relaxing experience that also relaxes your wallet, requires little maintenance (relaxing!), and is easy to install. Let's start there.
The installation will take you all of five minutes. If you are terrible with tools, have no fear, there are none needed with this shower head. This product simply attaches to standardized shower arms, and if your shower arm isn't standard, this package comes with Teflon tape to help with the fitting. This is an aesthetically beautiful product that also has health benefits. High water pressure is crucial for keeping pores clear, and this shower head will certainly increase your shower's water pressure.
When installing your SparkPod, you will have the option to install a filter to regulate pressure. This helps control the flow of water so you can either save on your bills or take those extra-long showers you love. The filter does mean that you will get less water pressure, but most people seem to think it is still enough. If you need more pressure, then do not install the filter.
While taking a hot shower, you can enjoy the water splashing all around you without thinking about the next time you will have to clean the shower head. This product is self-cleaning, as it is made with an ABS plastic Luxury Chrome. SparkPod claims that this shower head will keep itself clean for years.
 Users all seem to agree that they love this shower head. People who have showers with low water pressure claim that this upped their water pressure to the point where they were installing the filter just to settle it down. There are concerns about durability, as this is made of plastic, but fortunately, it comes with either a 30-day money-back guarantee or a one-year replacement warranty.
Pros
Increase your water pressure
Hot water for longer
Self-cleaning
---
2.

WarmSpray D10301 Rainfall Shower Head — Best Value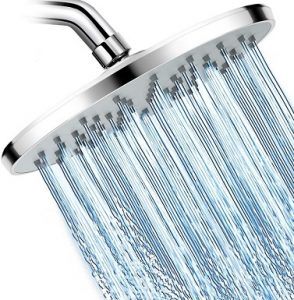 The rain shower head in its purest form is a wonderful-looking home appliance, and this offering from WarmSpray is no different. Of course, we aren't reviewing shower heads on their looks alone. This model is functional, affordable, and great looking. That's a good combo.
This shower head has a wide pouring area of 9 inches. That's a large enough surface area to cover your whole body using the 80 TRP high-flow jets. Not only is this great for your body, but it is also self-cleaning.
This is another easy-to-install product that requires no tools at all. All you have to do is get your old shower head off and screw this one on. This is compatible with all standard-sized shower arms.
The makeup of this shower head is similar to our top pick. Made with high-quality ABS plastic, this item is not going to rust over time. The plastic material also helps prevent calcium buildup. You may have to worry about it cracking, but for the most part, users who have had this for a while report that it holds up quite well.
Upon receiving this, users can be kind of shocked by the size (it's big!) but end up loving it. It is a bit finicky, though. If you have super high water pressure in your shower, this one might hurt. On the opposite side, if you have really bad water pressure, this product won't do much to change it. While installation is supposed to be easy, there are reported cases of needing the assistance of a plumber.
Even with all those things in mind, we are confident in saying that this is the best rain shower head for the money.
Pros
Self cleaning
Plastic prevents calcification
Covers your whole body
Cons
Exacerbates water pressure issues
---
3.

SR SUN RISE Wall Mounted Rainfall Shower Head — Premium Choice
While our other products were shower heads, this product is a whole shower system. Your bathroom will instantly look and feel more modern when you install this lovely offering from SR Sun Rise. The shower head itself is rigid and square and fits into most décor schemes but thrives in a postmodern atmosphere. Functionally, it's also a great shower head.
The shower head itself is 12 inches on all sides, which means that this thing is massive. It will surely cover your whole body, but if you want a secondary water source, it also comes with a handheld shower head.
Installation is difficult, as you will have to install the included shower arm. If you are iffy about your abilities to do so, we highly recommend contacting a professional. With this shower arm, you will be able to control the amount of air going into it, which allows you to control the water pressure.
There are three different finishes to choose from, all of them as good as the next. This product is made for durability. Each finish helps prevent corrosion. This product comes with a lifetime warranty and a free replacement within five years.
In general, users love this shower head. Even though this is a bit pricey, there are many shower heads out there that cost way more than this at around the same quality, so this is a good deal. You do want to get the installation right, however; otherwise, you could cause quite a bit of damage to your home. Some users have reported being sent faulty valves, which in turn, leads to not being able to control hot or cold water.
Pros
12 inches of coverage
Includes handheld shower head
Adjustable water pressure
Cons
Poor installation can be costly
Faulty valves lead to no control over hot/cold water
---
4.

AquaSpa 1213 Square Rain Shower Head
This is the value version of our premium pick. This has the same square head shape and comes with a shower arm that you will have to install yourself, unless you decide to pay for a professional (recommended). This is a wonderful-looking product that does have a perk that our other reviewed products don't: The shower arm has a joint in it, allowing you to adjust the angle of the shower head.
This product is 9 inches in area, so you shouldn't have a problem letting the showering rain fall all over you. If you decide not to use the included shower arm, then installation is a breeze. All you have to do is screw this on to your preexisting shower head, and you are good to go in minutes. While AquaSpa states that there is no need for you to call a plumber, we think that might only be half true. If you decide to install the shower arm, it isn't a bad idea to have professional help, as an improper fitting can lead to serious damage in your house. Water and water pressure are nothing to play around with.
The amount of adjustability you have will depend on if you install the arm or not, but you still have a good amount of flexibility with just the shower head, as a ball joint at the connecting point allows you to swivel it around. This product is made with a chrome finish and has 105 water jets.
Most users agree that this is a wonderful product. Those who have braved installing this themselves have found it to be a daunting process, and there have been reports of exploding shower heads. Another word of caution is that if you have poor water pressure, this is not the shower head for you.
Pros
105 jets cover a huge area
Comes with an optional adjustable shower arm
Easy to install (if not installing the shower arm)
Cons
Hard to install (shower arm)
Durability concerns
Doesn't work well with low water pressure
---
5.

DreamSpa 1684 Rainfall Shower Head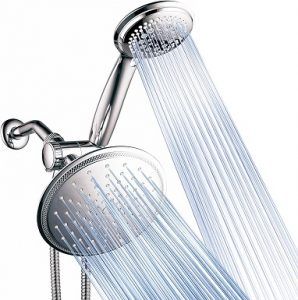 The DreamSpa main shower head is a sleek square design and looks as good as any shower head out there, but the handheld shower head looks a little more bulky, slightly taking away from the aesthetic.
The main shower head of this product is just like most others: large, so it can cover a wide surface area. The aim here is that you are warm (or cold) from shoulder to shoulder. You can then use the handheld shower head while relaxing under the wonderful jets with the simple push of a button. You also have control over three different water pressure settings, from firm to gentle.
The material of this shower head is chrome, so you do want to keep it clean to prevent it from rusting. While this product does not have self-cleaning abilities, by installing Rub-clean jets, DreamSpa has made it so you aren't at risk of cutting yourself or tearing whatever you are cleaning with.
This product is easy to install, as all it requires is a simple twist. The handheld shower head is attached to the larger shower head and does not require any extra hardware.
For the most part, people who use this shower head love it, albeit with one caveat: It looks cheap. It's functional and as easy to install as advertised, but it is made of plastic and clearly looks that way.
Pros
Comes with handheld shower head
Adjust your water pressure with three settings
Easy to install
---
6.

KES J203S8-BK Rain Shower Head
This is the smallest shower head on this list so far, though it's still pretty sizable at 8 inches in diameter. This has an all-metal makeup and looks like it could be the official shower head for the Stormtroopers from "Star Wars" — which is to say that it is modern and sleek looking.
The only thing that isn't metal about this shower head are the silicon nozzles. These allow for easy cleaning to ensure that any mineral deposit can be swiped away. The installation should be easy as well, though it could be a bit more involved than some of the other shower heads on this list. It fits any standard sized shower arm and comes with a filter to help regulate the water pressure, which is where the extra difficulty might come in, though it is ultimately just an additional step. The filter is not recommended for those with low water pressure, though a plumber may need to be consulted to make sure your pipes can handle the pressure of this shower head with no filter.
The ball joint at the connector allows you to move this shower head wherever it needs to be, making it perfect for the whole family. Some users report leaking after months of use, but that is a rare complaint.
Pros
Easy to clean
Easy to install
Ball joint swivel
---
7.

Delta Faucet RP52382 Touch-Clean Shower Head

Fans of Seinfeld might remember the episode where Jerry and Kramer are looking for a super powerful shower head, and by the advertisement on this Delta Faucet product, this just might be it. Described as "intensely powerful," water pressure fanatics will be thrilled to give this product a try. But does it live up to the hype?
Before we get to the actual water pressure part of this review, let's look at other things we consider in a shower head. Aesthetically, this is neat looking, though not as modern and sleek as some of the other offerings in this list. Installation is easy, as is cleaning.
So, how is the "intensely powerful" water pressure? Great! That is, if you already have good water pressure. This shower head will definitely help increase your water pressure, but if you have poor to very poor water pressure to start with, you're not going to get the elephant shower head that Cosmo and Jerry got. On the plus side, you won't have to smuggle it from Yugoslavia.
The reason for this product being so low on our list? Users have reported this shower head splitting in half after a period of use.
Pros
Great water pressure
Easy to install and clean
Cons
Won't fix bad water pressure
Splits in half
---
8.

Grohe 26457000 Euphoria 260 Shower Head

The Grohe is the second largest shower head on this list and a fancy-looking one, at that. The circular design is sleek and will be wonderful for any modern redesign of a home. It looks like it was meant to come from the ceiling, almost like a chandelier, but works well on a shower arm. This shower head comes in two different finishes: brushed nickel and starlight chrome.
The jet nozzles are made from easy-to-clean plastic. Routine cleaning of this product will make sure that you avoid the dreaded limescale. Grohe has made a shower head that puts out 2.5 gallons of water per minute, which means you will get good water pressure. With three different spray zones and adjustable pressure, this is a customizable shower head, giving every member of the family a chance to take their preferred shower.
Much of the feedback we have heard about this product is that people like it but aren't blown away by it. Many folks say that they don't see a difference between this shower head and a standard one. With more stand-out options in lower price range, we find this product to be just okay.
Pros
Three spray zones
5 gallons per minute
Classy looking
Cons
Not noticeably better than a standard shower head
---
9.

Luxe RainLuxe Shower Head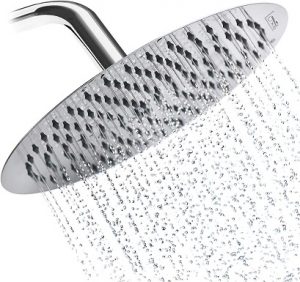 The Luxe RainLuxe shower head either looks imposing or sleek, we can't tell. It is a super thin design, with over 100 jet nozzles that look like little spikes.
Another easy-to-install product, this offering from Luxe has a great deal of promise. It is a 12-inch head, so it covers plenty of area. The jet nozzles are made of no-clog materials, meaning that you should only get the best water pressure out of this shower head. As for installation, this comes with the usual gasket and filter for regulation, if you decide to take that road. If you prefer a hard shower, then the filter won't be needed, but we would still recommend using the gasket.
The downside of this shower head is that it needs to be installed so it is pointing directly at the floor. Even without the filter being installed, users who have this facing out can't get water to come out of the top jets, effectively rendering half of it useless.
Pros
Easy to install
Easy to clean
Cons
Needs specific installation
Only half works if not properly installed
---
10.

American Standard 1660.683.002 Rain Showerhead

The American Standard rain shower head has a 10-inch diameter, but the jets are placed in a square pattern, effectively knocking a few inches off that number. The brass construction means that it is sturdy, but you might have issues with corrosion, limescale, and rust in the future. This product needs a brass arm to be installed, but that does not come included with the purchase.
This is another shower head that needs to be installed so it is pointing straight down at the ground; otherwise, half of it won't work.
While this is a decent product, considering the price range and the market, we think that you can find better.
Cons
Specific installation needed
Not easy to clean
Does not come with several necessary parts

Conclusion
Rain shower heads have been a real game changer for water pressure thrill seekers, but they also offer a relaxing experience to those who want it. Our goal with these reviews is to show you several different types of these products to help narrow your focus when shopping.
Have you fallen in love with one yet? We wouldn't be surprised if you adored our top pick from SparkPod or our value pick from WarmSpray. Besides these two, we hope you can see what the world of rain shower heads has to offer.
---
Featured Image Credit: MIA Studio, Shutterstock