5 Best LVLP Spray Guns of 2023 – Reviews & Buying Guide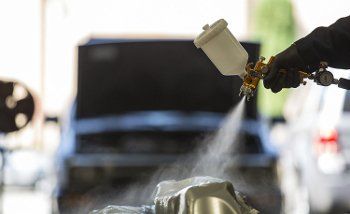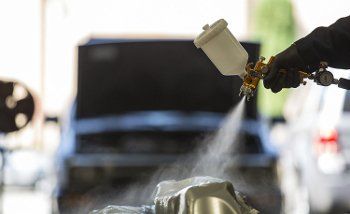 The appropriate paint sprayer can save you a lot of your money and time, and serve you for a relatively long time. Trying to get a great spray gun can be a bit challenging especially if you don't know what you are looking for exactly hence you need to do prior research. You are going to need to find out the uses of an LVLP spray gun and also figure out what features they have and their importance before you make a purchase. When spray guns are properly operated and adjusted they produce smooth and consistent paint services. However, people should be keen to understand how the guns work for them to see good results and to also select spray guns that are not only affordable and user-friendly but the ones that work perfectly for them. Here, we have gone the extra mile to test and review these spray guns to give you a well-informed opinion on our LVLP spray gun reviews.
---
Our 5 Favorite Choices Compared
Rating
Image
Product
Details

Best Overall

Astro EVOT14 EuroPro

Sleek design
Affordable
Easy cleaning
CHECK PRICE

SPRAYIT SP-33500K

Sprays in any direction
No leakage in the cup
Easy to handle
CHECK PRICE

Best Value

SPRAYIT SP-31000

High-performance levels
Durable
Overspray is easily controlled
CHECK PRICE

SPRAYIT SP-33000K

Lightweight
Corrosion resistant material
Adjustable gun
CHECK PRICE

Speedway 50188

Good for small projects
Interior/external home use
Reduces overspray
CHECK PRICE
5 Best LVLP Spray Guns – Reviews 2023
1.

Astro EVOT14 LVLP Spray Gun – Best Overall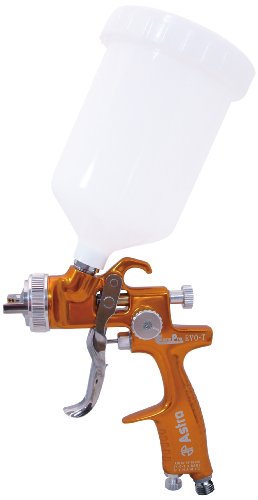 This gun is a unit that is durable, and it is perfect for people who are looking for durable spray guns that will serve them for years. It has a forged body hence its long durability. Additionally, it is resistant to corrosion because the tip and needle are made from stainless steel hence it can work perfectly with waterborne materials. Handling this tool is very simple because it has quick thread technology and it is very compatible with the traditional cup systems. It has a slick finish that makes the gun easy to clean and to get rid of the unnecessary paint easily. It is very adjustable and gives the user a large control over the painting. The spray gun has an air curtain design that minimizes any overspray and pollution which is something that is common with most guns. In overall, it is a great gun that adds that professional finishing to your ultimate work and it is a significant investment that I worth every cent you spend on it making it the best LVLP spray gun on the market this year.
Pros
Sleek design
Affordable
Durable
Easy cleaning.
Cons
It is limited to big projects only
---
2.

SPRAYIT SP-33500K LVLP Spray-Gun Kit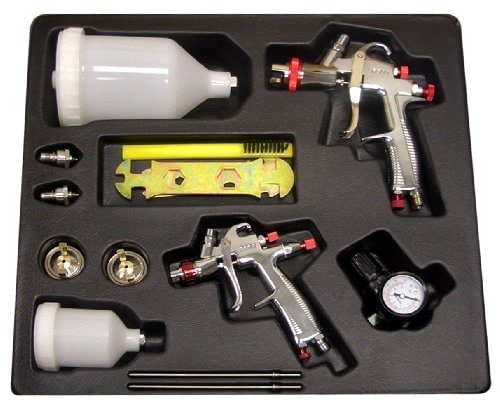 This is a spray gun that is of high quality and offers great performance for the smaller jobs. It has a great construction of lightweight aluminum. The spray gun is ideal for automotive, woodworking and industrial applications. Thanks to the stainless nozzles and steel fluid needles, the spray gun is durable and can serve you for a very long time. It is fully adjustable therefore it allows the user to spray on larger surfaces continuously because it reduces overspray. The finishing of the spray gun is also very smooth and is comfortable and is very light to use. Although it is a good product generally, it is not the best product you can get in the market and the price of purchasing it is a bit high and hence not very affordable to many people. This gun has also proved that it can be on the slow side sometimes. Although this is a good spray gun, it is a bit difficult to achieve a consistent pattern and the packaging does not stand out so much.
Pros
Sprays in any direction
No leakage in the cup
Easy to handle
Effective
Cons
Rough edges on the needle
Drilling on the nozzle not done properly
---
3.

SPRAYIT SP-31000 LVLP Spray Gun – Best Value
The spray gun has a lightweight aluminum body that makes it easy to work for very long hours without tiring easily. It has air controls that are perfect for home, furniture, and automotive applications. The air control is great because it allows you full control of the quantity of paint that will come out of the nozzle. It also comes with a stainless nozzle and steel needle which are both corrosion resistant hence offering maximum durability. In addition, it has separate and adjustable fluid that allows for more precise fan pattern. This gun gives you value for your money in the long run.
Pros
High-performance levels
Durable
Overspray is easily controlled.
Cons
Easy to mess functionality.
Lack of clear instructions.
---
4.

SPRAYIT SP-33000K LVLP Paint Sprayer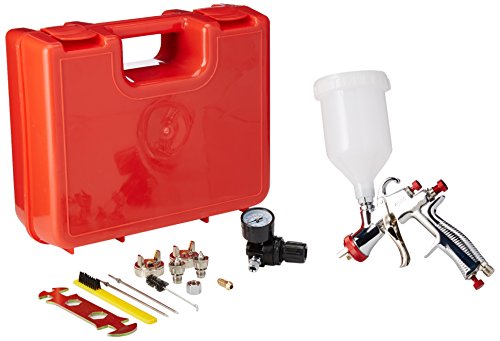 Although ideal for many applications like automotive, woodworking, marine and industrial, this spray gun is relatively expensive. The good thing is that it reduces overspray hence enabling you to spray for a long time without ceasing. You get more control because there is little overspray and waste when using it. The gun is adjustable and has a stainless nozzle and steel needle. However, what most people have a problem with is the fact that the nose of this particular spray gun is very tight which is technically a serious turnoff. It is very troublesome especially after cleaning it when you decide to dismantle it, the reassembling bit is hard and takes a lot of your time.
Pros
Lightweight.
Corrosion resistant material.
Cons
Manual is a bit clumsy.
Low volumes.
Functionality is limited.
---
5.

 Speedway 50188 LVLP-Spray-Gun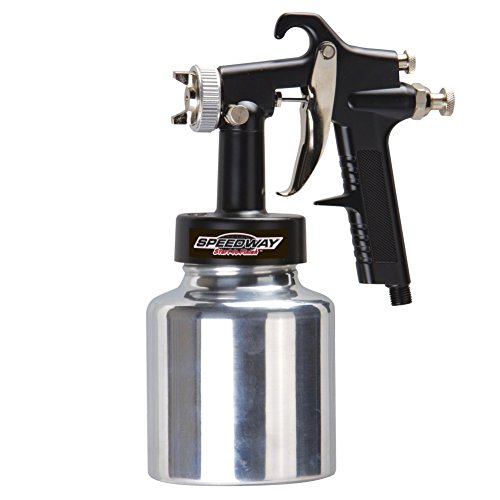 It is designed for both interior and external home use, and the gun has low pressure and low volume. The low weight and low volume material transfer essentially are supposed to allow the paint used to spread evenly on any project, but that has not always been the case with this spray gun. The cleanup process for this particular gun is very time consuming and most this is hectic for the user. The pickup tube sadly also just faces forward and if one wants to spray ceilings, it can't be rotated to face backward. If you are not experienced using gun sprays, this machine can be complicated especially if you want to have an even spray coat. The spray gun is overrated, and it is a gun that not many people who have had experience with it would recommend.
Cons
Clumsy
No rotation
Not easy to clean
Pain is not evenly spread.
---
Buyer's Guide – Choosing the Best LVLP Paint Gun
Getting the right LVLP is important especially if you want some tasks done in a particularly desired way. You need to do due diligence and research before you decide to purchase an LCLP as sometimes they can be disappointing.  You also need to know that most of the guns in the market are based on a similar design, and so it can be hectic to find a model that works best for you. Some of the factors you need to keenly consider include the following;
1.

The maintenance requirement
In as much as the spray guns are great and everyone wants to use them, they could sometimes be tough to maintain and end up being costly in the long run.  You must take extra care when choosing the model so that you get one that is very easy to maintain and use too. The spray guns always need to be correctly cleaned regularly as failure to do that will make the total lifespan of the gun reduce tremendously.
There are some guns that prove to be difficult to regularly clean them and that is because they have a complicated process. Spray guns are subject to wear and tear and they accumulate everyday meaning that after some time they lead to serious damage eventually. When you maintain it regularly, the wear and tear will be minimal and this will ultimately increase the lifespan of your gadget.
2.

Type of material used
When you are settling on the spray gun to use, the material will matter a lot. You want to go for material that is very durable and light for ease of use. A great material can also guarantee you that it will not bother you during uninterrupted usage. The most recommended guns are the ones made from aluminum because they are believed to be the best for both professional users and amateurs. Buying guns made of aluminum is a great investment as they are not only durable but they are very lightweight.
3.

Total Weight
Needless to say, heavy guns are very cumbersome and you will definitely run out of patience with them after a while. This is why you need to definitely go for something very light to work with. Do not go for a structure that is clunky and heavy because it has a glorious look. The spray gun you go for should be made of light material that is at the same time robust like aluminum. This will make you not get tired easily even after a prolonged amount of time using it and you will barely need any break whatsoever. The mode of use definitely should not give you any problems irrespective of the time you wish to spend.
4.

User-friendly working
This is especially very important if you are a beginner user. You need to go for a spray gun that is very user-friendly because some guns have a complicated operation mode and hence will prove very hard to use. It is important to note that many guns models are designed for people who have no experience with them at all so it's wise for a beginner to buy those. It beats logic to keep seeking for assistance from a professional every time for the basic functioning of the gun every time so just go for the simple one.
5.

Reviews
Information is power and it will make you avoid learning the hard way and spending money on a product that is not worth it ultimately. There are tons of websites that have genuine and useful reviews of the latest LVLP spray guns on the market and they give a very detailed review for the same. Just by reading them, you easily get to know what to expect of the products in terms of either the pros or the cons so that you can ultimately make the best decision.
It is very easy to ignore or not notice some significant factors of the spray gun if you have not used it before. People who have used a product before are better placed to review it and give genuine feedback which is why it is advisable to read all the reviews online before settling on any spray gun.
6.

Estimated output
The total output for spray guns is measured in Pounds per Square Inch (PSI). In most cases, the PSI is usually low, and this is the case for almost all popular models. With the recent introduction, however, the range varies from low to medium-high. The variation is significant because it makes the gun useful for different applications.
---
Conclusion
Recently, LVLP spray guns have rapidly become indispensable items in all household and professional toolkits. Ultimately, what you decide to buy will depend on the projects you are undertaking and your preferences in spray guns. The winner of the best LVLP spray guns is hands down Astro EVOT14. It did well in all our tests and all the other spray guns trail it by a mile.  You will also need a budget-friendly spray gun that will last you a long time and one that is very user-friendly so that you are not spending most of your time trying to figure out how to work it out. In these reviews of LVLP spray guns, the SPRAYIT SP-31000 emerged as the best option for the money in case you are looking for a budget-friendly option.