6 Best Magnetic Drill Presses of 2023 – Reviews & Buyer's Guide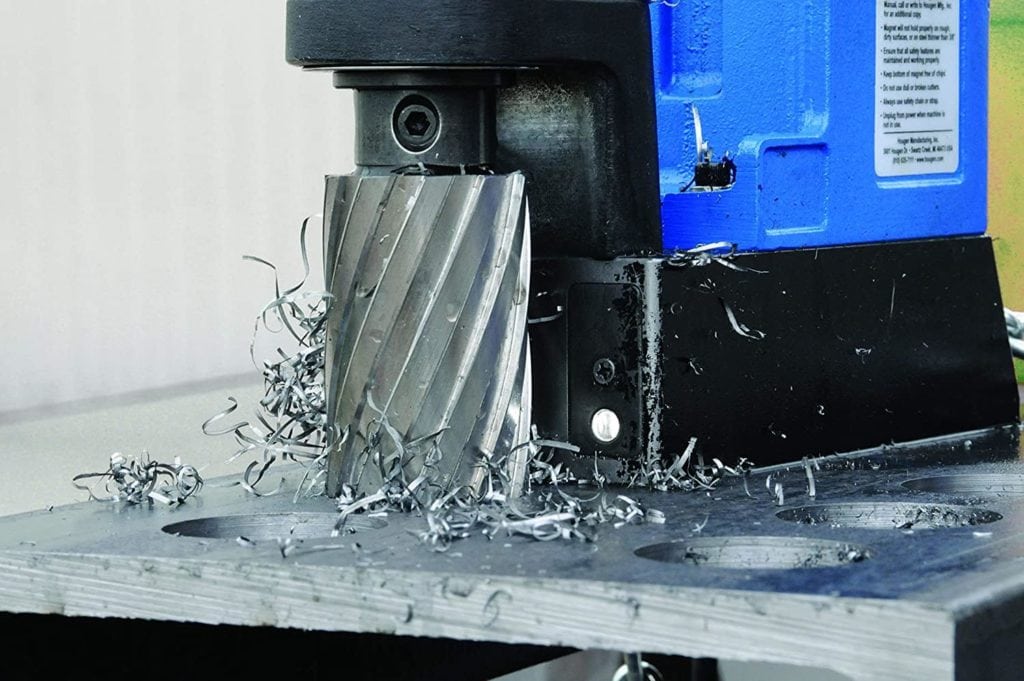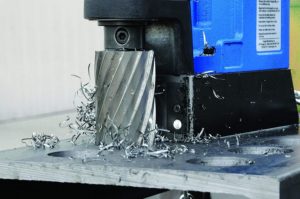 The process of choosing the best magnetic drill press for your budget and your needs can be a pain-staking task. You read all the reviews and analyze all the data of each of the tools, read reviews and yet, you are still left wondering which one will meet your needs. Don't take your search lightly, finding the right magnetic drill press can make all the difference when getting your projects done efficiently and effectively.
We have taken some of the guesswork out of the equation by sorting through the data for you to help make your choice with confidence. We have gathered accurate specs and taken note of all user-friendly features and gathered first-hand knowledge from some of the users themselves. We have done the work for you. Read on, to gain valuable information on six of the top magnetic drill presses and by the end of the article, you will be able to make an intelligent decision on a press that you will be happy with for years to come.
---
A Quick Look at Our Favorites (updated in 2023)
Rating
Image
Product
Details

Best Overall

DEWALT DWE1622K Drill Press

Heavy duty
Overload protection
Self-feed cooling tank
CHECK PRICE

Best Value

RIKON 30-120 13-Inch Drill Press

Exceptionally durable
Powerful motor
Versatile
CHECK PRICE

Premium Choice

Hougen HMD904 115-Volt Magnetic Drill

Two-stage magnet
Slot drive
High quality
CHECK PRICE

Evolution Power Tools EVOMAG28 Magnetic Drill

Heavy duty
Deep drilling capacity
Right or left handle lever
CHECK PRICE

Mophorn 1200W Magnetic Drill Press

Heavy-duty motor
Easy to operate
Rigid adjustable guide
CHECK PRICE
The 6 Best Magnetic Drill Presses
1.

DEWALT DWE1622K Drill Press – Best Overall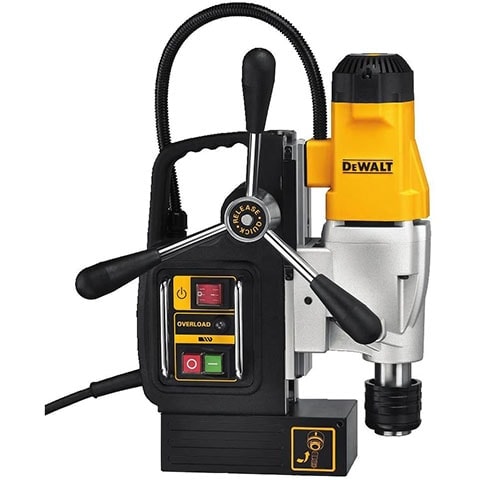 There is no denying that the DeWalt DWE1622K drill press is our choice for the best overall magnetic drill press. Dewalt magnetic drills are known as the best and this one is loaded with features that make using it, not only enjoyable but simple. It's a tool-free, quick-change chuck system that allows you to use a ½-inch keyed chuck for one project and seamlessly switch to a Weldon ¾-inch shank for the next project.
The 10-amp motor has two speeds and a 2-inch drilling capacity to accommodate a variety of applications. To control the inflow of the cooling fluid you have an external self-feeding cooling tank. It can be placed on either side of your press, or a suitable surface near your press to make your machine easier to manipulate and work with.
Additionally, the DeWalt press has a quick release feeding handle that can also be used on either side of the press. This too is a tool-free change. Lastly, the drill is made with longevity and durability in mind because it has overload protection built in to protect the motor from excess current. All these features make it suitable for both the DIYer and the professional.
Pros
Two-speed motor
Adjustable drill shaft
Heavy duty
Overload protection
Self-feed cooling tank
Motor height adjustment
Cons
Chuck has some play
Moderately priced
---
2.

RIKON 30-120 13-Inch Drill Press – Best Value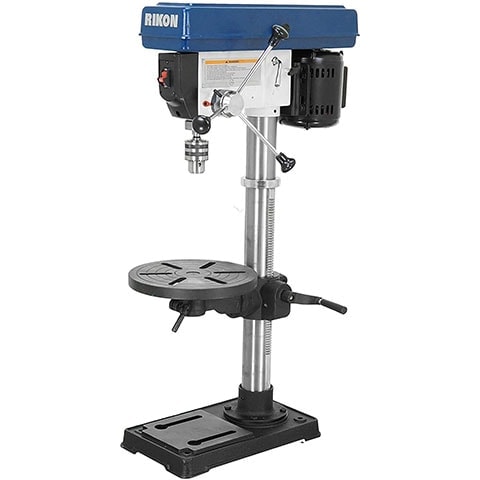 If you are looking for a straightforward, durable magnetic drill press, then the Rikon 30 may be your tool. It has a ½ horsepower motor and offers 16 spindle speeds for a variety of drilling needs and materials. Right out of the box you will notice its high quality. Solid steel and cast iron make it durable and long-lasting for the person requiring heavy-duty use.
A key feature of the Rikon is the depth stop feature that makes repeated drilling of the same depth a breeze. The table tilts 45 degrees and rotates 360 degrees for added versatility. You will adjust your height by using the rack and pinion height adjustment.
One minor drawback may be the handwheel.  It has been noted to not be long enough to create the proper leverage when tightening or loosening. Overall, this is the best magnetic drill press for the money and we chose it as our best value buy for its simplistic design and ease of use for the largest variety of users.
Pros
Simple to use
Exceptionally durable
Powerful motor
Versatile
Cons
Poorly designed feeding wheel
Valued priced
---
3.

Hougen 115-Volt Magnetic Drill – Premium Choice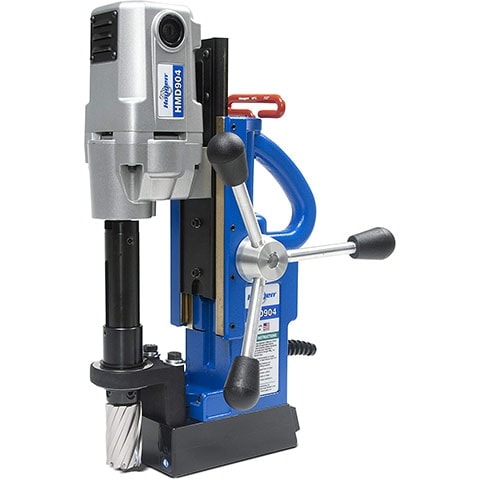 Looking for a lightweight but powerful magnetic drill press? Do you need a versatile drill that you can use either horizontally or overhead? Do you desire added magnet strength? Look no further than the Hougen HDM904. It has all the features you will need to make fabrication quality holes.
With the new LED light that is built into the base, it is easier for you to line up the pilot hole center. You're able to drill 7/16-inch to 1½-inch diameter holes at a depth of up to 2 inches and with the added strength of the two-stage magnet (additional 30% power increase with the motor on), your holes will be drilled easily and look professional.
Additional accessories are available for this press including, countersink bits, tapping bits, drill chucks, and other items. Changing out your accessories is easy because of the slot drive arbor, making transitioning from one type of project to another quickly.
This drill is designed with the professional in mind, but it can be used by anyone who wants to have precision holes. You will pay for this quality tool but in return, you will enjoy efficiency and reliability.
Pros
Pilot light
Two-stage magnet
Slot drive
High quality
Cons
One speed setting
Higher priced
---
4.

Evolution Power Tools Magnetic Drill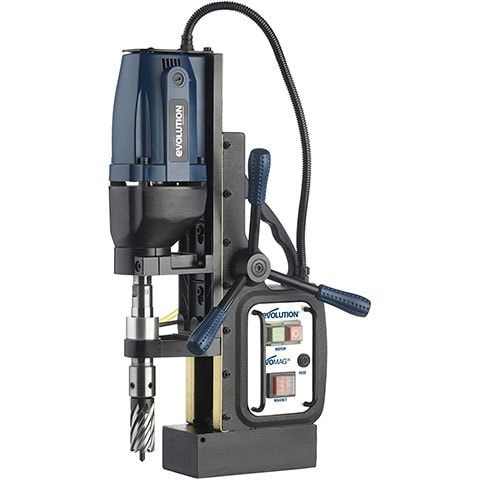 If you're in the market for a magnetic drill press that is suitable for light to medium duty drilling jobs then the EVOMAG 28 may be your tool. The EVO can reach a maximum of 570 RPM and is suitable for drilling through thick steel beams. However, it is not a tool that is made for heavy use, such as repetitive drilling on construction sites.
There are a few things to keep in mind when considering purchasing this press. The first is that the built-in cooling reservoir does not work well when the drill is in the upside-down position. You will need to apply coolant to your drilling surface manually. The second thing to keep in mind is that the press includes an additional strap to help keep the magnetic base in contact with the item being drilled. This may be an inconvenience when trying to drill certain projects.
The drilling diameter is 7/16 to 1⅛ inches and the maximum drilling depth is 6 inches. However, you will need to purchase a longer bit because the drill only comes with a 2-inch bit. For convenience, you can attach the handle lever to either side of the drill.
The EVO is considered an entry-level magnetic drill press. It does the job for the DIYer, but for the professional, you may be limited in the steel beams you can drill.
Pros
Heavy duty
Deep drilling capacity
Right or left handle lever
Economically priced
Cons
One speed
Entry-level drill
---
5.

Mophorn 1200W Magnetic Drill Press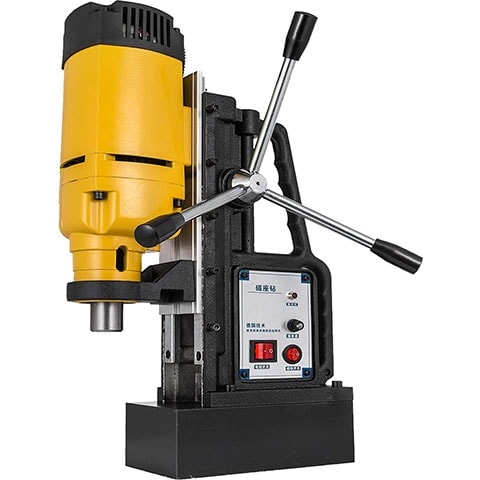 In our review of the Mophron 1200W magnetic drill press, we found this highly productive magnetic drill press to be light on price but easy to use and well made. You will enjoy having the 2920 pounds of magnetic force for added security and effectiveness. A switch lets you control the magnet that engages and disengages the magnet and the drill.
Many reviews note that the aluminum guide rail adds strength and stability to the unit and allows you to adjust the height to suit a variety of projects. The Mophron has a drilling diameter of 1.5 to 23 mm, (approximately 1 inch), and its drilling depth is 210 mm (approximately 8 inches deep). The diameter is less than the previous models we reviewed and may limit the projects you undertake.
The 1200W motor is one of the strongest in the industry. It can reach speeds of up to 50 Hz at 500 RPM; strong enough for any hard or rigid material. This is what also makes it a good magnetic drill press for machine shops and general steel fabrications
Pros
Value priced
Heavy-duty motor
Easy to operate
Rigid adjustable guide
Cons
Not as durable as other models
Lacks versatility
---
6.

Champion Cutting Tool Portable Magnetic Drill Press
The Champion AC35 is another workhorse to consider. Like the Mophron, it packs a lot of power with its 1200W motor and 600-pound no-load speed. Couple that with its 2-inch cutting depth and its proficiency at cutting holes up to 1⅜-inch diameter and you have the right tool for all of your fabrication needs. You can use the quick release arbor to make changing the carbide-tipped cutter simple and easy.
This magnetic drill press is not recommended for the DIYer for a few reasons. Lighter jobs are not its strong suit, and it's quite bulky to move around. It is, however, a good product for those in the steel industry and knows their way around a drill press. Since it is a bit lighter in weight, it can be drugged up a ladder to be used in those harder to get to places.
It has a 2200-pound magnetic base, which makes it one of the stronger magnetic drill presses and there is a safety chain included for those "just in case" moments.
Pros
Lightweight and sturdy
Quick-release arbor
1200W motor
Carbide tipped annular cutter
Cons
Not particularly for the DIYer
Not suited for smaller jobs
---
Buyer's Guide – Choosing the Best Magnetic Drill Press
Over the last several minutes that you have been reading, we know you have become more of an expert on these top-rated magnetic drill presses. Your expertise now takes you to the all-important question, which one? Let's take a closer look at the options and narrow down the model that is right for you.
Power Source
Power output and RPM will have a direct effect on the materials you'll be able to drill through and the size of the holes. When you are drilling small holes in thinner materials you don't require the same power as drilling larger holes in thinker materials. You may need to use a hole saw over a standard bit; thus, you will need more power.
You may like the idea of more power; most tend to go bigger when given the chance. However, there may be a trade-off when considering motor output. If you are consistently going to be drilling larger holes in thicker materials you surely will need a more heavy-duty motor, but using that same motor for smaller projects may not be necessary.
Additionally, you may be using your drill press daily, whereas the DIYer may only use it as needed. If you are the latter, you may be able to give up a bit of power.
Tip: Find a happy medium, if you sacrifice a little power you may save yourself some money.
Table Size
You may be asking why the table matters. Well, the table can make it easier for you by allowing you to drill in various materials and at various angles. Having a table that swivels 360 degrees creates more distance under the chuck which allows you to drill thicker materials.
The actual size of the table is important too. The saying, "bigger is better" is certainly true in the case of the table for the magnetic drill press. A larger table lets you drill larger materials and to secure materials more easily when needed.
Adjustments
We all like to use tools that are easy to use. That means we can make the necessary adjustments to quickly and easily as we move from project to project.  If we are drilling the same material with the same bit routinely, we will be making minor adjustments. If drilling a variety of materials at a variety of depths and sizes, then the convenience of easy adjustments may be high on your priority list.
Here are a few things to keep in mind when looking at adjusting the drill press.
Can you lower, raise, and tilt your table accurately?
Can your depth stop be configured easily?
Do you need a chuck key to tighten or loosen the chuck? Is it keyless?
Are you able to adjust the speed? How is it done?
How do you square the table to the item being drilled?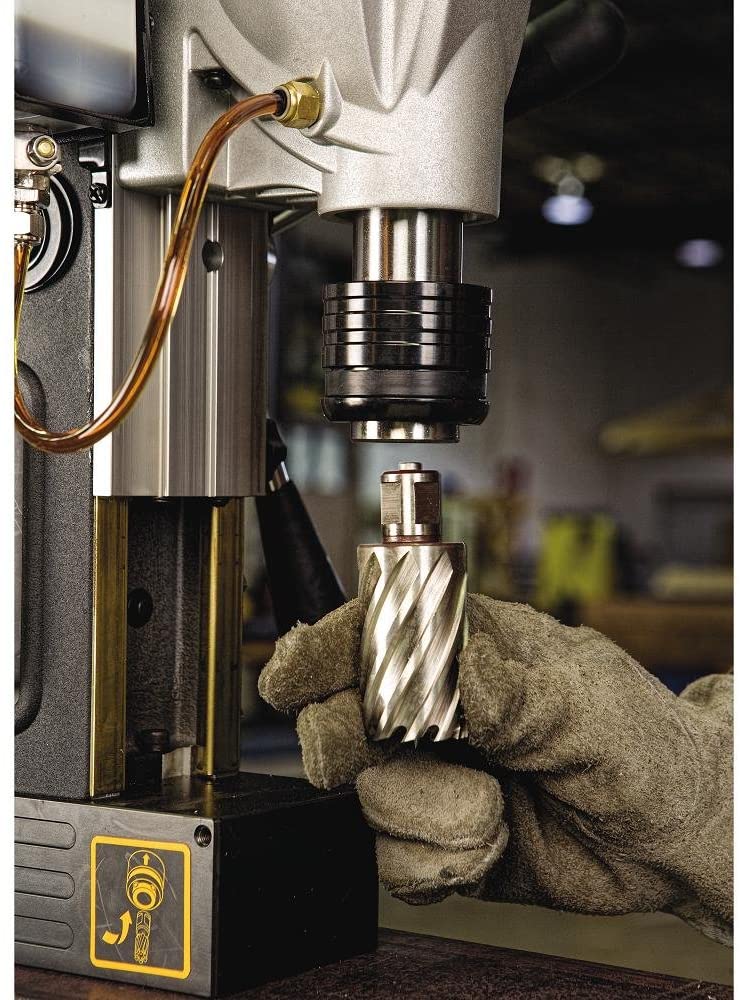 Stroke
The stroke is the distance that the chuck and drill bit can move up and down as the feed handle is turned. Stroke distance becomes important if you are considering a specific material thickness, or if you like the versatility of being able to drill a variety of thicknesses.
From our reviews, the stroke distance can vary greatly between drill press models. A good rule of thumb to remember is that the smaller the stroke distance the less versatility you have. A longer stroke distance lets you work with longer bits and thicker materials.
Tip: A 3-inch to 4-inch stroke distance is generally recommended.
Safety and Comfort
Another consideration when choosing your magnetic drill press is its size, weight, and safety features. If you will be lugging your drill press up a ladder and trying to manipulate it into place, then certainly consider weight as a factor in your choice.
The size of the drill press may play a role when you are considering where you will locate your press. If you have limited space, or you will need to be moving your press often, the size and weight become important.  If you are mounting your press permanently, weight may not be an issue, but the dimensions may.

Conclusion
By now you should have enough information to make a practical and wise decision on the right press for you. We have reviewed six of the top magnetic drill presses. Our goal was to take the guesswork out of your purchasing decision by pointing out at key features of the models and reviews.
Our choice for the best overall magnetic drill press is the Dewalt DWE1622K drill press. It is a high-quality product designed for professionals, but user friendly for the DIYer. With a two-speed motor and the ability to adjust the drill shaft, you will be ready for any project.
If it's the value that you want, we are pleased to name the Rikon 30-120 13-inch drill press as our best value drill press. It is user friendly, has a powerful motor, and is very durable. It's a clear favorite for the person who wants some of the great features for less cost.
Lastly, our premium pick is the Hougen HMD904 115-Volt Magnetic Drill press. It is lightweight, versatile, and has an exceptionally strong magnet. It also has an LED light in the base for precision drilling. You may pay a little more, but you are getting a high-quality drill press that will give you years of precision drilling.
Of course, there are many magnetic drill presses out there. We hope we have made your decision on which magnetic drill press to purchase a little easier.
More drill press posts: