9 Best Mailbox Designs & Ideas in 2023 (With Pictures)
Most people don't give enough thought to their mailboxes. Mailboxes don't have to just be a drab box for your mail. With the right supplies and ideas, they can be transformed into a welcoming part of your front yard. While getting a whole new mailbox might not be in the budget, there's no reason at least one of our creative mailbox ideas won't resonate with you. Scroll down to get a better idea of how you can beautify your mailbox and get started on your own plans today!

Top 9 Mailbox Designs & Ideas
1.

Grow Some Greenery
By simply planting some beautiful flower bushes around your mailbox, you can change it from a box on a stick to a whimsical cottage-core-esque vessel for correspondence. Marigolds, hydrangeas, and geraniums are a few good options, but well-trimmed boxwood shrubs work well for accenting mailboxes too.
If you're feeling frisky, you can install planters directly on the mailbox itself. Don't stop there, though! Add some evergreen or mistletoe wreaths around it to add some holiday cheer in the winter, or you can go the lazy route and simply plant ivy or another climbing plant at the base of the mailbox.
---
2.

Personalize It
The best ideas for mailboxes involve adding a personal touch to the box itself. It costs next to nothing to buy some monogrammed stickers to spell your surname on the side of your mailbox, and that's just the beginning. Paint the mailbox with your favorite colors, patterns, or paint a little landscape on the side to make the mailman's day a little brighter. Stencils are excellent for this type of decoration, too, particularly if you're not looking to make your mailbox a Bob Ross painting.
---
3.

Create a Matching Front Yard
Just slapping on a fresh coat of paint on your mailbox when it's looking a little dull can revitalize your whole front yard. What color to choose, you might ask? Just look at your own front door and windows. Matching your mailbox to your door's color is a small but clever accent that can make it look like your front yard's appearance is more planned out than it really is. Consider matching other stuff with the same shade too, such as small wooden gates, garden arches, or trellises.
---
4.

Install a Mail Slot
Tired of the same old mailbox year after year? Ditch it and install a mail slot in your front door, if viable for where you live. Mail slots are a more convenient and secure way to receive your mail while adding some unique character to your front door. If usable outdoor space is at a premium, even better! Use that space for planting, open it up, or install a fence around the perimeter of your home.
---
5.

Replace With a Barrel or Craft
If you hate your plain metal mailbox, you could always replace it with something a little more ornate. Hanging up a small barrel like those used in brewing with a small mail flag on the side can make you feel like you're running a tavern or getting your mail from Middle-earth. However, the idea applies to nearly any small vessel, and DIY experts can surely come up with a plethora of alternative mailbox shapes that allow you to express your creativity to the world.
---
6.

Put in a Mailbox Pillar
Rickety old mailboxes on flimsy wood posts don't make the best first impression when someone visits your home, so consider changing that by putting in a solid mailbox pillar. Pillar or column styles vary from a thin, narrow pillar or a more solid block of brick or concrete. If you're on a budget, stucco is a more affordable option that still looks great. As you can imagine, the mailbox size itself can vary too, from a standard mailbox to a larger size if the supporting structure is large enough.
---
7.

Build a Replica of Your House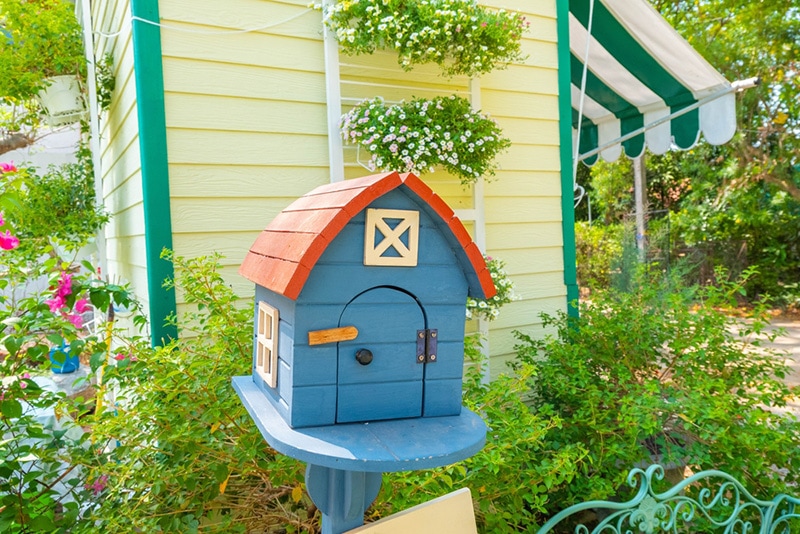 This one won't work if you're an apartment dweller, but folks in houses can put together a small lookalike of your home to double as a mailbox. Maybe it's a little redundant, but we can't help but love the charming idea of a little house mailbox. Crafty DIYers will have little trouble cobbling together a mini house, and you can even paint it a different color or add stenciled designs to add a creative touch. Alternatively, you could pay a crafty friend to build one for you.
---
8.

Mount It on a Wall
This one is further down because it's a lot more involved and expensive, plus it assumes you have a solid wall. But if you do, you can carve out a space to install a secure mailbox of any style you'd like. A black mailbox would do great against a neutral white or gray wall, but you could certainly mix and match your colors to fit any color schemes you have in mind too.
---
9.

Encase Your Mailbox in Brick
If you don't want to deal with the hassle of tearing down your old mailbox or really even putting in a new one, just adding some bricks can do the trick quite nicely. If you have some bricklaying experience this is a breeze, but it's a fairly small job that you can outsource to a contractor or even just a crafty friend. You can go as bare as you'd like to save on costs or build a more complex mailbox brick structure if you want to splurge.
Conclusion
Mailboxes can be as plain or elaborate as you want, depending on your budget and how much time you want to spend on revisioning it. You can just slap on some monogrammed stickers, or you can go as far as replacing the whole mailbox to fit your home—it's up to you.
---
Featured Image Credit: MemoryMan, Shutterstock