10 Best Mechanics Tool Sets for the Money in 2023 – Reviews & Guide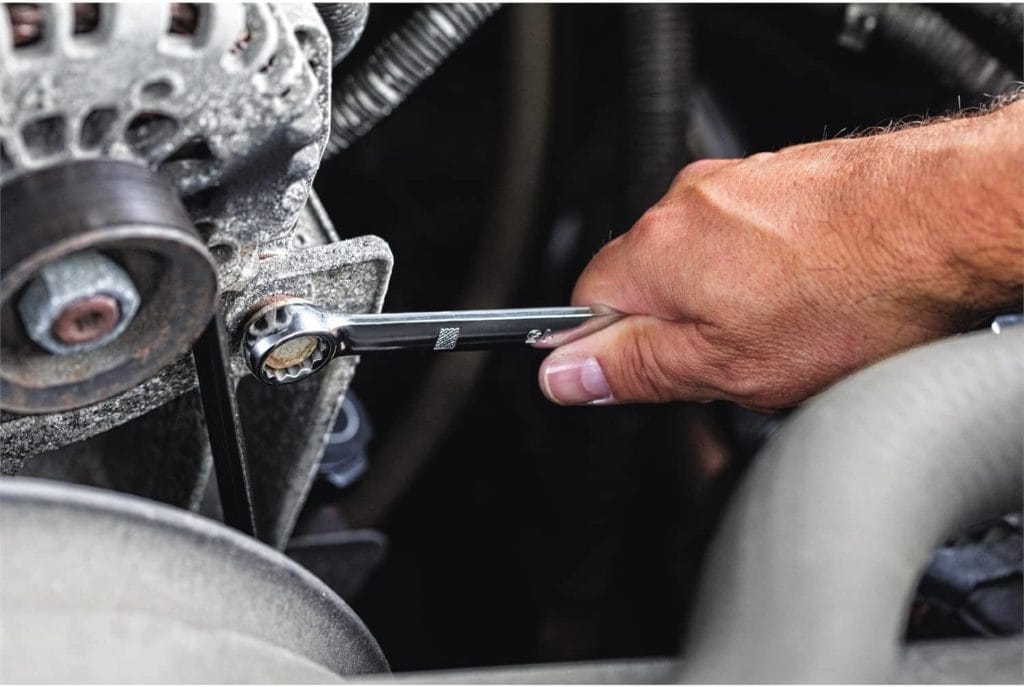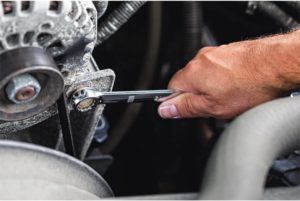 From amateurs tinkering in their garage to master mechanics, anyone who turns a wrench knows that the only way to do a job right and efficiently is with the best tools.
The hang-up for most amateur mechanics and hobbyists is the cost. A high-quality set of tools can cost upwards of $10,000. That is a pretty heavy sticker price for people who like to do their own oil change or swap a tire. Typically, the best sets are reserved for mechanics that use them for their profession.
We will show you 10 fantastic mechanic sets from plenty of the best brands in these reviews, but what you won't see is a huge price tag. All of these sets are reasonably extensive, with everything the weekend wrench jockey might need for the tune-up they have been putting off.
---
A Quick Comparison of Our Favorites in 2023
Rating
Image
Product
Details

Best Overall

DEWALT DWMT81534 Mechanics Tool Set

Comprehensive
Lifetime warranty
Hard case
CHECK PRICE

Best Value

AmazonBasics AMZ1701 Mechanics Socket Set

145 pieces
Corrosion-resistant
Durable
CHECK PRICE

Craftsman 50230 Mechanics Tool Set

230 pieces
Stainless steel
Lifetime warranty
CHECK PRICE

Stanley STMT71648 Socket Set

Max-Drive design
15% more torque
High-alloy steel
CHECK PRICE

Crescent CTK84CMPN Mechanics Tool Set

Great carrying case
Exceeds ANSI and ASME specifications
60-tooth ratchet
CHECK PRICE
The 10 Best Mechanics Tool Sets
1.

DEWALT DWMT81534 Mechanics Tool Set – Best Overall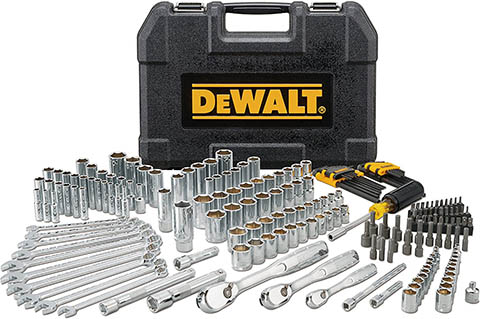 For the mechanic that wants to get their work off on the right foot, the DEWALT DWMT81534 is a terrific way to do it. This set is full of everything a person might need for essential auto work and suitable for literally any job in the home. It defines versatility in a tool set.
Inside the hard plastic carrying case with the trademark yellow and black logo is 205 pieces that are sure to get some use. Metric and standard sockets, 3 ratchets of varying sizes, plenty of combination wrenches, Allen keys, and extensions galore. And let's not forget the screwdriver bits for every need.
There have, however, been a couple of complaints. First, the case seems to be a problem. If you open the case while upright, the tools tend to fall out. And some users found that the tools themselves began to rust, which might be a shoddy chroming job at the manufacturer. Overall, this is the best mechanic tool set we have reviewed this year.
Pros
Trusted brand
205 pieces
Comprehensive
Lifetime warranty
Hard case
Cons
The case doesn't hold tools securely
---
2.

AmazonBasics AMZ1701 Mechanics Socket Set – Best Value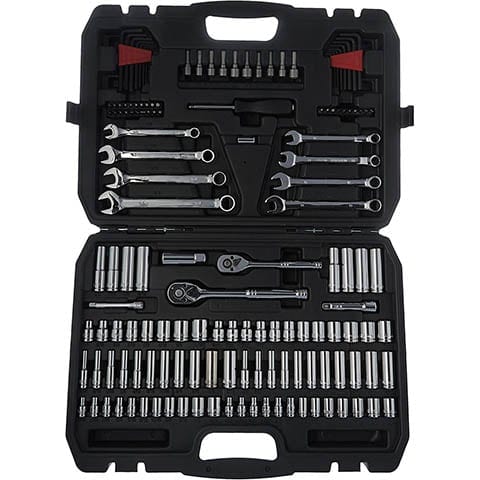 For a lovely, comprehensive tool set that won't hurt your wallet, Amazon has your back. The AmazonBasics AMZ1071 is the mechanics set for the newbie who is just getting their feet wet in the wonderful world of auto maintenance. But even though they are inexpensive, they aren't cheaply made. These tools are ready to get their hands dirty.
They are made of chrome vanadium to give them the strength, durability, and torque you need for those tight bolts, and they are fully polished chrome for corrosion-resistance. And every ratchet is high-quality and has a quick release and reversible mechanism for ease of use and efficiency. It's easily one of the best mechanics tool sets for the money.
The extensions are a cause for concern. They do not fit well into the sockets. And the tools don't fit very well into the included carrying case. Both of these issues can be the cause of a fair bit of frustration. Be careful opening the case for the first time and make sure the tools are well secured when closing it. Despite this, we believe this is the best mechanic tool set for the money this year.
Pros
145 pieces
Corrosion-resistant
Durable
Inexpensive
Cons
Cheap case
Loose connections
---
3.

Craftsman 50230 Mechanics Tool Set
From the brand you know for its quality and lifetime warranty, we give you a mechanic's tool set that embodies the Craftsman legacy. The Craftsman 50230 is a tremendous collection of tools for every automotive maintenance need. The 230-piece set fits in a perfectly-formed hard case and is made of high-quality stainless steel, giving them the look and style that says quality.
With ratchets, extensions, and plenty of Allen keys for all needs in standard and metric, this kit has it all. Anyone who has had the experience of working with Craftsman tools can vouch that they are always the pack leader in everything from lawnmowers to cordless drills. Adding this comprehensive set to your tool collection is a wise investment.
While the tools hold up fine, the case gave some users issues. The only problem regarding the tools that any user has complained about is that, since Craftsman moved their assembly operation to China, there seems to have been a dip in quality. For lovers of the Craftsman family of products, this is an apparent cause for concern.
Pros
Legacy of excellence
230 pieces
Stainless steel
Lifetime warranty
Cons
Bad carrying case
Manufacturing issues
---
4.

Stanley STMT71648 Socket Set
Since Stanley merged with Black and Decker, they have only gotten better. The Stanley STMT71648 Socket Set is small but efficient and has what you need and none of what you don't.
They have included their Max-Drive design into the included ratchet, offering 15% more torque, and all of the sockets meet ANSI standards for sockets and ratchets. Plus, every piece in this set is made of heat-treated, high-alloy steel, giving it superior durability and performance.
Again, the case poses a problem. It has the proper molds for the pieces but does not hold them in place. And the etching on the sockets to indicate the sizes is very shallow and rubs off over time. There have been some manufacturing issues with some of the pieces as well, which have caused them to break almost immediately.
Pros
Max-Drive design
15% more torque
High-alloy steel
Cons
Poorly-madecase
Shallow size etchings
---
5.

Crescent CTK84CMPN Mechanics Tool Set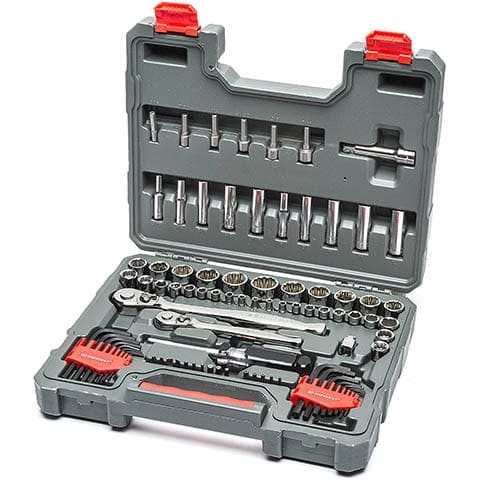 Since the case seems to be a problem with many of these sets, let us start by saying that the Crescent CTK84CMPN features a blow mold case that secures all the included tools nicely. It even has metal hinges that won't weaken over time and the two latches keep everything nice and tight.
Every piece in this set exceeds the most updated ANSI and ASME specifications, and they come with a full guarantee. You are sure to find the appropriate metric or standard sizes of socket or Allen key in this set. And to sweeten the deal, the ratchet is a 60-tooth design with only 6 degrees of swing.
On the downside, There have been some problems with sets arriving that are already starting to rust and some locking clips that are cheaply made and easily broken.
Pros
Great carrying case
Exceeds ANSI and ASME specifications
60-tooth ratchet
Cons
Cheap locking clips
No rust prevention
---
6.

GEARWRENCH 80550P Mechanics Tool Set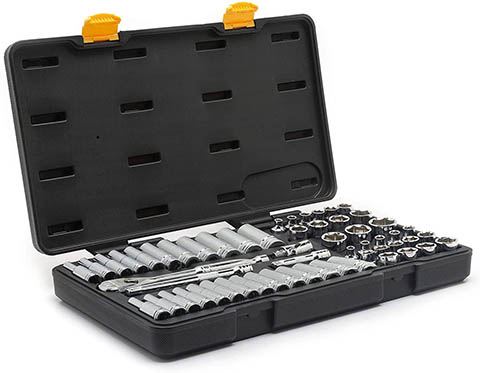 The biggest problem with most ratchets is the degree of swing for the teeth to grab. GEARWRENCH has solved that problem. The GEARWRENCH 80550P ratchet has a 3-degree swing arc, making it easier to use in tighter spaces. And they are equipped with 120 tooth pawls to ensure easy grabbing.
The sockets have an off-corner load design, which reduces rounding of fasteners, and the extensions included have a knurled grip, giving the user a non-slip surface. Every piece is coated in bright polished chrome for easy cleaning and is corrosion resistant. And the markings for measurements are hard stamped.
Again, the case is the problem here. This one has no lock-in mechanism for the tools within, so they roll around without any restraints. And some users reported that some of the pieces were missing when the tool set arrived. Also, the kit advertises deep sockets, but we found they aren't true deep sockets.
Pros
3° swing arc
120 tooth pawls
Corrosion-resistant
Cons
Bad case
Missing pieces
Shallow sockets
---
7.

WORKPRO W009044A Mechanics Tool Set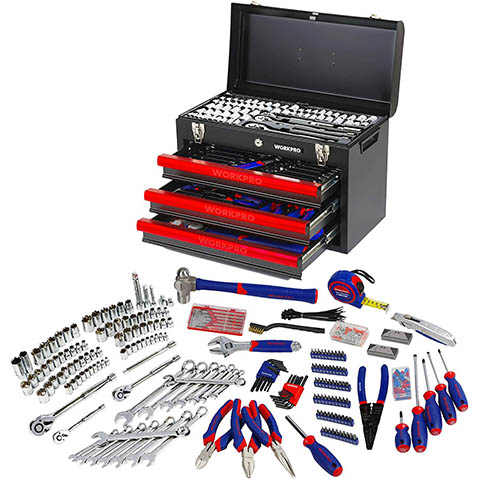 With high-quality, chrome vanadium-forged tools and a professional-grade toolbox, the WORKPRO W009044A is ready to get to work. This set includes 408 pieces in total, standard and metric, and so much more than many standard kits. And they are corrosion protected and meet all international standards.
All of the tools fit in a very convenient storage section of the box specifically molded just for that tool, with the top open to ratchets and sockets and 3 drawers for everything else. And it is made of sturdy aluminum, so the weight is not going to be a problem. Add the lifetime manufacturer guarantee, and you have yourself an excellent set.
Lots of users mentioned delivery issues and dented boxes. There have been a few manufacturing defects with the lid hinges and locks. And occasionally, there were missing pieces in the shipment.
Pros
Solid toolbox
408 pieces
Lifetime guarantee
Cons
Delivery damage
Manufacturing defects
Missing pieces
---
8.

Kobalt 81239 Mechanic's Tool Set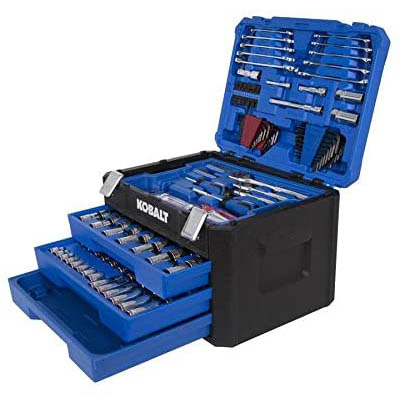 For those who like to work smarter, not harder, and always think ahead, the good people at Kobalt have a tool set for you. The Kobalt 81239 has one thing no one else has: an empty drawer. Why is this a good thing? Because it gives you space in your box to add your favorite tools.
But we don't think you will need anything more than the 227 pieces in this impressive kit. With 6- and 12-point sockets, 3 ratchets, 4 extensions, and a whole lot more, it is clear this is the tool kit for just about any job. All of the kit items, except the Allen keys and bits, are polished, very strong, and durable.
The drawers on the box don't have stopping mechanisms, so everything falls out if you pull too hard. And the box itself is cheaply made, despite looking very professional. And there are limited reports of tools breaking under intense strain, but they are few and far between.
Pros
227 pieces
Strong, durable tools
Cons
Cheap box
Design flaws
Manufacturing defects
---
9.

Powerbuilt 642450 Mechanics Tool Set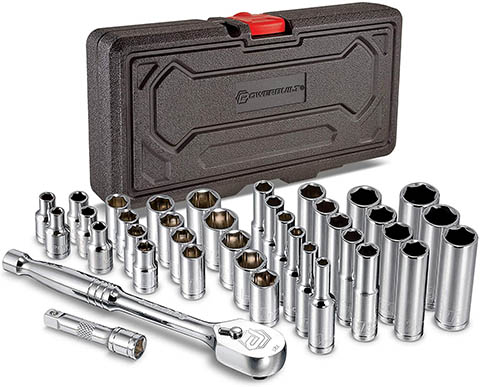 A simple set that covers all the bases for your ratchet needs, the Powerbuilt 642450 comes with 38 pieces, including all standard and metric sockets. The ratchet extension is designed with a gnarled grip for limited slipping, and the ratchet, extension, and sockets are all chrome vanadium.
Both socket series have deep and shallow sockets, with jumbo side markings for ease of location and efficient use. And everything meets or exceeds ANSI standards of quality and safety. Coupled with a hardened plastic carry case, and this is a useful little set.
The set cannot be considered a proper mechanic set because the sockets' measurements only go up to ½ inches for standard and 12 mm for metric. There are many bolts on a car that exceeds this. It only comes with 1 wrench, and the extension is very short. Plus, there is no warranty to speak of.
Pros
Shallow and deep sockets
Jumbo side markings
Cons
Small set
Limited tools within
No warranty advertised
---
10.

Custom Accessories 83947 Automotive Mechanic's Tool Set
The Custom Accessories 83947 is an amateur mechanic's dream. It has 142 pieces of heat-treated excellence, tested rigorously for strength and durability. It features standard and metric sizes, and all fit nicely into the included durable carry case. Keep your tools in order and not in a pile that you might see from most plastic cases.
The kit weighs just north of 17 pounds and holds to the legacy that the company's founder began with when he first started his company — economy and quality.
Some of the users find that the money spent isn't in balance with the tool quantity received. They figure for how much it costs, they should have gotten more tools. On the upside, the box is a winner. Although users do say it is tiny in comparison to what the picture shows. And again, no warranty information.
Cons
Very small
Too few tools for the price
No warranty info
---
Buyer's Guide – How to Purchase the Best Mechanic Tool Set
Regardless of whether you are a mechanic, having a comprehensive tool set benefits you in so many ways. The Allen keys can be used for building furniture, the bits are great for any screw that needs to be tightened or removed, and sockets are useful in more ways than many homeowners can comprehend.
But for the mechanic, knowing you have the right tool for the job is a positive thought. If you have ever pulled a caliper or swapped a water pump, you know that it is vital to have the exact tool for the job to get it done right and efficiently, and the proper set of mechanic tools does that for you while offering constant peace of mind.
Choosing Your Mechanic Tool Set
The right set for your automotive maintenance needs must have the appropriate components, and they must be high quality, strong, and capable of handling plenty of torque. If you don't have fire-hardened tools that are rust and corrosion resistant, the possibility of degradation leading to tool breakage and personal injury is very high.
A good set typically includes:
Ratchet
Sockets
Extensions
Wrenches
Allen keys
Screwdriver bits
More is better, and for some jobs, a simple set of deep sockets with a quality ratchet will work, but that list is minimal. These five item groups are paramount for a quality mechanic's set. The caveat to this is the level of the mechanic and the skill required for the work. And of course, the difficulty of the job.
Special tools are needed from time to time. For instance, replacing spring breaks on an older car is only done with the proper speed and skill with a brake spring plier tool. Can the job be done without it? Yes, but not efficiently. It is always better to have the right tool for the right job. On the upside, the jobs that require special tools are few and far between.
For the home mechanic, the basic tool groups will more than be sufficient. And the box they are stored in must be of high quality, usually steel or aluminum. There have been too many bad reports about plastic boxes failing. Stick with the original look and feel of metal with drawers.
Ratchets
When it comes to a ratchet's quality, what counts most is the degree of swing. Working inside a cramped engine space can be frustrating when you have too much of a swing between teeth grabs, so the degree is critical for your sanity and efficiency.
The other is the interior tooth quantity and the strength of the ratcheting gears. The teeth must be a high enough number to grab and strong enough to handle the extreme torque put on the tool. Combining the teeth and the swing are the best indicators of the ratchet's usefulness, especially in automotive maintenance.
One other variable that is good to have a handle on is, of course, the handle. If it is too long, it becomes cumbersome in the tight space. If too short, you can't apply enough force to loosen those rusted nuts. So, the length is critical to being worthwhile as a mechanic's tool. All of the sets in these reviews are roughly the same length.
Ratchets come in several measurements on the mechanism itself that attaches to the sockets. One-half inch, ¼ inch, and ⅜ inch are the most common. The smaller the socket, the more likely it will fit on a smaller ratchet head. However, most sets come with an expansion bit that allows a larger ratchet to use a smaller socket without issues.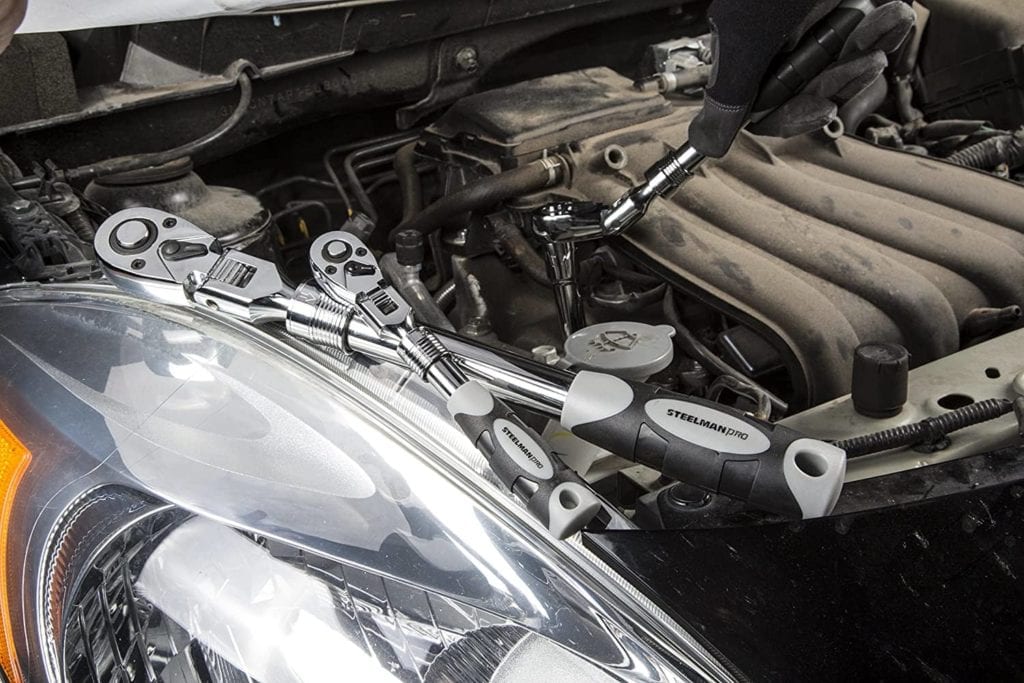 Sockets
The conversation is straightforward as it pertains to sockets: standard and metric. The end. Or is it? Sockets also have their own set of teeth for gripping bolts. Some socket designs are ingenious and use intricate tooth configurations to ensure the heads of these tight nuts and bolts aren't stripped.
And sockets come in two depths for additional versatility, and those are deep and shallow. Deep sockets are for long bolts that wrenches cannot reach. Shallow sockets are for the bolt side, often to hold it in place while torque is applied to a wrench on the nut.
Many mechanics set come with a myriad of socket sizes, each with a stamped size on the base for ease of locating. They correspond to a numbered spot within the toolbox.
Extensions
Standard extension sizes vary, but the most common are 3 inches, 5 inches, and 8 inches. Extensions are a godsend if you need to loosen a nut that is buried deep within the engine components. And extensions can be stacked, so if you need a 13-inch extension, adding the 5 inches and 8 inches together is a snap.
The best extensions have a knurled check pattern on the shaft. This allows the user to hold on to it when attaching it to the ratchet without slipping, even when it is wet. And there are extensions for every size of ratchet head.
Wrenches
Mechanics are often called "wrench jockeys" because that is what they use most. A good combination wrench can be helpful in many scenarios and is durable enough to be hit with a hammer or torqued to an almost breaking point without breaking it. They are fire-forged and tempered for maximum strength and durability.
Wrenches must also come in standard and metric sizes, and one will not work on the other. Trying to use a metric wrench on a standard bolt is a recipe for stripping the head and banging your knuckles. And they must be combination style, not only open, and not merely a box end. You need both to cover all the angles.
Sizes and lengths are a factor, and most mechanic sets have that pretty well understood in their selection.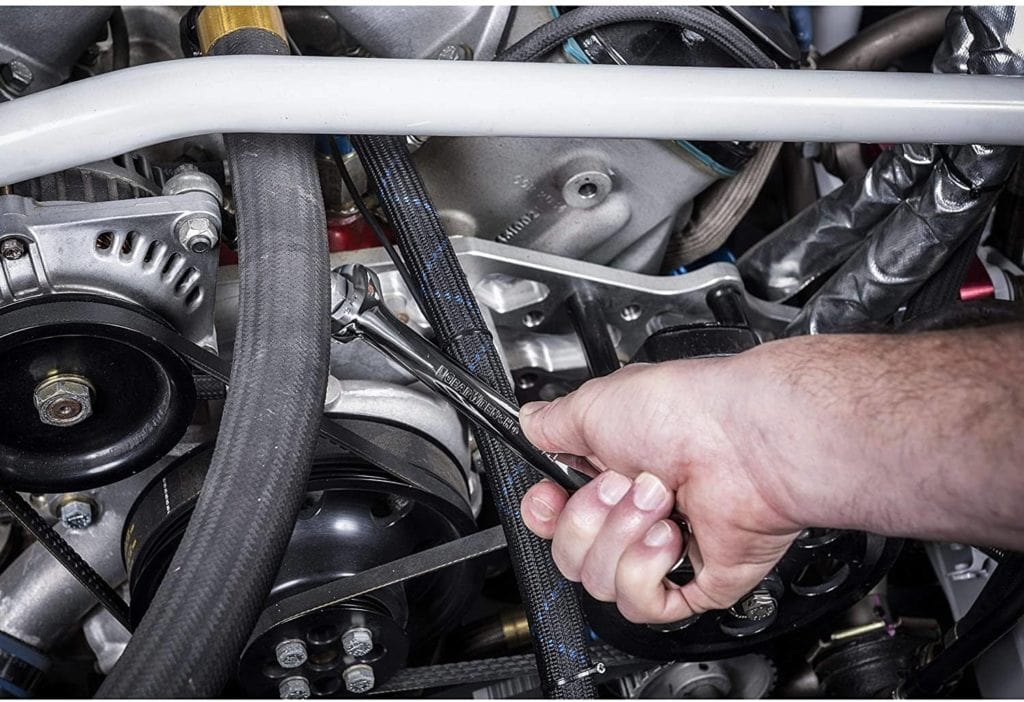 Allen Keys
A lesser-known need for the vehicle, the Allen key or hex key is still an excellent tool to have. Even if you never use it for the car, it will have a use within the home. For instance, Ikea furniture is designed to be built with only a single Allen key. For the car, removing a brake caliper is done with an Allen key.
Again, they must be standard and metric. And each set is grouped in their color-coded and size etched packet. These will never be chrome-plated, as it makes the steel too thick and slippery.
Screwdriver Bits
If you don't think having an extensive collection of assorted screwdriver bits can benefit you every day, think again. From flat to Philips, from Torx to Allen, they have many uses, and everyone will see some help in your automotive work. And they can afford you some additional benefits you might not have considered.
Have you ever had your license plate stolen? Most plates are held on with Philips head screws. Easy on and easier off. But what if you get a Torx screw instead? Thieves won't know what to do or even what they are looking at.
And how often do you just need the right size of flathead or Phillips? Daily, we imagine.

Conclusion
Choosing the right tool kit is a matter of need, style, and desire. If you love tools, you will love a big set full of shiny chrome wrenches and sockets. But if you just need some tools, a standard set will get your work done without a mess. One thing though that must always be present is the high-quality box to hold them in.
Despite the difficulty with the box, we chose the DEWALT DWMT81534 Mechanics Tool Set as our best choice for your needs. It has that trademark quality you require of the DeWalt name plus all the pieces you require for the work. A great set in all but get a different box.
For our best value, the AmazonBasics AMZ1701 Mechanics Tool Set is a clear winner. It has the quality we wanted with the price we were happy to see.
We hope these reviews have been helpful. As we said, a mechanic tool set is a personal choice, but as long as it has the staple items within, that choice will always point toward an efficiently done job.
You may also want to check out our new guide on socket sets suited for mechanics.