Arlo Pro 3 Floodlight Camera Review 2023 – Pros, Cons & Final Verdict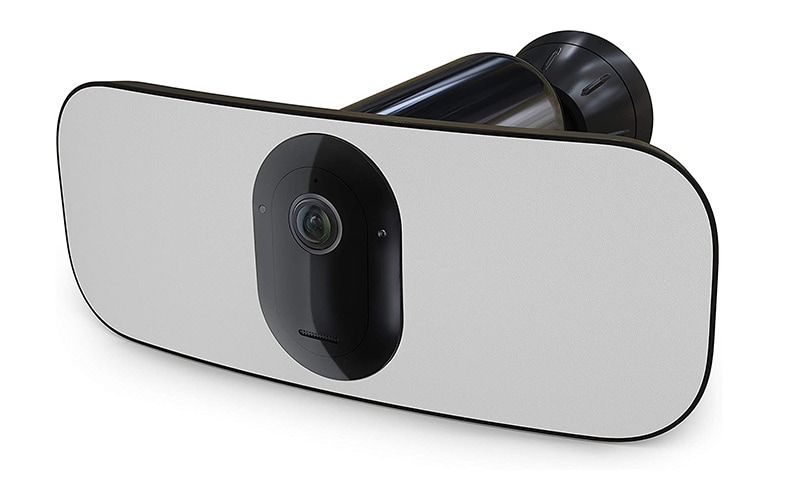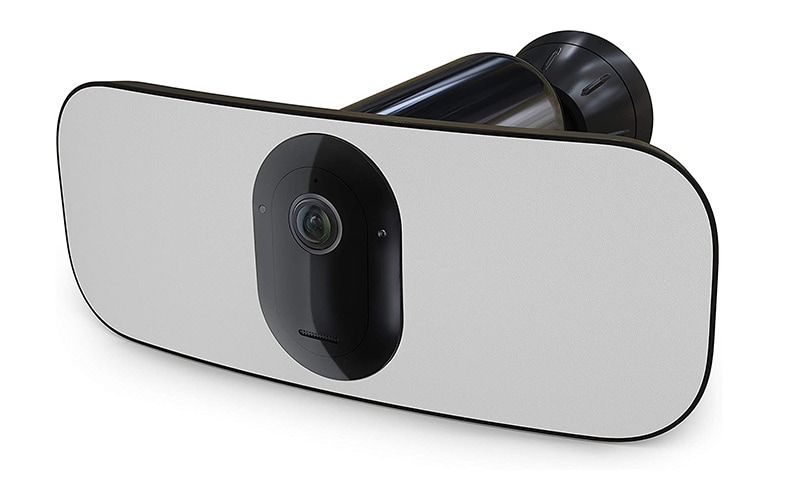 Review Summary
Our Final Verdict
We give Arlo Pro 3 Floodlight Camera a rating of 4.5 out of 5 stars.
Build Quality: 3.3/5
Power: 3.8/5
Features: 3.5/5
Price: 4/5
Available at an affordable price, the Arlo Pro 3 floodlight camera is undoubtedly one of the best of its kind on the market. In fact, no other floodlight camera has been able to outdo it since its launch.
Arlo is already known for its extensive line of high-performing battery-powered security cameras. This installation re-established its spot as the top contributor in the security camera industry.
Essentially, the Arlo Pro 3 floodlight camera is no different than the Arlo Pro 3 camera. However, the floodlight variation can operate without the base station.
If you're wondering whether it's the right security investment for your home, you're at the right place. Today, we'll review the Arlo Pro 3 floodlight camera and break down its price, features, and performance to help you make a wiser purchase.

Arlo Pro 3 Floodlight Camera – A Quick Look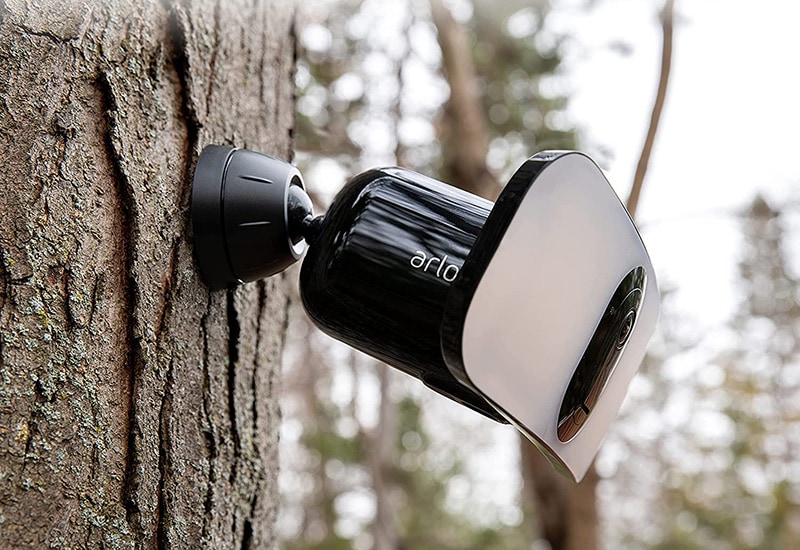 Specifications
| | |
| --- | --- |
| Max Video Resolution: | 2560×1440 resolution |
| Image Sensor: | 4 megapixels |
| Video Modes: | 2K, 1,080p, 720p |
| Video Features: | Auto Track and Zoom, HDR, H.264 and H.265 Encodin |
| Lens Field of View: | 160-degree diagonal |
| Light Color Temperature: | 4000K |
| Efficacy/Brightness: | 2,000–3,000 lumens |
| Light Modes: | Constant and pulsate |
| Motion Detection: | Single Motion Detector, 130 degrees horizontal |
| Siren: | Built-in |
| Indoor/Outdoor: | Outdoor UV and weather-resistant |
| Digital Zoom: | 12x |
| Microphone: | Single microphone with echo and noise cancellation |
| Audio: | Full Duplex Two-way Audio |
| Status Lights: | Dual-colored LEDs |
| Charge time to Full: | 5 hours |
| Dimensions: | 218.5 mm x 190.5 mm x 77.9 mm |
| Weight with Battery: | 650 grams |
Pros
Wired or wireless setup
Simple app interface
Impeccable brightness
Easy to install
Cons
Complicated charging process
Arlo Pro 3 Floodlight Camera – The Details
Brightness
The Arlo Pro 3 floodlight camera emits 2,000 lumens of brightness. But if you buy the Outdoor Charging cable, you can even crank it up to 3,000 lumens. Additionally, you can buy the Solar Panel accessory to cut down on your electricity bills.
Here's some context to help you imagine the floodlight's brightness: a standard 60-watt light bulb emits 800 lumens, so this floodlight is equivalent to nearly four light bulbs. That's bright enough to illuminate the space and alert any intruders or critters. You can also change the light's intensity from 5% to 100%.
Performance
The Arlo Pro 3 floodlight camera lasts throughout the night, with the camera giving an HD live feed. However, your Wi-Fi connection may influence the performance of the camera quality.
Camera
The Arlo Pro 3 floodlight camera is undoubtedly impeccable. Unlike most motion-activated cameras on the market, it expertly differentiates between people, animals, vehicles, and objects. It delivers crisp recordings in 2K, 1,080p, and 720p modes with features like Auto Track and Zoom, and HDR.
Arlo Smart Subscription
If you're hoping to make the most of your Arlo Pro 3 floodlight camera, it's best to purchase the Arlo Smart subscription. It proves an advanced motion detection feature that allows the camera to differentiate between different people.
You can also access a month's worth of saved activity clips, smoke and carbon monoxide detection, and activity zones. The subscription also enables e911, which connects you to local emergency services when the camera detects a serious problem.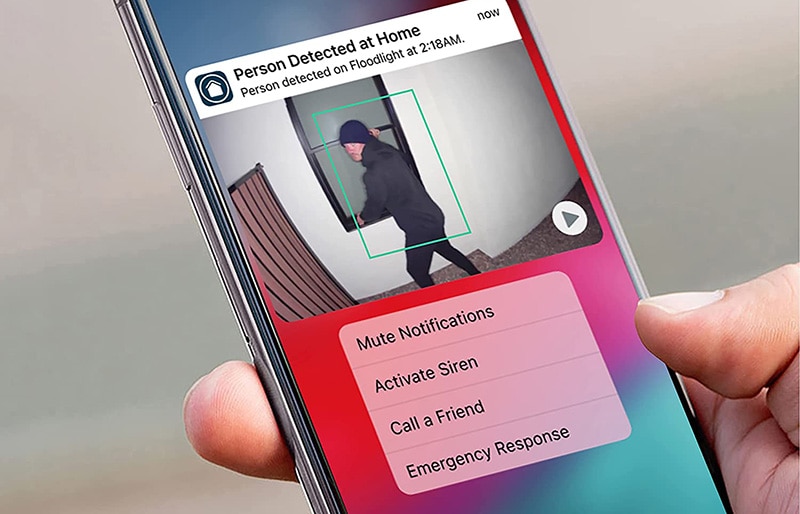 App
The Arlo Pro 3 floodlight camera is operated by a mobile app, which displays your armed/disarmed mode via geofencing or manually. The setup is quick and simple, taking only a few minutes.
In armed mode, the floodlight turns on when the camera detects motion. You can also program the built-in siren to go off in case of a motion event. The app also sends emails after detecting activity.
Adjustability
If you want motion detected in certain areas, you can program it as an activity zone. For example, if you set the back deck as an activity zone, you'll only receive notifications for that area.
Compatibility
The Arlo Pro 3 floodlight camera is compatible with Alexa and Google Assistant. This means you can view the live video feed on a smart display and arm/display the system with voice control.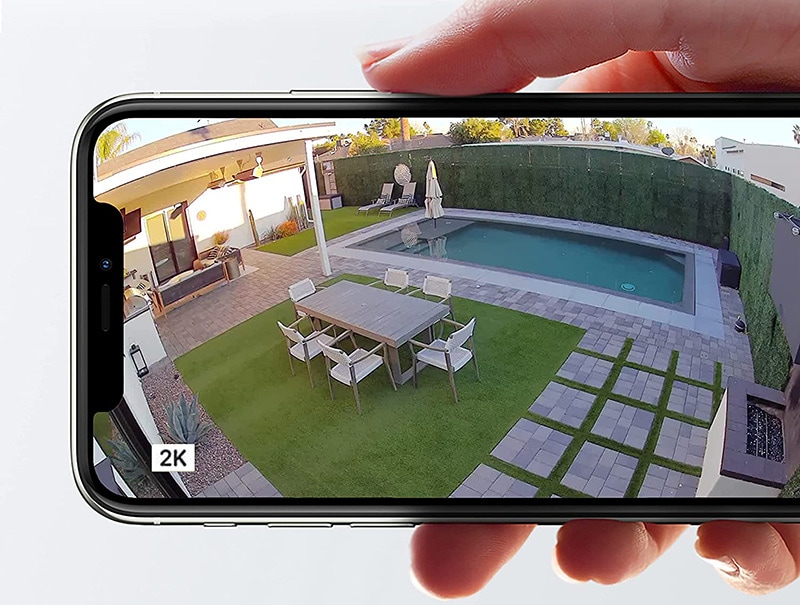 FAQ for the Arlo Pro 3 Floodlight Camera
Does the Arlo Pro 3 Floodlight come with a hub?
Unfortunately, the Arlo Pro 3 floodlight camera does not include a SmartHub, which may provide certain additional features. However, this floodlight does not need a SmartHub or Base Station to operate and can be used directly on your home internet connection.
How long can you view the recordings without a subscription?
You don't need to subscribe to Arlo Secure to access all your recordings. They're saved on the flash disk until there's no more storage or you delete the recordings. Once the disk is full, it'll start overwriting the oldest file.
However, it can be tricky to access these videos outside of your home network, and most users have reported that Arlo Support could have been more helpful in resolving this problem. You may need to contact your ISP support to fix the issue.
Is the Arlo Pro Floodlight camera always recording?
No, the Arlo Pro 3 floodlight is not continuously recording unless you program it to run non-stop from the app. However, this option makes your camera's battery drain faster, requiring more frequent charges.
On default, the camera only turns on at a motion event and records until it detects no more motion. Then, the recording is saved to your Arlo account.
What the Users Say
Luckily, the Arlo Pro 3 Floodlight Camera was a hit for most customers, as they were impressed with its durability and performance. Some reported loving Arlo's system so much that they installed multiple Arlo floodlight cameras around their property.
Others commended the installation, which only took a few minutes due to the included hardware and given instruction manual. While some comments did report a flimsy build quality, this issue wasn't apparent in the majority of customer reviews.
One thing that customers were unanimously unimpressed with was the availability of Arlo Customer Support. They reported that getting in touch with a customer service representative was hard and resulted in unresolved issues and unanswered questions.

Conclusion
The Arlo Pro 3 floodlight camera is one of the best of its kind. With its rechargeable battery, weatherproof housing, crisp live streaming, and security features, there's a lot to love about this camera.
Its compatibility with Alexa and Google Assistant makes it even more accessible. Now that you've our Arlo Pro 3 floodlight camera, you can determine whether it's a good investment for you.