10 Best Socket Sets for Mechanic & Car Maintenance 2023 – Reviews & Guide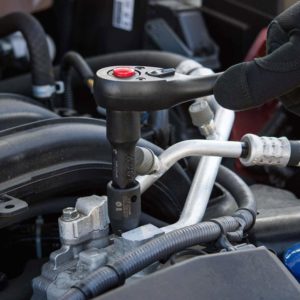 A high-quality socket set can be the determining factor in whether you finish a tune-up or brake change in an hour or several. Ratchets of all sizes, sockets in the right measurements, and having the socket with the correct depth are all factors in the speed and efficiency of your automotive work.
The right socket set needs to have a comprehensive set of sockets, the proper sizes of ratchets, and, if possible, deep and shallow options. Often, a suitable socket is paired with a wrench in a tandem loosening operation. Having a full and detailed set just adds further assistance to the situation.
We will cover a few socket sets in these reviews, and many of them are from brands you have come to admire, while others are entirely unfamiliar. Every set deserves its day in the sun. Take a look at what we have come up with for the best socket sets you might want to pick up for your automotive maintenance needs.
---
A Quick Comparison of Our Favorites in 2023
Rating
Image
Product
Details

Best Overall

Stanley STMT71652 Socket Set

Heat forged
Durable
Corrosion-resistant
CHECK PRICE

Best Value

EPAuto 40 Pieces Socket Set

Steel alloy
Quality case
40 pieces
CHECK PRICE

TEKTON 13101 Socket Set

Metric and standard
Deep and shallow sockets
5° of swing
CHECK PRICE

DEWALT DWMT73804 Socket Set

Quality case
Chrome Vanadium
Lifetime warranty
CHECK PRICE

AmazonBasics Mechanics Socket Tool Kit

Quick-release ratchets
123 pieces
Fire hardened
CHECK PRICE
The 10 Best Socket Set for Mechanic & Car Maintenance
1.

Stanley STMT71652 Socket Set – Best Overall
Our top pick comes from the combination of Stanley and Black & Decker. That's right, these two powerhouses joined forces. And what they have given the world is the Stanley STMT71652 Socket Set worthy of the rich lineage these brands both share.
It is entirely composed of chrome vanadium, is heat forged, and is very strong and durable. Each ratchet has a quick release and reverse mechanism for ease of use and socket swaps. And the fully coated and polished body ensures anti-corrosion protection.
However, we will say that no one is in love with the plastic case that holds the sockets and ratchets. It seems to be ill-fitting for the tools themselves. Despite this, we think this is the best socket set for mechanics available this year.
Pros
123 pieces
Chrome vanadium
Heat forged
Durable
Corrosion-resistant
---
2.

EPAuto 40 Pieces Socket Set – Best Value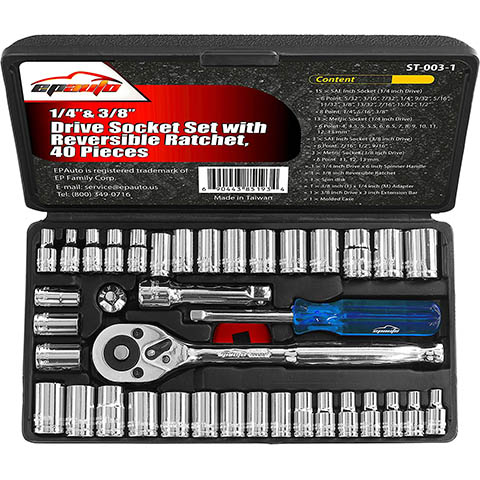 This set from EPAuto truly is the best socket set for mechanic & car maintenance for the money. Not to mention, this little set is quite fetching, with its chrome plating and mirror polish. The material is a chrome vanadium steel alloy, heat hardened, and very durable. And the case has a foam inlay that holds the tools within in place while the case is shut.
Its 40 pieces come in metric and standard, the drive socket has a reversible feature with a 72-tooth mechanism, and it comes in both ¼ and ⅜ inches for added versatility. It even has a screwdriver that fits the ⅜-inch sockets for these odd situations when a ratchet just won't fit.
Some users have had trouble removing the sockets from the ratchet after use, indicating this model does not have a quick release. Some users have also said that the ratchet reverse feature is faulty and prone to breaking after limited use.
Pros
Steel alloy
Quality case
40 pieces
Metric and standard
Versatile
Cons
Manufacturing defects
No quick release
---
3.

TEKTON 13101 Socket Set
You can go shallow, or you can go deep, just don't go anywhere without the TEKTON 13101. It isn't the most significant set you have ever seen, but it has what you need. This master set features every socket size from 5/16 to 3/4 inches and comes in both shallow and deep versions.
Included is a universal joint and a 6-inch extension, which is pretty rare in other sets. The ratchet has a 5° working swing, thanks to the 72-tooth gear inset, and each of the sockets is made for high-torque and are only 6 points with flat sides to prevent rounding. They are all mirror polished and made of chrome vanadium.
A few users reported having a problem with the ratchet; the switch to reverse it must be held, otherwise, it will reverse itself. Some also said they would prefer the case was a little more heavy-duty.
Pros
Metric and standard
Deep and shallow sockets
5° of swing
6-inch extension
Cons
Loose reverse switch
Low-quality case
---
4.

DEWALT DWMT73804 Socket Set
If we knew nothing else about the DeWalt SWMT72804, the nifty case that holds all of its components would have been enough. It is hardened black plastic with a see-through lid in the signature DeWalt yellow, making it very aesthetically pleasing. The fact that this set is from DeWalt, a brand famous for quality in tools, is just a bonus after that.
But let's get to the nitty-gritty. Every one of the chrome vanadium pieces is polished to a mirror shine and is resistant to corrosion. There is a knurled control ring on both the ratchet and the extension, giving the user a better grip without fear of slipping. And every one of the sockets has a deep, hard-stamp marking indicating the sizes.
The biggest complaint is the product's manufacturing quality. At least the warranty is solid. Lifetime, as it should be, from a quality brand like DeWalt.
Pros
Great brand
Quality case
Chrome Vanadium
Lifetime warranty
Cons
Lower perceived manufacturing quality
Small set
---
5.

AmazonBasics Mechanics Socket Tool Kit
This set has it all, and then a few extras for kicks. The AmazonBasics Mechanics Socket Tool Kit is 123 pieces of splendor, with everything from Allen keys to screwdriver bits. All of the sockets, ratchets, and extensions are chrome vanadium, and every single one is hardened for durability, torque, and strength.
Both of the ratchets have quick-release switches for convenient tool changes, and the set includes a full complement of metric and SAE sizes. Combine all of these excellent features with the 1-year warranty and convenient carrying case, and you have yourself a nice set of sockets for the money.
Despite the ratchet quality, the extensions are a little loose. They don't quite fit and are almost a hazard. And some of the pieces don't fit well into the included carrying case, allowing some of the sockets to fall out when opened. These both seem like manufacturing oversight.
Pros
123 pieces
Quick-release ratchets
Fire hardened
Cons
Loose extensions
Manufacturing defects
---
6.

Neiko 02440A Drive Impact Socket Set
Having this socket set in your tool kit will make an impact — no pun intended. The Neiko 02440A Drive Impact Socket Set is designed with absorbing extreme torque as its prime directive. Every piece is made of heavy-duty drop-forged premium chrome vanadium steel and is corrosion-resistant.
Instead of being polished chrome, every part of this kit is coated in black phosphate, and each of the sizes is laser etched deep into the sockets for precise and easy identification. As for the sockets, they have a 6-point hex socket design to prevent round-off deterioration, common when using an impact driver.
The impact in the name seems to indicate the style, but not the quality. Sadly, users have had issues with sockets cracking under strain when used with a pneumatic impact driver. And some folks received sets with some sizes missing and then duplicates of others.
Pros
Heavy-duty
Drop-forged
Black phosphate coating
Cons
Quality concerns
Packaging issues
---
7.

GEARWRENCH 80550P Mechanics Tool Set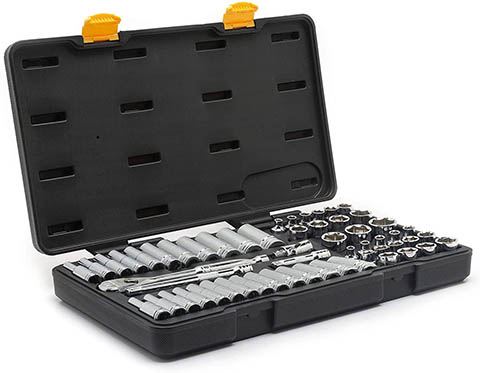 A big issue with high-torque situations is rounding off the nut, bolt, or interior of the socket itself. The GEARWRENCH 80550P has eliminated that problem with its off-corner leading design, a handy feature. And all of the tools in this kit are fully polished chrome and have corrosion-resistant protection.
The pawls inside the ratchet mechanism are double stacked, with 60 teeth for each stack, adding to the ratchet's strength and giving it a minuscule 3° of swing. A low swing degree is crucial for those tight spaces, such as in an engine compartment. And all of this fits into a handy blow mold case for storage and organization.
The only significant complaint isn't about what it has, but what it lacks. Deep sockets are handy for many automotive maintenance needs, but this set doesn't include them. And while the case is explicitly molded for these tools, they are loose within and fall out easily.
Pros
3° of swing
120 pawl mechanism
Cons
Bad case design
No deep sockets
---
8.

Performance Tool 1950 Socket Set
Open the black case of the Performance Tool 1950 Socket Set, and the first thing you will see is yourself. That is how mirror-polished every one of these chrome vanadium sockets and ratchets is. Gleaming doesn't do it justice. And the coating that gives it this shine makes this small set resistant to corrosion.
But that is the vanity of the set. The real importance lies in the range of the sockets, the ratchet with a reversible option, and the extension, which all together make this set an excellent addition to any tool arsenal. In metric and SAE, if you need a socket and a tool to torque bolts with, you have come to the right place.
The only drawback is that these tools are very much a light-duty option. Anything excessive will force the internal mechanism of the ratchet to fail. The first to go will be the reverse switch. And according to various users, some sets are arriving with missing pieces, including the ratchet.
Pros
Corrosion-resistant
Polished chrome
Cons
Cheap ratchet
Missing pieces
---
9.

Powerbuilt 642453 Mechanics Tool Set
For a powerhouse, look at the Powerbuilt 642453. You never have trouble finding the right socket; SAE or metric is all stamped in jumbo-sized printing. And that includes the shallow and deep sockets. And speaking of sockets, they are made of hardened steel coated in chrome vanadium.
The ratchet is built the same, with a 72-tooth sealed head, with a reverse switch on each of the 3 sizes, plus a spinner handle, 4 extensions of varying sizes, and Allen wrenches to add flavor. It also has a set of combination wrenches, and all fit into a hardened plastic case.
As with all hard plastic cases, the tools lay in the slots loosely. And the lifetime warranty has its limits, so customer care might be a problem.
Cons
Limited warranty
Possible case issues
---
10.

Crescent CTK84CMP Mechanics Tool Set
Another great toolset designed with the confined spaces within the engine compartment in mind, the Crescent CTK84CMP works with a 5° range of swing. Each ratchet has a large quick release for quick changes of sockets, and each socket features Surface Drive technology, which removes the possibility of a fastener rounding almost completely.
The ratchet, the extension, and the sockets are all chrome vanadium steel and polished with chrome. This gives them an element of corrosion resistance. Finally, the magnetic bit driver included has a dual material grip for increased leverage.
The tools feel a little soft for hardened steel. This gives a user pause when planning to torque a nut or bolt. And the case is cheaply made, which seems to be a common problem with all of these blow mold plastic cases. Lastly, warranty information is a little sparse.
Cons
Soft steel
Bad case
Limited warranty info
---
Buyer's Guide – Choosing the Best Socket Set for Mechanics and DIY Car Maintenance
Personal auto maintenance and care are essential, not just as a life skill, but as a way to stave off large bills at the shop. Mechanics make a fortune on the average person's ignorance on the subject of car repair.
While we can't necessarily bring back auto shop to schools, we can offer insights into the types of tools you will need to do your auto maintenance and what makes them significant over other tools for anything else.
Choosing Your Socket Set
Of all the tools a mechanic will use in an average automotive repair job, the one that's reached for most frequently is their ratchet and a socket. Many can tell the size of the bolt or nut just by looking at them. And the right socket with the right inside grip makes a huge difference.
By inside grip, we mean the feature that allows the socket to grip without slipping and rounding off the bolt's head, rounding the nut, or shearing the inside of the socket itself. The best way to prevent this is to use sockets with 6-points inside or something unique like Surface Drive technology. Both prevent rounding.
The three essential factors for a quality socket set are:
Ratchets
Sockets
Extensions
Many sets also come with extra tools, and some are just basic and only come with the ratchet, sockets, and extensions, but as long as you have these three, you are in good shape. And always go for the socket set coated in chrome for ease of cleaning and corrosion protection.
The Ratchets
We have used the plural version of ratchet here because some of the more extravagant sets have multiple. Usually, there will be three sizes in the bigger sets. However, if there are smaller socket joints for a simple set, a unique ratchet tool that sizes down the ratchet connection point will be available. This often applies to sets with extremely small measurements.
To further paint this picture, let's say you have a ¼-inch ratchet. You have a full set that, for the most part, all fit on the ¼-inch head, but the smaller sizes, for instance, 4 millimeters, are designed for a ⅜-inch ratchet head. What do you do? You reach for your trusty drop-down attachment. Now your ¼-inch head will fit the ⅜-inch inset.
Your ratchet should be reversible. Having a quick flip of the switch gives you torque in both directions is paramount to efficiency. The ratchet should have plenty of teeth inside the sealed head, which will provide you with the optimal range of swing. The smaller the degree of swing, the more you can twist in a tight space without the struggle.
The Sockets
Sockets are a no brainer. Cars are made worldwide, but only in America are the parts measured in SAE, or Society of Automotive Engineers, which we just call "standard." Essentially, think inches, not centimeters. Metric covers the entire rest of the world.
The other socket feature is more useful in auto maintenance than just about anywhere else in depth. Socket depth makes a tremendous difference, so your perfect set must have both shallow and deep sockets. A shallow socket is only for shallow applications, where more torque is needed. Deep sockets are for sliding over a long bolt to get to the nut.
Your sockets should have deeply etched markings indicating the size, and you should never use an SAE on a metric bolt, and vice versa. That is a recipe to round the bolt or damage the tool. A proper set, in its corresponding spot within the tool case or box, should more than eliminate this lapse in judgment.
Extensions
Most kits come with a 3-inch extension. That works for plenty of things, but for those deep bolts, a longer extension is king. The better sets come with not only 3-inch, but also 5- and 8-inch, and some even have extensions in smaller ratchet sizes for efficiency and convenience.
Your extension should be coated to prevent corrosion, and a knurled check pattern on the shaft will prevent slippage, even if it is moist or covered in grease. Having a few extensions will only profit you, but make sure you have somewhere to put them. No one likes loose tools rattling around.
The Case
Speaking of loose tools, your kit should have a case that holds the sockets, ratchets, and extensions tightly, ensuring they won't fall out when opened. Most socket kits include a blow mold plastic case. These are fine, are lightweight, but rarely do they secure the tools within. Be picky with the case. The last thing you want is to chase your sockets around. They are cylindrical and will roll into some tricky spots.

Conclusion
We certainly hope you enjoyed learning about the different socket sets of mechanic work and home auto maintenance. The clear choice for our number one pick could only be the Stanley STMT71652 Socket Set. It has all the right pieces, plus with the merger between Stanley and Black & Decker, quality control has doubled, creating better tools.
For the best tool your wallet will appreciate, the EPAuto 40 Piece Socket Set has the trophy and sets the standard for quality and price. Yes, it is not a big set. But what it lacks in pieces, it more than makes up for with durability. It is a solid little set for the money and will do anything you need as long as you don't need anything too exotic.
Picking a socket set isn't difficult when you know what you need and where to find it. There are tons of deals right now, but that doesn't mean the products are right. Do your research if you find a socket set that isn't on this list. Due diligence will ultimately help you land on the best set for your needs.
Related posts: