10 Best Mid-Range Car Speakers of 2023 – Reviews & Guide
As a music lover, you want the best possible audio quality inside your car, but what if your budget can only allow for so much? Standard speakers just aren't good enough, but high-end products may be just out of your range.
There are other options to suit your needs. A mid-range speaker will give you the excellent sound quality you desire without breaking the bank. Choosing new speakers can be overwhelming. Manufacturers take a unique approach to speaker design, and the different series and price brackets will reflect the various qualities of music reproduction.
To give you a good place to start, we've broken down the 10 best mid-range car speakers. Hopefully, this will help you make sense of the array of choices and find the right speaker for your needs.
---
A Quick Comparison of Our Favorites 2023
Rating
Image
Product
Details

Best Overall

Infinity Kappa 2-Way Coaxial Car Speaker

High power output
Easy installation
High-quality parts
CHECK PRICE

Best Value

Pioneer Surface Mount 3-Way Bass-Reflex Speakers

Affordable
Three-way full-spectrum audio
Convenient installation
CHECK PRICE

Premium Choice

Alpine Coaxial 2-Way Car Audio Speakers

High power output
Quality parts
High-quality audio output
CHECK PRICE

JBL Premium Co-Axial Speaker

Quality parts
Great bass response
Adjustable tweeters
CHECK PRICE

Polk Audio 2-Way Component System

Easy installation
Outboard two-way crossover
Quality build materials
CHECK PRICE
The 10 Best Mid-Range Car Speakers
1.

Infinity Kappa 2-Way Coaxial Car Speaker — Best Overall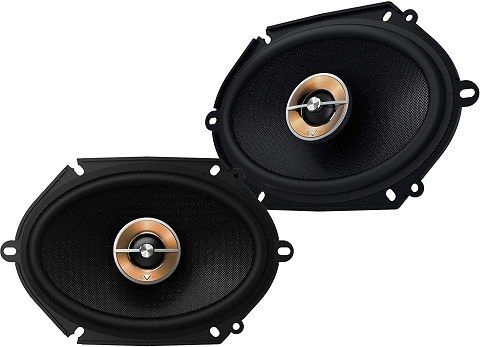 Our top choice for mid-range speakers is the Infinity Kappa two-way coaxial. It has an RMS rating of 100 watts and peaks at 300 watts. Installation is easy— it fits easily into most cars' standard factory speaker locations.
These speakers feature Injected Carbon Glass Matrix frames and formed-glass-fiber woofer cones for superior strength. Each tweeter has a fabric diaphragm for wider high-frequency dispersion.
Although these speakers are expensive, they will give you high-quality audio reproduction for your money. They have clean and tight mids and produce a respectable lower end, considering the size. Although it's only a two-way, this speaker tops our chart for its superior build quality and takes our vote as the best mid-range car speaker available this year.
Pros
High power output
Easy installation
High-quality parts
Superior audio fidelity
---
2.

Pioneer Surface Mount 3-Way Bass-Reflex Speakers — Best Value
Pioneer is a well-known audio brand revered for its quality and affordability. These are the best mid-range speakers for the money, featuring a three-way, full-spectrum audio range. They are surface-mount rather than flush-mount speakers, making them a versatile option for your car. Though the bass response is lacking, they feature a great middle and high-frequency range but only produce a mid-bass frequency at best.
While surface mounting is convenient, it can be problematic in some cars, like hatchbacks. You'll need double-sided tape or micro-netting to hold them down. Additionally, the wiring going into the unit has no clips, making it permanently fused to the body and difficult to customize. Despite this, we think these are the best mid-range speakers for the money.
Pros
Affordable
Three-way full-spectrum audio
Convenient installation
Cons
Lacking in bass response
No input-wire clips
---
3.

Alpine Coaxial 2-Way Car Audio Speakers — Premium Choice
Alpine is the go-to brand for high-quality car audio. Its R-S65 coaxial speakers are no different, with a 100-watt RMS audio rating and a peak rating of 300 watts. They have quality woofers made from hybrid fiber, multi-roll rubber surrounds, and silk dome tweeters with durable and long-lasting parts.
The R-S65 features a frequency range of 65-29,000 Hz, which may not be enough bass for some, although it will be perfect for most. All these features are expensive, keeping Alpine from our top two positions. With punchy middles and clear highs, these speakers are worth paying extra.
Pros
High power output
Quality parts
High-quality audio output
Cons
Low bass response
Expensive
---
4.

JBL Premium Co-Axial Speaker
JBL is a trusted leader in all branches of the audio world, and its foray into car audio has the same quality tenets. The GTO629 speakers boast carbon-injected cones for more bass, air movement, and durability. They have patented Uni-pivot tweeters that can be aimed directly at your ears, even if the woofer is mounted low in your car.
These speakers pack a punch, with a superb and surprising bass response from such small woofers. Clean and crisp middles and highs make for a well-rounded audio experience. Be sure to check if they will fit in your vehicle or if you need to do modifications. An external amplifier is recommended to get the power they need to perform optimally.
Pros
Quality parts
Great bass response
Adjustable tweeters
Cons
Mounting issues in some cars
May require an additional amplifier
---
5.

Polk Audio 2-Way Component System
While Polk Audio is not a well-known brand, it is slowly making its mark in the car audio world. These speakers have handy adaptor rings for easy installation and an outboard two-way crossover for accurate frequency separation. This gives you component speaker quality at a coaxial price.
The woofers feature polymer/mica composite cones and silk/polymer composite dome tweeters. These are seated inside a stamped steel basket, so they're built to last. Polk's speakers are also marine certified, making them water resistant. They feature an RMS rating of 100 watts and a peak rating of 300 watts.
Pros
Easy installation
Outboard two-way crossover
Quality build materials
Water-resistant
Cons
Only a two-way frequency band
---
6.

JBL Premium Component Speaker System
This split-speaker system from JBL has a unique "i-mount" feature. This makes surface and flush mounting your speakers a breeze. They also have injected-carbon woofer cones for added flexibility and improved bass response. The tweeters have larger-than-average coils for increased high-frequency clarity.
Users report excellent bass response, even more so with an additional amplifier and crisp, accurate mids. The high-frequencies can come across as somewhat "tinny," but with added EQ, they can be tamed. There is also the added benefit of component parts—woofers, tweeters, and crossovers—to customize your audio fidelity at a reasonable price point.
Pros
Customizable mounting system
Good bass response
Low cost
Cons
Poor-quality high frequencies
Narrow frequency range
---
7.

Alpine 2-Way Coaxial Car Speakers
The Alpine SPS series coaxial speakers have an RMS rating of 80 watts and a peak rating of 240 watts. Knowing Alpine's reputation, you can be sure it has quality audio reproduction and materials. While these speakers can run great with standard stereo power, an additional amplifier will get them to that "sweet spot": punchy mids and crystal-clear highs. All this at an affordable price makes them a great option to step up your standard system.
Users report a poor bass response, even with an added amplifier. However, this can be improved somewhat with a few tweaks in EQ.
Pros
High-quality audio reproduction
Affordable price
Cons
Poor bass response
Warranty issues
Low power output
---
8.

Rockford Fosgate 2-Way Full-Range Speaker
These impressive two-way, full-range speakers from Rockford Fosgate are easy to install to replace your old blown standard speakers. They include adaptor plates and mounting hardware to make the job quick and painless. They have an RMS rating of 45 watts each, with peak power rated at 90 watts.
The integrated crossovers will give you great audio definition with plug-and-play simplicity. They have durable carbon fiber and polypropylene-molded woofers and aluminum dome tweeters. However, with only a 75-22,000Hz frequency range, you may be left wanting for bass response.
While they are affordable, you may feel that they are a little overpriced for the power they deliver.
Pros
Easily installed
Good audio quality
Integrated crossovers
Cons
Low power output
Narrow frequency range
Overpriced
---
9.

Polk Audio Coaxial Speakers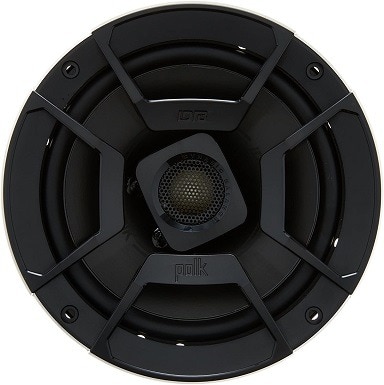 These Polk Audio coaxial speakers feature a water-resistant basket and UV-tolerant cone and are long-lasting speakers. They have a respectable RMS rating of 100 watts and a peak rating of 300 watts, so you can be sure to get enough volume and power.
However, they have a harsh sound that requires EQ tweaking. With poor bass response and cutting mids, an additional amplifier is highly recommended to give them extra responsiveness. While being an affordable and powerful option, the Polk Audio speakers have warranty problems. Still, they are a good entry point for the budget-conscious music lover.
Pros
Water-resistant
High power output
Cons
Poor bass response
Warranty issues
Harsh middle frequencies
Low-quality materials
---
10.

Kicker D-Series 3-Way Car Audio Coaxial Speakers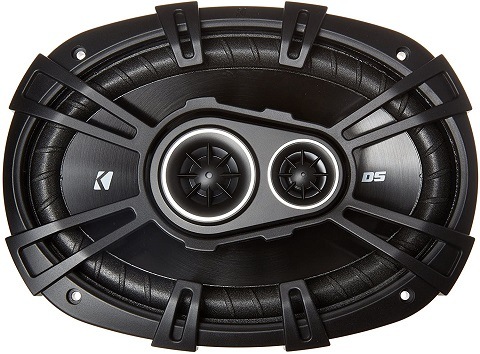 The Kicker D series have an advantage over the other speakers listed because they boast a three-way frequency band. They push out an RMS rating of 70 watts and a powerful peak rating of 360. They also have a unique, thin-line profile with minimal tweeter protrusion. This makes them uniquely unobtrusive, no matter where they are installed.
However, there can be installation issues due to size, so you may have to do mounting alterations to fit them properly. They also have a reputation for poor sound quality and can distort if pushed even slightly. Weak bass response and muddy middle frequencies are also common complaints. While they are affordable, the sound quality will leave you wanting, and the Kickers are only a minor upgrade from standard car stereos.
Pros
Thin profile
Three-way frequency range
Cons
Mounting issues
Weak bass response
Muddy mids and highs
Distortion issues
---
Buyers Guide – How to Choose the Best Mid Range Car Speaker
If you're ready to upgrade your car's outdated standard speakers, there are a few considerations to keep in mind.
Your Budget
While a modestly priced mid-range speaker will be far superior to the ones preinstalled in your car, they come with their caveats. You'll need to decide whether a component system fits you or if coaxial speakers will do the job. A coaxial will provide excellent audio quality at a reasonable price without additional amplifiers and crossovers. However, a component system will give you the best audio experience possible, albeit with a heftier price tag. Component speakers also require additional amplifiers and crossovers and can be complicated to install correctly.
The materials that speakers are constructed from make a significant difference in the sound reproduction and price. You'll need to find the right balance of material quality and cost.
Your Car
Mounting speakers can be a painless plug-and-play process, especially with a coaxial. However, it also depends on your make and model of vehicle. If customization is not something that floats your boat, you'll need to make sure the speakers you purchase fit directly into the factory speaker openings of your car. Some speakers come with adjustable mounts, which can help, but modification may still be needed.
A useful workaround is surface-mounted speakers, like the Pioneer TS-X200. These are not restricted to standard speaker openings and can be easily mounted anywhere in your car.
Power Requirements
Remember that a coaxial will not give you much bass output if you are a bass lover. They have small woofers that are designed specifically for middle and mid-bass frequencies. An essential but often overlooked point is your musical taste. Different speakers have unique strengths and weaknesses, and the type of music you listen to will often dictate the choice of the speaker with the right capabilities. For example, if you're a dance music enthusiast, you'll need an additional sub-woofer to get sufficient bass output.
Another consideration is the amplifiers. Most coaxial speakers can operate sufficiently with your car's standard stereo. But they will perform at their optimum with additional amplification. This will improve sound reproduction across the entire frequency range.
There is also the danger of under-powering speakers. They will likely distort and eventually blow if they are trying to draw more power than they are being supplied. While an additional amplifier will add to the total cost, it will provide a more well-rounded audio fidelity and make sure your speakers are not being underpowered.
---
Conclusion
The Infinity Kappa tops our reviews for the best mid-range speaker. With its powerful output, easy installation, and high-quality materials, it is sure to produce excellent audio in any car. Its surprisingly potent bass response is impressive in a mid-range speaker. The best mid-range speaker for the money is the Pioneer TS-X200. These three-way speakers are affordable, easily mountable, and have superior audio reproduction.
It can be a dizzying experience wading through the vast array of features and specifications of mid-range speakers. Hopefully, we've made choosing the right speakers for your unique musical tastes easier.