6 Best HAM Radios for Cars in 2023 – Reviews & Top Picks
A HAM radio is a useful and fun addition to any vehicle, as not even mobile phones can replace its convenience, simplicity, and reliability. It will enable communication where there is no cellular signal, so you don't need to rely on the signal (or costs) of your network provider. It can be especially useful for camping trips out into the wilderness, where accidents can easily happen, and it's a vital piece of equipment in an emergency.
There is an entire community of HAM radio enthusiasts out there, and the deluge of information can become confusing. If you're looking for a HAM radio for your car, we've got you covered. Whether you are doing wilderness training, need one for emergency services, or just want to dip your toe into the interesting world of radio communication, we've narrowed down the myriad options to help you find the perfect HAM radio for your unique needs.
A Quick Look at our Favorites:
Rating
Image
Product
Details

Best Overall

Radioddity QB25 Quad-Standby Mobile Ham Radio

Quad-band and quad standby
Multi-function display
Great audio quality
CHECK PRICE

Best Value

TALKCOOP KT-8900 Mobile Radio

Affordable
High volume output
Included mounting brackets and hardware
CHECK PRICE

Premium Choice

ICOM 2300H 05 Amateur Radio

High-quality construction
3-inch LCD adjustable screen
Multiple scan functions
CHECK PRICE

BTECH Mini UV-25X4 Mobile Radio

Compact
Adjustable LCD display
200 programmable memory channels
CHECK PRICE

Kenwood TM-281A Transceiver

Well-constructed
Front-mounted speaker for loud and clear audio
CHECK PRICE
The 6 Best HAM Car Radios – Reviews 2023:
1.

Radioddity QB25 Quad-Standby Mobile Ham Radio — Best Overall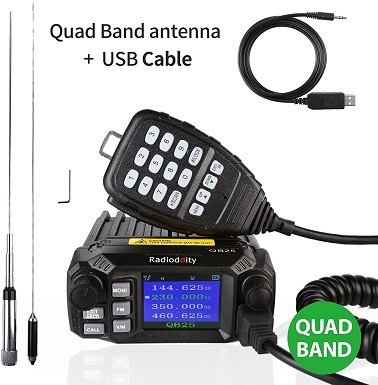 The quad-band, quad-standby QB25 from Radioddity is our top choice for a HAM radio for your vehicle. It features a four-color LCD, 2-band VHF and 2-band UHF, and a 65-108 MHz FM radio. Being small and compact, it won't take up too much space in your vehicle. The powerful 50-watt, quad-band antenna makes sure you will receive high-quality, stable signals at any frequency. The multi-function display features a dual synchronized display mode, auto gain setting for the microphone, alarm, auto scanning, and automatic power-off.
The QB25 has loud and clear audio fidelity, which is essential for accurate communication. A smart temperature cooling fan will also make sure your radio doesn't overheat.
There is one small drawback in its functionality: The microphone connector is placed very close to the channel knob, which can make it difficult to turn. Other than that, its affordable price and four-channel operation make it our top choice.
Pros
Quad-band and quad standby
Multi-function display
Great audio quality
Compact size
Cons
Channel knob is difficult to turn due to the mic input
---
2.

TALKCOOP KT-8900 Mobile Radio — Best Value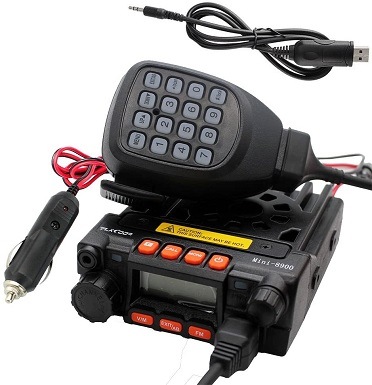 The Talkcoop KT-8900 is a high-quality and affordable radio for the beginner HAM enthusiast, and it is the best HAM radio for cars for the money on our list. It features a high power setting (25 watts) and a low power setting (10watts), a VHF frequency range of 136-174MHz, and a UHF frequency range of 400-480MHz. You can easily plug it in to the cigarette lighter of your car with the included adaptor, making getting started simple and quick. The kit includes a convenient programming cable to connect the radio to your computer, radio, and microphone brackets and mounting hardware.
The KT-8900 has a decent volume, though the audio output is a bit muffled. Also, manually programming frequencies can be difficult if you don't have previous experience, even with the included software and computer cable. It is also fairly susceptible to RF interference, which can become frustrating.
Pros
Affordable
High volume output
Included mounting brackets and hardware
Cons
Sound quality is a bit muffled
Frequency programming can be challenging
---
3.

ICOM 2300H 05 Amateur Radio — Premium Choice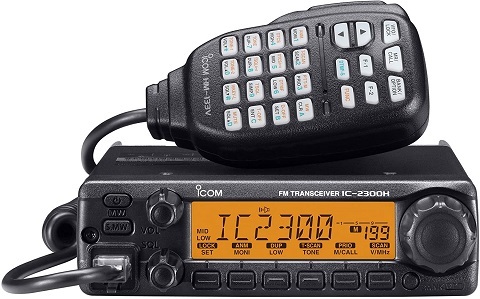 If you're looking for a high-quality and durable HAM radio for your car, the ICOM 2300H may just be it. ICOM is a trusted name in the radio industry, and this feature-loaded HAM radio is beautifully designed, compact, and made to last. Fitted with a 3-inch LCD screen that can be adjusted between green or amber, you can be sure to see it in any lighting situation. The screen will display the ICOMs seven different scan functions, which include priority, memory, and programmed options.
It has a premium die-cast aluminum chassis, for long-lasting durability and excellent heat dissipation and clear, loud, and crisp audio for optimum communication quality. It stays out of the top two on our list purely due to its comparative higher cost.
Pros
High-quality construction
3-inch LCD adjustable screen
Multiple scan functions
Compact and lightweight
---
4.

BTECH Mini UV-25X4 Mobile Radio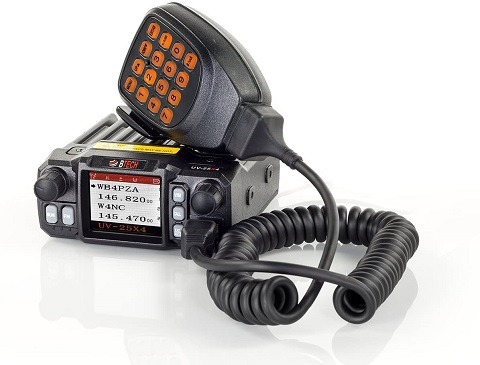 The Btech Mini lives up to its name — it's tiny — and is thus the perfect HAM radio if space is a concern. It has a VHF frequency range of 136-174MHz, and a UHF frequency range of 400-520MHz, with both high and low power settings. A multi-color, fully customizable LCD display screen lets you adjust nine different colors to perfectly suit your needs. Two hundred programmable memory channels can be added or removed from the scan list and be uniquely alphanumerically named.
It also features an adjustable microphone gain setting for customized audio, dual-sync display mode, and a convenient auto power-off to avoid battery draining. The ability to edit your channel preferences without needing to program a new channel is a great, time-saving addition. It also has the option to set the radio to start scanning immediately upon power-up, or if the scan is interrupted for a transmission, it will continue when the transmission ends.
One small drawback is the internal speaker, which makes for bad audio fidelity, especially if there is a great deal of background road noise. There is one common issue that has been experienced by multiple users, which is the radio inevitably failing on one or more bands after extended use.
Pros
Compact
Adjustable LCD display
200 programmable memory channels
Cons
Low-quality audio output
Bands slowly fail after time
Low-quality construction
---
5.

Kenwood TM-281A Transceiver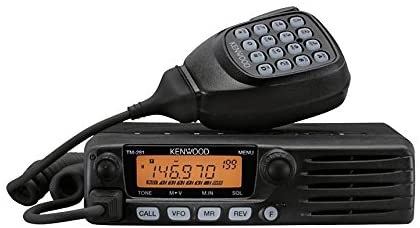 The Kenwood TM-281A transceiver offers rugged and compact construction, with a high power output of 65 watts. The front-mounted speaker makes sure you'll get loud volume and clear audio, even with road noise in the background. Its backlit LCD and illuminated microphone keypads are a great feature for dark situations. It also has a 200-channel memory, but this is reduced down to only 100 channels when used with the user-customizable names. It's a perfect radio for beginner HAM enthusiasts, though it is durable and well-constructed enough that it will appeal to experienced users too.
It can be tricky and unintuitive to program, which may put off some users, especially those who are new to HAM radios. Also, the microphone is heavier than a few other HAM radios, with small and difficult-to-read numbers. Although it is fairly affordable, there are better options available for a similar price.
Pros
Well-constructed
Front-mounted speaker for loud and clear audio
Cons
Limited channel memory
Difficult to program
Heavy microphone with tiny, hard-to-read numbers
---
6.

QYT Dual Band Mini Car Ham Radio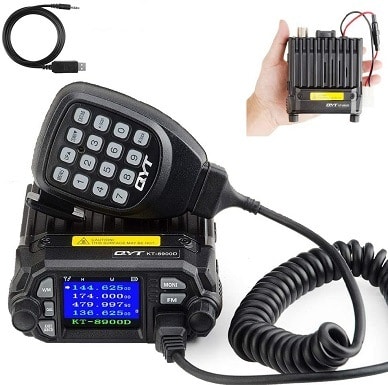 The QYT KT-8900D is a budget-friendly HAM radio that will appeal to users who are looking for a simple and affordable product. It features a VHF frequency range of 136-174MHz and a UHF range of 400-480MHz. It has a large but low-quality LCD screen and 200 channels, and it comes with radio and mic mounting brackets and a programming cable. This radio also has a standout feature that many other radios in its class lack: a 3.5mm jack input in the back, with audio in and audio out.
Programming is notoriously difficult on this radio. The included instructions are not at all helpful, and you'll need to scour the internet to learn to operate it properly. The display is not that bright and can be difficult to see in sunlight. Users also report a great deal of static and poor audio and microphone quality.
Pros
Affordable
5mm jack input
Cons
Difficult to program
Poor construction
Dull display
Poor audio quality
---
Buyers Guide – Choosing the Best Ham Radio for Cars
A HAM radio gives you freedom from reliance on cellular networks and is convenient and fun, and as long as you are within range, you can talk as much as you want at no cost. Not only that, HAM radios are ideal in emergency situations, when phone lines are down or not available, and experienced users often come to the rescue in these situations. HAM radios can also be interfaced and programmed with computers and can thus be used for text and images too.
Bear in mind that you do need to be licensed in order to operate a HAM radio, and there are three types of license class that you can apply for. Each class will require a written test, which includes theory, regulations to adhere to, and general operating practices. Depending on which class you are licensed in, you will be limited in your use of certain bands and the range in which your HAM radio can communicate. These are cheap and easy tests, though, and you can get licensed with only a few days' preparation.
When you decide to bite the bullet and become part of the niche HAM-operating community, there are a several important factors to consider before buying.
What are your needs?
This is an obvious but important question, and your answer will help you choose the right one according to the activities you need it for. If you are going to be using it for emergency communications, you'll want a HAM with as large a range as possible, and this usually means higher power and thus, higher cost. Casual use, like for camping trips or for basic communication on farms or construction sites, won't require the same range nor the heftier price tag.
Power
The output power of your HAM is an important factor, because it will greatly affect your range of communication. A HAM radio of around 5 watts is enough for most short-range communication, but for greater distances, you'll need a minimum of about 25 watts. While your car's cigarette input will usually deliver enough power, direct wiring to your car's battery is required for more powerful radios. Some HAM radios have adjustable high and low power settings for greater adaptability.
Size
Most HAM radios are fairly small and will easily fit into most vehicles. However, you don't want it taking up too much space, and it needs to be placed where it is easily accessible, both to power it on and in order to adjust settings and have a clear view of the screen. Most come with mounting brackets and a bracket to clip the microphone in.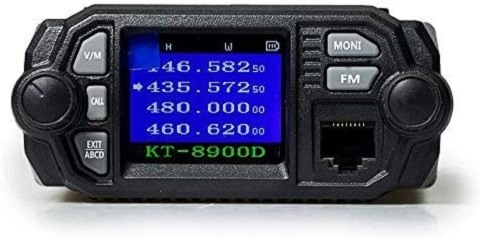 Memory channels
A HAM radio with more memory channels will allow you to store more frequencies. It will depend entirely on what your intended use is, though more is usually better. For casual communication, this likely will not be an issue.
Scanning
Scan functioning allows you to quickly find the saved frequencies that you need to use. Different models feature different scan functions, which can be automatically started again if interrupted by an incoming transmission or automatically started on power-up.
Durability. If you are using a HAM radio for anything more than fun with friends, you'll want the most durable one that you can afford. Driving on rugged and rocky dirt roads will shake your radio around and expose it to dust, so a HAM radio with a metal chassis and a quality microphone is an ideal choice.
---
Conclusion
Our top choice for a HAM radio for your car is the QB25 from Radioddity. Its quad-band, quad-standby operation, multi-function display, and great audio quality are unbeatable features. It is a trusted and popular radio in the HAM user community.
We found that the best HAM radio for the money is the Talkcoop KT-8900. Its adjustable power setting and included programming cable make it a great value choice that won't break the bank.
There is so much to learn about HAM radios, and the community around it is always expanding. This makes the number of different types of HAM radios available to consumers wide-ranging in quality and specifications. It can quickly get confusing, so hopefully, our in-depth reviews will help you choose the right HAM radio to suit your needs.