10 Best Multimeters for Electronic Technicians – Reviews & Guide 2023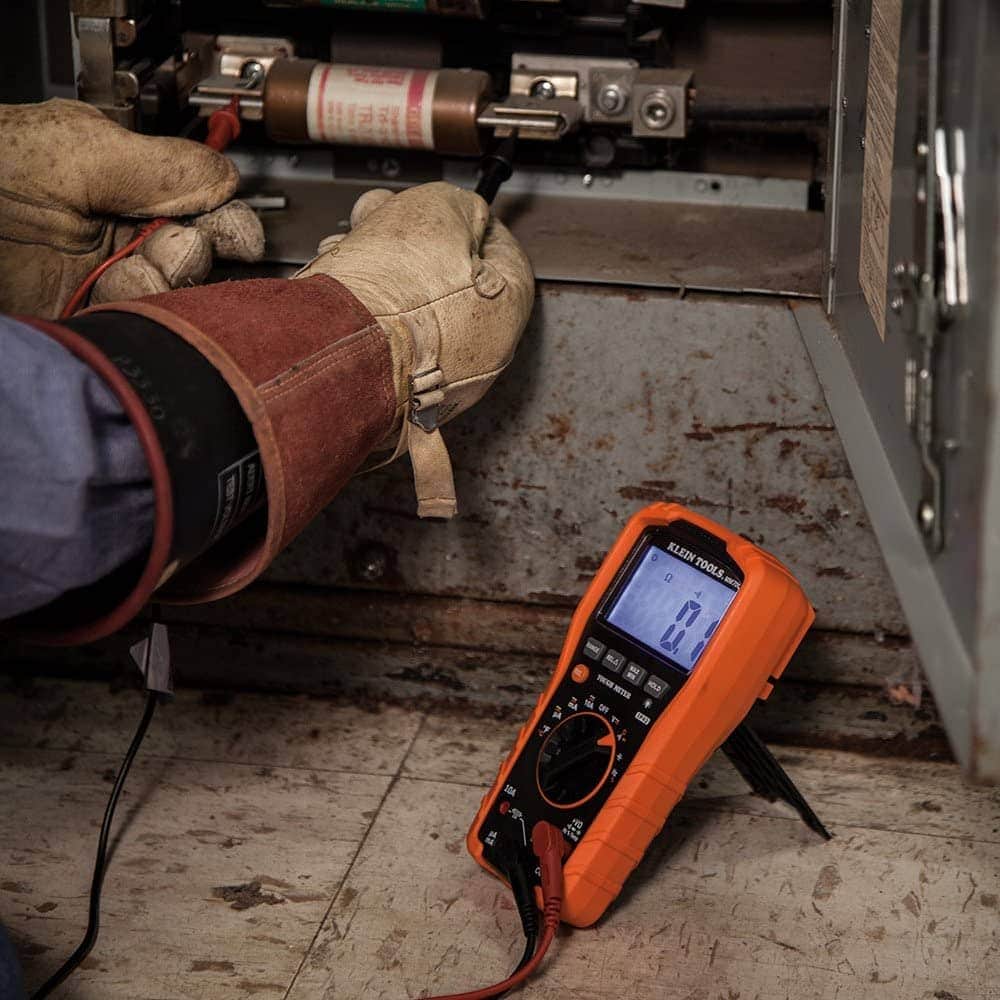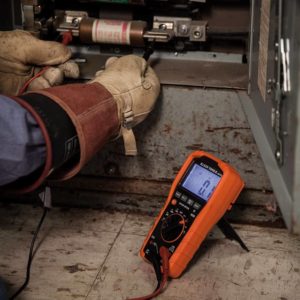 Multimeters are must-have tools for electronic technicians. The nifty devices can measure resistance, current, inductance, and various other parameters. All of these measurements are necessary when you're working with electronics. Moreover, having them all packed into one tool is very convenient.
However, when you're putting all your money into one device, it is vital that it is high-quality and works well. An inaccurate multimeter can lead to all sorts of problems.
In our reviews below, we'll discuss 10 of the best multimeters currently on the market for electronic technicians. We've also written a complete buyer's guide, which should help you determine the best tool for your specific needs.
---
A Quick Comparison of Our Favorites in 2023
Rating
Image
Product
Details

Best Overall

Klein Tools MM700 Multimeter

Very accurate
Durable
Designed to withstand drops
CHECK PRICE

Best Value

AstroAI WH5000A Digital Multimeter

Can take a variety of readings
Inexpensive
LCD backlit screen
CHECK PRICE

Premium Choice

Fluke 287 True-RMS Logging Multimeter

Measures a wide variety of data
Datalogging
LCD displays multiple measurements
CHECK PRICE

Fluke 117 Electricians True RMS Multimeter

Inexpensive
RMS technology
400 hours
CHECK PRICE

Tekpower Mastech MS8268 Digital Multimeter Meter

LED/sound warning when banana jacks are mixed up
Accurate
CHECK PRICE
The 10 Best Multimeters for Electronic Technicians
1.

Klein Tools MM700 Multimeter – Best Overall
The Klein Tools MM700 is equipped with root mean square (RMS) technology. This allows it to accurately measure voltage, resistance, capacitance, frequency, duty cycle, and other points of measurement. It is a great all-in-one option and can measure everything an electronic technician might need. It is also built to withstand regular drops and daily wear and tear. It is durable, so you can expect it to last quite a long time.
It has a low impedance mode for identifying and eliminating ghost voltage, making it even more accurate than other options on the market. The MM700 is the best overall multimeter we reviewed because of its high accuracy and durability. The main downside of this multimeter is that it cannot measure over 10A. For some electricians, that will be a problem. If you need to measure over this amount, you must look elsewhere.
Pros
Very accurate
Durable
Designed to withstand drops
Eliminates ghost voltage
---
2.

AstroAI WH5000A Digital Multimeter – Best Value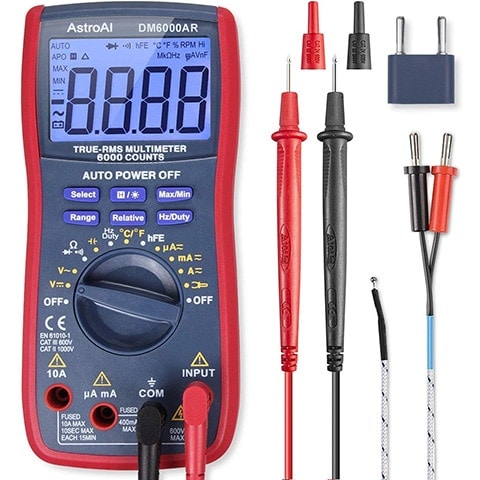 You may not be planning on using a multimeter very much or looking to spend as little money as possible. Either way, the AstroAI WH5000A is the best multimeter for the money. It can do a wide range of tests, including voltage, current, resistance, continuity, frequency, and more. Despite its low price, it has professional-level features, including measuring AC and voltage.
It is made for professionals but is at a much lower price than some other options on the market. You'll also like how easy it is to use. It has a large LCD backlit screen, auto shut-off, and a hanging magnet. The designers had customers in mind when designing this multimeter. It also has a 3-year warranty, which is always a nice plus. One point of note: the frequency counter's upper limit is 16 MHz, not 60 MHz, as the description states.
Pros
Can take a variety of readings
Inexpensive
LCD backlit screen
Auto shut-off
Cons
Frequency counter upper limit is 16 MHz
---
3.

Fluke 287 True-RMS Logging Multimeter – Premium Choice
The Fluke 287 is extremely expensive. It costs much more than most of the competition. However, for the high price, you do get quite a few added features. For example, it has auto and manual ranging. It can measure voltage, current, resistance, frequency, and several other electronic measurements. It provides accurate readings on all these points, even when measuring linear and nonlinear loads.
The data logging feature includes minimums, maximums, and averages. It even includes on-screen graphing, a real-time clock, and a data export to a computer. The LCD shows multiple measurements concurrently and can plot measurements on a single line to find irregularities over time. This can be extremely helpful in certain situations. The problem with the Fluke 287 is that it is too expensive.
Pros
Measures a wide variety of data
Data logging
LCD displays multiple measurements
Very accurate
---
4.

Fluke 117 Electricians True RMS Multimeter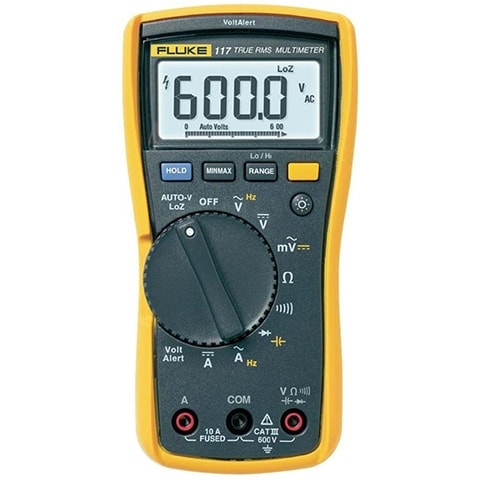 The Fluke 117 is a cheaper variation of our premium pick. It is most suitable for non-contact voltage detection, but it can also operate in a variety of other modes. It has a low input impedance, and it doesn't provide false readings due to ghost voltage. It also has a large, white LED backlight. It is very readable in dim areas and perfect for electricians who may not always be working in the best light conditions.
Furthermore, it has true RMS technology for very accurate readings. In fact, it is about as accurate as any of the others we've reviewed thus far. It has a long battery life of over 400 hours without using the backlight. The backlight will run the battery down faster. It has a 3-year warranty, which is about average for these tools.
There are very few negatives regarding this meter. It doesn't have some of the features that many of our top picks do, which is why it is rated so much lower. One of the few negatives we found was that the backlit screen is harder to read than other brands. The contrast between the screen and the numbers is not significant.
Pros
Inexpensive
RMS technology
400 hours
Cons
Backlit screen is hard to read from some angles
---
5.

Tekpower Mastech MS8268 Digital Multimeter Meter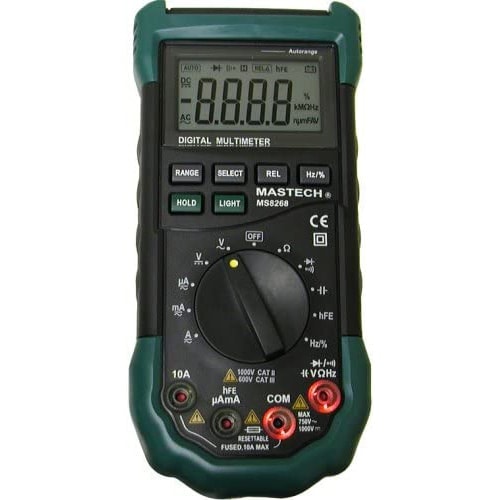 As an average multimeter, the Tekpower Mastech MS8268 is not terrible, but it isn't great either. It has an LED and sound warning when incorrect banana jacks are plugged into the machine. This is a commonly overlooked feature, but it can help you get the correct reading if you get the banana jacks mixed up. The auto and manual ranging also help you get the correct readings. These features make the Tekpower multimeter very accurate. It is on par with the other multimeters we've reviewed thus far.
However, it's too slow and takes several seconds to get the reading, which can be difficult when you're trying to hold the leads steady. Continuity testing is also slow, which results in other problems. It also crackles a lot, so it likely has trouble making solid contact. Plus, the hold is manual. We don't have three hands, and we doubt you do either.
Pros
LED/sound warning when banana jacks are mixed up
Accurate
Click here to see the top clamp meters!
---
6.

Crenova MS8233D Auto-Ranging Digital Multimeter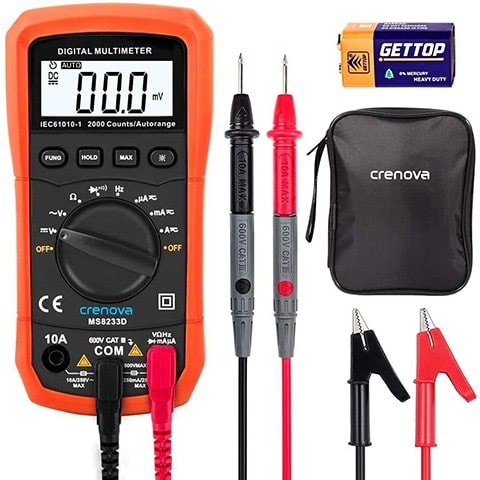 The Crenova MS8233D is a decent multimeter. It has a built-in double fuse, which protects it from overloading on all ranges. This is a great safety feature that also improves the machine's longevity. It features an auto-ranging feature but not a manual option. This may not be a big deal to some people, but it is a feature most other multimeters have. The backlight display is decent and can be read in dim areas.
This Crenova runs on a 9V battery, which comes with the multimeter, but you will need to change it regularly. However, it just isn't worth the money based on how slow it reads. It can be challenging to read changes or intermittent signals, and you basically have to get lucky! There is nothing to hold the leads, so when you put it up, you'll need to use bread ties or something similar to keep it neat and orderly.
Pros
Double fuse
Backlit display
Cons
Very slow
Nothing to hold leads
---
7.

Etekcity MSR-R500 Digital Multimeter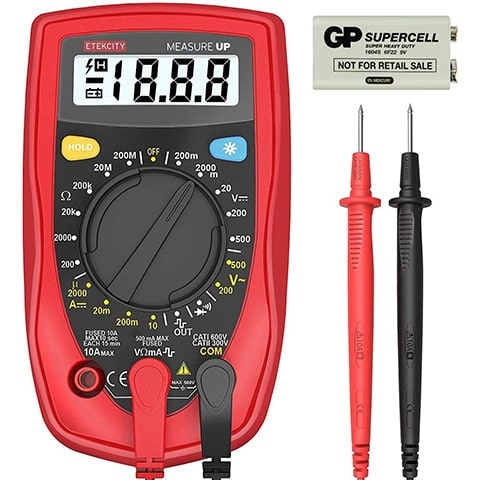 We wanted to like the Etekcity MSR-R500. However, there just aren't enough positives to outweigh all the negative features. It can test for all the usual metrics, including DC, voltage, resistance, continuity, and more. The backlit display is easy to read, and it has a built-in support stand, which is always a nifty feature. The Etekcity multimeter is protected from overloading as well, and a rubber sleeve provides some protection against drops.
One of the big problems we ran into with this meter is that it cannot be used to test AC. This will be a problem for professionals, who never know exactly what they will be reading that day. You must purchase a different multimeter for AC currents, which means you'll have to spend more money.
It also has low-quality leads—much lower than we expected at this price point. Accessing the battery is also incredibly difficult, which is absolutely unnecessary. Unfortunately, Etekcity did not think it through when designing this meter.
Pros
Backlit display is easy to read
Overload protection
Cons
Low-quality leads
Can only read DC currents
Battery is difficult to change
---
8.

KAIWEETS Digital Clamp Meter
With true RMS technology, the KAIWEETS Digital Clamp Meter is pretty accurate. It can accurately measure various metrics, including currents, voltage, frequency, etc. It is also accurate for non-linear loads. The low input impedance also prevents false readings due to ghost voltage, making this machine even more accurate.
However, the accuracy does not compensate for all the negative features we discovered with this meter. The KAIWEETS is a bit expensive for what it is. Your money is probably better spent elsewhere! You can likely find an equally good meter for much cheaper in our value pick.
It also has a difficult time measuring small currents, which can be a problem for professionals. The KAIWEETS meter does not come with an alligator clip for the leads, either. It is a simple feature, but it makes the machine much easier to use.
Pros
Accurate
Prevents ghost voltage
Cons
Expensive
Doesn't measure small currents
No alligator clip
---
9.

Fluke 179/EDA2 Industrial Electronics Multimeter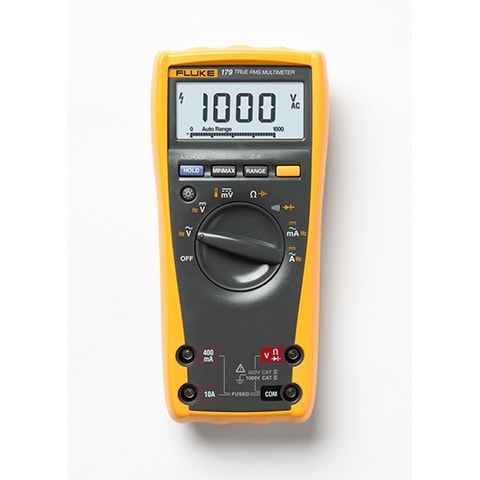 The Fluke 179/EDA2 comes with various accessories, which is its main selling point. It is advertised as being a "combo kit" for this reason. However, even though it is a "combo kit", you aren't getting much extra, so don't let the advertising fool you. Despite that, it is quite expensive. In fact, it's much more expensive than some of the other multimeters we've reviewed.
The low-quality accessories are disappointing, and the carrying case is not the best; we don't expect it to last very long. It also doesn't have alligator clips, which is a must-have accessory that we would expect a "kit" to come with. All the accessories barely fit in the case, so you may have to buy a new one anyway.
Cons
Expensive
Low-quality carrying case
Alligator clips not included
---
10.

Amprobe 30XR-A Multimeter
While the Amprobe 30XR-A Multimeter doesn't necessarily look low-quality, there are many features we didn't like (and we doubt you'd like them either). It takes a very long time to work. We're talking about several seconds, which can be very frustrating if you're making multiple measurements simultaneously. It is especially slow for capacitors and continuity tests.
The leads for this machine are not made out of silicone, which makes them stiff and somewhat hard to use. It isn't that they're impossible to use, but they are considerably more difficult and frustrating to use than we would have liked.
This multimeter also doesn't have a carrying case, which is almost unheard of. This increases the chance that it'll break and that you'll lose pieces. It comes with an alligator clamp. However, where are you supposed to put it when you aren't using it?
Cons
No case
Leads are inflexible
Very slow
---
Buyer's Guide – Choosing the Best Multimeters for Electronic Technicians
A lot goes into a good multimeter, especially if you're a professional! However, these machines look the same on the outside, and the descriptions can be confusing and misleading. Figuring out which one you need can be difficult.
It isn't just a matter of choosing the most expensive or "best" option. Which one is best for your needs depends on your situation.
What Are You Using It For?
Even as an electrical technician, you may be working on various projects. If you work on mostly AC equipment, a unit that can only measure DC isn't going to be very helpful. Furthermore, professionals must consider factors like interference, vibration susceptibility, and resistance. When you're an electrician, getting your readings wrong can have serious consequences.
On the other hand, homeowners can likely get away with a cheaper model since they'll be calling in a professional for serious repairs, anyway. Plus, as a homeowner, you won't use the meter as much, and the multimeter's durability is less of a concern.
Accuracy
Preferably, you want the most accurate multimeter you can afford. Of course, it is a bit more complicated than choosing a meter with the highest accuracy rating. Accuracy is dependent on several actors. Multimeter readings change depending on the tolerance levels. For example, one with a low tolerance will be best for home use, while higher tolerance levels are best for industrial settings.
Once again, what you plan on doing with the meter matters. Accuracy also has a direct relation to cost. More accurate meters usually have more features that help them stay accurate, which will cost more money. If you have no budget, you can probably splurge on a high-end model. However, those on a budget are going to have to consider how much accuracy they really need. Not everyone needs the most accurate option.
True RMS Technology
True RMS handles alternating currents, but some users don't need multimeters that can read AC currents. However, many devices run on AC these days, so it is a must-have feature for most professionals. Some multimeters have difficulty reading AC because it tends to be sinusoidal and runs in short pulses. Computers and similar electronics all run on AC, so we highly recommend purchasing a multimeter that has this feature built-in.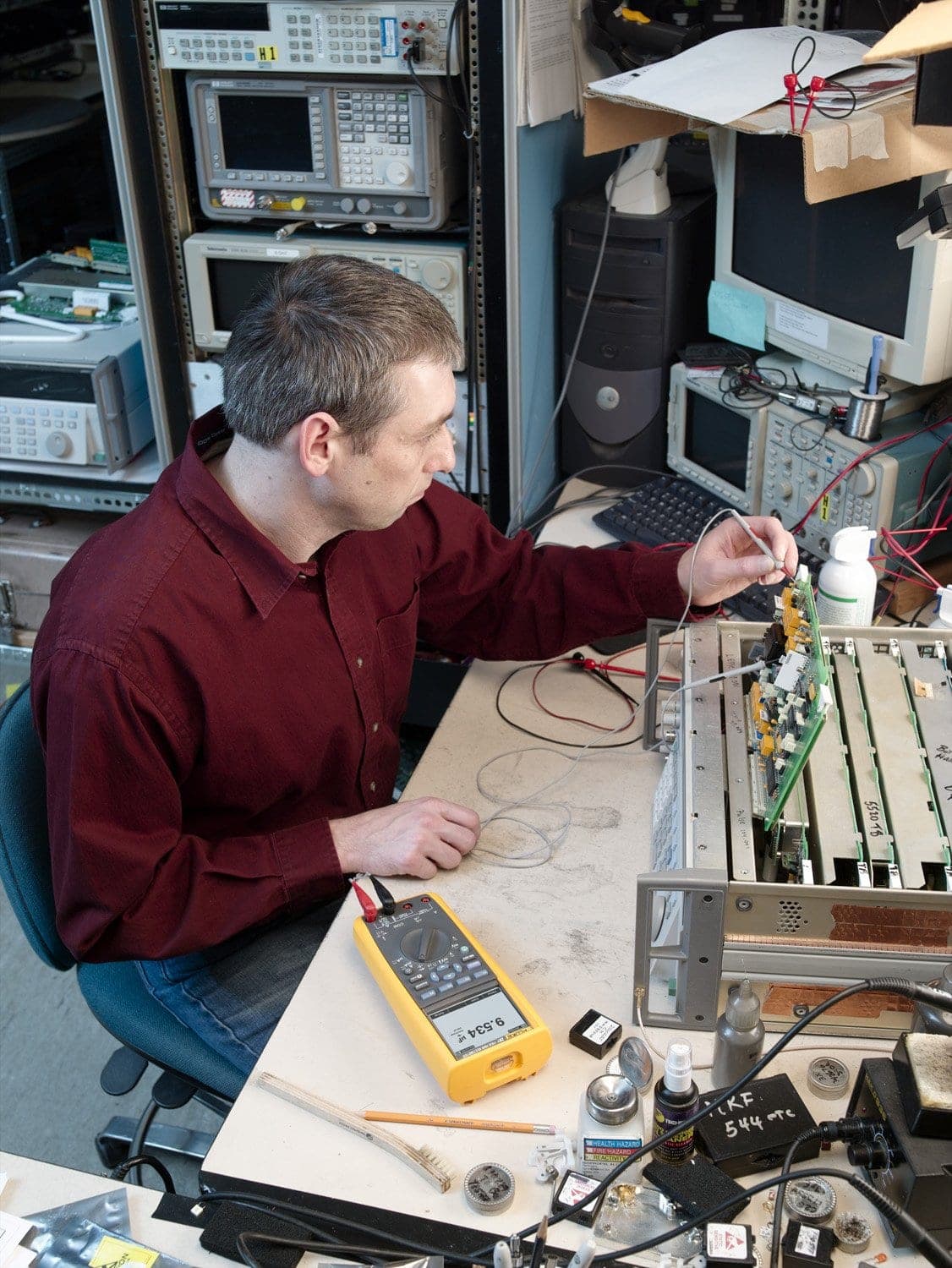 Auto-Ranging
This is a common feature most multimeters have because it is so important. However, we did come into contact with a few multimeters that did not have this feature, which really surprised us. Because we consider it vital to any professional, we highly recommend only buying a multimeter if it comes with an auto-ranging feature.
Auto-ranging allows the multimeter to set the correct measurement range automatically. This is not necessarily a must-have for homeowners, but it can save professionals a lot of time and frustration. Many devices in our reviews have auto-ranging.
Cost
Some multimeters are incredibly expensive, while others are budget-friendly. We recommend considering how much money you have to spend before you start shopping.
Typically, more expensive brands will have better features and be more accurate. However, don't assume that a multimeter is better just because it costs more. We reviewed several meters that were unnecessarily expensive. You don't want to spend more money; you want to spend your money wisely.

Conclusion
We hope this article helped you determine which multimeter is best for you. The Klein Tools MM700 is the best overall option for most professionals. It is very accurate, durable, and measures practically everything we expect that you may need. If you need to spend as little money as possible, we recommend the AstroAI WH5000A. It is accurate and has several features, like LCD backlights. The AstroAI is best for those that are on a budget.