10 Best Automotive Multimeters of 2023 – Reviews & Guide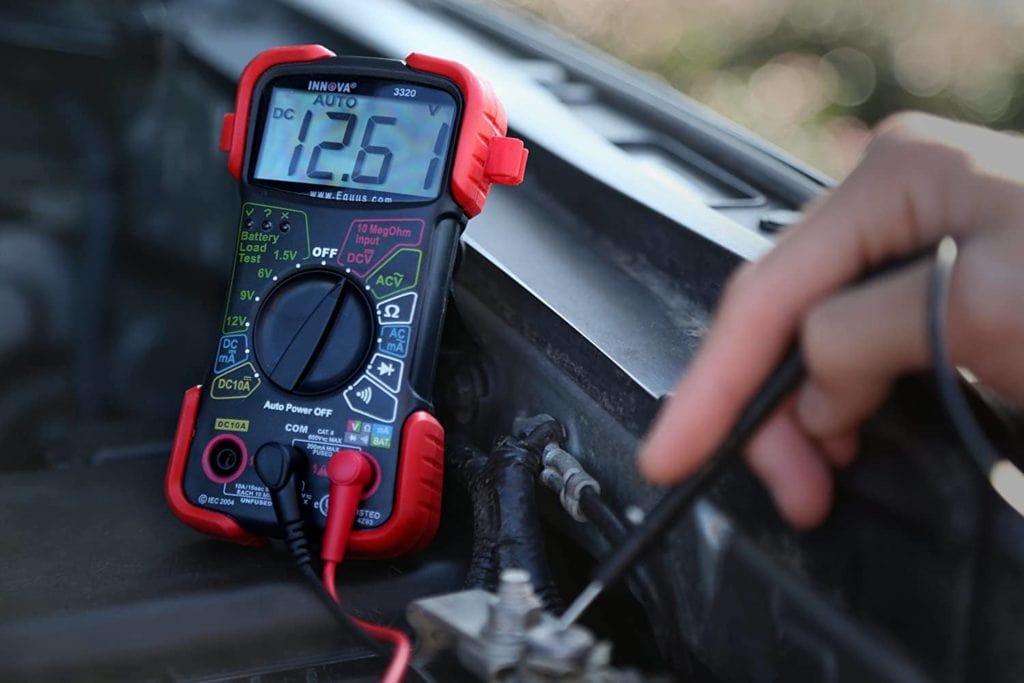 If you own a car, you should also own an automotive multimeter. Troubleshooting becomes exponentially easier with this handy tool, and there are plenty available to fit anyone's price point and feature requirements. There's an abundance of options on the market, making it a bit daunting to choose the best one for your needs. Beginners might find it difficult to sift through the jargon and technical features, while professionals still find themselves stuck reading reviews, comparing stats, and weighing prices for hours.
That's where we come in. We've tested the best multimeters out there to give you a quick view of the features, performance, and drawbacks for each. Weigh the options in our reviews and top picks list to position yourself to make a great choice about the very best multimeter to fit your specific needs.

A Quick Comparison of Our Favorites in 2023
Rating
Image
Product
Details

Best Overall

Innova 3340 Automotive Digital Multimeter

Auto-range function
Easy-to-read display
Probe storage
CHECK PRICE

Best Value

INNOVA 3320 Auto-Ranging Digital Multimeter

Safe
Durable
Battery check LEDs
CHECK PRICE

Premium Choice

Fluke FLUKE-88-5 88V Automotive Multimeter

Durable
Fast
Accurate
CHECK PRICE

Fluke 117 True RMS Multimeter

Ideal for electricians
Optimized for safety
Accurate readings
CHECK PRICE

AstroAI WH5000A Digital Multimeter

Comparatively accurate
Affordable price point
Straightforward use
easy for beginners
CHECK PRICE
The 10 Best Automotive Multimeters
1.

Innova 3340 Automotive Digital Multimeter – Best Overall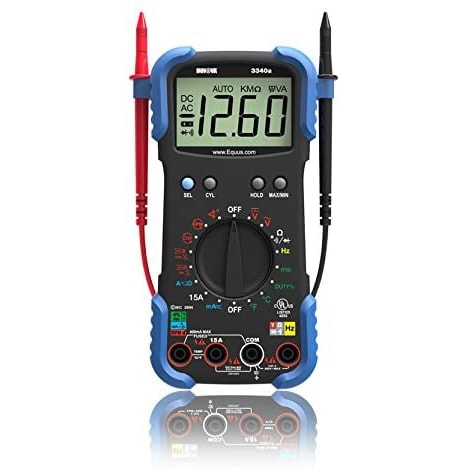 Safe, accurate, and thorough, the Innova 3340 is our choice for best overall automotive multimeter. We love the large readout screen, helpful auto range, and probe storage. Plus, this model offers reverse polarity protection, auto shut-off, RMP readings and alternator tests. It comes in a convenient nylon pouch and is also helpful for temperature readings (in both Fahrenheit and Celsius) and detecting leaks. Stay on top of your usage with the battery quick check LEDs, and keep your gear in tiptop shape with protective rubber guards.
This one's great for both professionals and hobbyists alike, with supportive troubleshooting processes that will come in handy for pinpointing a wide variety of electrical problems in the home or car, safely. Store and retrieve your previous data using the min/max and hold buttons. To prevent damage to the ECU, this multimeter uses the 10 MegOhm impedance. This model is the best choice for testing alternator diodes, solenoids, breaker points, switches, wiring, duty cycle, and more.
Pros
Auto-range function
Easy-to-read display
Probe storage
Temperature reading
Cons
Slightly higher price point
Only CAT 2 rated (cannot be used on meter panel)
Short delay in continuity tester
Slow connection tests
---
2.

Innova 3320 Auto-Ranging Digital Multimeter – Best Value
This one tops our list of best automotive multimeters for the money. Packed with features and priced at an absolute steal, this multimeter is a perfect addition to your own toolbox or a great gift for the budding auto enthusiast in your life. With a large display and color-coded battery check LEDs, the model is easy to navigate and clear to use. You don't have to worry about dialing in the correct range for electronic measurements, because the auto-ranging scales take care of it for you.
We love the convenience of the hands-free use. The model comes equipped with attachable test leads, holders, and a stand so your hands aren't all tied up when you're using it. For AC and DC voltage, use the single setting resistance function. When compared with the Innova 3340, this model is just as sturdy, safe, and reliable, but it lacks some extra capabilities like RPM reading, alternator test, and temperature reading. A small price to pay for the awesome, well, price.
Pros
Safe
Durable
Battery check LEDs
Competitive price
Cons
No RPM, alternator, or temp readings
Only CAT 2 rated (cannot be used on meter panel)
Slow connection tests
---
3.

Fluke FLUKE-88-5 88V Automotive Multimeter – Premium Choice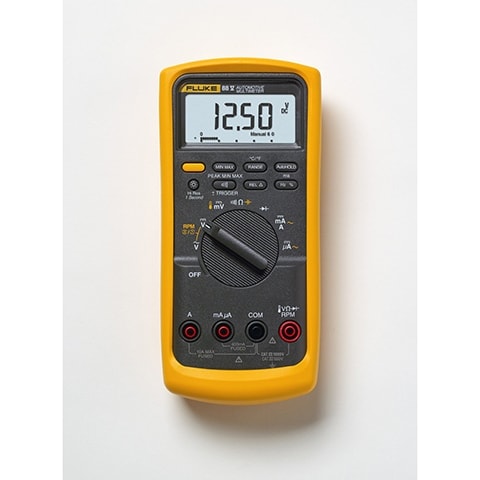 For the very best power offering on the market, opt for the Fluke-88-5 88V. This model can handle anything you throw at it and is safety rated for CAT III to 1000V and CAT IV to 600V. Measuring up to 1,000V AC and DC and frequency to 200 kHz and % duty cycle, this model is unmatched in both functionality and accuracy. Capabilities like measuring resistance, continuity, diode test and temperature are all accounted for here, too.
This is the option best suited for automotive professionals. Get fast, accurate data to help you troubleshoot and problem solve for both hybrid and conventional vehicles. No more waiting around for readouts or foot-tapping while your device calibrates. The interface is easy to use, and the tool comes in handy for home wiring as well. We love the battery life, durability and reliability of this model, plus it comes with a limited lifetime warranty and unfailing customer support.
Pros
Durable
Fast
Accurate
Wide range of capabilities
Powerful
---
4.

Fluke 117 True RMS Multimeter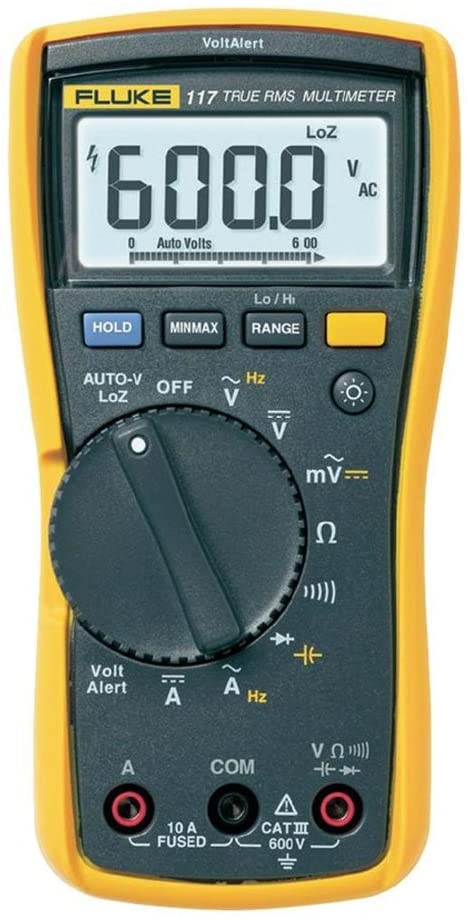 With a category III 600 V safety rate, the Fluke 11 True RMS Multimeter lives up to tough tasks electricians face each day. Stay safe from surges at 6kV peak per IEC. With quick output and integrated non-contact voltage, you can provide premium accuracy while protecting yourself from powerful electrical events. For automatic AC/DC voltage selection, use AutoVolt to get you there faster. Working in dim lighting? No problem for this LED-backlit display! Plus, you can couple it with a magnetic hanger and work hands-free.
While other models may be better for automotive professionals, we love this one for electrical work. With True RMS technology, you can get accurate measurements even with non-linear loads. Test for frequency, resistance, continuity and capacitance and accurately analyze data with min/max/average readings. Rest easy knowing you can trust your results, since the low input impedance blocks out false readings caused by ghost voltage.
Pros
Ideal for electricians
Optimized for safety
Accurate readings
Easy to read display
LED backlight
Cons
Only 90-day warranty
Lacking key automotive features
---
5.

AstroAI WH5000A Digital Multimeter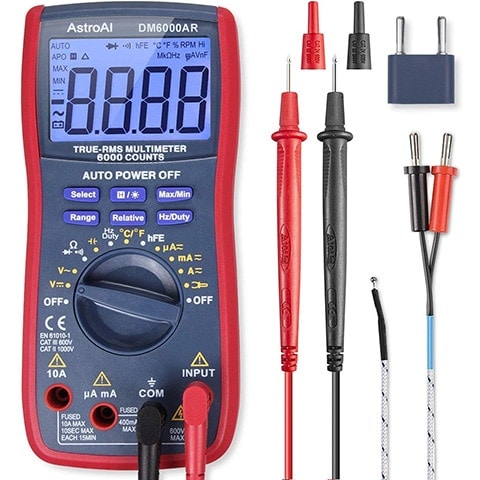 Hobbyists and DIYers rejoice! For professional level readings at an affordable price, AstroAI WH5000A Digital Multimeter is a great option. These offer a competitively wide range of tests, including voltage, resistance, current, capacitance, continuity, frequency, diodes, transistors and temperature. If you can't live without auto range, have no fear – you'll find it here. Plus, the sampling speed is fairly quick at two times per second. This model will even determine whether the current you are measuring is AC or DC, by itself!
As far as safety features go, this model makes an excellent showing with explosion-proof ceramic fuse tubes and overload protection on all ranges. It's rated at CAT III 600V, CAT II 1,000V. Use it conveniently no matter what your workspace looks like – it's equipped with both a hanging magnet and a kickstand!
Pros
Comparatively accurate
Affordable price point
Straightforward use, easy for beginners
Ceramic fuse tubes
Cons
High frequency (5V P-P) required to obtain reading.
Frequent beeping that cannot be disabled
Relatively low safety rating
---
6.

Tekpower Mastech MS8268 Digital Multimeter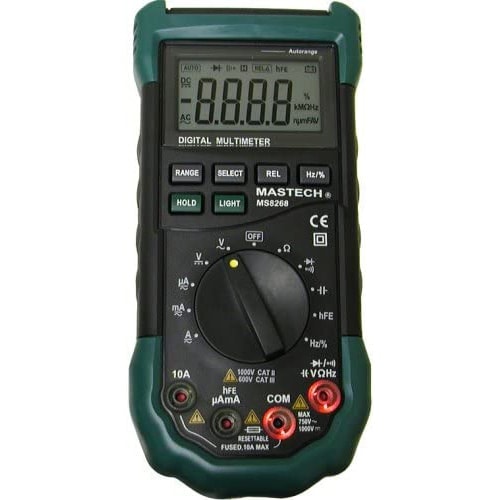 Safety features like sound and light warnings and accessibility details such as the back-lit LCD screen make this multimeter a nice middle-ground buy. Beginners love that this model's flashing lights will indicate which port to use if you're accidentally connecting to the wrong one. To protect the battery, this model will also notify you if it's left on for a while without use.
With a one-year warranty, sleek small size and crystal-clear display, this model makes most beginner and hobby users very happy. The model can even measure ~A up to 10A! If you're looking for a highly accurate, decked-out multimeter, though, this may not be a match made in heaven. Frustrations that are small to recreational users become daily hindrances to your profession. For example, the multimeter doesn't zero out by itself and the display update is slow. This model runs on three AAA batteries, but some users find that the device doesn't hold a charge quite as long as we'd hope.
Pros
Light and sound warnings
Supports for beginners
Large and clear display
Cons
Less accurate
Cheap-feeling plastic design
Short battery life
---
7.

Proster PST99 Autoranging Digital Multimeter

Test surrounding temperature, liquid temperature, battery and AC/DC voltage and current with a simple and durable design you'll find in the Proster PST99 Autoranging Digital Multimeter. With auto-ranging capabilities and basic functionality like resistance, frequency, and duty cycle measurements, this model doesn't leave too many features off the table.
They've got safety covered too, with a low battery voltage indication, warning alarm, and overload protection on all ranges. Their design keeps convenience top of mind, flaunting a nifty carry bag and a built-in support stand for hands-free use. On the other hand, the LCD display does not have a backlight, which can make the display tough to see depending on your workspace. If steadfast accuracy is a must, this tool may not be the one for you, as side-by-side tests have shown some fluctuations in readings in mA mode. The speed of this model also leaves a lot to be desired, as the machine takes longer than most for the value to stabilize.
Pros
Safety features
Carry bag
Support stand
Cons
Cheap plastic feel
Unreliable accuracy
Slow testing speeds
---
8.

Klein Tools MM600 HVAC Multimeter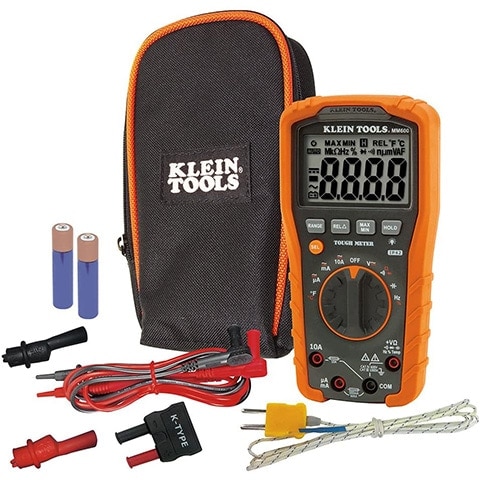 Designed with durability in mind, Klein Tools MM600 HVAC Multimeter is built to sustain a 6.6-foot drop and put up with any jostling around that your toolbox or job site might require. The specs here are impressive, with the tester measuring up to 1,000V AC/DC voltage, 10A AC/DC current and 40M resistance in addition to offering auto range and readings on temperature, capacitance, frequency, duty-cycle, continuity and test diodes. Impressively, the model also boasts a safety rating of cat IV 600V/cat III 1000V. If you're looking for basic use in your home or business with a controlled electromagnetic environment, this may be the choice for you!
If you're looking to measure above 10A, though, look elsewhere. We also have concerns about the auto-ranging feature on this model, which doesn't always seem to work as expected. This is also geared more toward electricians than auto professionals.
Cons
Faulty auto range
Can't measure high amps
Lacking auto features
---
9.

Amprobe 4018636 Multimeter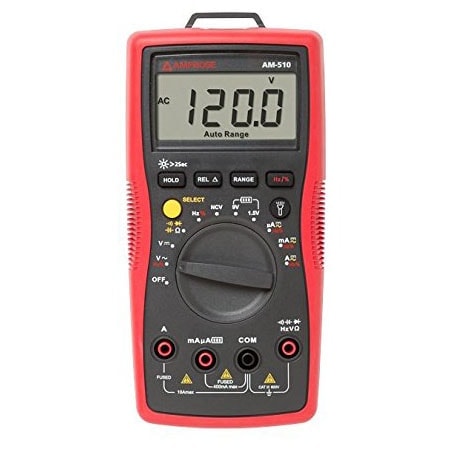 The Amprobe 4018636 Multimeter packs in the safety features and earns a CAT III 600V rating. Notably, the model utilizes low impedance mode to eliminate stray voltage. With an eye for productivity, designers of this Amprobe multimeter included a low-pass filter to accurately measure variable frequency drives. Plus, there's no need for manual calculation because this model provides dual thermocouples for differential measurements.
Attentiveness to typical user experience shines through in convenient features like the backlit thermal display, the capacity to record measurements, and the built-in stand to free up your hands.
A few concerns have come up around the quality of the included probes as well as the reliability of the non-contact voltage detector and the battery tester. We also found the bulkiness a bit cumbersome. Plus, we found ourselves impatient waiting 4-5 seconds for each stable measurement to come through.
Pros
Affordable
Backlight
Built in stand
Cons
Unreliable battery reader
Long wait time
Bulky design
Display is somewhat difficult to read
Included probes are low-quality
---
10.

PDI PDI 895 Handheld Automotive Multimeter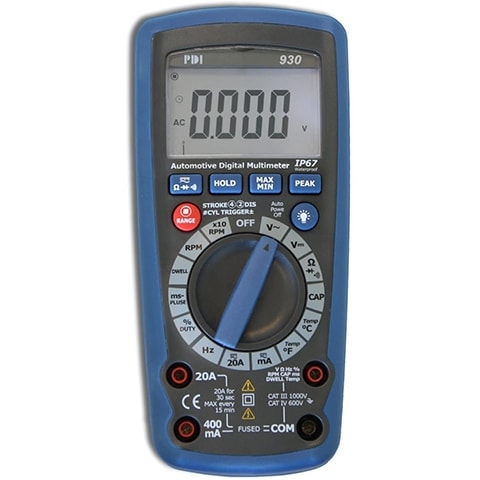 Measure ~A up to 10A with this basic, no-frills PDI 895 Handheld Automotive Multimeter. It provides a full range of measurements, including current, RPM, capacitance, frequency, resistance, dwell angle, duty cycle, AC/DC voltage, and temperature. Use the included magnetic hang strap to conveniently reference the multimeter while still using your hands. Auto range enthusiasts are accounted for here, too!
We noticed a need to reboot more often than we would have liked, as the device tends to lose calibration sometimes. The design and display also leave much to be desired, with clunky knobs and readings that require a bit of extra deciphering. If you're looking for style or even an up-to-date device, look elsewhere.
Cons
Overpriced
Heavy
Antiquated design

Buyer's Guide – Choosing the Best Automotive Multimeter
If you've never purchased an automotive multimeter before or you're just not sure how to compare features, don't fret! We've got you covered on how to sort through the most important features, take stock of your specific needs, and select the automotive multimeter that's truly best for you.
Safety
Working with electricity always entails some level of risk, but technology and safety features have come such a long way that there's no need to tempt fate unnecessarily anymore. If you're an electrician looking to use a multimeter in your line of work or even an auto enthusiast planning to run a wide range of tests, be sure to look for safety ratings of at least CAT-III 1,000V and CAT-IV 600V for peace of mind. For more intense users, ceramic tubing is an important look-for as it can protect you and your device from explosive currents.
Durability
Do you travel with your tools for work or to help out friends? Are you providing a multimeter for your business, where it'll pass through many hands and might be tossed around? The inside of a toolbox is a tough place, and you need your multimeter to survive. Look for features like protective rubber guards, scratch-proof displays, and tough materials to ensure you're purchasing a long-lasting and reliable multimeter.
Holders and Stands
Look ma, no hands! The last thing you want to have to worry about when you're on your back beneath a car is how to hold onto your huge assortment of different tools and gadgets. If you've found yourself in that situation before, you know how frustrating it is. For professionals and frequent users, the need for stands, holders, and magnetic attachments intensifies. Be sure that along with your high-quality readings comes true ease of use.
Size & Display
Depending on main use and the features on a model, sizes and displays can vary quite widely across multimeters. Consider size as you match up your ideal multimeter to your lifestyle and uses. Will you need to transport it much? Does it need to fit in your toolbox, a backpack pocket or a belt? Does the weight concern you? Get clear on the answers to these questions to be sure your new multimeter will fit into your needs with ease.
Lighting, clarity of readouts, and text display size are all considerations when choosing the right multimeter for you. If you're planning to do lots of work beneath cars or in dimly lit spots, be sure to select a model that's backlit, preferably by LED. Users who need to make quick or repetitive readings don't want to spend time squinting at a screen and generally prefer large, crystal clear displays that are easy to understand quickly.
Battery Life
For users who will just need to consult their automotive multimeter every now and then for one-off troubleshooting or a hobby, most models will likely offer a perfectly fine battery life. However, for professionals, interrupting important work to change out batteries or charge up is that last thing you want to make room in your day for. If you're looking to use your multimeter heavily or for work, it's worth taking the time to look into battery life for your model options.
Can't-Miss Features
Your line of work, vehicle specifications, home electricity details or common issues will dictate which features you need to prioritize. Can you live without temperature readings? Do you find yourself wishing you could run quick battery checks? How many minutes each day would an auto-ranging feature save you? Features that are virtually meaningless to one user might be the selling point for the next, so before you act on reviews at a glance, be sure you're buying the features you actually came for.
Main Uses
Types of use and frequency of use can also help you determine what specs you need in a multimeter. Safety requirements are vastly different for an electrician versus an automotive professional versus a hobbyist, and double checking that safety ratings match up with your needs is likely your most important step for narrowing down your model options.
Your expected main uses also impact which readings and how much speed you're looking for in a multimeter and can help you establish an appropriate price point for your needs. If you've got some room for error, or don't need auto-ranging, there's likely no need for you to go and spend a premium price on a multimeter.
Budget
As we all know, cheaper certainly is not always better. Reliability, durability, speed, accuracy, and range of features generally increase with price point. While it can be tempting to buy a cheap automotive multimeter, ending up with a tool in your hands that doesn't do what you need it to do is not only frustrating but is also a time suck. And you know what they say – time is money.
That said, it doesn't make sense to pay for features you don't need or to blindly choose a model simply because of its premium price point. Once you've established a budget for your automotive multimeter, evaluate the options within that range to be sure that what you're paying for will have true value to you in your work or hobby.
Skill Level
Some multimeters are more beginner-friendly than others. If you're anticipating a steep learning curve as you figure out how to use your multimeter, opt for something simple that offers plenty of safety features (nothing scarier than playing with electricity when you're not sure what you're doing!). You likely don't need all the bells and whistles yet, you need a clean display and intuitive use.

Conclusion
Everyone's needs will vary a bit and your must-have features may not be the same as your neighbors, but our reviews should help you to establish a baseline gist for the best options on the market right now. Overall, if you're looking for thorough functionality, safety features, and ease of use, the Innova 3340 is your best bet. If you're looking to cut your price point without sacrificing too many features, opt for the Innova 3320 instead and try not to miss the temperature reading feature too much! If you're a true pro and aren't phased by a bit of extra expense in exchange for top of the line features and steadfast dependability, the FLUKE-88-5 88V 1000V Automotive Multimeter is your best bet.
Regardless of where you land, we hope our reviews and rundown of products, price points and features helped out in your decision-making process! Enjoy!