10 Best Clamp Meters of 2023 – Reviews & Top Picks
It's no secret that you usually need two hands to handle the probes when testing electrical current. This can often lead to difficult situations with nowhere to set your meter and see your measurements. To solve this problem, clamp-on meters free your hands for the probes. Moreover, the clamps can often detect continuity without contact.
If you look for a clamp-on multimeter, you'll quickly notice that there are many options. What sets these devices apart and causes them to be priced so differently? Which meter will do everything you need without extra frustration and headaches? We've tested the best clamp-on multimeters to help narrow the choices to our top recommendations. The following 10 reviews will compare what we learned about each of these multimeters.
---
A Quick Glance at the Winners of 2023
Rating
Image
Product
Details

Best Overall

UEi Test DL369

4-MOhm resistance
Very accurate
Runs off 2 AAA batteries
CHECK PRICE

Best Value

Tacklife CM02A

Very affordable
Low impedance
Backlit display
CHECK PRICE

Premium Choice

Fluke 324

CAT-III and CAT-IV safety ratings
True RMS sensing
Wireless continuity sensor
CHECK PRICE

Etekcity Auto-Ranging

Affordable
20-MOhm resistance
CHECK PRICE

Uni-T B4Q094 Mini

20-MOhm resistance
True RMS
Small form
CHECK PRICE
The 10 Best Clamp Meters
1.

UEi Test DL369 Clamp Meter – Best Overall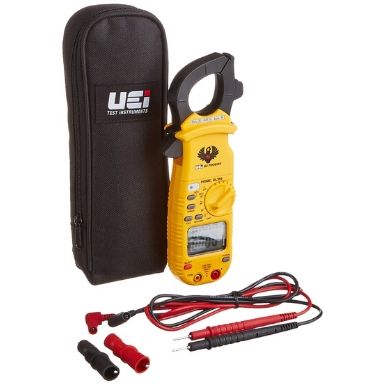 Mid-range pricing with high-end performance makes the UEi Test Instruments DL369 digital clamp-on meter our pick for the best overall. The 4-megohm max resistance is very respectable for a clamp-on type meter and allows you to deal with high-resistance systems. Of course, one of the most important aspects of a multimeter is accuracy, and in our testing, this one was rock-solid across the board. When you consider the modest price, this tool has pretty impressive functionality.
We always appreciate it when a device runs off standard and inexpensive batteries. The UEi DL369 fits the bill, being powered by two AAA batteries. We were a bit disappointed at the lack of a backlit display, however. Electrical boxes are often dark areas to work in, so the extra help to see the screen would have been nice. That's a pretty minor gripe, and overall, we think this is the best clamp meter we tested.
Pros
4-MOhm resistance
Very accurate
Runs off 2 AAA batteries
---
2.

Tacklife CM02A Clamp Meter – Best Value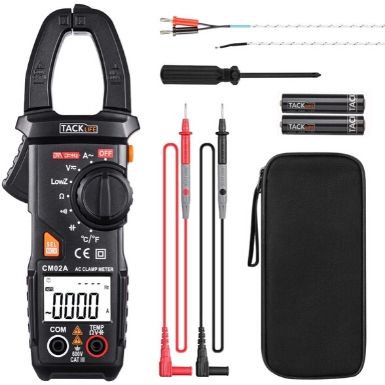 The Tacklife CM02A digital clamp meter is one of the most affordable products we tested. Despite that, it's an incredible performer that deserves the title of best clamp meter for the money. It features low-impedance operation for the highest accuracy possible. When you're in a low-light area and need a reading, this meter makes it simple with a very bright backlit display. This is a feature we'd love to see on every multimeter. Even better, this device runs on two AAA batteries, so you'll never have a hard time finding the batteries you need.
Of course, this tool isn't perfect, though it is a great value. We would like it if it had a higher max resistance since 6 kilohms isn't exactly impressive. For the price, it's hard to fault this meter for this one drawback. That's why we've given it the second position on this list and named it the best clamp meter for the money.
Pros
Very affordable
Low impedance
Runs on 2 AAA
Backlit display
Cons
Not good for measuring resistance
---
3.

Fluke 324 Clamp Meter – Premium Choice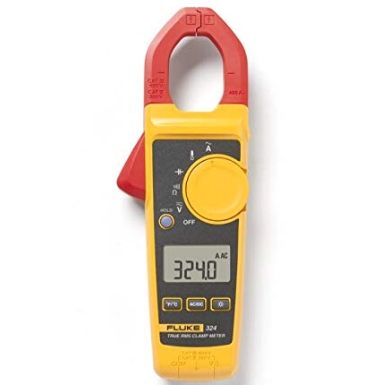 Fluke is one of the most well-respected names in electrical metering, so it should be no surprise that their 324 True RMS clamp-meter has earned our premium choice recommendation. Of course, it's expensive, but the quality is hard to beat. For instance, this device is safety rated for both CAT-III and CAT-IV. The clamp can open up to 30 millimeters and measure continuity in a circuit without touching or interrupting it. This function worked superbly and was one of the standout features of this model.
We always love convenience, and fortunately, the Fluke 324 has a backlit display to make it easy to see in any light conditions. The only real drawback is that this unit is not suitable for measuring resistance. The 4-kilohm max resistance it boasts is among the lowest on any unit we tested for this list. Granted, you would likely purchase a different meter if you were primarily testing high-resistance circuits, but we still would like to have the functionality. Although we have this one minor complaint, we think this meter is one of the best, which is why it's in our third position.
Pros
CAT-III and CAT-IV safety ratings
Backlit display
True RMS sensing
Wireless continuity sensor
Cons
Expensive
Only 4-kOhm max resistance
---
4.

Etekcity Auto-Ranging Clamp Meters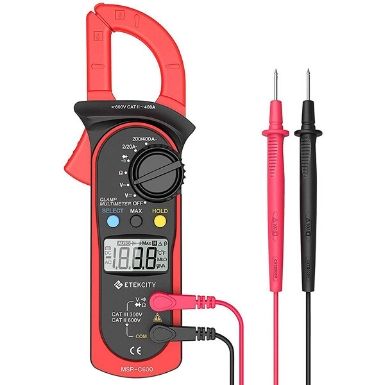 The affordably priced Etekcity MSR-C600 auto-ranging clamp meter is a very nice-looking device. This may not affect its performance, but it's worth noting. Performance-wise, one impressive trait of this meter is the 20-megohm max resistance. Compared to the meager 4 kilohms of the Fluke, that is a great rating that makes this a good option if you need to measure high-resistance circuits.
There is one significant drawback to this device that's hard to overcome. You cannot measure DC with this multimeter. Generally, clamp-on meters will be used for standard electric work so AC should be sufficient for most people. Besides that, our only real complaint is that the screen is not backlit. It's frustrating to have your hands full with probes and your meter positioned with the screen facing you, but you can't read the measurement. Though it's an excellent meter overall, these drawbacks will keep it from getting into our top three recommendations.
Pros
Affordable
20-MOhm resistance
---
5.

Uni-T B4Q094 Mini Clamp Meter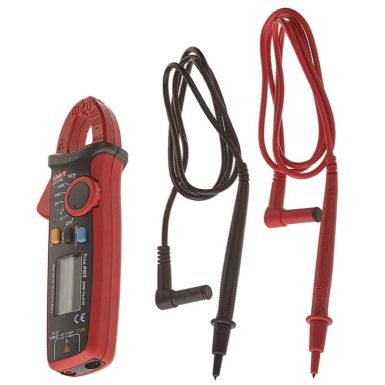 It's hard not to notice the tiny form factor of the Uni-T mini clamp meter. However, there's a lot more to this device than just its small size. To begin, this is a true RMS meter, a feature usually reserved for multimeters several times the price of this one. Even better, the 20-MegOhm max resistance means this is a very versatile meter that can measure high-resistance current. Though it's not one of the more expensive meters we tested, it's also not one of the cheaper ones, landing squarely in the middle of the pack.
Though it has plenty of great qualities, the Uni-T mini clamp meter also has some very noticeable drawbacks. First, this device has a very difficult time reading DC. It can do it, but you'll have to play around with it and be sure not to move during measuring, or it will mess with the current. Worse, the knob is low-quality and doesn't work as we hoped. We had trouble getting it to click into place properly, and sometimes it would zero repeatedly if not fully into a selection.
Pros
20-MOhm resistance
True RMS
Small form
Cons
Poor quality knob
Difficulty reading DC
---
6.

Meterk MK06 Clamp Meter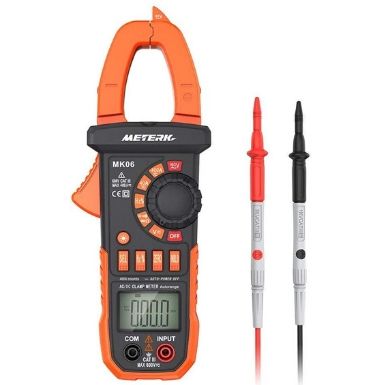 The Meterk MK06 digital clamp meter is modestly priced for a multimeter with true RMS capabilities. This is usually only present in multimeters that are considerably more expensive. Another great feature of this device that we liked was the non-contact voltage detection to tell if a circuit is hot without having to touch it. For working in areas with low light, a flashlight is built-in, and the screen is backlit.
Unfortunately, the backlight is dim, and the numbers don't stand out. Making matters worse, the screen is recessed, which makes it very difficult to see unless you're at the exact right angle. The final dark mark on the record of the Meterk MK06 is that it takes three AAA batteries to run. Most of the other meters ran on only two. This is a minor drawback, but compared with the rest, it keeps this meter from breaking the top 5.
Pros
Non-contact voltage detection
Flashlight
True RMS
Cons
Runs on three AAA batteries
Display is hard to see
Low-contrast on backlight
---
7.

Klein Tools Electrical Clamp Meters
Klein is a well-known name in electrical tools, so we expected quite a bit from this meter. It did look good on paper, with quite a few excellent features packed in. In our testing, it didn't live up to our expectations from Klein. We did like the receptacle tester that makes it easy to determine whether or not a circuit is active and which breaker any given outlet is on. The line splitter lets you draw up to 15 amps without splitting the power cord it's carried on. These were great features, but not everything was great.
This multimeter does not have true RMS capability, which is disappointing, given the price. It also requires three AAA batteries instead of the two we've become accustomed to on other units. Both of these would be excusable if the CL110KIT were consistent and accurate. In our testing, the readings were inconsistent at best and were not accurate enough for our needs. This is one of the most essential traits in a multimeter, and the Klein doesn't do well in this department. For these reasons, this meter doesn't quite make it into the upper reaches of this list.
Pros
Receptacle tester
Line splitter
Cons
Inconsistent readings
Needs three AAA batteries
No true RMS
---
8.

Voltcraft VC330 Current Clamp Meter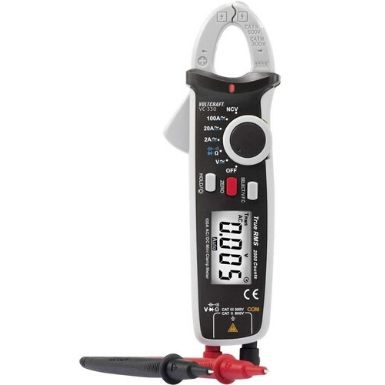 Voltcraft has built a pretty decent clamp meter in the VC330, though it doesn't do quite enough to get it into our top recommendations. The 10-megohm max resistance is quite respectable and much higher than many of the other clamp-style meters that we tested. Even better, this multimeter has true RMS capabilities, which we are impressed to see on a meter at this price point.
Though we were happy with some of the functionality that the VC330 provides, we weren't very thrilled with the small size of the clamp. This was the smallest opening that we tested at a mere 17 mm. If that were the only issue, this meter would undoubtedly rate higher on our list. However, it also picks up far too many ghost readings. This is something that we really couldn't get over since it can completely throw off your measurements. Those measurements also only read to 2,000 counts. While it's still a solid unit, we suggest picking something more reliable with a larger clamp.
Pros
10-MOhm max resistance
True RMS measurement
Cons
Clamp doesn't open far enough – 17mm
Picks up too much ghost voltage
Only 2000-count measurements
---
9.

HOLDPEAK Clamp Meter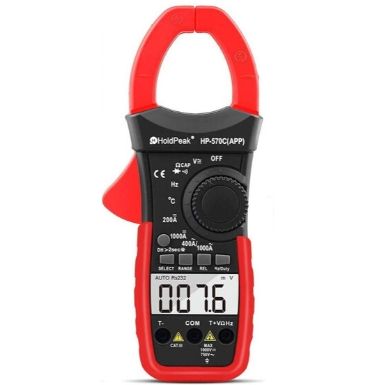 This digital clamp multimeter from HOLDPEAK has one unique feature that makes it stand out. It connects to your smartphone through Bluetooth and works with their custom app. This allows you to have two separate screens for reading your measurements that can be placed wherever you'd like. We think this is a pretty handy feature. However, the only other feature we loved on this device was the large 45mm clamp opening, one of the largest we tested.
If it were all good, this device would have ranked higher, so obviously, there are some drawbacks. For instance, the 1kOhms max resistance is pretty dismal, and you won't be testing anything with even moderate resistance. This wouldn't be too bad, but there's more. When you measure, this unit is very slow to show the final reading. Sometimes, it takes as much as five seconds or longer. The worst problem is the fluctuating readings. Several times it refused to settle on an exact reading, instead jumping around somewhat erratically.
Pros
Bluetooth smartphone app
Large 45mm clamp opening
Cons
1kOhms max resistance
Fluctuating readings
Slow to show final value
---
10.

Milwaukee 400 Amp Clamp-Meter
Milwaukee is a trusted name in tools, but the 2235-20 clamp meter is not one of their better endeavors. It was one of the poorest-performing devices we tested and barely reached our top ten. Our favorite feature on this multimeter is the built-in LED flashlight. The LED is also backlit to make it easier to read, another feature we appreciated.
The first drawback of this tool is the 4-kOhm max resistance. This is one of the lower ratings of the units we tested and makes it a poor choice for testing high-resistance circuits. One minor annoyance was how quiet the continuity beep was. When testing if a circuit is live, we prefer an audible tone you can't miss, but that's not what the Milwaukee meter provides. The final downfall of this multimeter is the tiny size of the clamp opening. At just 25 mm, it's one of the tiniest that we tested, and this was a noticeable drawback.
Cons
Only 4 kOhm resistance.
Continuity beep is too quiet
Very small clamp opening – 25mm
See our recommended analog multimeters – Here!
---
Buyer's Guide – Choosing the Best Clamp Meter
After reading our comparisons of the ten best clamp meters on the market, you may want to refresh your memory on which traits you should prioritize. While all of the meters on this list are good meters in their own right, some are far better than others. What sets these multimeters apart from the others? The following factors are some that we think you should keep in mind when deciding which clamp meter to purchase.
Clamp Size
With clamp openings ranging from 17 mm to 45 mm, there is serious variance among models. The clamp will open to allow the meter to hang from something for hands-free operation. But that's not all it will do. More than that, many clamp meters feature a non-contact voltage detector in the clamp that can test a wire by wrapping the clamp around it. This allows you to check a circuit without touching it or interfering.
Maximum Resistance
Resistance is measured in Ohms and is a rating of how difficult it is for current to flow. Some of these meters have maximum resistances as low as 4 kOhms. Others have a much higher max resistance of 10 megohms or even 20. If you're measuring high-resistance systems, you'll need this ability. If you only measure basic house currents, you should be fine with a lower max resistance.
Backlit Screen
A lot of electric work occurs in darker areas where it's hard to see. In these situations, a backlit screen can be the only thing that makes it possible for you to see your measurements. We would like to see this feature on every multimeter, but unfortunately, that's not the case. Unless you do all of your testing in well-lit areas such as your workshop, we suggest looking for a backlit screen.
Other Multimeters We've Reviewed
Conclusion:
Now that we've discussed the 10 best clamp meters on the market, you should be ready to pick one for yourself. Our reviews have compared the important features of each, but we will briefly recap, so it's fresh in your mind. For the best clamp meter overall, we think the UEi Test Instruments DL369 is hard to beat. It's one of the most accurate meters we tested though it's still very affordable. The 4-MegOhm resistance is also respectable.
The Tacklife CM02A gets our second-place recommendation and is our pick for the best value. Its low-impedance operation makes it accurate and less prone to ghost readings, and the backlit display makes it easy to see in any light conditions. Despite this, it's one of the most affordable models we tried. When money is no issue, and you want the most premium option, we suggest the Fluke 324 true RMS clamp meter. It has both CAT-III and CAT-IV safety ratings, offers true RMS reading, has wireless continuity testing capabilities, and has a backlit display for easy reading in any light. These clamp meters are sure to help you accurately test many electronics for a long time to come.
We hope our article helps you find the best clamp meter for your needs. Good luck with your search!