4 Best Onboard Air Compressors of 2023 – Reviews & Top Picks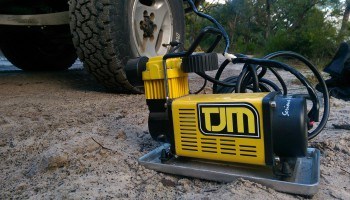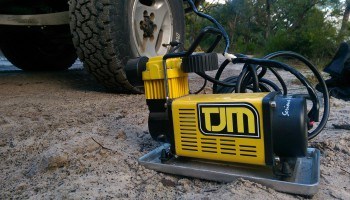 Onboard air compressors literally fuel your projects. In fact, you can almost look at them as the lungs of a worksite. A good compressor will energize your tools for long periods of time. The wrong tool, on the other hand, will fall flat, rendering your tools useless.
Our job is to identify products that will help make you as productive as possible. In addition to selecting the highest quality tools we could find, we also found ones that accommodate a wide variety of budgets.
Read on for our onboard air compressor reviews!
---
A Quick Comparison of Our Favorite Products in 2023
Rating
Image
Product
Details

Best Overall

ARB CKMTA12

Very durable
Easy installation
Thermally coated
CHECK PRICE

Best Value

VIAIR 400P

150 PSI rating
Somewhat portable
Great for tools or maintenance
CHECK PRICE

VIAIR Constant Duty

Moderate price
Can be used for up to an hour at a time
Limited compatibility with pneumatic tools
CHECK PRICE

AIR LIFT 25592

Affordable
Ready air supply
CHECK PRICE
The 4 Best Onboard Air Compressors – Reviews
1.

ARB CKMTA12 On-Board Air Compressor — Best Overall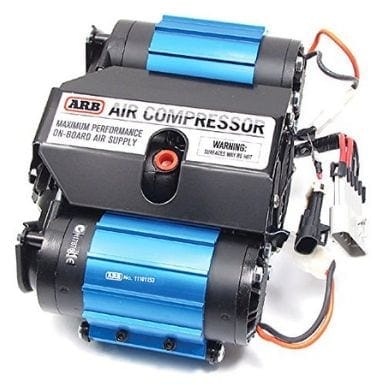 Our top choice, the ARB, is specifically designed for convenience and ease of use. The build concept is made for simple installation, while the exterior is thermally coated for any environment. This extra fortification allows you to focus on the task at hand whether in the heat of summer or the cold of winter.
It's also quite durable, featuring pistons that are coated for wear and tear.
This is a more compact unit, specifically optimized for use with air lockers and tires. However, you may also use it in conjunction with air tools by upgrading to a larger air tank.
It's a pricey unit, especially since it is mostly just for automotive upkeep. However, the quality speaks for itself. Overall this is the best onboard air compressor available this year.
Pros
Thermally coated
Easy installation
Very durable
Can be used with cars or tools
---
2.

VIAIR 400P Portable Compressor — Best Value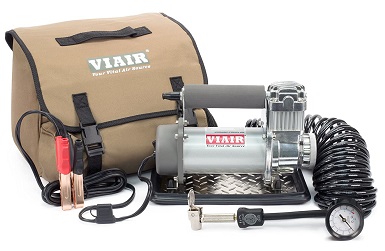 The Viair is an affordable portable alternative to our top choice, optimal for automotive and handy work. It is compatible with hoses up to 25 feet in length and boasts a PSI rating of 150 — more than enough for most air tools and tires. The package also features a nice carrying case that will make it easy to transport on job sites.
There are, however, a few shortcomings when compared to our top choice. For one thing, it is not nearly as durable. A rough ride or a drop may be the end of this tool. It is also quite noisy.
Pros
Affordable
Somewhat portable
Great for tools or maintenance
---
3.

VIAIR Constant Duty Onboard Air System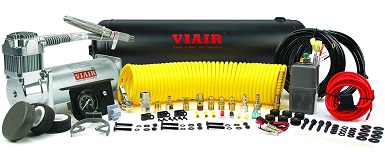 The Viair constant duty is a durable air compressor system made specifically for automotive maintenance. It features a rugged exterior and can be used for up to an hour to inflate tires 37 inches in size.
It can also be used with pneumatic tools, but probably not to the extent required by most professional jobs.
Unfortunately, this isn't a great option for people who aren't handy. The installation is quite complicated and may even require professional assistance. The tool is also not adequately fortified against extreme weather and may struggle in the cold.
All that said, it should have no trouble getting lighter jobs done.
Pros
Moderate price
Can be used for up to an hour at a time
Limited compatibility with pneumatic tools
Cons
Difficult installation
May break down in extremely low temperatures
---
4.

AIR LIFT On-Board Air Compressor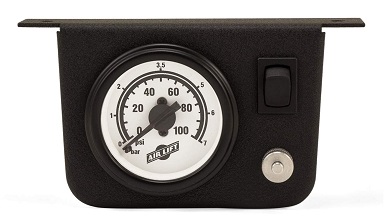 We conclude our reviews with the Air Lift 25592. This unit is on the simpler side and features a moderate price tag to match. However, most of its features tend to fall flat, which is what puts the product at the bottom of our list.
Installation will be a challenge with the Air Lift. If you are particularly handy, it may not be overly frustrating, but it will take some time. It is also limited in the assistance that it can provide. The PSI rating equips it for use with tires and cars, but not necessarily tools.
Finally, extreme weather conditions may wreak havoc with the system, rendering it useless.
Cons
Not good in extreme weather
Very limited range of applications
Installation is difficult
---
Buyer's Guide – Choosing the Best Onboard Air Compressor
Here are a few buying considerations to help you choose from the products on our list.
User Intent:
Of course, not all air compressors are created with the same intentions. Some onboard units are made for work on the job site, while others might just be for keeping your tires sufficiently filled with air.
If you are buying an air compressor for the purpose of contract work, you want something big and powerful. Contractors usually need to run multiple tools at once, which requires lots of pressure.
On the other hand, onboard air compressors being used for maintenance on off-roading vehicles don't bear as much responsibility.
Weather Proof
By virtue of their design, onboard air compressors are constantly exposed to the elements. That being the case, you want something with thermal protection. If you live in a region that experiences harsh seasons, this feature will protect it from severe weather.
Noise Level
Air compressors are notoriously loud. This is particularly true of the onboard units, as they tend to be larger and more powerful.
However, you can find tools that make a point of running quieter. An air compressor with noise suppression technology tends to be a worthwhile investment for people who plan to use their tool often.
Recharge Time
Tank refill time is important. This refers to the amount of time it takes to make an empty tank full again: The bigger the tank, the longer it takes to refill. Of course, the flipside is that larger tanks also require refills far less often than those of the smaller variety.
The good news is that most tanks refill quickly. Even larger tanks can go from empty to full in a matter of minutes if they are built well.
PSI
PSI refers to how quick and powerful your compressor is. This is possibly the most important feature of any air compressor, as it determines what the tool can accomplish.
For example, most air tools have a minimal PSI of 90. Tires also have a minimum PSI level. Tools with higher PSIs tend to be more expensive but also perform better. Bear in mind that this feature can never be upgraded. This means that if you wind up needing more PSI than you have at your disposal, you'll need to buy an entirely new tool.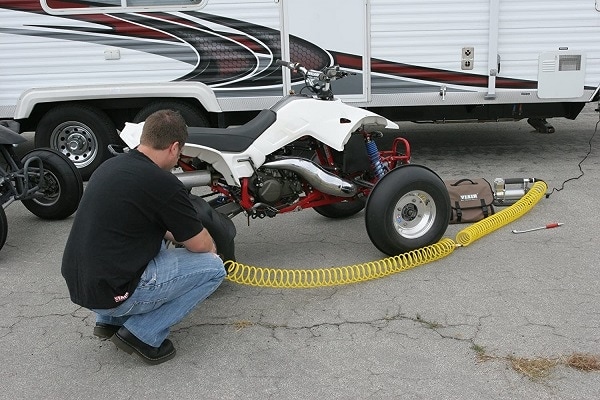 Installation
We are looking at onboard units, so installation is a factor as well. Many tools are pretty easy to install (especially for the type of person who would be considering them in the first place). However, if you are apprehensive about the installation process, it may be in your interest to first look into what it takes to set up the tool you are considering.
Worst case scenario, you can have it professionally installed, though this does, of course, increase the overall expense.
Price
Onboard air compressors tend to be on the pricier side. However, you can find budget-oriented options if you look for them. Our list reflects products that can suit a diverse range of budgets.
More money usually buys you a higher PSI rating, as well as a larger tank size. That being the case, buying a pricier unit may be unavoidable for some professionals.
Can't find what you're looking for? Check out these related posts:
Conclusion
Now you need to make your decision. The four options on our list are all great at what they do, but there are two choices we can highlight that may be of particular interest to a broad range of buyers.
If you want to go with our favorite product, you'll likely lean toward the ARB CKMTA12 "12V" On-Board Twin High-Performance Air Compressor.
More budget-minded buyers will probably prefer the VIAIR 400P Portable Compressor.
---
Featured Image By: adewhite, pixabay