6 Best Circular Saw Blades – Top Picks & Reviews 2023



Raise your hand if you've ever bought a circular saw, miter saw, or table saw that was perfect in every way except for its shoddy, factory-installed blade.
Anybody into DIY will know that frustration sooner or later. The saw is cheap, comfortable to hold, has a powerful engine, is perfectly calibrated…and for some reason, the manufacturers saddled it with a flimsy blade with blunt teeth. We've seen some factory blades we're not sure we could cut pizza with, let alone oak.
That's why we made this list, compiling reviews of our favorite circular saw blades. We're tired of seeing this story play out over and over again, wasting the valuable time of hard-working DIYers. Even if you like the blade that came with your saw, you'll have to change it sooner or later, whether because it wears out, or because you need a different kerf or tooth count.
At the end of the list, we've added a buyer's guide to help you shop for a new circular saw blade with confidence.
---
A Quick Comparison (updated in 2023):
Rating
Image
Product
Details

Best Overall

DeWalt DW3191 7¼" Circular Saw Blade

Clean
straight ripcuts
Great for light
portable saws
Affordable
CHECK PRICE

Best Finishing Blade

Diablo D0740A 7¼" Circular Saw Blade

Extremely smooth finish
Cuts quietly
Long lifespan
CHECK PRICE

Best Value

Diablo D0724P 7¼" Carbide Saw Blade

Works in circular and table saws
Quick cuts with a smooth finish
Teeth last a long time
CHECK PRICE

Best for Cutting Metal

IRWIN 7¼" Circular Saw Blades

Cuts high-gauge metal
Works on wood and hollow metal workpieces
Holds up for multiple cuts in a row
CHECK PRICE

Best for Masonry

SKIL 7-Inch Turbo Circ Saw Blade

Excellent value for money
High-quality diamond blade
Suitable for cutting all types of concrete
CHECK PRICE
The 6 Best Circular Saw Blades:
1.

DeWalt DW3191 7¼" Circular Saw Blade – Best Overall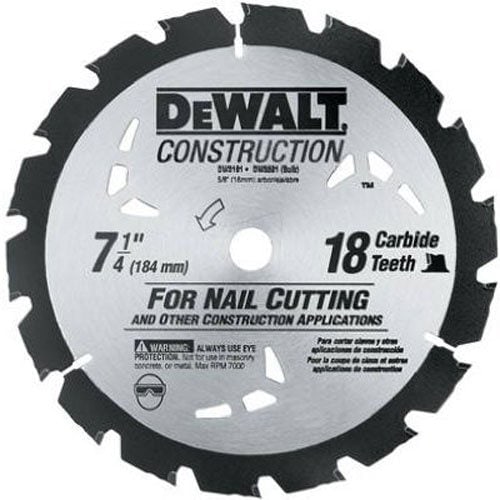 We have a rule here at HealthyHandyman: check DeWalt first. This company repeatedly tops our lists with products that are made well, sell for cheap, and do their jobs without complaint. There's perhaps no better example of that than the DW3191 circular saw blade.
At 7¼ inches in diameter, this blade is most suitable for handheld circular saws. Its 18 carbide-tipped teeth made it perfect for cutting along the grain of wood — the large spaces between the teeth scoop out wood chips and debris for beautifully clean rips. The rim is treated to minimize friction in order to speed up the blade and boost cutting power.
Since it's advertised as a nail cutter, we tested it on nailed-in flooring, and were pleased to see how quickly it chewed through several dozen nails. After ripping out 16 square feet of floor, the carbide tips were still sharp, and the lines they cut remained straight.
This blade also comes cheap enough that a professional contractor could buy several at a time for room-sized jobs. The only drawback we discovered is that it's not that heavy, which makes it less than ideal for harder stock.
All in all, we think that this is the best circular saw blade of the year.
Pros
Clean, straight ripcuts
Affordable
Carbide tips hold up
Eats nails
Great for light, portable saws
Cons
Not heavy-duty
Not great for crosscuts
---
2.

Diablo D0740A 7¼" Circular Saw Blade – Best Finishing Blade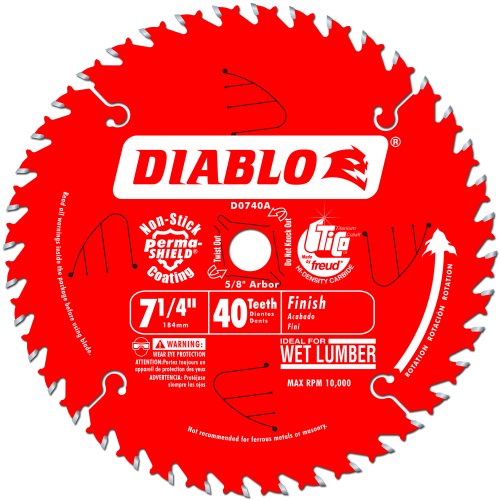 The Freud Diablo D0740A is our favorite finishing blade. With its high tooth count and hook-shaped gullets for clearing dust and chips, it cuts with a much cleaner finish, making it an excellent choice for more precise cuts.
This is another 7¼-inch blade that's intended for use in handheld circular saws. Along with its carbide-tipped teeth, the D0740A has a few features that help it stand out. Its thin kerf grants you a lot of control over your cuts, while stabilizer vents cut throughout the blade keep it from ratting or making too much noise. In addition to helping you maintain a more pleasant workshop, this means the D0740A wanders less, and lasts longer.
When we used it, that quiet dependability was the first thing that struck us. The second was that the cuts were so smooth it looked like we'd sanded them already. Over the course of the day, the D0740A's lighter construction stayed comfortable to use, hardly inducing any fatigue.
The packaging is the reason it's not at #1. Freud's quality control is usually good, but these blades often ship with no cushioning or protection, leading a few of them to arrive in a next-to-useless state.
Pros
Extremely smooth finish
Cuts quietly
Long lifespan
Comfortable to use
Cons
Frequently ships in nothing but plastic
Finishing blade only
---
3.

Diablo D0724P 7¼" Carbide Saw Blade – Best Value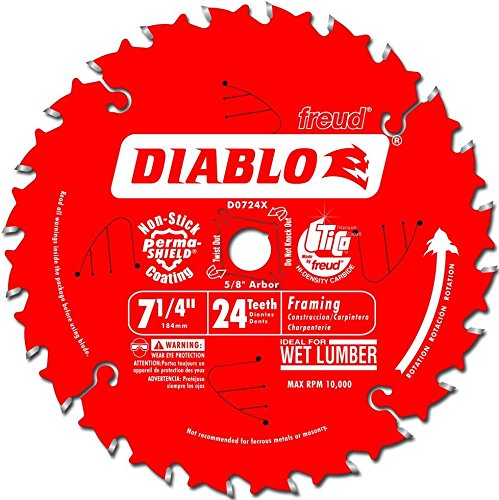 The title of best circular saw blade for the money goes to another Freud Diablo product: the D0724P. This 7¼-inch blade sells in a pack of two, letting you handle a big project load before you have to shop for another. Each individual blade lasts for a long time before the teeth begin to wear down.
Like the Freud Diablo D0740A at #2, this carbide-tipped circular blade is ventilated to cut down on vibration, leading to smooth, easy cuts. Unlike the D0740A, the D0724P is intended for rip cuts and softer workpieces, as its lower blade count chews through more material faster. You might think this would make for rough finishes, but when we tested it in our table and portable circular saws, the cuts were clean and splinter-free every time.
Lest you think we're making this blade sound too perfect, there is one flaw to watch out for. The "perma-shield" coating, intended to protect the metal and reduce friction, isn't all that permanent. It rubs off quickly, which puts the blades in danger of overheating and warping. The lower tooth count also makes it less suitable for cutting against the grain.
Pros
Affordable 2-pack
Works in circular and table saws
Quick cuts with a smooth finish
Teeth last a long time
Cons
Paint rubs off quickly
Risk of overheating due to friction
Not great at crosscuts
---
4.

IRWIN 7¼" Circular Saw Blades – Best for Cutting Metal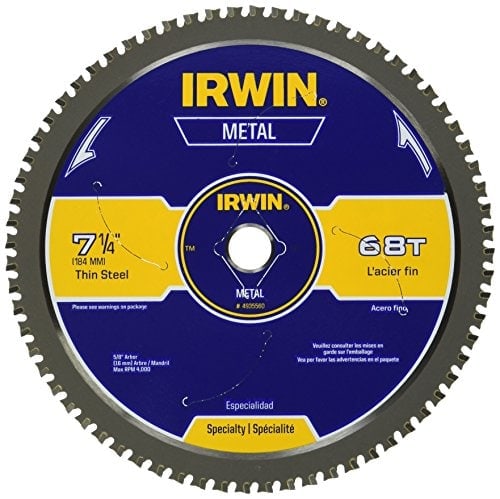 We've been favoring lower tooth counts until now, but it's time to buck that trend. The Irwin 7¼-inch metal cutting blade is our choice for those working with thin sheet metal. With 68 teeth, it excels at making quick and straight cuts through aluminum and high-gauge steel, while also being useful for small, precise cuts in lumber.
The Irwin metal cutting saw blade features the now-standard anti-vibration vents, which increase its lifespan while also granting you a quieter cutting experience. The teeth are shaped with shoulders to reduce kickback even further. We tested it on aluminum and found that it was able to make dozens of continuous cuts over the course of a workday.
This versatile blade also works on heavier metal, like ribbed steel and railings. Try it, and we guarantee you'll never go back to a chop saw. Its power doesn't extend to solid rebar, though – we advise against cutting that.
When using this blade, take even more care than usual to properly protect your skin and eyes. While it cuts cleanly, the gaps between its teeth are too small to remove debris, putting you in danger of getting metal burrs lodged in your skin.
Pros
Cuts high-gauge metal
Works on wood and hollow metal workpieces
Holds up for multiple cuts in a row
Cons
Can't cut rebar
Throws a lot of sharp metal burrs
---
5.

SKIL 7-Inch Turbo Circ Saw Blade – Best for Masonry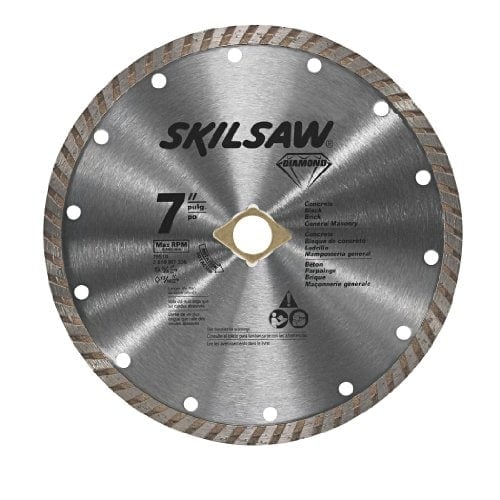 This 7-inch SKILSAW blade, tipped with industrial diamond, is a great-value pick for anybody working with stone, brick, cinder block, general cement, or concrete. Compared to traditional abrasive saws, this blade is much faster and more user-friendly, all while selling for a surprisingly affordable price.
Before you read any further, it bears repeating that the SKILSAW Diamond is a masonry blade. It's not designed for use on wood or metal, and we take no responsibility for that going wrong if you try it. That specific focus is the main reason we haven't put it any higher than #5.
If you do need to cut masonry, though, you will not be disappointed. We've been consistently astounded by how quickly this blade is able to dry-cut concrete blocks. You should still expect to take it a bit slower than you would with lumber, but even with extra caution, you'll find yourself finishing masonry jobs a lot faster.
While SKIL advertises this blade as a dry cutter, it tends to throw out a lot of dust if you don't use any liquid at all. A bit of water and patience will result in cuts that are straighter, cleaner, and safer.
Pros
Excellent value for money
High-quality diamond blade with a long lifespan
Suitable for cutting all types of concrete
Cons
Blade takes a long time to complete a cut
Not suitable for industrial applications
Blade diameter can be somewhat limiting
---
6.

Overpeak 6½" Circular Saw Blades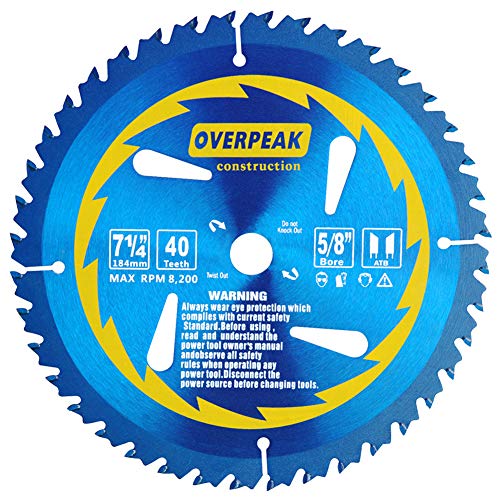 Finishing out the list is a blade we've got some reservations about, but ultimately agree poses strong competition to those ranked above it. Overpeak's 6½-inch blade features 90 tightly packed teeth that aim for the smoothest possible finish. It can be installed in any circular, miter, or table saws that fit with its ⅖-inch arbor.
With any aftermarket saw blade, the first question is obvious: is it better than the one that came with my saw? With this Overpeak blade, the answer is yes in almost every case, so long as you don't expect this smaller, more precise tool to be something it's not.
Using this blade on plywood feels like cutting the lumber with an X-Acto knife. It's refreshingly easy to hold to your pencil markings and come out with a professional, splinter-free cut. The teeth start out sharp, letting you work fast, and the thin kerf keeps dust to a minimum.
We always like to be honest about drawbacks, though, so we'll mention that this blade dulls quickly — faster even than the Twin-Town blade at #6. On top of that, there's the shallower blade depth, which does unfortunately limit the range of wood it can cut.
Pros
Cheap
High tooth count grants a smooth finish
Fits in almost any saw
Dust-free
Easy to control
Cons
Dulls quickly
Shallower cutting depth
Hitting nails destroys the teeth
---
Buyer's Guide – Purchasing the Best Circular Saw Blades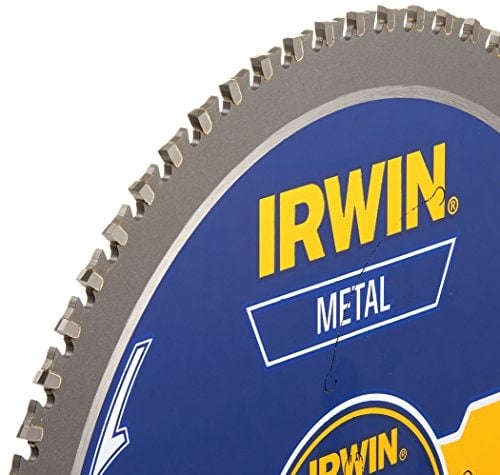 It doesn't take long to fall out of love with a factory-installed blade. Usually, the first few cuts are enough to tell you whether or not the status quo is going to work out.
But while deciding you're ready to replace your circular saw blade is easy, actually doing it is another matter. There are so many blades on the market that it's tempting to just grab the first one you find that seems at all legit.
We're here to tell you that's a bad idea. If you put some care into choosing the right aftermarket circular saw blade, it'll reward you tenfold.
SEE ALSO: Our reviews of the best table saw blades
Types of Circular Saw Blades
The best way to start shopping is to familiarize yourself with all the different varieties of circular saw blade. This will narrow your search while helping you avoid unpleasant mistakes — attacking a material with the wrong kind of blade can be downright unsafe, not to mention a waste of money.
General-purpose blade: A blade that balances tooth count with tooth size, making it decent at all kinds of cuts. General-purpose blades, also called combination blades, are a good choice for DIY newbies.
Ripping blade: A blade with a few large teeth spaced far apart. Ripping blades include gullets that scoop out wood chips during cuts. Since they remove a lot of material quickly, they're best for rips (cuts parallel to the wood grain) which don't need to be as precise.
Crosscutting blade: A blade with a larger number of tightly spaced teeth. Useful when cutting against the grain, which requires more precision. Crosscut blades might also have a small gullet for clearing away dust.
Finishing blade: These blades have the highest tooth counts, around 90-100. Their extremely fine teeth work a lot like a sander to remove the rough edges from cuts.
Metal-cutting blade: Blades designed to cut metal have a solid edge instead of individual teeth. On some blades, the edge might be studded with industrial diamond. Abrasive or chop blades without teeth need to be repeatedly treated with liquid coolant while in use.
Masonry-cutting blade: A blade intended to cut concrete, brick, cinder blocks, and other general masonry. They can cut without coolant, but water still helps to wash away the dust.
If you're working with wood, it's best to start with a general-purpose blade, then build out your collection once you're more comfortable with the different types of cuts.
The Most Important Step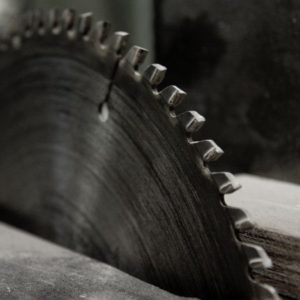 It might seem self-explanatory, but we don't like to assume: don't buy an aftermarket saw blade that doesn't match the one you're replacing.
The relevant measurements here are the blade's diameter, usually given in inches, and its arbor, given in fractions of an inch. The diameter determines whether the blade will fit inside your saw's guards. We hope we don't need to explain why cramming a 12-inch blade into a tiny cordless circular saw will not get you very far.
The arbor refers to the hole in the center of the blade that's used to mount it in the saw. If your saw's arbor is too small, it won't fit. If it's too large, the saw won't turn properly. Be sure you can match your new saw's arbor to your old one before you buy.
SEE ALSO: Our reviews of the best miter saw blades
Traits to Look For
Once you're confident you know what type and size of blade you need, it's time to start narrowing down your options. Check the following traits to determine whether a circular saw blade is superior to the competition.
Tooth Shape
Circular saws display five different tooth shapes, otherwise known as types.
Tooth Count
You may have noticed this pattern already in our list of different types of blade: more teeth makes for a more precise cut, while fewer teeth spaced farther apart can cut more quickly.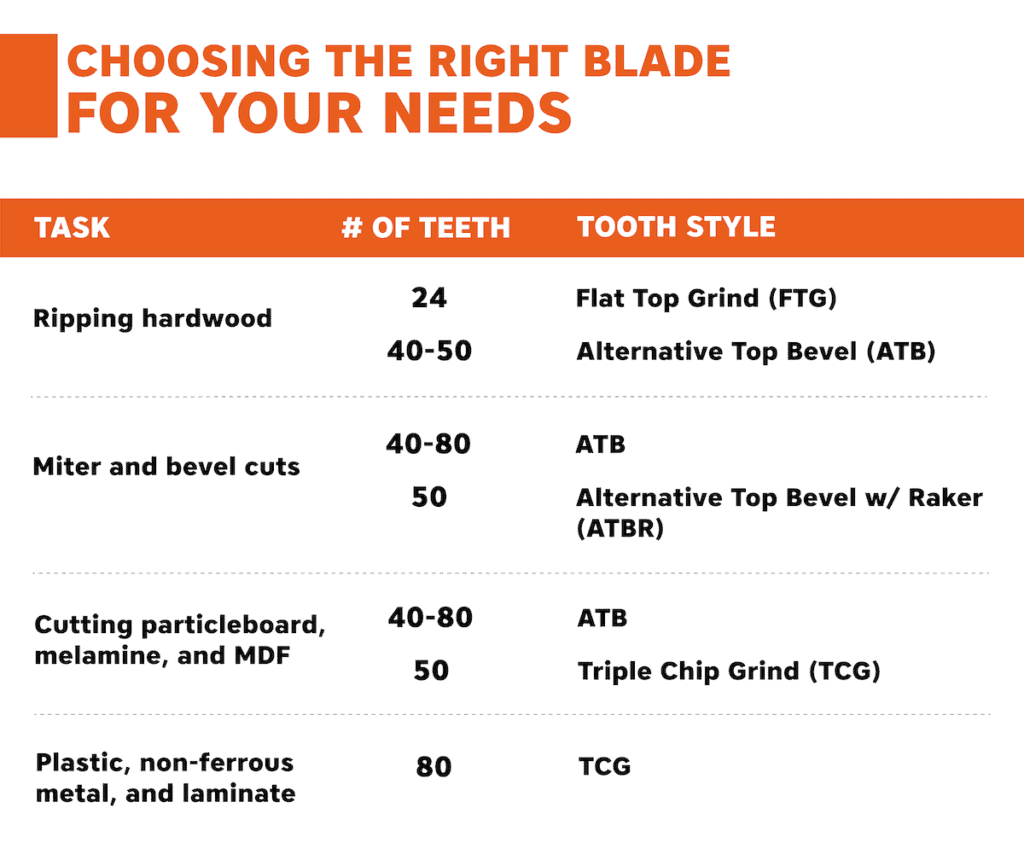 RELATED READING:: 50 Different Types of Saws & Their Uses – Which is Right For You?
More Considerations
Tooth spacing: Blades with more teeth spaced closer together are used for crosscutting, where smaller cuts made at a faster rate yield a smoother edge. Blades with larger spaces between their teeth can handle a higher feed rate, since each individual tooth removes a lot of material.
Expansion slots: You might see oddly-shaped slots and channels cut toward the middle of a circular saw blade. These expansion slots keep the blade from warping itself out of alignment, by providing a place where the metal can expand and warp harmlessly.
Kerf: Kerf describes the width of a circular saw blade from one face to the other. In the past, the rule was that wider kerfs were more durable, while thinner kerfs made smoother cuts. Now that blades are made out of better materials, thin kerfs are almost always better.
Coating: Circular saw blades are often coated with rust inhibitors and other protective layers. These coatings reduce corrosion, eliminate friction, and can extend the life of a blade. They can also prevent the blade from overheating, which keeps it from leaving scorch marks on the wood.
Maintaining Your Blade
It may sound like we're contradicting ourselves after spending so much time telling you how to buy a new circular saw blade, but your old one isn't necessarily at the end of its life just because the teeth have gone dull. Check out this video on how to sharpen your saw's teeth — it might just save you some money.
Conclusion
When we compared all our favorite aftermarket circular saw blades, the DeWalt DW3191 finished in first place. This 7¼-inch saw made the cleanest rip cuts we've seen in a long time, and was completely unfazed by cutting through nails.
We've also got a lot of praise for the Freud Diablo D0740A. Its laser-cut expansion slots keep the blade cool and quiet for the most relaxing power saw experience you'll ever have. DIYers and pros alike will appreciate the smooth finish it leaves on the wood.
Now that we're at the end of our reviews of the best circular saw blades, it's time for you to get out there and help your saws live up to their full potential. If you've got stories from your shop to share about any of the brands we highlighted, feel free to share them in the comments!