5 Best Outdoor Laser Levels 2023 – Top Picks & Reviews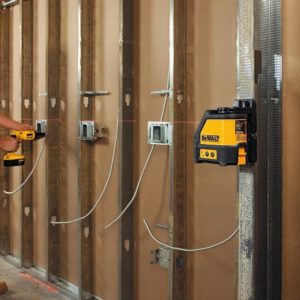 For the pure simplicity of having a perfectly straight line without having to draw a physical mark, the laser level has been a game-changer prized by handymen and contractors. And as it has improved over the years, so has the different features that come with the updated laser levels.
In the beginning, chalk lines were the norm, followed by the predecessor of the modern laser level, which only drew a single red line across the object to be marked or cut. These new advents not only draw lines, some draw a full circle around a space and can do it horizontally and vertically. A true evolution of the concept.
This, and many other features, can allow for a new level of efficiency when marking a space, specifically those sometimes tricky outdoor areas. We've compiled all of the top outdoor laser levels on the market and narrowed them down to the top five. Read on to find your next favorite tool!
---
A Quick Comparison of Our Favorites in 2023
Rating
Image
Product
Details

Best Overall

DEWALT (DW088K) Line Laser

Over-molded housing
Water/debris resistant
Magnetic pivot base
CHECK PRICE

Best Value

Tacklife Laser Level Self-Leveling Cross-Line Laser

Red and green laser
Horizontal and vertical lines
Magnetic bracket
CHECK PRICE

Huepar Cross Line Laser Level

TPR rubberized housing
Three-way laser
Easy battery recharging
CHECK PRICE

SKIL Self-Leveling Red Cross Line Laser – LL932301

Quality design
Self-leveling
USB chargeable
CHECK PRICE

Boulder Tools Laser Level with Tripod

Bright laser
100-ft range
Made in USA
CHECK PRICE
The 5 Best Outdoor Laser Levels
1.

DEWALT (DW088K) Line Laser – Best Overall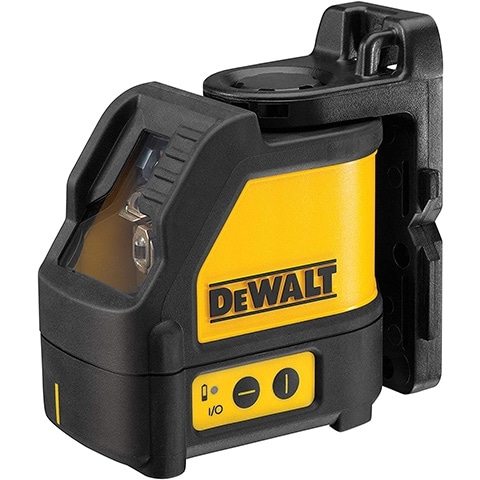 In the hierarchy of tools, the DeWalt name has stood near the top for decades due to its quality and its inventive ideas to help the common person work more effectively. And the DeWalt (DW088K) Line Laser is no exception. It boasts the classic yellow and black, and you know when you see that you are buying the best.
It features a red laser crossing that draws horizontally and vertically, an integrator magnetic pivoting base, and a molded housing that is both water and debris resistant. Its class 2 laser is set to a full-time pulse mode, instead of a constant line, and is within a ¼ of an inch of accuracy at 100 feet.
Even with perfect care, things happen. While the DeWalt name is a beacon of quality, some buyers had the unit fail within the first year. Beyond that, it is amazing.
Pros
Over-molded housing
Water/debris resistant
Magnetic pivot base
Long range visibility
Horizontal and v ertical laser
Self-leveling
Cons
Reports of defective units
Laser can weaken over time
---
2.

Tacklife Horizontal and Vertical Cross-Line Laser – Best Value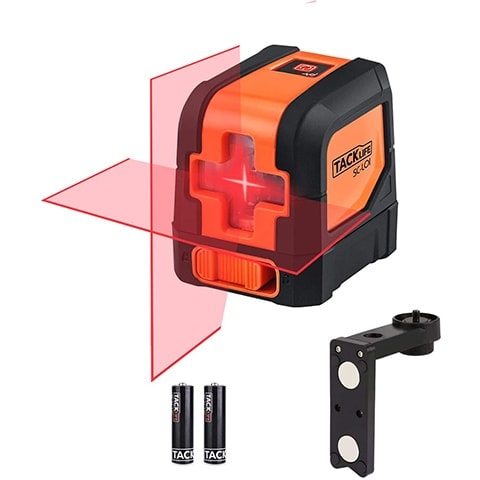 If you want a quality laser level but don't want to spend a lot, you'll want to take a look at the Tacklife SC-L01-50 Feet Laser Level Self-Leveling Horizontal and Vertical Cross-Line Laser. It is by far at the top of the list of the best laser level for outdoor use for the money.
It has the option of a red laser for indoors and a green laser for outdoor use. Its smart pendulum auto-leveling system has a feature that will flash if your laser line target is out of range. It can be mounted on a tripod or affixed to any metal surface for use of the magnetic 360° swivel option.
It's a great product, but it isn't without its flaws. There are some instances where the auto-leveler is the only part of the leveling system that works properly. If the wrong sequence of buttons is pushed, manual leveling can be disabled. This can be very frustrating if also using a tape measure to ensure your line is plumb.
Pros
Good indoor and outdoor
Red and green laser
Horizontal and vertical lines
Magnetic bracket
Auto leveling
Cons
Manual leveling ineffective
Manual not helpful
---
3.

Huepar Cross Line Laser Level
The Huepar Cross Line Laser Level combines an efficient design with a great conceptual laser option, providing the user with a comfortable and simple leveling experience. The housing of the unit is coated in TPR soft rubber, which makes it soft yet still protected from water and dust. This means it will work perfectly in more hazardous working environments.
Its green laser is drawn in three ways. Two horizontal lines at 360° and one 120° vertical line will cover all of your exterior space as needed with a bright glow that can be seen from a long distance. And the internal battery is charged with the same port as most cell phones.
The issue most commonly found with this laser is that the adhesive that holds the unit to the magnet, allowing mounting the laser to any metal surface, is weak. This could cause an unwanted fall. Additionally, the laser can be rendered useless when there is too much external light near your laser line.
Pros
TPR rubberized housing
Three-way laser
Easy battery recharging
Carrying case
Cons
Weak adhesive the holds magnet to unit
Laser often hard to see outdoors
---
4.

SKIL Self-Leveling Red Cross Line Laser
We all knew that SKIL made quality power tools, but did you know they make laser levels? Well, you do now. The SKIL Self-Leveling Red Cross Line Laser – LL932301 is a pretty solid example of the brand's promise of craftsmanship.
This model offers the self-leveling feature we all love, taking away the stress and guesswork from you, the user. It has indicators to let you know when the level is slipping so you can initiate the self-level feature again, as well as an icon that lets you know when the battery needs to be plugged into its USB charge port.
However, it has some flaws. Because of its size, it is suitable for small tasks, but nothing too significant. And the shutoff button is difficult to activate, causing the unit to burn through its battery life when not in use. Lastly, if you do turn it off and walk away for a short time, it has to be releveled again, affecting efficiency.
Pros
Quality design
Self-leveling
USB chargeable
Cons
Hard to power down
Needs to be releveled every time it's powered up
Small tasks only
Not user friendly
---
5.

Boulder Tools Laser Level with Tripod
If you knew nothing else about Boulder Tools, just knowing it is a USA-based company would be enough. This Boulder Tools Laser Level with Tripod is a tribute to American quality and ingenuity.
First of all, it has a 100-foot range, which is lit up by self-leveling 360° lasers both horizontally and vertically. You can set it and forget it, no need to reposition. And the laser is the brightest on the market, ensuring you will see it all the way to its maximum range with ease. Add the carrying case and mini tripod, and it is a pretty good set-up.
It does only have a short warranty — one year to be exact. The unit will only properly self-level if it is resting on a perfectly flat surface. It also only takes batteries as opposed to an internal chargeable power source. The batteries can be quickly depleted even when the unit is off. Lastly, the laser is often, in a word, finicky.
Pros
Bright laser
100-ft range
Made in USA
Cons
Finicky laser
Eats batteries
Short warranty
Self-level only works on flat surface
Laser too sensitive

Buyer's Guide – Choosing the Best Outdoor Laser Level
You are ready to take the plunge and pick up a more efficient laser level for use outdoors. For years, the old standard chalk line has been fine, but if it is just you doing the work, it can be tricky. Check out our buyer's guide to help you suit all your outdoor laser level needs.
Picking the Right Outdoor Laser Level
As with most tools, the application makes the biggest difference. Here are some questions to consider:
Are you a contractor or in commercial construction?
Are you building a large or small structure in a DIY capacity?
What is your work lighting situation?
The use, space, the lighting, they all factor in. Some lasers can extend a strong beam to upwards of 100 feet, and that is worthwhile for almost all projects up to that range. A 50-foot range, on the other hand, is problematic in those circumstances.
The lighting in the outdoor space can factor in because too much light can defuse the beam. Some very strong class 2 beams are impervious, but some others fade into nothing the farther they go. Not super helpful at all. These are just a couple of considerations when picking your outdoor laser level.
Power Options for Outdoor Laser Levels
Almost everything is rechargeable these days. The eco-friendly revolution has made the need for multiple batteries that are terrible for the environment fade as time marches toward the future. And this has afforded some pretty awesome opportunities, like the options to charge almost anything via a USB cord.
Most of the outdoor laser levels you will come across are just that — USB- C rechargeable. But ever so often, the need for AAA or AA batteries pops up. The biggest dilemma with those is not only the environmental aspects but also the fact that the location of the battery area is never easily accessible.
The better choice for the planet, for your sanity, and for your wallet, is to get an outdoor laser level that has USB rechargeable capabilities.
Final Considerations for Your Outdoor Laser Level
Protection
Even the most ruggedly designed unit still has a laser inside, and lasers are fantastically sensitive. Being rough with it is not only unwise, it is counterproductive. If your laser is jostled too much, it will never find plumb again, even with the self-leveling feature.
That is why the intelligent people who sell these include a very specialized carrying case for them. Some companies don't, and that is on them. But to ensure the life of your laser, put it away when you're done and you'll prolong its life and its usefulness to you.
Power
Be sure to keep your laser charged. Anyone who has ever picked up a battery-powered drill and squeezed the trigger to no effect knows the frustration of a dead unit. Keeping your outdoor laser level charged will allow you to use it when needed.
Cleaning
Lastly, keep your laser clean. Most of them are water and dust or debris resistant. Resistant isn't the same thing as proof, and eventually, something can seep it and ruin it. If you see it getting wet, then move it. If it gets dirty, clean it off. You are the first line of defense to keep your outdoor laser level in its best shape.
Our other Top Picks & Buyer's Guides:


Conclusion
There was a clear winner in our book, and that was the DeWalt (DW088K) Line Laser. It had the features we loved, with none of the side effects we didn't. It came stocked with all the bells and whistles, and with the DeWalt name to back it up, it is easily the best out there for your outdoor laser level needs.
In second place, and our pick for the best value, we have the Tacklife SC-L01-50 Feet Laser Level Self-Leveling Horizontal and Vertical Cross-Line Laser. This has everything you want, plus the price tag that will make you smile. For tools, quality, and value it's a home run.
Choosing your first laser level for outdoor use can be daunting. All the features, all the gadgetry, and the myriad of mixed reviews from buyers, it is a sea of information. We hope in reading these reviews we helped you cut through some of the fog that comes with buying a new specialized tool and all of its many possibilities.
---
Featured Image: DEWALT Line Laser, Amazon