5 Best Pocket Hole Jigs of 2023 – Top Picks & Reviews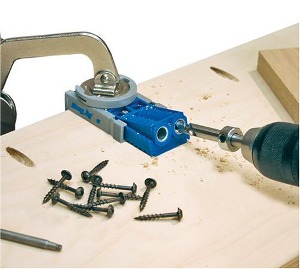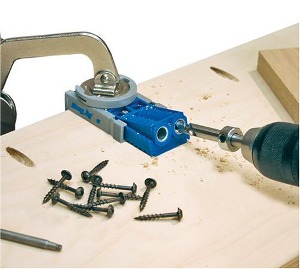 The big question is: which pocket hole jig is right for your needs? How do you narrow the list of candidates down to a manageable size without wasting a lot of time in the process? There are literally hundreds of different products from dozens of brands out there.
Glad ya asked!
We've already done the hard work for you, and the results of our labor are yours to command, so sit down, kick your feet up, relax, and read our reviews.
---
A Brief Summary of our 2023 Favorites
Rating
Image
Product
Details

Best Overall

Kreg K5

Easy to use
Durable
Excellent clamps
CHECK PRICE

PORTER-CABLE 560

Above-average design
Minimal adjustments
Metal construction
CHECK PRICE

Best Value

Kreg R3 Jr

Easy to use
Portable
Affordable
CHECK PRICE

Kreg K4MS K4

Good templates
Nice C-clamp
CHECK PRICE

Osaava 47709

Nice case
Low-priced
CHECK PRICE
The 5 Best Pocket Hole Jigs
1.

Kreg K5 Pocket Hole Jig – Best Overall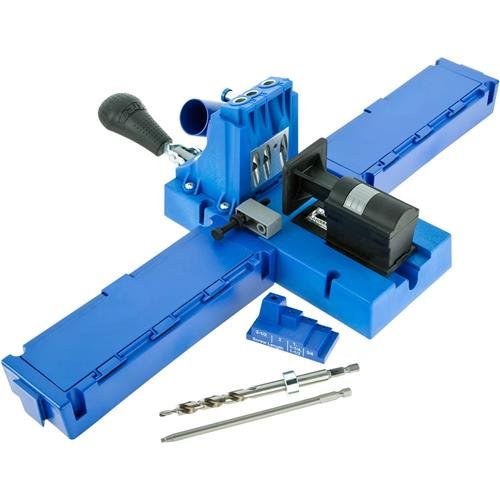 Quick and easy seems to be the watchword for the K5 pocket hole jig from Kreg.
We liked the adjusting clamp on it, and moving the handle to the front of the jig where it's not blocked by the wood you're working on was a good move by Kreg. The adjustments for wood thickness and length of screws were equally simple. We also liked the new slide-in drill blocks. They're excellent for micro-screws and working with 2x4s.
The quality of the clamping mechanism is top-notch. It's also very durable; we dropped it from the bench without doing any harm to it at all.
The support wings for holding screws attach quite easily and securely. They're made of plastic but seem to be quite sturdy. The height markings on the gauge are easy to read.
The vacuum port works great, even cleaning the drill bit as you go.
The inside of the jig is mostly plastic and seems to depend on a rubber ball to help maintain pressure on the clamp. We're not sure this is a good idea, but that was the only complaint we had.
This is our top pick of the best pocket hole jigs because of its durability and ease of use.
Pros
Easy to use
Durable
Excellent clamps
Good clamp placement
Great vacuum port
Cons
Inside mechanism is plastic
---
2.

PORTER-CABLE 560 Pocket-Hole Jig System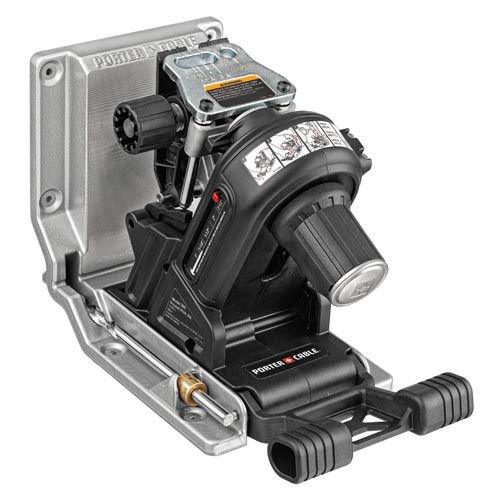 Our runner-up is extremely well built. The design of the PORTER-CABLE 560 was well thought out, and even though it appears intimidating at first glance, it's actually quite easy to operate.
There's no need to change the lock collar on the drill bit when you change wood thickness. Once the drill bit is set up with the lock collar the first time, you simply put a piece of wood in it regardless of size, then push down on the handle, twist the knob, and drill. The jig stops automatically at the correct depth. It's simplicity itself.
The base on this jig is the same size as a 2×4. There's no need for measuring and cutting when you're attaching it to your workbench. The heavy metal construction stabilizes and secures it.
However, we didn't like its weak holding power when using ½" or smaller wood. At ¾" and above it's fine, but you need a separate jig for thinner pieces. Also, due to its weight, it's not convenient to use except when attached to the workbench. If you need to bring a jig to the wood, this isn't the one.
For this reason, we're putting it in second place.
Pros
Above-average design
Minimal adjustments
Ease of workbench attachment
Metal construction
Cons
Weak holding ½" wood
Workbench use only
---
3.

Kreg R3 Jr Pocket Hole Jig – Best Value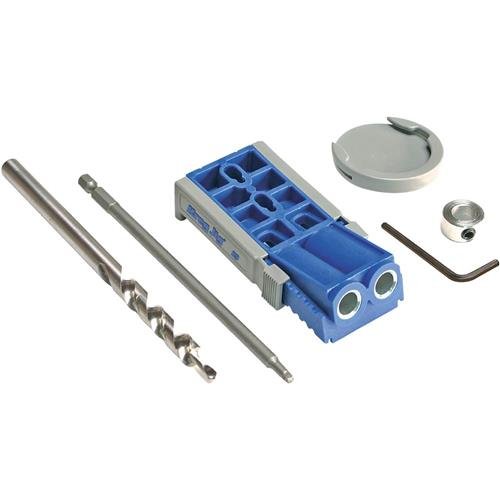 Junior is the correct term here. This KREG R3 Jr pocket hole jig is small in size, features, and price.
The size, of course, makes it quite portable. You can take it to the material instead of the other way around. It's also easy to use, simple enough for beginners to use correctly their first time out. You won't have any headaches with this jig.
You will need to get a separate clamp to hold it in place, though, which should have been included in the kit. We were a bit disappointed in that.
The drill guides are solid metal, but the surrounding plastic is a bit cheap. In our tests, it showed a marked tendency to crumble and break after only a few uses. The design is great but the quality of the construction leaves something to be desired.
This is a great, easy-to-use jig, but the lack of an included clamp and the poor quality keep it out of our top two. Nonetheless, we're giving it our best pocket hole jig for the money rating because it does a great job for the price.
Pros
Easy to use
Portable
Makes good pocket holes
Affordable
Cons
The plastic material is a bit cheap
No clamp in the kit
---
4.

Kreg K4MS K4 Pocket Hole Jig-System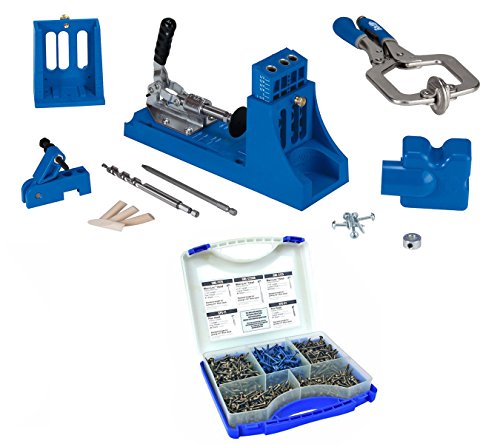 In spite of their other impressive entries in our review, Kreg didn't deliver the goods on this one. Within its limitations, it works and will get the job done, but you shouldn't expect too much from it.
It comes with "almost" everything you need: a template for the base for making adjustments, a built-in toggle clamp on the base, and a C-clamp for attaching it to a workbench. We say "almost" because four bolts are required to attach the toggle clamp to the base, but they're not included in the kit. We had to buy them from a local hardware store. A little bit of checking revealed that this wasn't a glitch or an oversight. This is the way it ships.
Color us confused.
The holes we drilled weren't uniform because of slippage. No matter how much we tightened it, it kept on happening, so we had to re-tighten it after each pass. This is a huge time waster. The graduation marks are the same color as the body, making them very difficult to see. Plus, the carrying case won't hold all the parts.
This jig works, but it has some serious issues.
Pros
Good templates
Nice C-clamp
Cons
Constant tightening needed
Not the best case
---
5.

Osaava 47709 Twin Pocket Hole Jig Kit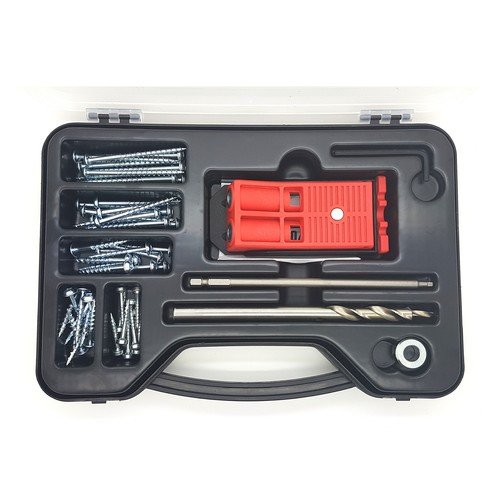 This kit is low-priced, we'll give it that much, but that's about where it stops. After that, there's very little positive to say about this kit.
Our first complaint is the deceptive wording and pictures on the outside of the package. It advertises a clamping magnet for use with steel clamps, and the clamp is clearly shown on the outside, but inside it's nowhere to be found. It's not included. A little research revealed that this is standard for this product. However, this may be an unintentional mistake on their end. Do let us know if this is solved, and we will remove this from the review.
The built-in drill depth gauge isn't accurate. If you follow it you'll wind up drilling through to the other side, ruining your material. You have to experiment with the drill bit collar to get the right setting – for each different thickness. If you don't use a file to make a mark on the case for each thickness, you'll have to do this every time. This is a huge time waster that set our teeth on edge.
The plastic is cheap. It breaks very easily. At least the case is nice.
There's too much wrong with this one, leaving it dead last in our reviews.
Cons
Cheap plastic
Deceptive advertising
No clamp
Settings aren't accurate
Constant slippage
---
Buyer's Guide – Choosing the Best Pocket Hole Jig
Pocket hole jigs do more than improve the outward appearance of your work, although they certainly do that too. They also strengthen the joints in your finished product.
Nails don't grip the wood they're in, so they tend to work themselves out when they're used in anything which moves frequently or is moved from place to place regularly. Bookshelves, doors, cabinet drawers, furniture, and tables are always built with screws rather than nails for precisely this reason. Wooden items from centuries past used dowels or wooden pegs, slightly swollen and hammered into place, to achieve the same result.
Screws are the clear choice for long-lasting strength. They grip the wood and draw the pieces together when they're joined, unlike nails that tend to push pieces apart when they're being driven into place.
However, screws have much more obvious heads which spoil the look of the product, hence the invention of pocket holes, and the jigs for making them accurately and consistently. Without a pocket hole jig, you'll never get the holes straight, consistent, or accurate. Leave seat-of-the-pants flying to the Tom Cruise-wannabes in the Air Force – you need dependable results every time.
There are some important things to consider when finding the right pocket hole jig.
The type of work you're doing will dictate which pocket hole jig is right for you. Take a few minutes to stop and think about it – you'll be glad you did.
If you're doing a wide variety of work, as a general carpenter or handyman, you'll need a jig with as many applications as possible. It's nice to have a lot of tools in your work truck or on the bench, but multiple tools can slow you down switching from one to another. Often it's better to have one tool with a wide range of uses.
As long as it has sufficient adjustments to handle everything you'll come across on the job, it's better to make those adjustments than to constantly be swapping out tools. A general-purpose jig with a lot of features and additions is the best idea in these cases. This is especially true when you're going to the customer's site to do the work.
If you're doing most of your work at your own house or shop, a permanently mounted bench jig might be the way to go. This lets you spend a little extra on a heavy-duty, metal jig with some real heft to it, which translates into long-term strength and durability. Not to mention, it'll always be where you left it, so there's no need to look around for it.
What makes a good product in this category?
First and foremost, you want an accurate jig. A pocket hole jig could be made out of pure gold, but if it isn't accurate or is constantly slipping out of alignment, resulting in ruined material from holes drilled too deep or not deep enough, it's worthless. You have to insist on dependable accuracy in the gauges, along with non-slip clamps that won't gradually wear out over time.
One point about gauges that might seem minor but will become a major irritant at the end of a long day is the markings on them. Make sure they're marked in a high-contrast color. Some gauges among the jigs we reviewed had blue-on-blue markings, which makes them difficult to read, especially in wavering, uncertain, or dim light. Keep that up for long and your eyes will hate you.
Second, you want a durable jig. Some of the pocket hole jigs we reviewed can set you back a pretty penny. One that breaks easily will cost time and money you don't have or don't want to spend or both. If you expect to use it a lot, and it's critical to your work, spend the extra money upfront to get one that lasts.
Of course, if you're only using it occasionally, the best product for you might be the cheap one you can afford to throw away if it breaks after you're done with it.
Good jigs should always come with all the clamps needed for their use. If they don't it's because the manufacturer is trying to nickel and dime you to death. We hate it when that happens.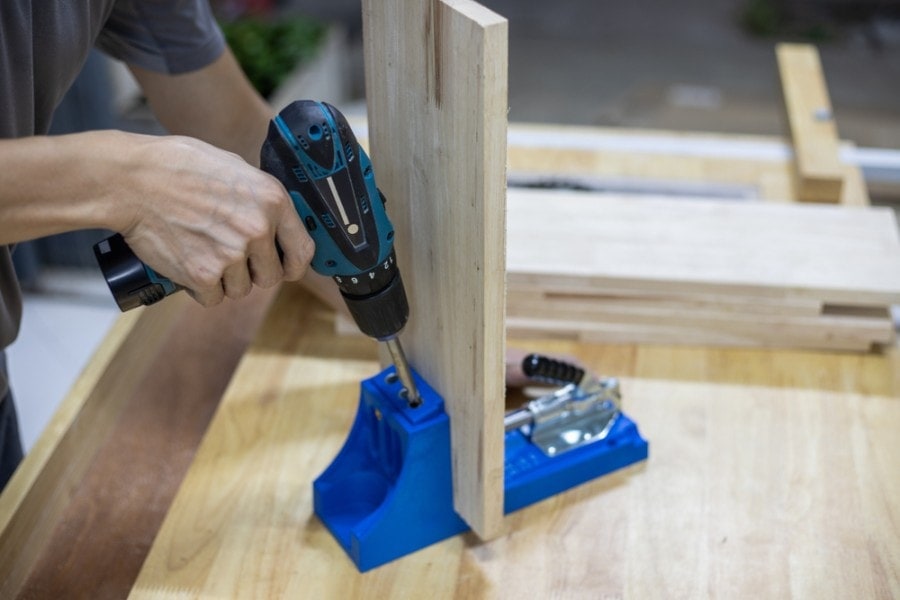 Tips when buying
As always, look for a manufacturer's warranty and return policy. Even the best manufacturers will occasionally let a lemon slip through Quality Control. If you throw away the warranty paperwork or buy from a company with a small time frame for returns, you could find yourself stuck with a broken tool, and out the money, you spent on it. Also, check to see if the company offers an extended warranty.
You should only buy from established companies with a proven track record. This doesn't guarantee that you won't have problems with your tools, but it greatly diminishes the odds of it happening to you. Fly-by-night, no-name companies might have great prices, but the quality and workmanship of their products are terrible – and that's putting it nicely.
We stick to the name brands and hope you do too.
Finally, since you'll more than likely be buying your jig online, make sure free shipping is included. Considering how much you've already spent on the tool, manufacturers shouldn't be trying to stick you with a lot of shipping charges too. Take an extra few seconds to read the fine print about shipping. A few minutes could save you a ton of shipping charges.
What kinds of options are there?
As you might have noticed, different kits come with different options – extra bits, spare clamps, multiple gauges, etc. Are there stripped-down "bare-bones" models available from the manufacturer, or are you stuck getting one with all the bells and whistles? Maybe there are add-on kits or packages.
Some will include extra plugs and screws in the kit; others won't. Perhaps the manufacturer has a regular parts kit to go with the jig. If you buy them at the same time, you'll often get a reduced price on the whole package.
See if the company offers any spare parts or repair kits. These can save you valuable time down the road. Murphy's Law says things will always go wrong at the worst possible time – beat it by having the parts already in hand.
Some of the carrying cases didn't hold all the parts or felt flimsy. Occasionally manufacturers will sell a separate or "upgraded" case. We don't approve of manufacturers doing this kind of thing – it seems like gouging – but if one is available you should probably get it to keep everything together in one place.

Conclusion
It's our job to do these reviews so you don't have to. We provide you with the information you need to make a decision that's right for you. Along the way, we provide some recommendations.
In our reviews, the Kreg K5 is our top pick among pocket hole jigs. It's the whole package – tough, durable, easy to use, and accurate. You'll be able to concentrate on your work instead of the tool. Isn't that the whole point of a good tool in the first place? Of course, it is, and this one fits the bill. Use it, git 'er done, and go on to the next thing.
The Kreg R3 Jr is our choice for best for the money. It's small and portable, which makes it great for those tight spaces where you have to take the tool to the job, inside cabinets and such. We have to admit we were disappointed with the lack of an included clamp and lower quality, but you still get a lot of bang for the buck. For the occasional use, this jig is a good tool.
We hope that with this guide in hand you'll be able to make quicker, easier decisions on your choice of tools and then get back to what you love. Happy trails!
Related posts
In-depth Reviews of Dowel Jigs
https://housegrail.com/best-plunge-routers/
https://housegrail.com/best-sander-for-kitchen-cabinets/