Kreg K4 vs Kreg K5: Which One's Best?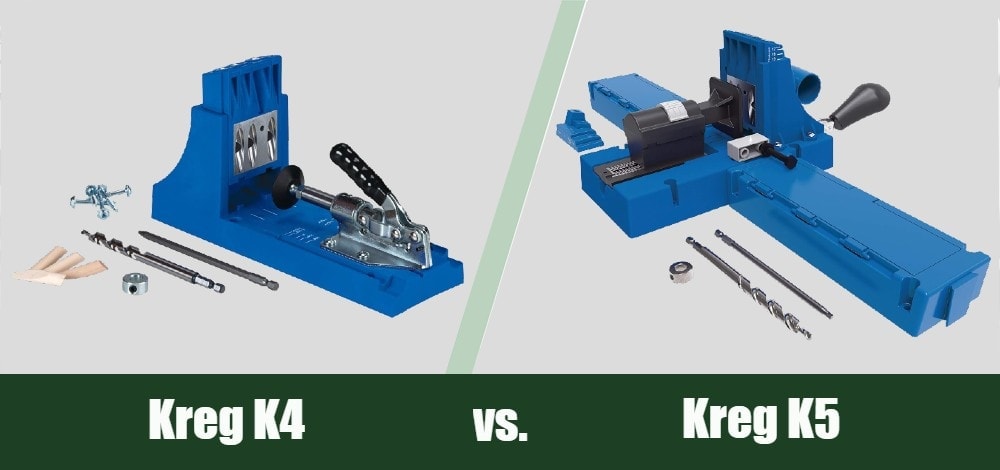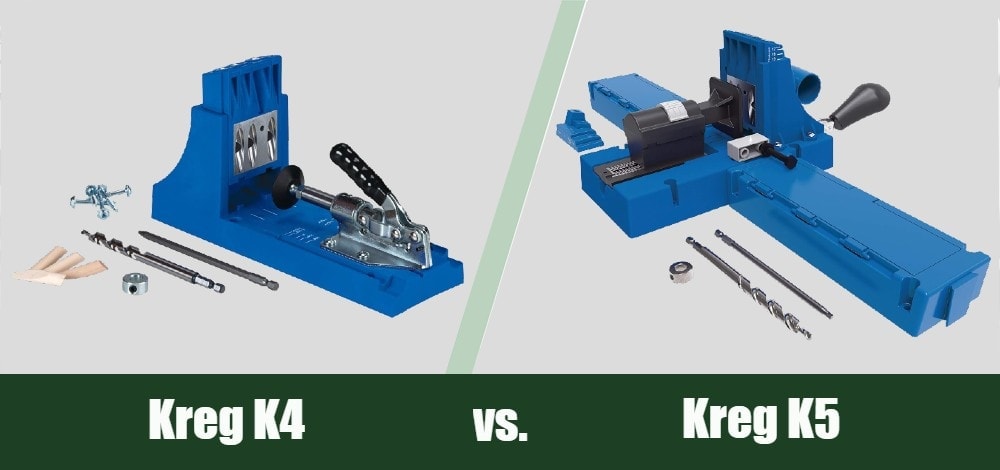 Rating
Image
Product
Details

The Winner

Kreg K5

Support wings double as storage containers
Built-in clamping for gripping your work surface
Sophisticated clamp system to hold your project
CHECK PRICE

The Runner up

Kreg K4

Removable steel drill guides
Screw in pin to set drill guide block
Works with wood from ½" to 1 ½" thick
CHECK PRICE
Kreg is one of the most reputable tools brand in the woodworking industry today. For more than 30 years, this manufacturer has been providing high-quality tools to craftsmen worldwide. One of the biggest appeals to Kreg is that the company is always in the process of innovation – improving on the shortcomings of each product it produces.
It should not come as a surprise, therefore, that Kreg's K4 and K5 are some of the most popular pocket hole jigs on the market today. Both of these jigs allow you to make accurate and uniform pocket holes for joinery. Their easy-to-use nature and effectiveness make them ideal for both pros and beginners.
However, the K4 is the more basic of the two, which makes it more suited for beginners and DIYers. The K5 improves on the limitations of the K4, meaning that it comes with extra features to facilitate smoother and faster operations. As a result, the K5 is more expensive, making it ideal for professionals.
In this article, we shall dwell deeper into their nuances to help you find out which one of the two jigs suits you better.

At a Glance
Let us look at the key points of each jig:
Kreg K4
3-hole drill guide
Premium face clamp
Drills materials between ½ and 1 ½ inches thick
500 1 ¼ inch screws
Kreg K5
Front-mounted clamping handle
Self-adjusting piston clamp
Side tables
Self-tapping tip
675 screws of 5 different types
---
Overview of the Kreg K4
The K4 has been around for a while, and within that period, this jig has been put through the wringer. Considering that the K4 is still one of Kreg's best-selling products, it is safe to assume that it is meeting expectations.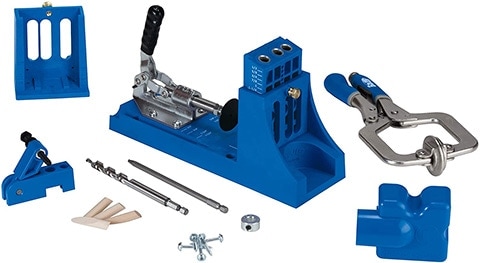 What you can expect from the K4 is a handy jig that allows you to create pocket holes with outstanding levels of accuracy. It is also equipped with a bevy of features that facilitate ease of use and convenience.
The manufacturer designed the K4 to handle both small large-scale use, making it one of the most versatile jigs of its size. For example, it comes with a generous width to allow you to work with a wide variety of thicknesses.
Another appealing factor about this jig is its adaptability. With the right attachments, you can upgrade it to either HD or Micro Kreg. What's more, it comes with a removable drill guide, making it easy to move or transport.
With its sturdy construction, the K4 is designed to last ages, with the manufacturer offering a lifetime warranty on the tool. However, its dust management system is a little iffy, as its dust port does not tilt.
Pros
Versatile
Full inclusive set to allow you to get started on your projects as soon as you receive the jig
Sturdy construction for enhanced durability
Lifetime warranty
Extremely portable
Cons
Inefficient dust collection system
Does not come with extra storage for accessories
Lacks a built-in easy clamping system

Overview of the Kreg K5
The K5 is an upgrade of the Kreg K4. As such, even though it has not been around nearly as long as the latter, it has quickly become one of the most sought-after jigs thanks to the design improvements and the extra features it comes with.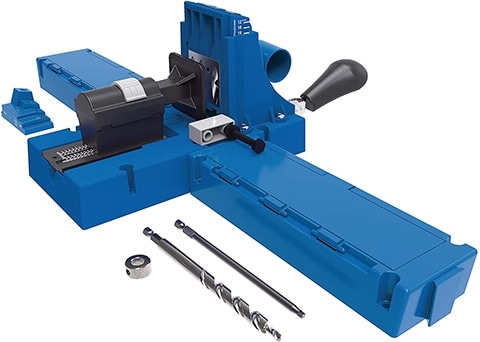 One of the notable improvements is the inclusion of a built-in clamping system that ensures that you do not require any additional tools for clamping purposes. To add to that convenience, its handle is mounted at the front, as opposed to the K4's, which is at the back.
The ratcheting clamp increases the K5's ease of use tremendously. Since it is self-adjusting, it means that you do not have to spend time and effort making adjustments, which improves your productivity.
Another valuable upgrade on the K5 is the addition of side tables. These tables not only allow you to work on larger workpieces but also give you storage space for your accessories. This ensures that you will always have everything you need near you during work.
The K5 also has a better dust management system than its predecessor. Unlike the K4, it comes with a tiltable dust port that allows you to direct dust to your preferred location.
Like the K4, this jig is also incredibly durable. It features a tough and sturdy construction.
Nonetheless, all the extra features on the K5 means that it is not as portable as the K4 is. It also means that this jig is significantly pricier than its predecessor.
Pros
Built-in clamping system
Support wings for extra storage space
Can handle larger workpieces
Swiveling dust port for better dust management
Durable construction
Lifetime warranty
Cons
Less portable than the K4
Pricier
---
What are the Differences Between Them?
Considering that the Kreg K5 is an upgrade of the K4, there is bound to be some differences between the two jigs. Depending on your specific project or situation, knowing these differences will allow you to choose the jig that is more appropriate for you.
Clamping System
Edge: Kreg K5
Pocket-hole jigs have two types of clamps – one for holding your workpiece and another for securing the jig to the bench. You will find that, in most cases, the quality of a clamp affects the jig's effectiveness. Fortunately, quality is not an issue when it comes to Kreg's jigs.
Unfortunately, the K4 does not come with a bench clamp, meaning that you will need to purchase one to use this jig. The K5, on the other hand, comes with both clamps.
The K5's clamping system is also superior to that of the K4 because of its ratcheting mechanism that allows it to self-adjust. This makes work a lot smoother. Additionally, you will not have to invest in adjustment tools. With the K4's toggle clamping system, however, you will have to perform the adjustments as you work.
The easy-to-use clamping design of the Kreg K5 makes it the clear winner in this regard.
Storage
Edge: Kreg K5
The process of making pocket holes using a jig involves several accessories. It does not help that most of those accessories are tiny, meaning that they can get lost easily without proper storage.
As a result, the storage wings that the K5 comes with are extremely convenient. They not only offer safe storage for your accessories but also ensure that they are within reach when you need them.
These wings also help to provide support when working with large workpieces. This allows you to take on larger-scale projects. To ensure that they do not get in your way when you do not need them, the wings are designed to be removable.
The Kreg K4 does not come with this feature.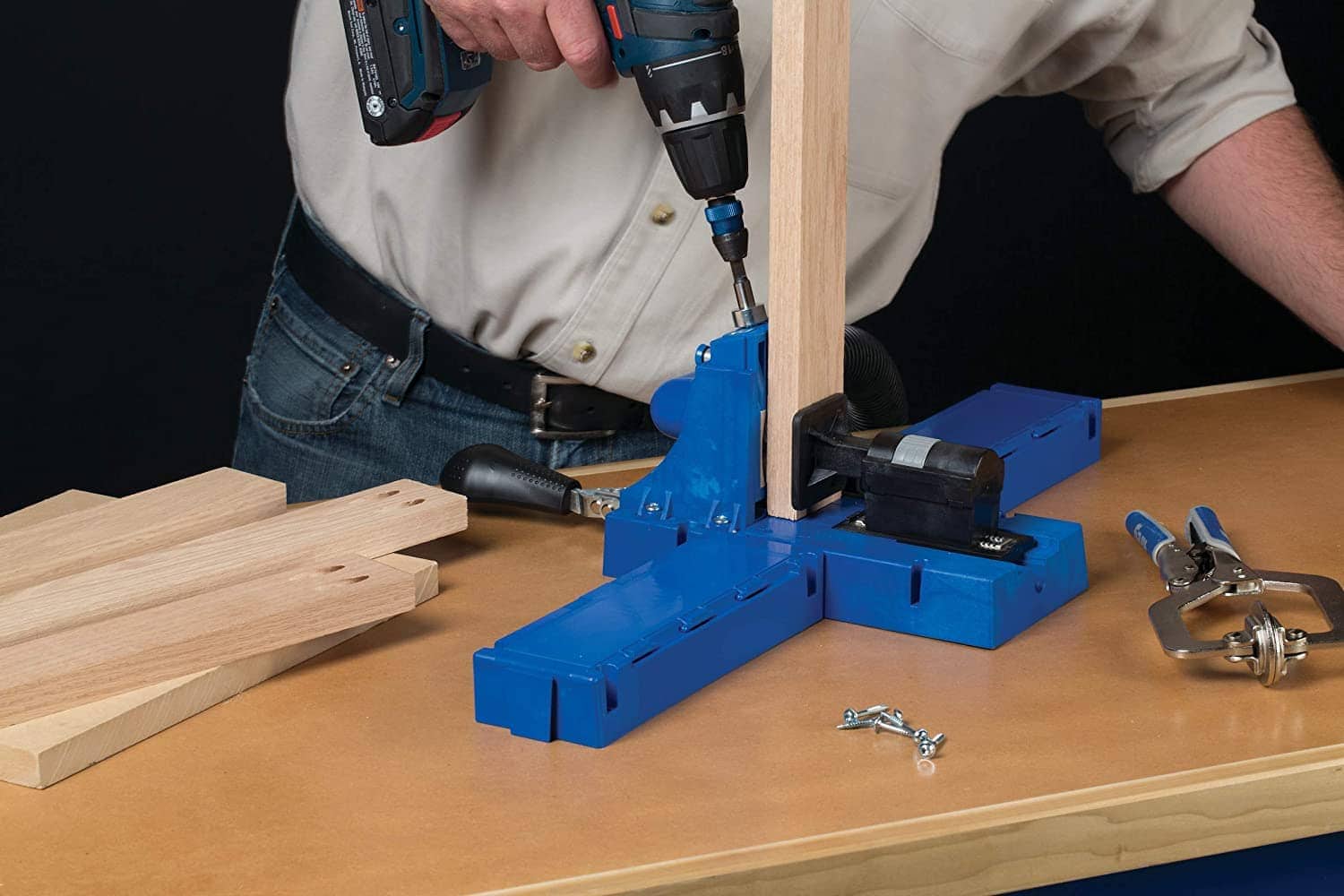 Dust Collection
Edge: Kreg K5
Considering that making pocket holes using a jig involves a significant amount of drilling, there is bound to be a lot of dust produced. As such, you want a jig that can eliminate that dust in the most efficient way possible.
Fortunately, both the K4 and K5 come with dust collection ports for that purpose. They even allow you to connect them to a shop vac for more efficient extraction.
Their dust collection ports, however, feature different designs. The K4's port is fixed, meaning that you can only use it from one position. The K5's, on the other hand, swivels to allow you to adjust it to the most convenient position.
Size and Portability
Edge: Kreg K4
If you are like most people, you want a tool that you can carry with you easily when you need to. Of course, the larger it is, the more difficult it will be to transport the jig.
Fortunately, both the K4 and K5 come in a compact design that facilitates portability. However, the Kreg K5 is significantly larger, meaning that it can be more cumbersome to carry than the K4.
Overall Performance
Edge: Kreg K5
Considering that the K5 is an upgrade of the K4, it should not come as a surprise that it performs better than the K4. It can also accommodate slightly larger materials than the K4 can.
Price
Edge: Kreg K4
The K5 improves on just about everything on the K4. It even comes with extra features to enhance its versatility. As a result, it costs more than the K4.
What the Users Say
According to K4 users, it is one of the best jigs for making quality pocket holes. It is accurate, easy to use, and does not break the bank. Beginners seem to be quite happy with this tool as well.
K5 users describe it as the most incredible jig they have ever used. They particularly appreciate its novel clamping mechanism, efficient dust port, and convenient storage wings.

Conclusion
Both the Kreg K4 and K5 are excellent pocket-hole jigs. However, the K5 is an upgrade of the K4. This means that it comes with more features to facilitate a smoother operation. This also means that it is more expensive than the K4.
The K4 will meet the needs of just about anyone, ranging from beginners to professionals. It is ideal for someone looking for a quality jig without having to spend a lot.
However, if you are looking for a top-of-the-line jig that will enhance the quality of your work and productivity dramatically, consider the K5.