5 Best Sanders for Kitchen Cabinets in 2023 – Reviews & Buying Guide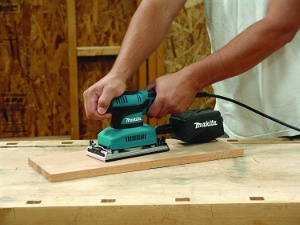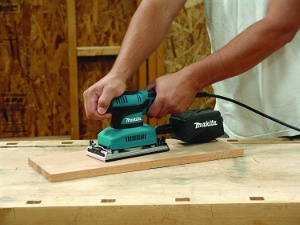 If your kitchen cabinets need to be as smooth as a baby's behind, you need to get the right sander for the job. The competition for your time, attention, and money is fierce and the number of available manufacturers and models can be overwhelming at times.
So we put on "Eye of the Tiger" and ran out to see what's available, what's good, what's not, and what gives you the most for your money. We found the sanders we wanted to review, got in the ring, and put them through their paces. We didn't – quite – run them up and down the steps of the library, but it was close.
Now we're ready to show off the results of our sweaty labor. Here for you are the top 5 sanders for kitchen cabinets of the year.

Our 5 Favorite Products Compared:
Rating
Image
Product
Details

Best Overall

DEWALT DWE6423K

Long-lasting operation
Good dust handling
Ergonomically designed
CHECK PRICE

Makita BO3710

Doesn't overheat
Lock button on the trigger
Paperclips are good
CHECK PRICE

Best Value

SKIL 7492-02

Smooth operation
Pressure indicators
Perfect for small jobs
CHECK PRICE

PORTER-CABLE 382

Decent sander
Soft start feature
CHECK PRICE

3M 20208

Industrial clean room application
Ideal for high production industrial environments
CHECK PRICE
The 5 Best Sanders for Cabinets:
1.

DEWALT DWE6423K Sander – Best Overall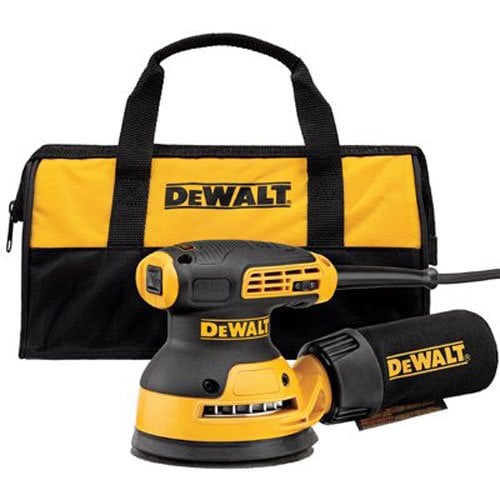 This orbital sander from DeWalt easily walks away with the prize of Top Pick among our contenders.
Preparation is easy. Just open the box, undo a twist-tie, attach the dust bag, and you're ready to rock and roll. Putting on the sanding paper pads, or changing them, is easy as pie. Pull one Velcro pad and put it on the next one. You just have to ensure the holes on the bottom are aligned, which is a breeze.
The 3 amp motor provides continuous, long-lasting operation even on concrete counters used for outdoor kitchens. It impressed us by continuing to work even after days of wet grinding on that obnoxious surface. It works equally well with a lot of starts and stops. We did everything we could to put this sander on the mat, but it never went down for the count.
The grip, ergonomically designed for comfort, can be used with one hand or two. The operation is smooth and easy. It's easy to move this tool around, and it doesn't feel like it's fighting you at all.
The dust bag has a decent capacity, which is good because the dust port wouldn't connect with our shop vac at all. Aside from that, we loved it and rate it the best sander for kitchen cabinets.
Pros
Easy to change pads
Long-lasting operation
Ergonomically designed
Smooth movement
Good dust handling
Cons
Can't connect to shop vac
---
2.

Makita BO3710 Finish Sander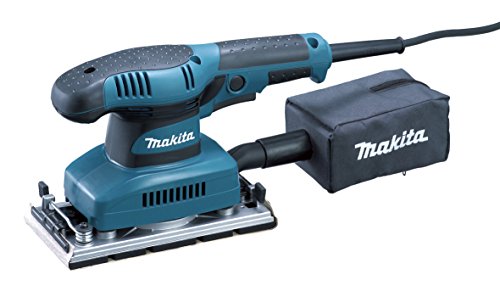 Like Rocky Balboa, this finishing sander from Makita gives it a good try but comes up just short of the title.
One feature we liked was the lock button on the trigger. This is useful when you're switching hands or need to run the sander for prolonged periods. We also enjoyed not burning our hands on it. Even after hours of use it never overheated, something power tools are notorious for doing.
The heavy metal clips at either end of the sander are easy to use. It only takes a few seconds to change paper, and it was always held securely in place with no danger of slippage or loss.
There was very little vibration with this sander, courtesy of a built-in counterbalance system.
But this is a contender, not a champion. This sander is only useful for light work. If you lean on it, it bogs down right away. We also weren't impressed with the dust collection. The bag was porous enough to let quite a bit of dust escape, which defeats the purpose of having the bag.
We like this sander, but it's not a heavyweight champion.
Pros
Lock button on the trigger
Paperclips are good
Minimal vibration
Doesn't overheat
Cons
Bogs down easily
Bad dust collection
---
3.

SKIL 7492-02 Cabinet Sander – Best Value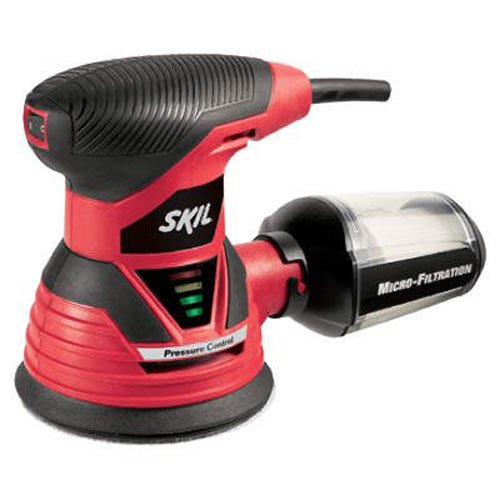 Another orbital sander in the running is this pick for best for the money. It works well for the occasional odd job, but some issues kept it out of the top two.
The pressure indicator lights appear to work as advertised. Since low-power sanders can bog down from too much pressure, this is actually a pretty cool idea. We like it.
The bottom pads accept universal orbital Velcro sandpaper without any issues. We got a nice smooth finish faster than we expected from such a small sander.
The dust collector bag is a hassle though. The tabs are flimsy. If you're not careful, you'll break them and be left with a useless bag. If replacement bags were available it wouldn't be as much of an issue, but Skil doesn't seem to have any, at least none we could find. The bag itself is none too strong either. It rips and tears.
This sander is terrible for sanding vertical surfaces. For some reason, it dies a quick death in record time when you try.
We like this sander, but the dust issues and inability to handle vertical sanding keep it out of the top two.
Pros
Pressure indicators
Smooth operation
Perfect for small jobs
Cons
Dust collector breaks
Dust bag rips
No vertical sanding
---
4.

PORTER-CABLE 382 Sander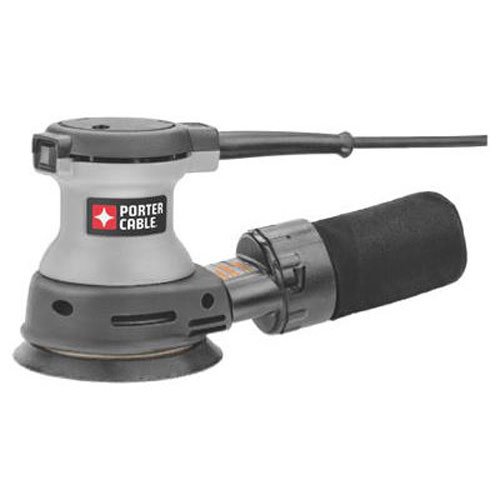 This orbital sander didn't impress us. It has a soft start feature, so it doesn't try to jump out of your hand on start-up, and it does a decent job of sanding. But it has so many problems that we had to drop it into 4th place in our review.
The grip is terrible, with all kinds of edges and seams. Combine this with the excessive vibrations, and before long your hand will be sore and aching. You can sand the edges off for a more ergonomic grip, but why should you have to?
Overheating became an issue within 20 minutes of turning it on, and it can't handle any pressure at all. Even light pressure bogs it down. The power switch isn't reliable, whether from dust or design we're not sure.
The main problem is the dust collector. It won't stay on. It vibrates loose almost immediately when you turn it on, and no matter what you do it won't stay put. This seems to be a major design flaw with this model, resulting in dust going everywhere.
Porter-Cable didn't win any friends with this offering.
Pros
Soft start feature
Decent sander
Cons
Terrible grip
Vibration problems
Overheats
Dust collector falls off
---
5.

3M Random Orbital Sander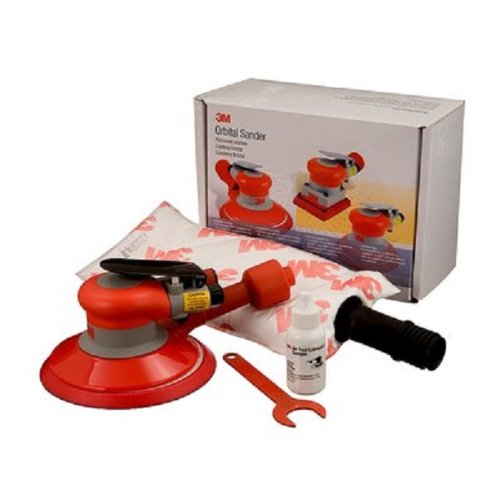 This sander from 3M is intended for industrial applications and settings rather than for the home user, or even the professional carpenter. It works quite well in its intended environment, but there are a number of drawbacks to using it anywhere else.
This sander doesn't use any off-the-shelf pads or parts. Everything on it, from the air filters to the pads to the recommended abrasives, is proprietary to 3M, which means you'll have no recourse to paying its prices for supplies. Once you buy 3M, you're locked into its supply chain forever.
The user manual that comes with it doesn't say anything about actually using the sander. A proprietary wrench comes with the sander, but the manual doesn't give any indication of how it is supposed to be used. The manual is essentially a parts and safety booklet. Directions for use? Not in there.
3M put out an advertising video showing this sander, in extreme close-up, being used in a cleanroom environment, not something you'd normally find in your ordinary wood shop.
This sander works, but not for your needs. Stay away from it.
Pros
Industrial clean room application
Cons
Bad manual
Proprietary parts
Overpriced
Pneumatic power system
---
Buyer's Guide – Choosing the Best Sander for Kitchen Cabinets
The sander you use for the kitchen cabinets isn't the one you'd use for sanding the deck or stripping the walls. Keep this in mind when making your choice. Which sander is best for your particular kitchen? We've given you the information to make the decision quickly and easily.
You're not buying a sander for your best friend, and you're spending your own money, so stay focused on you, or on how impressed your friends and family will be when they see what you've done.
Buying Tips
Not all orders qualify for free shipping. It turns out the devil really is in the details. Often you aren't informed of additional requirements to qualify for free shipping until you're virtually done placing your order. That's when they surprise you with it. Don't skip over the page. Stop and read it carefully before clicking "buy."
As always, we urge you to pay attention to warranty details and return policies. "I didn't know," isn't going to garner good response from customer service departments. Know what you're doing before you step into the ring.
Options when buying
The main problem we encountered with all these sanders was dust collection. Make an effort to get extra bags and connectors. Adapters for attaching the dust port to a shop vac – if they're available – are a must-have option, otherwise, you'll still be finding dust in odd corners of the house three years from now.
Spare sander pads, including sticky pads for the orbital sanders, are easy to add to your order and might be what gets you free shipping on those items that have "extra" requirements to qualify for it.
---
Conclusion
With our top review pick, the DeWalt DWE6423K, the "K" means it comes with a carrying bag. It's a small detail but an important one. If you're going to buy the best, better to get the bag to go along with it.
Our "best for the money" choice, the SKIL 7492-02, has those great sensor lights to let you know when you're putting too much pressure on it, but you probably won't use it for bigger jobs.
We've done all the sweaty work to make things easy for you. It's our job and we're glad to do it for you, but the rest of it is in your capable hands. So, make your pick and get cracking to show people just how smooth things can be.