10 Best Pocket Screwdrivers of 2023 – Reviews & Top Picks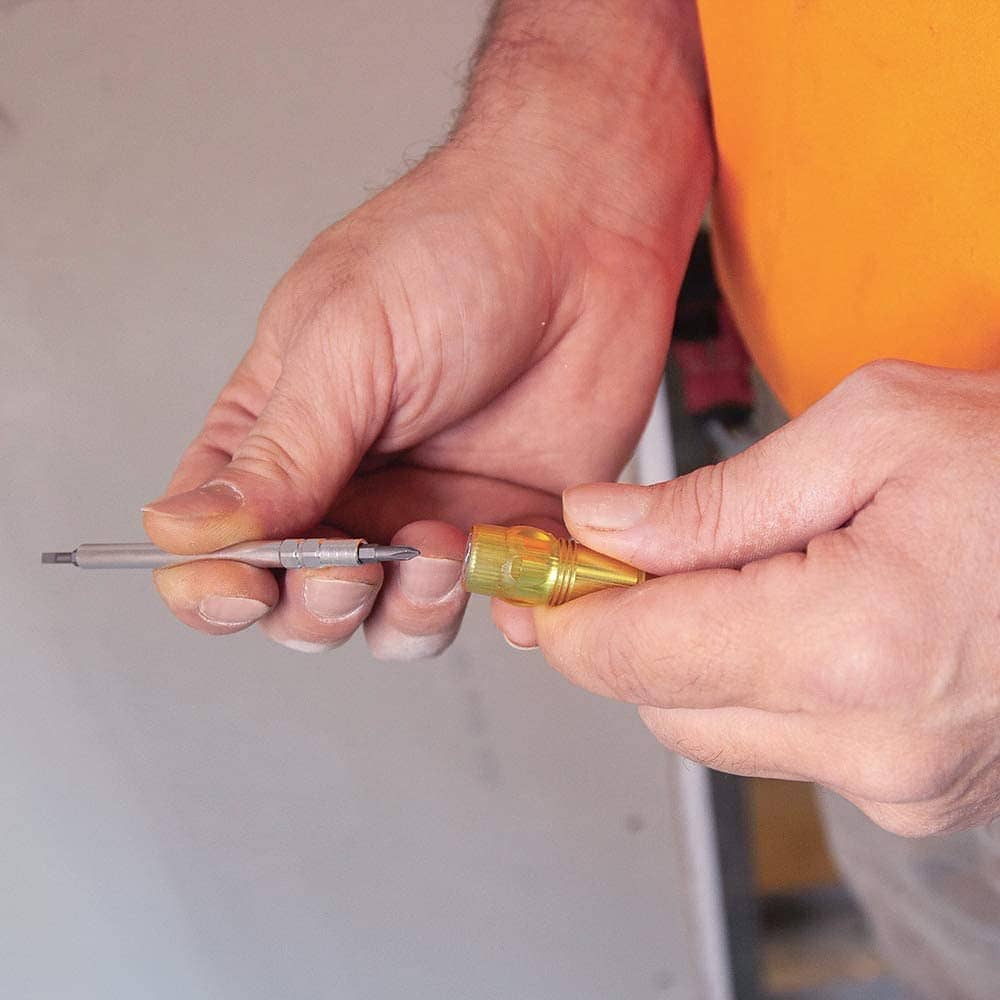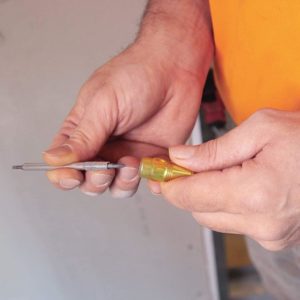 Screwdrivers are some of the most valuable tools imaginable. Nearly every device, appliance, and machine is assembled with screws. If you do detailed work with smaller screwdrivers every day, you probably prefer not to carry several around with you.
Luckily, pocket screwdrivers can keep the most essential bits at your fingertips. They are compact, and many brands include unique features. Luckily, we're here to help you find the best tool for your needs. To that end, we purchased several pocket screwdrivers and tested them. We learned a lot along the way, which we will share with you in the following reviews.
A Quick Comparison of Our Favorites
Rating
Image
Product
Details

Best Overall

Klein Tools 4-in-1 Electronics Pocket Screwdriver

Pocket clip for easy storage
Concealable tip
4-in-1 design
CHECK PRICE

Best Value

Swatom 8 in 1 Mini Screwdriver Set Pen

8-in-1 design
Weighs just 1.5 ounces
Includes a full-size #2 Phillips bit
CHECK PRICE

Premium Choice

Steelman 10-In-1 Magnetic Pocket Screwdriver

Includes a range of 8 common bits
Offers Torx and square bits
Magnetic ¼-inch hex shaft
CHECK PRICE

Stanley 66-344 4-in-1 Pocket Screwdriver

4-in-1 design
Magnetic bits with non-slip surfaces
Includes a standard #2 Phillips bit
CHECK PRICE

K-Motor Performance Pocket Magnetic Screwdriver

They're magnetic
Pocket clips keep them secure in your pocket
Dirt-cheap pricing
CHECK PRICE
The 10 Best Pocket Screwdrivers – Reviews 2023
1.

Klein Tools 4-in-1 Electronics Pocket Screwdriver – Best Overall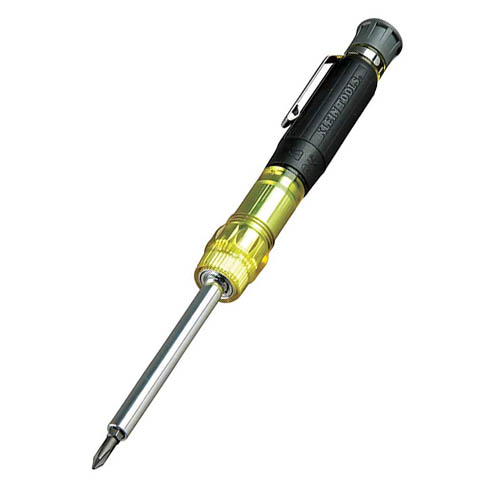 Because of the precise control and versatility of this pocket screwdriver from Klein Tools, it earned our top recommendation and is the best overall pocket screwdriver. Klein Tools is known for making high-quality tools, and this one doesn't disappoint. It features a 4-in-1 design with two Phillips bits and two slotted bits. The Phillips heads include the #0 and #00, which are perfect for small electronics and other devices, but there's no full-size standard #2 Phillips.
When you're done and want to store this screwdriver, you can retract the concealable tip so it won't accidentally stab you. There's also a pocket clip to keep it in place, ensuring you won't drop it or fiddle around looking for it. The barrel is also unique. One side is short but can be flipped around to offer a long end, depending on your needs.
Pros
Rotating cap provides precise control
Interchangeable barrel offers 2 lengths
Pocket clip for easy storage
Concealable tip
4-in-1 design
Cons
Doesn't offer a full-size Phillips bit
---
2.

Swatom 8 in 1 Mini Screwdriver Set Pen – Best Value
With the Swatom mini screwdriver, you're getting eight tools for a price that's cheaper than many tools offering half the functionality. It includes various screwdriver bits, including four Phillips bits and four slotted bits, all different sizes. The Phillips bits range from #00 to #2, providing the full range of common sizes.
At less than 5 inches long and weighing just 1.5 ounces, this little screwdriver will have no problem fitting into your pocket. All the bits are conveniently stored inside the screwdriver so you won't lose them. Unfortunately, ours was missing some bits when it arrived, but it was promptly replaced, and the replacement had all the bits. We later realized the bits are magnetized, which makes them even better.
Even though you're getting eight tools, this pen screwdriver is cheaper than most products offering only four. When you add in its compact size, it's easy to see why we think it's the best pocket screwdriver for the money.
Pros
8-in-1 design
Weighs just 1.5 ounces
Includes a full-size #2 Phillips bit
Cheaper than other options
Magnetic bits
---
3.

Steelman 10-In-1 Magnetic Pocket Screwdriver – Premium Choice

The Steelman magnetic pocket screwdriver will cost you more than most of the brands we tested, but with its incredible versatility, we think it's worth the higher price. While most of these pocket screwdrivers have two to four tools, this one has 10! At just over 4 inches, it manages to stuff all of that into a very discreet package.
Eight screwdriver bits are included in that array of 10 tools. You'll get two flatheads, two Phillips bits in sizes #1 and #2, two Torx bits, and two square bits. The shaft has a standard ¼-inch hex and can be used as a driver. It's also magnetized, offering a secure hold on any bit. The final tool is a bottle opener, so you don't have to carry one when it's time to relax.
The pocket clip can also be moved to either side of the tool. Overall, we think it offers enough extras to warrant a higher price, which is why it's our premium choice recommendation.
Pros
Includes a range of 8 common bits
Offers Torx and square bits
Magnetic ¼-inch hex shaft
The pocket clip can be positioned on either side
Bottle holder built-in
Cons
More expensive than other options
---
4.

Stanley 66-344 4-in-1 Pocket Screwdriver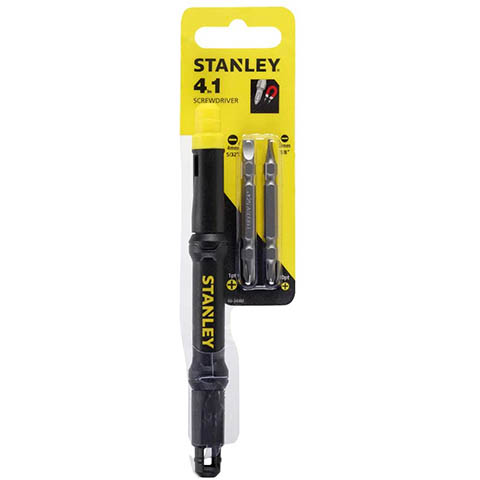 Stanley is one of the most well-known tool manufacturers on this list. Their pocket screwdriver is a great product with one major flaw preventing it from breaking into our top three. However, there's a lot to like about this tool.
The Stanley pocket screwdriver has a non-slip surface that's easy to hold, even when you build up sweat. In the self-contained package, you'll also get four magnetic screwdriver bits with non-slip surfaces. This includes two slotted bits and two Phillips bits, though the largest is a #1 size. We would like to see a #2 Phillips, but that's not our real issue with this device.
The real problem is that the bits are 5-millimeter, rather than the standard ¼-inch, and you can't replace them if you lose them. You also won't get much use from the bit holder as a nut driver. Still, it is an affordable tool with great features. We like it, but not as much as we like some of the other pocket screwdrivers we tested.
Pros
4-in-1 design
Magnetic bits with non-slip surfaces
Includes a standard #2 Phillips bit
Non-slip surface for improved grip
Cons
Doesn't use standard ¼-inch bits
---
5.

K-Motor Performance Pocket Magnetic Screwdriver

These pocket screwdrivers from K-Motor Performance are more affordable than most of the competition. You'll miss out on the multi-tool functionality of many models we've already covered, but if you prefer simple, the K-Motor Performance tool might be your style.
For a very low price, you'll get a set of two screwdrivers. One is a slotted tip, and the other is a Phillips. Both have pocket clips to keep them secure and are just over 5 inches long. These are great for basic work with electronics or popping open clips in an engine bay, but we prefer the functionality of a multi-tool with several bits at our disposal.
Pros
They're magnetic
Pocket clips keep them secure in your pocket
Dirt-cheap pricing
Cons
2 separate screwdrivers
Each tool only offers one function
---
6.

Megapro 6PDRIVER-CC Pocket Driver

The Megapro 6PDRIVER-CC pocket driver is a 4-in-1 tool that might be the cheapest pocket screwdriver we've seen. It includes #0 and #00 Phillips bits and #1.5 and #2 slotted bits. The bits are tiny and aren't useful for anything other than working on small electronics and computers. They're perfect for detailed work, with a 15-millimeter reach on each bit.
We noticed that the Megapro's handle gets pretty slippery if you get moisture on your fingers. But it's pretty compact at ½-inch wide and 5½ inches long. It weighs just 1.6 ounces and has a pocket clip to keep it secure when not in use. Altogether, it's a decent tool, but the tiny bit sizes don't offer enough functionality for our liking. However, the bits might be perfect if you work solely on computers or other small electronic devices.
Pros
Super-cheap price
4-in-1 design
Great for working on small electronics
Cons
Tiny bits have limited usefulness
The plastic exterior can get slippery
---
7.

S K Hand Tools SKT85112 Pocket Style Screwdriver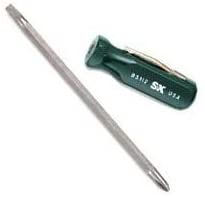 There's no doubt that the pocket-style screwdriver from S K Hand Tools is a well-built tool. It feels great in your hands with no play in the shaft. But it's pretty expensive, considering the limited number of bits it includes.
At this price, most of the pocket screwdrivers we tested had four more different bits, but this tool has just 1 Phillips and 1 slotted bit. They're not even magnetic, which is surprising for such a pricey tool. The Phillips is #1, and the slotted is 3/16 inches. These sizes are standard and useful, but for the price, we'd rather get two additional sizes since we need them so often.
Pros
Includes slotted and Phillips ends
Well-built and feels secure
Cons
Pricey for a 2-in-1 tool
Non-magnetic
---
8.

Maxcraft 60609 7-In-1 Precision Pocket Screwdriver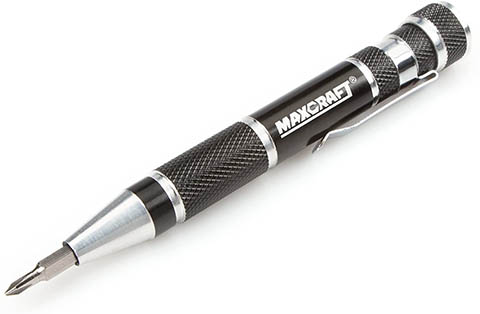 When we first held the Maxcraft precision pocket screwdriver, we expected great things from it. In your hand, it feels excellent, with a durable aluminum housing and knurled grip for a secure hold. It's a 7-in-1 tool with four flathead and three Phillips bits. They're all tiny, however, and include #0, #00, and #000 Phillips bits. As such, this screwdriver is only useful for working with small devices.
Still, we like the onboard bit storage. However, this turned out to be an issue. The bits are constantly getting stuck in the storage compartment. At one point, we could not dislodge three of the bits for several weeks.
Even though this screwdriver uses tiny bits, it's much larger than other screwdrivers we tested. The Maxcraft is over 6 inches, while some of our favorites were barely over 4 inches. Altogether, it's not a tool we'd choose, and we wouldn't recommend it to you either.
Pros
7-in-1 design
Durable aluminum housing
On-board bit storage
Cons
No full-size Phillips bit
Longer than alternatives at over 6 inches
Bits tend to get stuck
---
9.

Allied Tools 65051 Pocket Screwdriver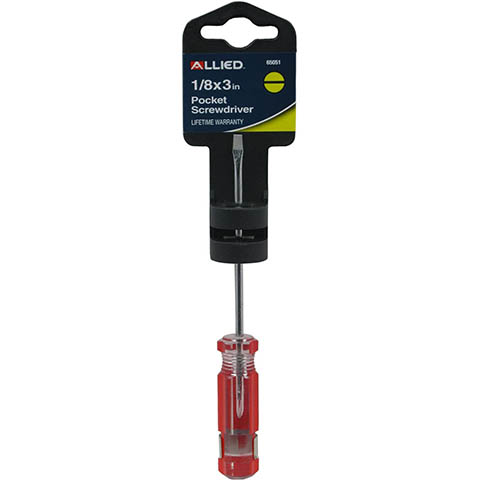 We don't necessarily dislike the 65051 pocket screwdriver from Allied Tools. As a screwdriver, it's great. However, it's just a regular straight-head screwdriver with a pocket clip attached. It's not even securely attached, which seems to make everything even worse.
The 65051 is a cheap screwdriver, but you only get one bit. Most pocket screwdrivers we tested had several, and some provided as many as 10 tools! In comparison, this screwdriver feels bare. However, it does have a lifetime warranty.
This tool might be for you if you just want a flathead screwdriver with a pocket clip. If you're looking for a multi-functional pocket screwdriver, we suggest skipping this one.
Pros
Warrantied for life
Priced affordably
Cons
It's just a regular screwdriver with a clip
Only offers one function
The clip isn't securely fastened to the screwdriver
---
10.

Red Barn Pocket Screwdrivers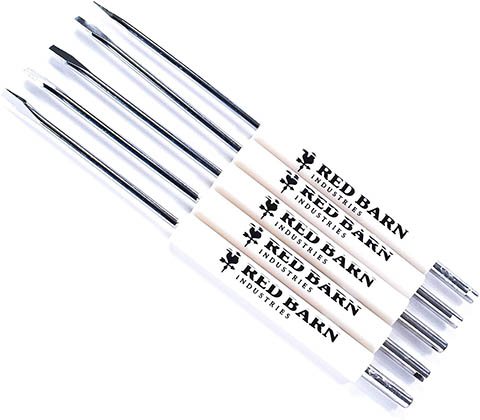 For select mechanics, the Red Barn pocket screwdrivers might be a good fit. But for most users, these are going to be a big miss. This set includes five tools with slotted heads. But they're all 2-in-1 tools, so what's on the other side? It's not another screwdriver bit but a valve core tool.
These screwdrivers aren't magnetized, and they won't hold onto screws. This might be preferable for some, though it will limit their functionality for many users. You're getting five screwdrivers, but they all have similar heads. For most customers, the Red Barn pocket screwdrivers aren't very practical, and the other brands on our list have more features.
Pros
Valve core end is great for mechanics
Cons
Each tool is only 2-in-1
Flathead only
---
Buyer's Guide – Choosing the Best Pocket Screwdriver
When you're looking for pocket screwdrivers, you have several choices. Some include a single tool that clips into your pocket, while others offer the functionality of many tools built into one convenient package. So, which of these is the right tool for you?
If you're still unsure after reading our reviews, this buyer's guide is for you. In it, we will look at the most important aspects to compare when deciding between various pocket screwdrivers. When you decide what you need in these key areas, picking a pocket screwdriver will become much simpler.
Picking the Perfect Pocket Screwdriver
There are just a few things to keep in mind when shopping for pocket screwdrivers.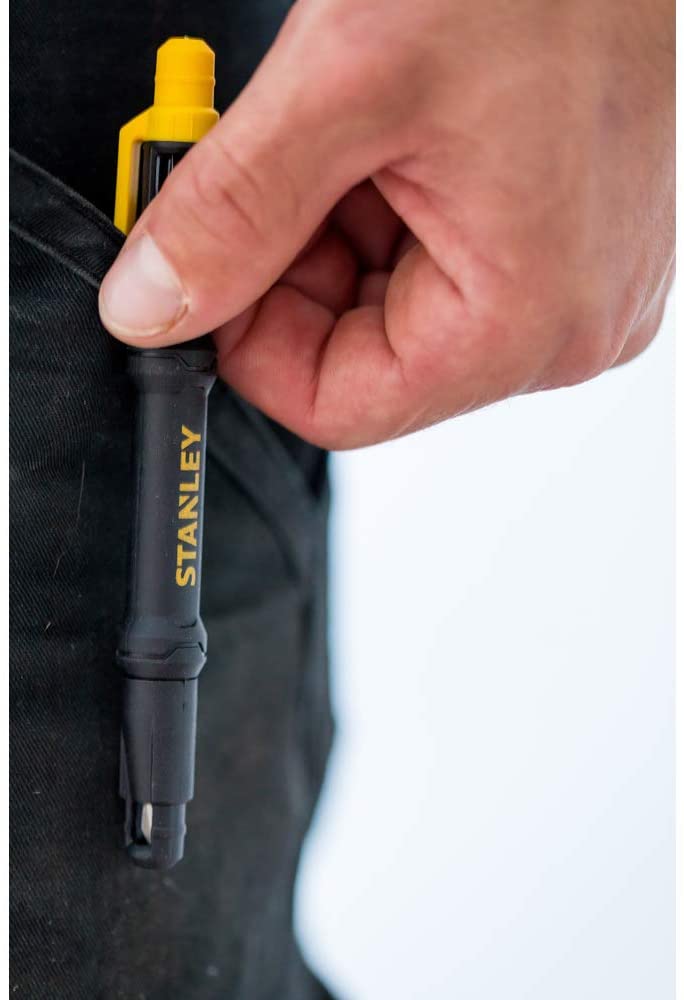 Single Tool vs Multi-Tool
The first thing to consider is how many bits you need. You might not need a wide range of bits for your work. A pocket screwdriver with a single bit is more compact than a multi-tool. They are lightweight and fit easily into your pocket. Plus, they're often stronger and more stable since there are no moving parts and no connections.
On the other hand, if you need more than one bit, you'll have to carry more than one screwdriver. A multi-tool will allow you to have multiple bits in a single tool. However, most multi-tools are larger, heavier, and less stable.
How Many Bits Can You Fit?
If you want the functionality of a multi-tool pocket screwdriver, you have to decide how many bits you want. Some pocket screwdrivers only include two bits; usually, one is a Phillips, and the other is slotted. However, you can also find brands that include up to 10 bits.
Some of our favorite tools had more than just the standard Phillips and flathead bits. These even included less common heads like the Torx and square. While you might not run into these quite as often, having that functionality becomes a blessing when you do.
What Sizes Do You Need?
If you're working exclusively with small devices like computers and electronics, you might only need these small sizes. In such a case, you'd do fine with one of the inexpensive multi-tools that only includes bits up to the #0 size.
On the other hand, if you're working with a wide range of devices and larger screw heads, the smaller bits aren't going to cut it. You'll need a screwdriver with larger bits, such as a #2 Phillips or a #1 at the least.
Price
While it's often true that you get what you pay for, that's not a hard and fast rule. We have some tools that provide incredible performance at value prices. We wouldn't suggest shopping based on price alone. What we recommend is to first shop based on your needs.
Once you find several compatible products, you can narrow them down by their prices. Don't assume that more expensive tools are automatically better. We've often purchased expensive tools expecting great things, only to have them outperformed by far cheaper products.

Conclusion
We've tested several pocket screwdrivers in order to write the reviews, and along the way, we acquired some favorites. Our top choice overall is the Klein Tools 32614 multi-bit precision screwdriver set. This 4-in-1 tool offers precise control with a rotating cap. Plus, you get an interchangeable barrel that can be used short or long.
For a budget price, you can try the Swatom mini screwdriver pen, and you won't be disappointed. It has eight tools, including four slotted bits and four Phillips bits, which are magnetized.
If you're willing to spend a bit more, the Steelman magnetic pocket tool is worth the extra cost. It has 10 tools, spanning a range of useful bits, including Torx, Phillips, slotted, and square. There's even a bottle opener built-in and a pocket clip that can be alternated to either side.
See Also: