9 Best Pool Poles in 2023 – Reviews & Top Picks
If you have a pool, you're probably performing daily maintenance, or you have a professional who does it for you. For those who do it themselves, you understand just how valuable a good pool pole can be. You need a sturdy pole that can reach into the center of your pool to fish out leaves and debris, scrub down the floors and walls, or sometimes to just to get your vacuum or cleaner unstuck.
A pool pole will serve a multi-functional life, but if you don't get the right one, it won't do so for very long. We've tried out quite a few of these poles, and we've formed some strong opinions, which we share with you in the following nine reviews before summarizing our recommendations in the conclusion.
A Quick Comparison of Our Favorites in 2023
Rating
Image
Product
Details

Best Overall

Skimlite 9018 Pool Pole

Hand-made in the USA
Extends from 6'-18' reach
Very strong and sturdy
CHECK PRICE

Best Value

JED Pool Tools Pool Pole

Very lightweight
Extends from 8'-16'
Thick aluminum construction
CHECK PRICE

Premium Choice

ProTuff Products Pool Pole

Pole never collapses
Thick, ribbed aluminum
"Lock right" mechanism
CHECK PRICE

Unger Professional Pool Pole

6'-16' extendable range
Affordably priced
Lasts for a long time
CHECK PRICE

U.S. Pool Supply Pool Pole

Cheaply priced
One-year guarantee
Anodized aluminum
CHECK PRICE
The 9 Best Pool Poles
1.

Skimlite 9018 Telescoping Pool Cleaning Pole – Best Overall

Hand-made in the USA, the Skimlite 9018 Telescoping Pool Cleaning pole, our pick for the best pool pole overall, is an impressive piece of pool equipment. It's rock solid and as sturdy as nearly any pole we've seen. Even fully extended to its maximum length of 18 feet we experienced no bending of the pole. Pushing it through water it manages to stay firm and strong, never bending under the pressure. Despite its excellent reach, it can still fold down to a manageable six feet for easier storing. And surprisingly, this is a very light pole. Even though it's made from 18 feet of thick metal, it weighs just 3.4 pounds.
With the 18-foot reach of the Skimlite pole, we had no problems reaching the center of our pools to clean out any debris that had sunk to the bottom. For most pools, we didn't even have to fully extend the pole to reach. Our only complaint was about the locking cams. After tightening them all the way, they became pretty difficult to break loose again. It's also not the cheapest pool pole, but it's definitely a case of getting what you pay for.
Pros
Hand-made in the USA
Extends from 6'-18' reach
Only weighs 3.4 lbs
Very strong and sturdy
Cons
Can be difficult to loosen cam locks for length adjustment
---
2.

JED Pool Tools 50-560-16 Anodized Telescopic Pole – Best Value

At about half the price of our top pick, the JED Pool Tools Anodized Telescopic Pole offers excellent functionality at a more affordable price point. It doesn't have quite as much reach, only stretching to 16 feet at full extension, and it folds down to eight feet for storage. It's made from lightweight aluminum that's thick enough to offer great durability at a light weight of just under three pounds.
Though the pole itself is crafted from thick and durable aluminum, the locking mechanism in the center is not. Instead, it's crafted from a corrosion-resistant plastic. While it's great that the locking mechanism won't corrode and lock up, it's also a weak point since plastic isn't nearly as strong as metal. Ours didn't break during testing, but it started to show signs of the stress. Aside from this minor flaw, this pole was one of the absolute best and most sturdy out of all the pool poles we tested. When combined with its affordable price, it's easy to see why we think it's the best pool pole for the money.
Pros
Cheaper price than the competition
Extends from 8'-16'
Very lightweight, under 3 lbs
Thick aluminum construction offers durability
Cons
Plastic joints can break at full extension
---
3.

ProTuff Ultimate Series Pool Pole – Premium Choice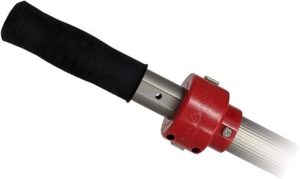 This is the most expensive pool pole that we tested, or that we've even ever laid our hands on. But if you want to purchase only one pool pole for the rest of your life and expect it to continue working until the end of your days, then it must be the ProTuff Ultimate Series Pool Pole. We know that sounds like a pretty big claim, but with an unlimited free replacement guarantee, it's a claim we're safe in making. Of course, ProTuff Products can only offer such a guarantee because their pole is built tougher than any other pool pole. It will not bend, break, or crack because it's crafted from 1.8mm thick 6061-T6 aluminum.
Our favorite part of this pole was the locking mechanisms. They tended to be a weak point with most of the poles we tested, but on the ProTuff pole, they were awesome. They feature a "lock right" mechanism that can't get jammed. Just push the button and it will unlock every single time. We never spent a moment messing with jammed locks when using this pole. It is a bit on the heavy side at four pounds, but that's because it's built so sturdily.
Pros
Unlimited free replacement guarantee
Pole never collapses
Thick, ribbed aluminum won't break or crack
"Lock right" mechanism can't get jammed
Cons
Very expensive
Hefty 4-lbs weight
---
4.

Unger Professional Connect & Clean Multi-Purpose Pool Pole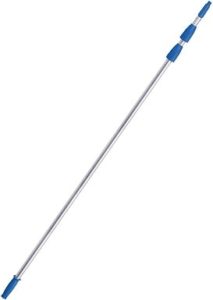 This multi-purpose pole from Unger is a great option for attaching pool equipment since it extends from six to 16 feet in length. Even better, it's affordably priced, unlike some of the premium options we've discussed so far. It's very strong, and even fully extended, we never had any problems with it bending. This pole will definitely last for a long time. The locking mechanisms were stout and didn't jam up on us either. But where this pole fell short was the head. It seemed to have a sloppy, loose fit in every attachment we tried. We thought it was just the product we received so we ordered another. Unfortunately, we experienced the same issue again, so it's a manufacturing error. We still like the affordable performance, but it's not going to earn the Unger pole a top-three recommendation from us.
Pros
Affordably priced
6'-16' extendable range
Cons
Weighs almost 4 lbs
Has a sloppy fit in most attachments
---
5.

U.S. Pool Supply TP-224 Aluminum Telescopic Swimming Pool Pole

The U.S. Pool Supply Professional Swimming Pool Pole is an inexpensive tool with a poor build quality overall. It's protected by a one-year guarantee, which can't compare to offerings like the unlimited lifetime replacements from ProTuff. But if you purchase this pole, you'll be thankful for that one-year guarantee since it's likely you'll use it.
The pipe is made from anodized aluminum. Some of the most durable poles we tested were also made from aluminum, but the U.S. Pool Supply pole uses a much thinner aluminum that's not nearly as strong. When the pole is extended to its maximum length of 16 feet, there is a very noticeable bend in the bar from the water-resistance. Worse, a cheap plastic twist-lock mechanism sits in the middle of the pole to connect the two aluminum shafts. This is a point of major stress with a weak plastic mechanism that just isn't built to withstand the weight of such a long pole.
Pros
Cheaply priced
One-year guarantee
Cons
Soft, thin metal bends from water-resistance
Plastic locking mechanism broke easily
---
6.

Swimline 8356M Cam Mailer Telescopic Pool Pole

With a telescoping range from five to 15 feet, the Swimline Cam Mailer Telescopic Pole doesn't have the longest reach, but it's still got ample length for most pools. Plus, it's a smaller package for storage, which can be a benefit in its own right. The smaller size also lets the Swimline pole shed some weight, helping it achieve a lean total weight of just two pounds. Accompany that with dirt-cheap pricing and this pole sounds like a winner so far.
Unfortunately, this pole isn't durable enough to last more than a few cleanings. The metal used in its construction is too thin. When we extended this pole to two-thirds of its length or more, the pole would start to bend under the pressure of water resistance when dragging it through the pool. After just a few uses, the first plastic locking mechanism broke and the entire pole came apart. Even though it's priced affordably, it's not a great value if it's just going to break after a few uses.
Pros
Dirt-cheap pricing
Weighs just 2 lbs
Cons
The metal isn't durable
Bends easily at extended lengths
Broke after only a few uses
---
7.

Aquatix Pro Swimming Pool Pole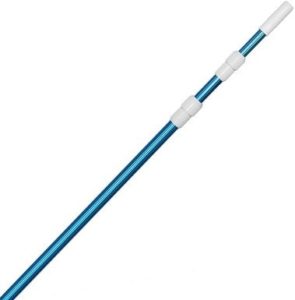 It seems that a trend is developing with weak plastic locking mechanisms breaking while a pole is extended. We hoped that the shorter 12-foot maximum reach of the Aquatix Pro Swimming Pool Pole would help to mitigate the issue. We were willing to give up a little bit of length if it meant that our poles would hold up longer. The Aquatix Pro was a dirt-cheap option that's also very lightweight at less than two pounds, but it suffered the same issues that we saw on heavier and longer poles.
Most of the problems we encountered with this pole revolved around the plastic locking mechanisms that hold the telescoping shafts in place. From the beginning, they wouldn't stay locked in place and keep the poles extended. We could wrench them down tight, but the poles would still collapse. Before long, the stress of water-resistance caused by netting the pool became more than the locks could hold and one broke, rendering the pole useless. Even the shorter length couldn't save this pole from breaking at the weak point.
Pros
Dirt-cheap
Weighs less than 2 lbs
Cons
Smaller reach – max 12'
Pole won't stay extended
Weak plastic locks break easily
---
8.

SplashTech Universal SPLS-501 Telescoping Pool Pole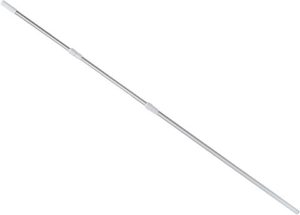 We like affordable products, and the SplashTech Universal Telescoping Pool Pole is the most affordable pole we tested, so we wanted to love it. More than just dirt-cheap, it's also very lightweight, weighing in under two pounds. This makes it easy and less tiring to use, so we were intrigued. It does have a shorter reach of just 12 feet, but we were willing to make this sacrifice for a lightweight and low-priced pool pole if it was durable.
The first thing we noticed when trying to work with this pole was the smooth shaft. We didn't think about it beforehand, but that smooth shaft made it surprisingly difficult to get a good grip. Our hands were slipping and we had to grip much harder to hold on, which became exceedingly uncomfortable rather quickly. Then the locking mechanism that holds the telescoping poles extended stopped locking. By that point, we had seen enough. The performance and quality of the SplashTech pool pole match its price tag, very low.
Pros
The cheapest pool pole we've seen
Under 2 lbs
Cons
Maximum reach of 12'
The smooth pole is harder to grip
Locking mechanisms stopped working
---
9.

Aqua Select Heavy Duty Telescopic Swimming Pool Pole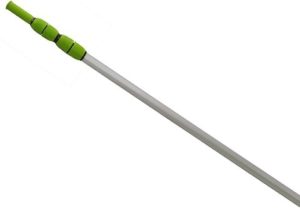 Rounding out the very bottom of our list, the Aqua Select Heavy-Duty Telescopic Swimming Pool Pole extends from 6 to 18 feet just like some of our favorite pool poles. But it's a fraction of the price that they sell for. So, why is it at the bottom of our list? Mainly, it comes down to durability and reliability. Your pool pole is going to see daily use during the swim season. Unfortunately, the Aqua Select pole just won't hold up to that.
The poles don't stay extended under pressure. If you try to use a brush or broom on the end, no matter how hard you lock the mechanisms, the poles will collapse when pressure is applied. Worse, the poles will bend if they're extended just a little past halfway. This also puts lots of pressure on the plastic locking mechanisms, which causes them to break as well. Overall, this pool pole felt like a catastrophe. We had many broken parts in a short time, so we don't recommend it.
Cons
Pole doesn't stay extended under pressure
Too weak – bends when extended past halfway
Plastic locking mechanisms prone to breakage
---
Conclusion
A good pool pole needs to be versatile enough to fold small for storage and extend to a length that allows you to reach your pool's center. Though they may look similar, these poles differ drastically in robustness and durability. We've written reviews comparing nine of our favorites, but we're going to quickly summarize our top recommendations once more to ensure they're fresh in your mind. Our pick for the best pool pole overall was the Skimlite Telescoping Pool Cleaning Pole. It's handmade in the USA, weighs just 3.4 pounds even though it's strong and robust, and can extend from 6-18 feet in length.
When you're looking for the best pool pole for the money, we suggest the JED Pool Tools Anodized Telescopic Pole. It extends from eight to 16 feet, is made from thick and durable aluminum, and can be purchased for less than the competition. But for the absolute premium in pool poles, you have to see the ProTuff Ultimate Series Pool Pole. It never collapses, won't break or crack, the locking mechanisms can't get jammed, and you get unlimited free replacements for life. It's a deal that's hard to beat, even though it costs a premium.
Check out some of our top trending posts: