24 Modern Rustic Interior Design Ideas (With Pictures)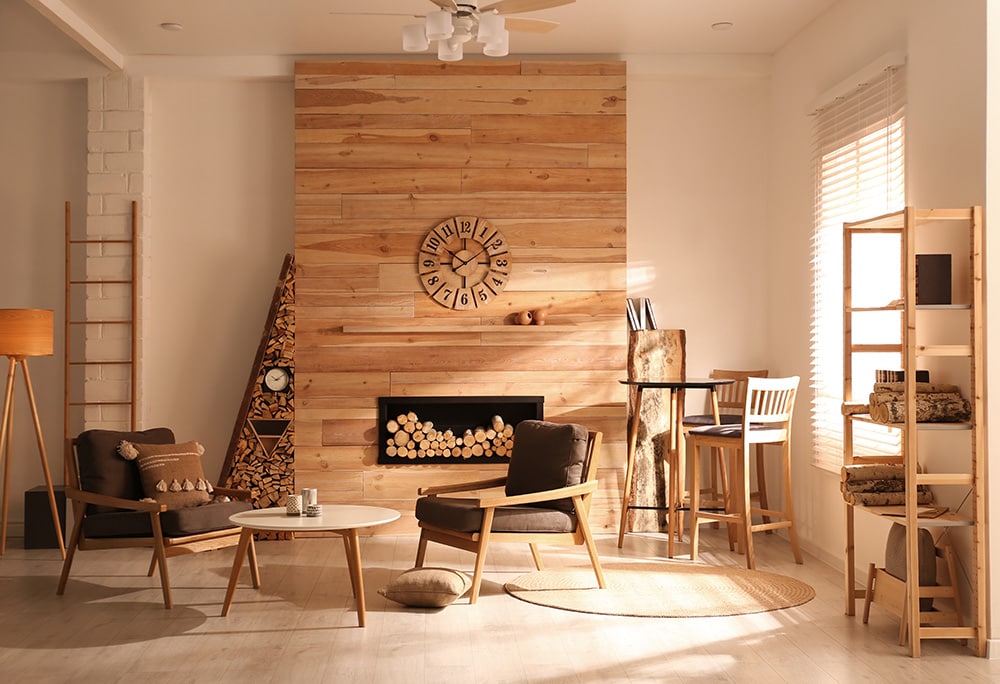 Rustic used to encourage people to fill their homes with heavy wooden furniture made with rough-hewn logs and leather upholstery. There was the occasional trophy head mount and maybe a bearskin rug for good measure. Like many decors, this style has evolved. While these elements still exist, the modern version brings elegance to the mix. The connection with nature and its natural textures are there, although with more sophisticated features.
Modern-rustic design keeps the muted earth tones that defined its earlier rendition. These colors foster feelings of trustworthiness, calm, and healing. That's part of what makes rooms in this style so comfortable. However, you'll also see openness in these interiors, which replicates the feelings you might find outdoors. Simplicity still reigns true, as you'll see in our list of design ideas.

The 24 Modern Rustic Interior Design Ideas
1.

Just Add Water
The thing that makes this design element pop is that it's so unexpected. The brass fixtures look stunning against the warmness of the wooden basin. We can't say enough good things about this clever DIY project.
---
2.

Snack Time
We love serving trays with all their fun styles and designs. These examples caught our eyes because of the beautiful, flowing lines of the grain. The shapes are unique, which gives that one-of-a-kind quality. They would make an ideal addition to any rustic kitchen or dining room. We could see ourselves setting out some yummy tapas on these boards with a pitcher of sangria.
---
3.

Rustic Meets Modern
The brilliant thing about this design element is that it comes with two decor styles in one piece. Some rustic pieces border on kitschy. This one avoids that stigma with its sleek lines and open front. The stain is light, which is fitting with the warm tones of this room. It doesn't look like it's a difficult DIY project with the right tools.
---
4.

Nature on Parade
Talk about bringing the outdoors into your home! This piece is a showstopper. While the frames have a rustic quality about them, the tree brings a quiet elegance and three-dimensional effect to the artwork. It almost seems like you're looking out of a window. We thought it was a brilliant way to make a small room seem bigger.
---
5.

Taking It to the Next Level
Natural textures are one of the hallmarks of rustic design. This vanity kicks it up a notch with a solid, well-made piece. We liked the openness of it. The simple light fixtures, plant, and wicker basket complete the look. We love the modern spin on this decor that removes the clutter but maintains the feel.
---
6.

Come on In
This room epitomizes the openness we discussed earlier. You can just feel the breeze coming through the open doors. The stain color on the woodwork extending through the ceiling unifies the look. We liked the choice of the ceiling fans. They are simple yet functional. The overstuffed sofa is a welcome addition. Everything about this room begs you to come inside for a cup of coffee.
---
7.

Simple at Its Best
This is a touch more modern because it embraces simple elements like this shelf unit. However, the warm wood still gives it a rustic touch. Think of how much easier it is to clean without the boxy design of the typical one you see. The other advantage of this style is that you can make it a DIY project to fit your space. It's all about choosing boards with an attractive grain pattern.
---
8.

Repurpose It
Repurposing vintage items brings a charm to the modern-rustic style that we just love. It's even more fun and interesting when you use what may be seemingly mundane things from yesteryear, such as the wooden pulley—so clever as a bookend—and the apothecary desk. We like the honest wear that these objects have. They bring untold stories with them, which we adore.
---
9.

Box It
One of our favorite ways to add interest to a room is with something vintage like this wicker picnic case. You can just imagine packing a summer lunch to take on your next adventure. We like pieces like this one because they remind us of simpler times when the pace was leisurely and not rushed like it often is today.
---
10.

Blocky Shelves
We are absolutely in love with these shelves! Talk about a cool way to add a small rustic touch yet makes a big statement. It adds interest to the room and pops against the white walls. The covering over the stove hood is an unexpected but welcome addition.
---
11.

Sing Us a Song
The color and texture of the wood are enough to sell us. The shape takes it over the top. It's unexpected yet whimsical. The fact that it's made from old wine barrel staves makes it even more special. The wood already has character and was well-treated. We can't think of too many better ways to repurpose something.
---
12.

Go All Rustic
This kitchen is probably what you think of when someone says rustic. It ticks off all the boxes with its beamed ceiling, wooden cabinets, and brick backsplash. The pendant lights are well-chosen, too. Even though the room is somewhat dark, it still feels homey and inviting. We would love to pull up a chair and share some stories in this kitchen.
---
13.

Climbing the Learning Tree—Literally!
We'll admit that this bookcase harkens back to old-school rustic, but its creativity takes it to the next level. It makes excellent use of a corner, which is often tough to decorate anyway. Leather-bound books would take this piece one step further down the rustic road. All you need is a crackling fire.
---
14.

Getting to the Root of the Matter
It's hard to come up with too many more things that epitomize the phrase "one man's trash is another man's treasure" than this piece. Someone has to have the vision to see the possibilities of this teak root. As unusual as it is, it doesn't strike us as garish at all.
---
15.

On the Bench
We love pieces like this bench because they look like they'll last forever. The thickness of the wood and the hewed features give it a homey feel that we enjoy with rustic interiors. It also shows how one item can set the tone. Even though it looks modest, it would certainly catch your eye sitting next to a fireplace or in the foyer.
---
16.

Plant It
We love rustic design ideas like this one. It's simple yet elegant. It doesn't command attention, but it certainly deserves it. It's also unexpected. You don't think of plants on the wall like these frames. However, that gives what would be a two-dimensional painting a three-dimensional look. That effect makes them even more interesting.
---
17.

Time for a Cuppa!
We love pieces like this coffee table. It's an environmentally friendly way to use the entire tree from root to branches. With its unique pattern of rings, the slab tells a story of the place where this tree lived. A little research could reveal some interesting facts.
---
18.

Everything It's Crocked Up to Be
Old stoneware fetches a pretty penny for a reason. They last for the long haul, even if they get a chip or ding along the way. It's easy to see the craftsmanship in a piece like this one. They make an excellent addition to your kitchen counter for storing cooking utensils or a bouquet of fresh flowers from your garden.
---
19.

Floors
We don't often find ourselves calling a floor the focal point of a room. However, it's hard to stop looking at this gorgeous hardwood floor. The pattern of the boards is stunning. It gives it a rustic and classy look. Oh, and we loved the dairy and antique signs, too! Both draw you into the room to find more treasures.
---
20.

Stone Walls
This bathroom takes the cake for capturing rustic design on so many levels. The wooden door is an excellent start with its wrought-iron handle. The walls are what caught our eyes. The tone is a spot-on touch with the hardwood floors and the brass light fixture. We liked its simplicity, despite the seeming heaviness of the interior.
---
21.

Bringing It Together
Modern rustic isn't a style just for the living room or kitchen. You can bring it to the laundry room, too. The sign makes it. However, the wire and wicker baskets echo the sentiment of this decor. The glass jars storing clothes pins and sundry give it an old-fashioned feeling that we liked.
---
22.

A Different Take
They say that pictures and plants make a room. These wooden planks add interest in a different way that works very well. We liked that they showcased the photos in a way that a frame only couldn't pull off as brilliantly. Their weathered look makes the planks pop and makes the arrangement a focal point with a purpose.
---
23.

Good Night
This piece has rustic written all over it from the Edison bulb to the beautiful grain of the wood. The modern touches with the ports don't detract from its character. We'd only swap out the outlet cover to make it less noticeable, although we're too busy looking at the rest of it to notice too much. We love this riff on the traditional nightstand that makes better use of the space.
---
24.

The Cutest Bit of Modern Rustic We've Ever Seen
We've saved one of our favorite finds for last. There was no way it would not make our list of modern rustic interior design ideas. The patina only adds to its charm. We'd love to meet the pup that was the model for this cute statue.

Conclusion
There are so many ways to embrace modern rustic and bring it into your home. From a simple wall hanging to a decked-out interior, you can make your home feel modern and rustic at the same time. We like the connection to nature that it encourages with its familiar textures and muted colors. Nothing says cozy and relaxing quite like this decor.
Related read:
---
Featured Image Credit: New Africa, Shutterstock