10 Best Pool Pumps of 2023 — Reviews & Top Picks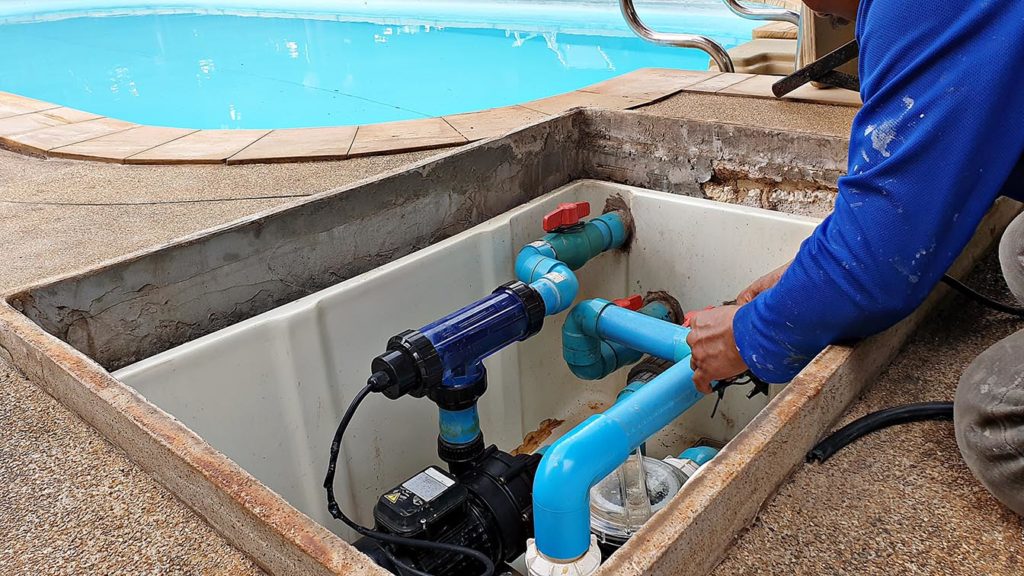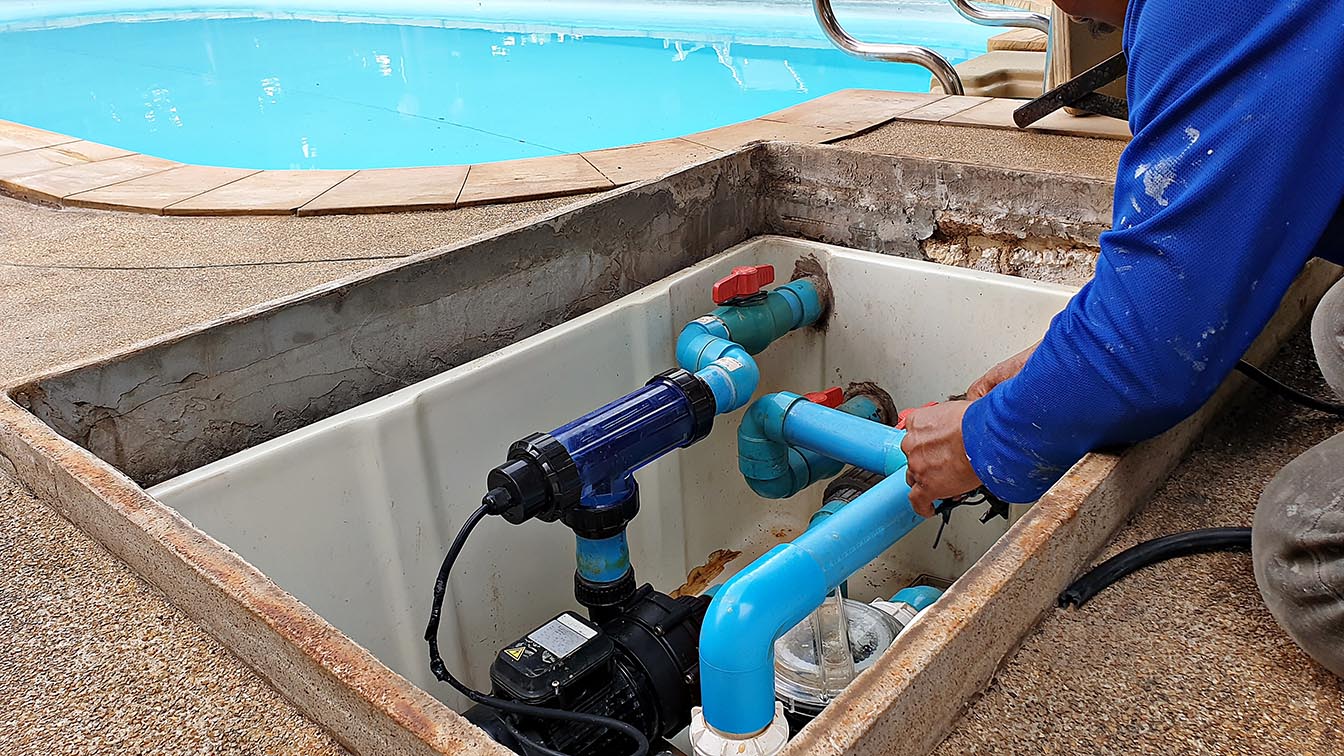 It takes about eight hours for your pool pump to circulate all the water in your pool, and it's recommended that you do this every day. That adds up to 2,920 hours that your pool pump is expected to work each year! Your poor pool pump doesn't get to take any days off, and all that electricity usage also means hefty bills.
By getting the right pool pump, you can reduce the chances of it taking a nosedive and help minimize your electricity usage to lower your energy bill. Most importantly, you need to pick a pump that is powerful enough for the size of your pool. Don't worry, we've simplified the entire process by thoroughly reviewing the best pool pumps on the market and putting together this list of our top choices.
We will compare each pump's most beneficial features, as well as their biggest drawbacks. We'll also share our best advice that you should know before purchasing. With this guide, you'll be able to pick the right pool pump with confidence.

A Quick Glance at our Favorites in 2023:
Rating
Image
Product
Details

Best Overall

Hayward 1.5 HP Inground Pool Pump

Nearly silent operation
Reliable and robust
Excellent life expectancy
CHECK PRICE

Best Value

Pentair SuperFlo In-Ground Pool Pump

Affordable
Efficient design reduces energy usage
Can use 115v or 230v power
CHECK PRICE

Premium Choice

Pentair IntelliFlo Inground Energy-Efficient Pool Pump

Energy Star-certified with 90% energy savings
Eight speeds and built-in timer
Compatible with major digital pool controls
CHECK PRICE

Best for Above Ground Pools

Hayward SP1580X15 Power-Flo

Powerful 1½-HP motor
Self-lubricating motor rarely needs servicing
Reasonably priced
CHECK PRICE

Hayward Inground Pool Pump

Digital touchpad control
80% energy cost improvement
CHECK PRICE
The 10 Best Pool Pumps Reviews:
1.

Hayward SP2610X15 1.5 HP Inground Pool Pump — Best Overall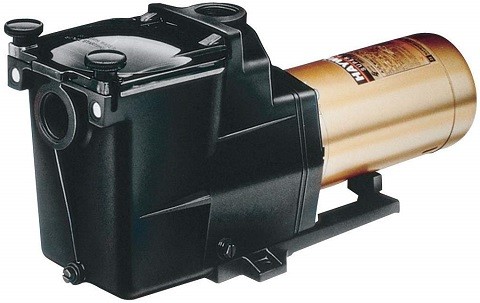 This robust pool pump from Hayward is a heavy-duty workhorse. It is recognized across the industry as one of the best inground pool pumps due to its reliability and performance. On top of this, it is extremely efficient thanks to its balanced Noryl impeller. This special feature allows the Hayward SP2610X15 to produce higher rates of flow at lower horsepower levels, saving you electricity and money.
This pump is as close to silent as a motor can be. You are unlikely to hear it running from inside your home, and your neighbors shouldn't be disturbed either. It can be wired into 110v or 220v electric. It's also available in single and two-speed variations, making it flexible enough for any application.
Designed for ease of use, no tools are necessary for removal of the strainer cover, and there are no loose parts. If servicing is required, access to internal components only requires removing four bolts. The super-sized debris basket means this pump won't need your constant attention, as other pumps might.
The only downside to this pump is the premium price that accompanies its premium features. But you do get what you pay for which makes it our choice as the best pool pump available this year.
Pros
Nearly silent operation
Reliable and robust
Excellent life expectancy
Easy-access serviceability
Cons
Premium price for the premium features
---
2.

Pentair 340038 SuperFlo In-Ground Pool Pump — Best Value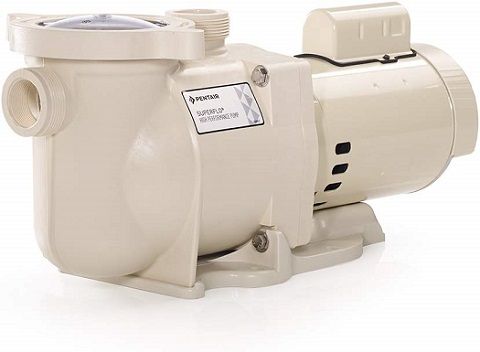 This offering from Pentair is the best pool pump for when budget is a concern. For the price, this pump provides features and reliability that its competitors can't quite match. This starts with the ability to be hard-wired into 115v or 230v power.
A single-speed pump, it is built to move water more efficiently by utilizing a superior interior flow design. The result is a pump that is able to move more water with less effort. This reduces energy usage and therefore, your electricity bill. By allowing the motor to work more efficiently, wear and tear are reduced and life expectancy is increased. A final benefit is the reduced operating noise, resulting in a whisper-quiet pool pump that will never be a nuisance.
While this pump is great in many respects, it can't match the ease of use provided by the Hayward SP2610X15 in the number-one spot. It's also not as quiet, and some users' units have died much earlier than anticipated. Despite this, the features and reliability of this pump outshine competitors in the same price range making this the best pool pump for the money.
Pros
Affordable
Efficient design reduces energy usage
Can use 115v or 230v power
Cons
Not as quiet as our top pick
Some units have died within the first two years
---
3.

Pentair 011018 IntelliFlo Inground Energy-Efficient Pool Pump — Premium Choice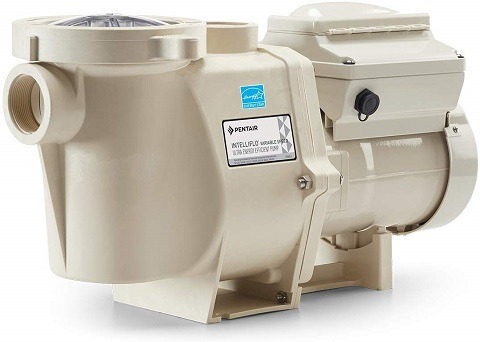 If you want the best features and price is of no concern, then the Pentair 011018 is the way to go. The reason this pump is number three on this list is because it's simply beyond the budget of most consumers. The other drawback to this pump is that it runs on 230v electric only.
Although it's the highest priced option on our list, it tends to pay off in the long run. This Energy Star-certified pump offers 90% energy savings, making it one of the most energy-efficient pool pumps out there. Over time, this could add up to significant savings on your energy bill. Another advantage is the permanent magnetic motor, which runs cooler with less vibration, producing incredibly quiet operation.
What really sets this pump apart from its peers is all its smart functions. It is compatible with major brands of digital pool controls such as IntelliTouch, EasyTouch, and more. The built-in diagnostics improve the service life of this pump and make troubleshooting and repairs simpler than ever. The built-in timer and eight programmable speed settings make this the most versatile pool pump available.
Pros
Energy Star-certified with 90% energy savings
Eight speeds and built-in timer
Compatible with major digital pool controls
Ultra-quiet operation
---
4.

Hayward SP1580X15 Power-Flo — Best for Above Ground Pools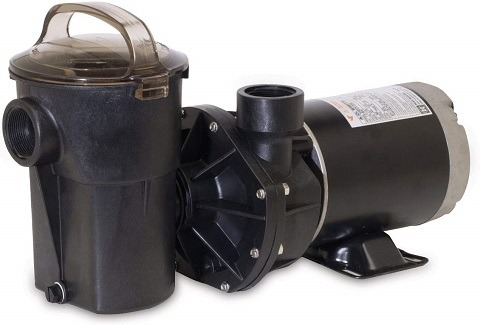 This above ground pool pump features a 100% drip-proof and heat-resistant seal to protect the powerful 1½-HP motor. This ensures that no water can penetrate the outer housing, improving the overall lifespan of the pump. The corrosion-proof housing is made from reinforced thermoplastic for high performance in any weather and very quiet operation. Installation is made easy by a 6' power cord with a three-prong 120v plug.Equipped with an extra-large debris basket, this pump helps keep maintenance to a minimum. A clear cover allows you to see when a cleanout is necessary. The motor has self-lubricating bearings and shaft seals, so this pump will rarely require any servicing. The motor also features thermal overload protection to shut the pump off in the case of overheating.
For all the features this pump includes, it's priced quite reasonably. Of course, the build quality does reflect the price. Regrettably, the bearings do have a tendency to fail. The 90-day warranty provided by the manufacturer most likely won't save you if your pump should happen to go bad.
Pros
Powerful 1½-HP motor
Self-lubricating motor rarely needs servicing
Reasonably priced
Cons
Only a 90-day warranty
Bearings have a tendency to go bad
---
5.

Hayward W3SP2603VSP Inground Pool Pump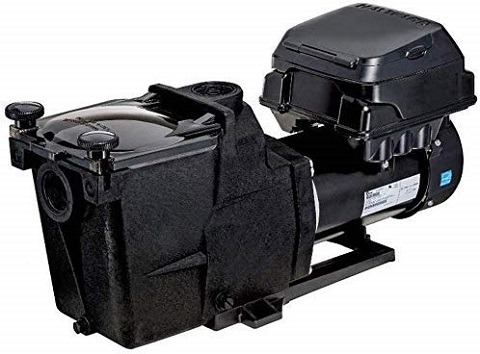 This inground pool pump is a high-end offering from Hayward with a hefty price tag to match. What sets this unit apart and earns its high price is the touchpad control. The digital control interface is fully programmable, and it rotates to four different positions. Even better, it can be removed from the pump and mounted to a wall for easy access. This particular model is designed for 230v, but a 115v version is available in the same series.
The flexibility provided by the touchpad control, coupled with the advanced motor design, provide an 80% energy cost over single-speed pool pump models. Energy Star certification guarantees the efficiency they claim. This improved efficiency over time could make up the price difference over a lower-cost model.
Sadly, despite the incredible feature list, the unit has been known to experience failure within the first year of operation. The motor driver tends to be the main culprit of this unit going bad, which has been a somewhat common occurrence.
Pros
Digital touchpad control
80% energy cost improvement
Cons
Motor driver has been known to go bad in the first year
---
6.

TRUPOW InGround 2HP 110V 110GPM Swimming Pool Pump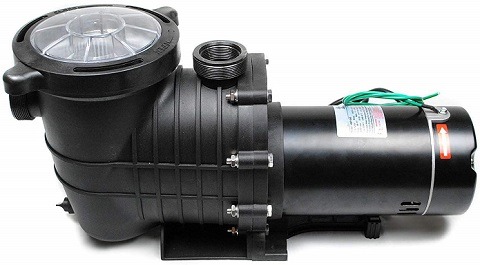 With a powerful 2-HP motor, this TRUPOW InGround pump boasts a great flow rate of 110 GPM (gallons per minute). Built-in thermal protection makes sure that the motor doesn't have any risk of overheating. It also plugs into a normal three-prong 110v outlet and has a 3' cord built in. On the downside, this pump is much louder than our top choices. The powerful motor may move a large amount of water, but it also makes a great deal of noise, holding this pump back from a higher position.
The average-sized debris basket on this pump will require regular cleaning to ensure that it doesn't become overfull and get clogged. This pump is also not Energy Star certified, so expect to take a hit on your monthly energy bill. The lack of a warranty also doesn't inspire any confidence in its longevity.
Pros
Powerful 2-HP motor
110 GPM flow rate
Cons
No warranty
No Energy Star certification
Loud
---
7.

Intex 28633EG Krystal Clear Above Ground Pool Filter Pump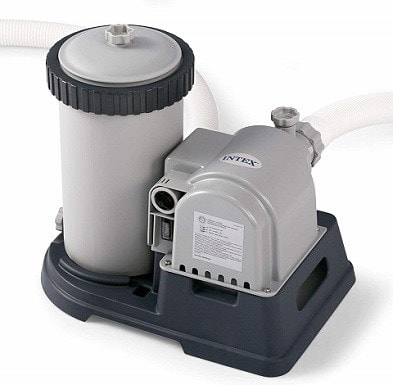 The Intex 28633EG pump for above ground pools features a built-in cartridge filter, which can easily be replaced every two weeks. The automatic timer with preset cycles helps keep your pool consistently clean. It's capable of 40 GPM flow, plugs into a standard three-prong outlet, and has a 25' power cord.
One of the big problems plaguing this pump is constant clogging. It does not handle debris very well and will need near-constant attention to maintain good flow. This often requires a clean-out every 30 minutes, something that gets annoying quickly. This unit also commonly goes bad within a few short months of use.
The cartridge filter idea seems great on paper, but it results in near-constant replacement of high-priced filters, an expense that adds up quickly. It's also common for this unit to simply pump the filtered particles back into the pool rather than collecting and removing them.
Pros
Sediment flush valve for easy cleaning
Cons
Filters need to be replaced often
Pumps tend to go bad quickly
---
8.

Harris H1572730 ProForce 1.5 HP Above Ground Pool Pump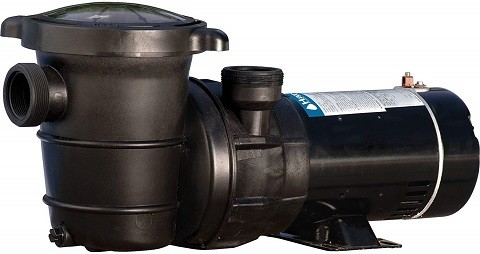 The Harris ProForce above-ground pool pump is stated as having 1.5 HP. In reality, this number feels a bit stretched. The pump works well at circulating the pool's water. The problem is that you can't use its water power to power a robot cleaner, a popular addition that makes pool upkeep much easier.
The reinforced thermoplastic body combined with a stainless-steel motor shaft should provide a longer lifespan and improved durability. In truth, these pumps have been known to fail in just one season. The advanced engineered motor is said to produce high efficiency while making minimal noise. In testing, however, this pump was much louder than many of its competitors. Powered by standard 110 electric with a three-prong plug, it also includes a 3' power cord.
The most notable feature of this pump is its cost. Situated at the bottom end of the price range, this pump is affordable for most budgets. The trade-off is longevity, since you'll probably be replacing this pump in the not-too-distant future.
Pros
5-HP-rated motor
Low price
Cons
Known to fail in one season
Doesn't live up to power rating
Noisier than competitors
---
9.

Mighty Mammoth In-Ground Pool Pump 110V-220V
The in-ground pool pump from Mighty Mammoth is one of the lowest-priced options available, and it's easy to see why. The meager 90-day warranty shows that the manufacturing company doesn't even stand behind their own products. Products arriving in non-functioning condition are common. Failure within the first year is also a prevalent experience.
The one great feature of this pump is that it is able to use 110v or 220v power, a function selectable by a switch. Unfortunately, execution isn't as easy as it's made out to be and requires internal splicing. While many pumps feature a simple plug-in design, this one needs to be hard-wired into your main power. This will likely require an electrician, an additional expense that changes the price point of this unit.
Pros
Switchable between 110v and 220v power
Cons
Failure in the first year is common
Common DOA
Only comes with a 90-day warranty
---
10.

XtremePowerUS 2HP Inground Pool Pump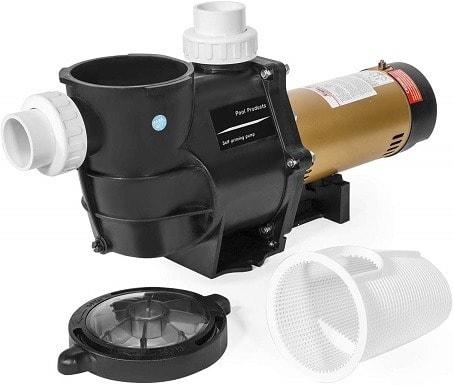 XtremePower makes this powerful single-speed pump for inground pools. Its high-performance motor is rated at 2 HP. It comes equipped with air-flow ventilation that results in cooler and quieter operation. The large debris basket helps reduce your maintenance requirements. While it claims to be energy-efficient, it does not have an Energy Star certification.
One benefit of this pump is its ability to use either 115v or 230v power. The drawback is that it must be hardwired into the main power. This is a task that will most likely require the services of a professional. Compared to the easy installation of pumps that just plug in, this unit can be a headache to install. Although powerful, the motor is not reliable and tends to overheat rapidly and shut off.
For the price, you are better off going with one of the more reliable low-cost models, such as the Pentair 340038 SuperFlo.
Pros
Can use 115v or 230v power
Cons
Must be hard-wired into power
Tends to overheat and shut down
Overpriced for the features
Single-speed design

Buyer's Guide – Choosing the Best Pool Pumps
You've read about our picks for the top pool pumps on the market, but there's more to know before you make your decision. What actually makes one pump better than another? What do you need to know about your specific installation? You should have a basic understanding of these things before making your final purchase. Let's go over the facts.
Motor Power
One of the first things to consider is motor power. Will the pump provide enough power to circulate all the water in your pool within a reasonable time frame (usually eight to 10 hours)? The size of your pool will dictate the size of pump you need. Larger pools will require more powerful pumps that have higher horsepower ratings. Smaller pools will not have such demands, since less water needs to be circulated in the given timeframe.
It's worth mentioning that higher powered motors can have their own drawbacks. More powerful motors create more noise. They also use more power, which can result in a pretty dramatic increase in your energy usage costs. For these reasons, don't get an overpowered pool pump for the size of your pool.
Hookups
Another important consideration when purchasing a pool pump is the type of power and hookups it uses. Some pumps are meant to be run on 110v power, and others must be run on 220v. You'll need to get a pump that uses the same power that you currently run to your pool. If your current pump uses 110v power, it would be an expensive headache to run 220v power out there instead.
You also need to think about how it hooks up to the power. Some pumps have simple plugs that plug into standard electrical outlets. This makes installation a simple and quick process that can be performed by any homeowner. Other models must be hard-wired into your home's main power instead. This is a much more difficult procedure that may require an electrician. Hiring a professional is an additional cost that would need to be factored in before making a purchase.
The pumps in our first two spots both can use 110v or 220v electric. This gives you the best of both worlds, so you don't have to worry about having the right type of wiring.
Reliability
Replacing your pool pump can be pretty costly. It's not something you want to repeat again soon. By choosing a reliable pump with a long life expectancy, you can minimize the likelihood of having to purchase another one in the near future.
If your pump does happen to go bad, you'll want a warranty there to keep you covered. Some pumps include only brief warranties of 90 days or less. Other can come with two- and three-year warranties that speak to their reliability. Certain pump brands and models have a proven history of working hard for years. Others have been consistently shown to have a poor build quality that doesn't hold up. After reading this guide, you should have an idea of which pumps will provide you the reliability and longevity that you need.
See also: our comparisons of variable-speed pool pumps
Noise
Most people don't want to be disturbed by their pool pump, but some are very noisy and you can't help but notice when they cycle on. This may not be a major concern for everyone, but for those with neighbors situated close by, it may be something to keep in mind.
Sometimes, two desirable traits end up in conflict with each other, case in point: low noise and high power. Both are desirable, but in general, higher-powered motors produce more noise. This is especially true in lower-priced models.
Price
For some people, this will be the most important factor when making a pool pump purchasing decision. For others, it may not be much of a consideration. The fact is, lower-priced pumps do tend to be more problematic. Manufacturers may be forced to cut corners to achieve that low price point. While expensive doesn't necessarily mean better, you do usually get what you pay for, and quality comes at a price.
Cleaning and Upkeep
It's safe to assume that you probably don't want to be forced to clean your pool pump out every day. Most people would prefer that their pump is equipped to handle at least a few leaves.
Many pool pumps are equipped with extra-large debris baskets. This means that far more debris can be collected and built up before it needs to be cleaned out. Our top picks also include clear lids on the debris basket housing so you can easily check whether your pump needs to be emptied or not, preventing you from wasting time clearing out a pump that doesn't need it.

Conclusion
Now you know the important things to consider before purchasing a new pool pump. You know what makes a pump better or worse and which features to compare. You've also seen how the top picks on the market stack up against each other. We've broken down our choices for the best pool pumps available and let you know the good, the bad, and the ugly of each of the 10 models reviewed.
Our pick for overall best was the Hayward SP2610X15 1.5 HP Inground pool pump. It provides plenty of power combined with nearly silent operation and incredible longevity. Being able to work with 110v or 220v electric is a great bonus that's made better with single-speed and two-speed variations.
For those to whom money is no object, the Pentair 011018 IntelliFlo Inground Energy-Efficient Pool Pump offers the most robust feature set available. If you need absolute flexibility with multiple programmable speeds, a built-in timer, and compatibility with the latest digital pool management systems, then it's hard to find more options in a single unit.
We believe the Pentair 340038 SuperFlo inground pool pump is the best overall value. Equipped with an efficient motor that's whisper-quiet with the ability to use 110v or 220v electric, this pump provides great performance. Add the low price point, and it's easy to see why this pump takes our number-two spot.
After going through our reviews, we hope the buying decision has been simplified and you can make a purchase with confidence.
---
Featured image credit: B Ledger, Shutterstock