10 Best Portable Camping Toilets of 2023 – Reviews & Top Picks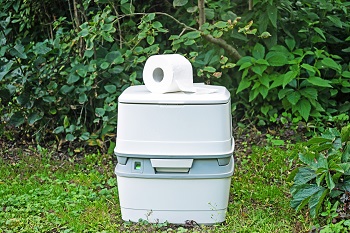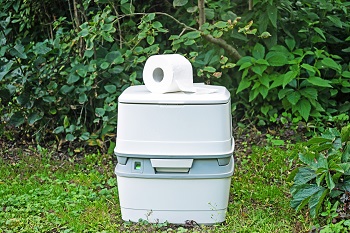 Once you have been camping once, you know how important a portable camping toilet is. Even if you camp in a place that provides facilities, you may opt for a personal commode to avoid the risks presented by Covid 19. However, there are many brands available, and you may not be sure which one is the best for your camping trip.
We've chosen ten different brands to review for you so you can get an idea of what type you need. We'll cover the pros and cons as we experienced them and tell you about any special features they may have. We've also included a short buyer's guide where we look at how these devices work and what you should look for while shopping.
Keep reading while we discuss weight, capacity, durability, and more to help you make an informed purchase.
---
A Quick Comparison of Our Favorites in 2023
Rating
Image
Product
Details

Best Overall

Camco Portable Toilet

3-gallon holding tank
Sealing slide valve
5-gallon flush tank
CHECK PRICE

Best Value

Reliance Products Hassock

Contoured seat
Weighs five pounds
Removable inner bucket
CHECK PRICE

Premium Choice

Thetford Porta Potti

Comfortable seat
Easy to clean
Leakproof
CHECK PRICE

Dometic Portable Toilet

Full-size seat
Tank level indicator
Push-button flush
CHECK PRICE

SereneLife Outdoor

Tank level indicator
Piston flush
Splash resistant pouring spout
CHECK PRICE
The 10 Best Portable Camping Toilets
Here are the ten portable camping toilets we are going to review for you.
1.

Camco 41541 Portable Travel Toilet – Best Overall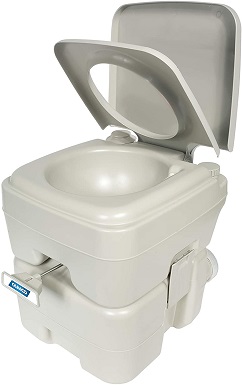 The Camco 41541 Portable Travel Toilet is our pick for the best portable toilet overall. It is a 5.3-gallon holding tank in a ceiling slide valve that prevents odors from escaping when not in use. It also helps prevent spills. It's durable and sturdy and can hold up to 330 pounds, but only weighs a little over 11 pounds when empty. The holding tank is removable and features secure side latches to keep the seat in place. A 2.5-gallon flush tank helps clean the commode after each use, and ours lasted until it was time to empty the holding tank. It's comfortable to sit on and features a convenient bellow flush.
The only downside we could mention is that it has no built-in ventilation system and pressure regulator valves, which could lead to pressure-related splashes, especially with infrequent use or changes in elevation.
Pros
3-gallon holding tank
Sealing slide valve
Secure side latches
Sturdy design
5 pounds
5-gallon flush tank
---
2.

Reliance Products Hassock Portable Toilet – Best Value
The Reliance Products 9844-21 Hassock Portable Toilet is our choice as the best portable camping toilet for the money. It only weighs five pounds, so it's easy to take with you on camping trips, and the five-gallon capacity means you won't need to empty it very often. It has a removable inner bucket for waste disposal, and the outer housing features molded handles for easy lifting. An inner splash shield holds a roll of toilet paper and is convenient and compact.
The only problem we had with the Reliance was the flimsy and easily crushed seat.
Pros
Contoured seat
Inner splash shield and paper holder
Removable inner bucket for waste disposal
Weighs five pounds
Five-gallon capacity
---
3.

Thetford 92306 Porta Potti – Premium Choice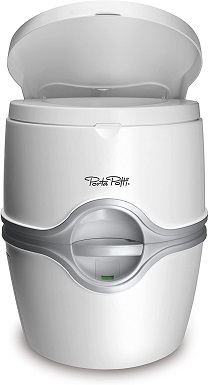 The Thetford 92306 Porta Potti is our premium choice on the list of best portable camping toilets. It boasts a sleek and modern look with a comfortable seat. At 13.45 pounds, it's a little heavier than the models we've mentioned, but it's still easily transported, especially using the ergonomic carrying handle. The battery-powered flush makes using it a breeze, and it's also easy to clean. It has a four-gallon capacity, which is a good balance between frequent changing and bucket weight, and it's odorless and leakproof.
We didn't like that there is no way to flush the Thetford 92306 Porta Potti when the batteries are dead. However, you can still use the toilet by rinsing it with a cup of water or using a spray bottle.
Pros
Sleek and modern look
Comfortable seat
Battery-powered flush
Easy to clean
Ergonomic carrying handle
Odorless
Leakproof
45 pounds
4-gallon capacity
Cons
Won't flush if the batteries are dead
---
4.

Dometic Gray 970 Series Portable Toilet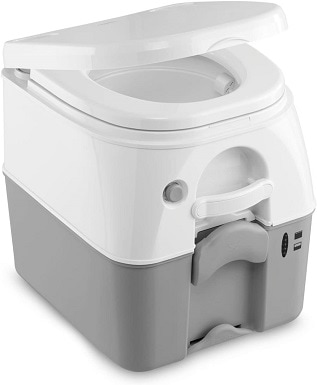 The Dometic Gray 301097606 970 Series Portable Toilet uses high-strength ABS plastic for its body and includes a full-size seat. A prismatic level indicator lets you know when it's time to change the tank, and it has a large five-gallon capacity, which should be suitable for most camping trips. You can remove the seat for dumping via the side latches, and you can build pressurized water for the flush with the included pump. It has a convenient push-button flush and a latching lid. It only weighs 12 pounds empty, so it's easy to cart into the woods.
The biggest downside to the Dometic Gray 301097606 is that it's a little small, especially for larger people. The pump is a nice feature, but it makes considerable noise and could wake other campers at night. The housing also scratches easily, and ours was all scuffed after only a few uses.
Pros
High strength ABS construction
Push-button flush
Full-size seat
Latching lid
12 pounds
Side latches
5-gallon capacity
Tank level indicator
Cons
Small
Noisy pump
Scratches easily
---
5.

SereneLife SLCATL320 Outdoor Portable Toilet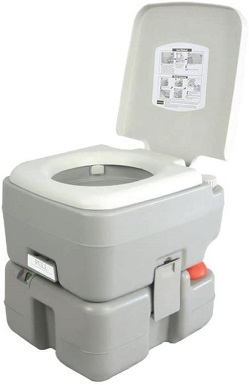 The SereneLife SLCATL320 Outdoor Portable Toilet is a portable camping toilet with a 5.3-gallon capacity, making it the largest on this list so far. It uses high-density polyethylene in its construction, and a tank level indicator makes it easy to know when it's time to empty the waste bucket. It has a piston flush, and it rinses waste using a 3.2-gallon freshwater reserve tank. A splash-resistant pouring spout makes it easier to empty, and it comes with a carrying case for easy transport to remote locations.
Unfortunately, a big problem with the SereneLife SLCATL320 is that the pouring spout that is supposed to make it easy to clean, actually impedes any attempts to do so. The mechanism creates areas that trap solid waste and prevent you from reaching it.
Pros
3-gallon capacity
Tank level indicator
Includes carrying case
Splash resistant pouring spout
2-gallon Freshwater reserve
Piston flush
High-density polyethylene
---
6.

Cleanwaste D119PET Portable Toilet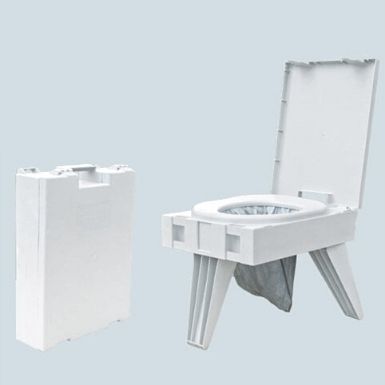 The Cleanwaste D119PET Portable Toilet features a very simple design that resembles a briefcase when folded. It's extremely durable and can support up to 500 pounds, which is more than any other model on our list so far. It's easy to set up, and cleaning only requires tying a bag. The seat is comfortable and doesn't feel flimsy.
The downside to the Cleanwaste D119PET Portable Toilet is that it is very short, and taller people might have a challenging time getting on and off. It's also hard to disassemble because the plastic tabs that remove the legs are hard to press.
Pros
Built-in carry handle
Supports up to 500 pounds
Simple design
Easy set-up
comfortable
Cons
Short
Tabs to engage legs are hard to push
---
7.

STANSPORT 273-100 Portable Camp Toilet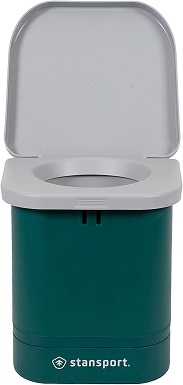 The STANSPORT 273-100 Portable Camp Toilet is a compact portable toilet that features a full-size seat. Built-in handles make it easy to transport, and it's lightweight, weighing only 9.2 pounds when empty. It will support up to 350 pounds and comes with one sanitary bag.
The downside to the STANSPORT 273-100 Portable Camp Toilet is that it's very small. Both the bowl and waste container are uncomfortably small to use. The bags are single use, so you will need to change it each time, and it sits low to the ground and difficult to get up and down from.
Pros
Full-size seat
Built-in handles
Supports up to 350 pounds
Includes one sanitary bag
2 pounds
Cons
Small
Single use
Low to the ground
---
8.

Basicwise QI003241 Portable Travel Toilet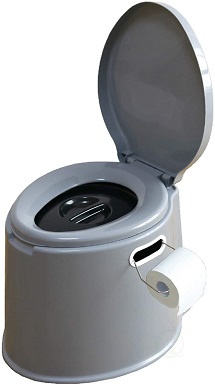 The Basicwise QI003241 Portable Travel Toilet is a travel toilet that uses 8-gallon bags to capture waste for disposal at the end of the trip. The bags pull closed for easy, no-mess cleanup, and the removable cover seals in odors when not in use. It has a convenient integrated toilet paper holder, and it includes a nylon travel bag that makes it easy to transport to your campsite.
The Basicwise QI003241 is a nice toilet, but it's not very stable if the person using it is above about 220 pounds as most of the people on our camping trips are. It is suitable for children, though, and if you are under 200 pounds, it's rather nice.
Pros
Includes travel bag
Integrated toilet paper holder
No mess cleanup
Removable cover
---
9.

Zimmer ZI-CT101 Portable Toilet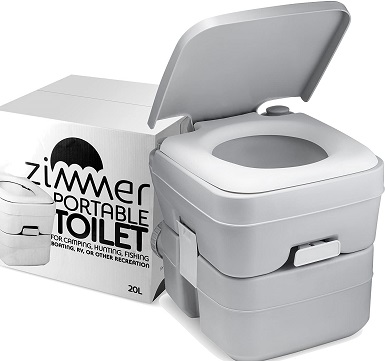 The Zimmer ZI-CT101 Portable Toilet features a large 5-gallon waste tank along with a 3-gallon fresh water holding tank for flushing. It uses a bellows pump to spray the freshwater, and users typically get 50 to 70 flushes before you need to refill the tank. A slide valve slides open when you are using the toilet but slides shut to seal in odors. It features a two-piece design so you can remove the seat from the tank for easy dumping and cleaning and uses side clamps to attach the seat. The high-density polyethylene frame is durable and can hold up to 330 pounds but remains lightweight at under ten pounds. Easy on and off caps make it easy to refill and empty at the end of your trip.
The bad thing about Zimmer ZI-CT101 Portable Toilet is that it tends to leak around the pump at the toilet's bottom. This leak gets worse as you use it. This leak is only water, but you will need to be careful where you place it. We also found that the slide valve will occasionally pull out waste fluid, splashing, and getting outside the toilet, especially after several uses.  The slide valve is a much bigger problem than the leaky pump and can only be remedied by emptying and cleaning it. The pump handle and other components use a flimsy feeling plastic.
Pros
3-gallon freshwater holding tank
Slide valve prevents odors and leaks
High-density polyethylene
Two-piece design
75 pounds
Liftable toilet seat
Easy on and off caps
330-pound weight limit
Cons
Leaky
Flimsy lid
Flimsy hardware
---
10.

Giantex Portable Travel Toilet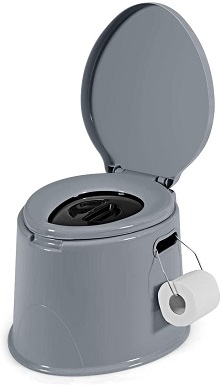 The Giantex Portable Travel Toilet is the final camping toilet on our list to review for you. This model features a simple design and has an inner bucket with easy to grip handle for easy emptying. The entire toilet is also easy to carry, and it also features an inner and outer lid to reduce odors and minimize the risk of spills. It has a detachable toilet paper holder that you can attach to either side, depending on what's more convenient for you.
We feel the Giantex is a bit expensive, and many similar designs cost less. It's also a little flimsy and won't hold a heavier person. Anyone over 200 pounds will need to be careful not to twist, or it can crumple, and it doesn't have much capacity, so you will need to change it often. Despite the double lids, we found it does little to control odors, so you will need to place it at a considerable distance from the campsite.
Pros
Detachable toilet paper holder
Easy to carry
Removable inner bucket
Inner bucket handle
Inner and outer lids
Cons
Low capacity
Not sturdy
Not much odor control
Expensive
---
Buyer's Guide – Picking the Best Portable Camping Toilet
Here are some things to consider before choosing the best camping toilet for you.
Capacity
One of the first things you are likely going to look for when choosing your camping toilet is capacity. A larger capacity means you won't have to empty it as frequently, but it will also be much heavier to dump when the time comes. Most of the tanks on our list of reviews have 3 to 5-gallon tanks, and we think that is a good size to guarantee enough space and recommend emptying it much sooner when convenient to avoid weight issues.
Some people prefer to empty it after each use to dispose of the waste quickly. We have a few models that allow for that on our list.
Odor Control
Odor control is going to be extremely important if you want to keep your toilet close. You'll want to look for a brand that takes steps to control odor. Most of the brands on our list do a good job of keeping the smell out of your tent with tightly sealed lids. It may also use a slide valve to help control odor.
Slide Valve
The slide valve is a plate that sits at the bottom of the bowl and blocks the odors inside the waste tank. After use, you open the valve by pulling out a lever in front to allow the material to fall inside. You then return the sliding valve to the closed position to trap odor inside.
Chemicals
There are chemicals you can purchase, which helps to reduce odors. These chemicals work by solidifying the liquids into a gel-like substance that slows the growth of odor-causing bacteria and helps prevent leaks and spills. These chemicals often add a pleasant-smelling fragrance to your camping toilet, which can make for a more pleasurable experience.
DIY Solutions
There are also several DIY additives you can use to reduce moisture and odor in your camping toilet. It's a great idea to sprinkle some cat litter into the toilet after each use. The litter will cover the waste and help reduce odor as it does for cats. Another choice that might be a little harder to find but is much cheaper is sawdust. Sawdust also works very well to cover the waste and prevent odor from getting out, and it's easy to find cheap at the local lumber yard. A few pounds should be more than enough for a camping trip. You can also use wood pellets, peat moss, and even shredded paper.
Flushing
The flushing system on a camping toilet is not like the one you have at home. The flush is more of a spray down that helps remove solids from the drain. Many campers recommend spraying the surface down before using it to help make the process work better.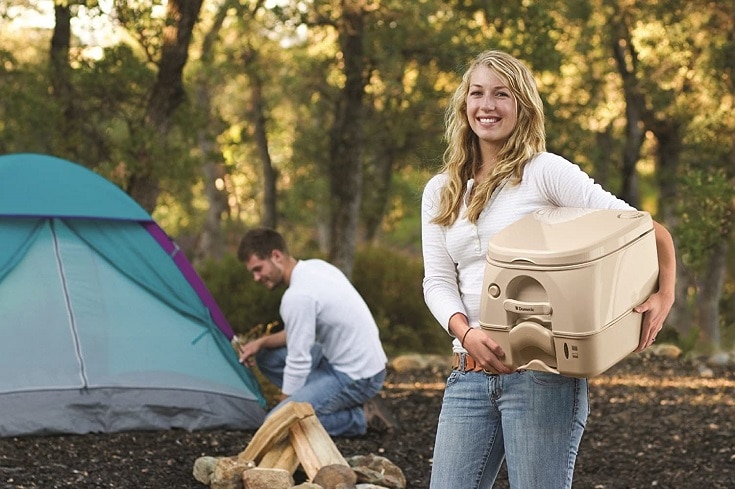 Fresh Water Reservoir
To have a flushing toilet, it will require a reservoir of freshwater to use for the process. This tank is usually built-into the seat and is a separate compartment from the waste tank. On many models, including those on our list, the two tanks come apart to allow easy dumping of the waste without spilling the reservoir. Side clamps lock the two compartments together, so they don't come apart accidentally.
Weight
The weight of your portable camping toilet is crucial because you need to transport it to your camping location. If it's too heavy to manage, it will not be very useful, so it's important to consider how much weight you can carry before choosing a model. Some models come with carrying cases that can help improve portability, and we tried to point out any of those models in our reviews. We feel it's best to remain under 15 pounds when possible, as this seems to be a good weight that's not too hard to maneuver for most people.
Clean Up
Cleanup is another big thing to consider before you purchase a portable camping toilet. Flushing toilets do not use a bag, so you will need to empty and hose out the waste compartment when you're finished camping. Models that use a bag are easier to clean up but often do little to control odors and are less pleasant to use. However, many bag models allow you to remove the inner bucket, which exposes the ground to dig a hole instead, which might be the best option for some people. It requires a little more set-up but nearly eliminates cleanup, and there's no spills, leaks, or accidents to mess up your trip.
Maximum Weight Capacity
One additional thing to consider before you purchase a portable camping toilet is its maximum weight capacity. Many of these portable units tend to top out at around 200 pounds, and if you weigh more than that, it can be challenging to find a suitable model. Even some brands that claimed to have a weight capacity of 300 pounds had difficulty supporting my 230-pound frame. The last thing anyone wants is to have a portable toilet collapse under them. We recommend trying the model out first, if possible, or looking up the reviews online. We tried to post any models that had a low maximum weight capacity in our reviews.
---
In Conclusion
Many of the camping toilets on our list are high quality, but the Camco 41541 Portable Travel Toilet takes the cake with its large capacity of 5.3-gallons, sealing slide valve, and 2.5-gallon flush tank. It only weighs a little over 11 pounds, and ours has lasted through many trips without incident. Another great choice is the Reliance Products 9844-21 Hassock Portable Toilet, our value pick for the best camping toilet. This model features an inner splash shield, contoured seat, and paper holder, all at a budget rate, and the five-gallon capacity proves it doesn't skimp where it matters.
We hope you have enjoyed reading over our reviews and gain some new insight from our buyer's guide. If we have helped you find your next model, please share these ten best portable camping toilets on Facebook and Twitter.
---
Featured Image Credit: Vyaseleva Elena, Shutterstock