10 Best Rain Barrels of 2023 – Reviews, Top Picks & Guide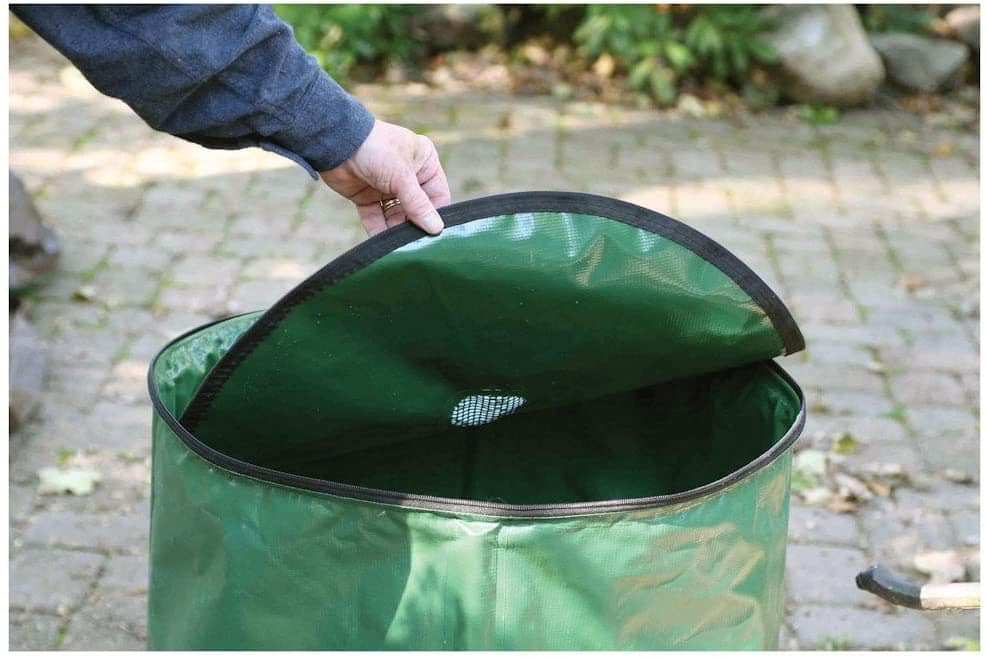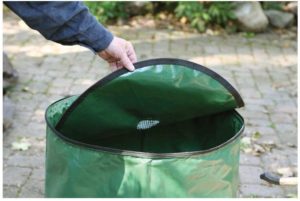 What if the best thing for your garden was a tool you never really considered? Rain barrels are a great way to help your garden achieve its full potential. But that potential can also be limited by the barrel you choose. The best barrels promote growth while the worst barrels may spell "doom" for your garden.
How can you pick the best rain barrel from the worst ones? We put together reviews of the best rain barrels on the market. Between these reviews and our buyer's guide, you'll get all the info you need to make the best possible choice!

A Quick Comparison of Our Favorites
Rating
Image
Product
Details

Best Overall

RTS Rain Barrel

50 gallons
Attaches to other barrels
Aluminum screen
CHECK PRICE

Best Value

Goplus Portable Rain Barrel

Great price
Large capacity
Protection from contaminants
CHECK PRICE

Premium Choice

Gardener's Supply Company Rain Barrel

Durable
Hard to tip over
Convenient spigot
CHECK PRICE

Good Ideas RW50-OAK Rain Wizard Rain Barrel

Faux wood design
Brass overflow spigot
Durable
CHECK PRICE

Algreen Products Cascata Rain Barrel

Looks great
Brass spigot
Large capacity
CHECK PRICE
The 10 Best Rain Barrels – Reviews 2023
1.

RTS Rain Barrel – Best Overall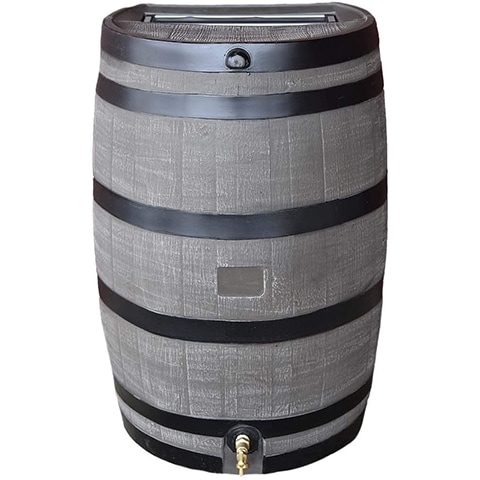 Chances are you'd rather be back in your garden than reading all these reviews. If you want us to get right to it, here's our main recommendation: the RTS Rain Barrel is our "best overall" pick.
It's made of authentic oak, so this 50-gallon barrel looks and feels incredible. And it's easy to attach to other barrels from the same manufacturer. A sturdy aluminum screen helps protect the rain you have collected and an automatic brass spigot takes care of things if there is an overflow.
In fact, that spigot is the only real drawback to this rain barrel. It can come loose very easily under pressure, so you'll need to keep a close eye on it.
Pros
50 gallons
Attaches to other barrels
Aluminum screen
Overflow protection
---
2.

Goplus Portable Rain Barrel – Best Value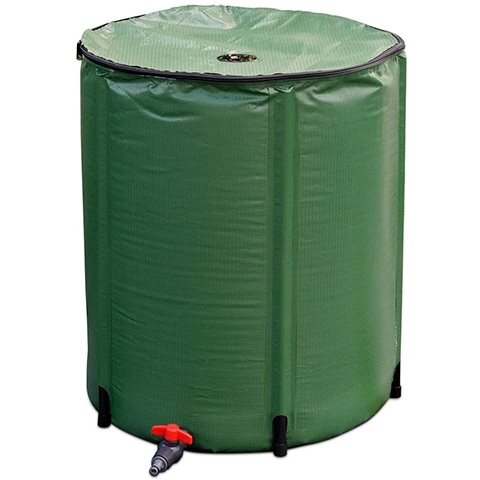 Maintaining a garden can be expensive work. You may be shopping for a rain barrel on a small budget. And if you're scoping out the best rain barrels for the money, you can end your search with the Goplus Portable Rain Barrel.
In addition to the solid price, this barrel provides a 55-gallon capacity. And the mesh filter up at the top protects your water from various contaminants. And the overall design is very easy to break down and store during the winter without taking up much space.
Why is this our best value choice, then, and not our best overall choice? It's not very durable and it has no overflow protection. While it's great for the money, there are better choices out there.
Pros
Great price
Large capacity
Protection from contaminants
Cons
Not durable
No overflow protection
---
3.

Gardener's Supply Company Rain Barrel – Premium Choice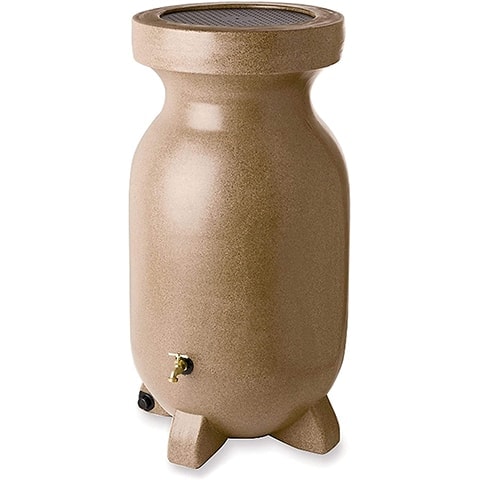 Sometimes, you might have a little extra fun money to go towards your garden. In that case, you may be wondering what the best rain barrel that money can buy is. In our opinion, your best premium choice is the Gardener's Supply Company Rain Barrel.
We loved the slick and unobtrusive design of the whole thing, and the 75-gallon capacity is huge! And it's basically impossible to tip this durable barrel over, making it both kid-friendly and beginner-friendly. The pre-threaded spigot will work with most hoses, and the solid filter at the top helps protect your water.
What are the drawbacks? Aside from the high price tag, the biggest drawback is that you may have difficulty purchasing replacement parts over time.
Pros
Durable
Hard to tip over
Convenient spigot
Solid filter
Cons
Expensive
Hard to replace parts
---
4.

Good Ideas RW50-OAK Rain Wizard Rain Barrel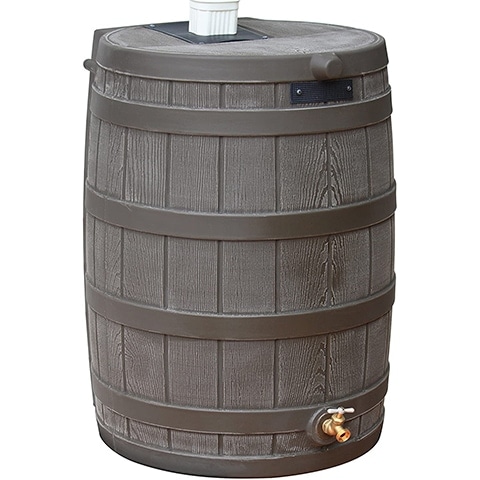 The Good Ideas RW50-OAK Rain Wizard Rain Barrel didn't land in our top three picks. Nevertheless, this 50-gallon faux wooden barrel has a wizardly performance that falls just shy of being magical.
We love how much this plastic barrel looks like a traditional wooden design. And it has the convenient brass overflow spigot that we like to see on these barrels. Finally, the plastic design will withstand all of the elements and last a good, long time.
What's not to like about this barrel? The valve hose quality is relatively poor, and some users report that it springs leaks way too easily for their comfort.
Pros
Faux wood design
Brass overflow spigot
Durable
Cons
Poor valve hose quality
Springs leaks easily
---
5.

Algreen Products Cascata Rain Barrel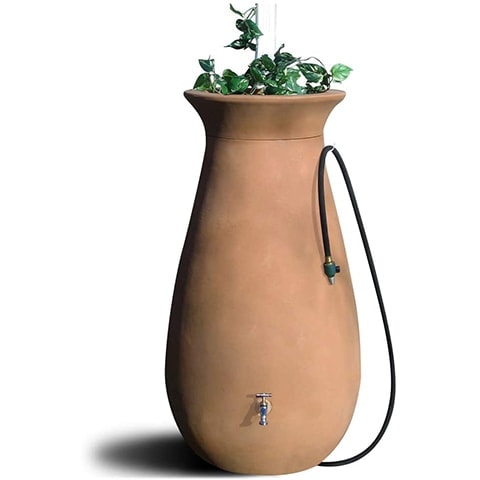 The Algreen Products Cascata Rain Barrel is one of the classiest-looking barrels you can add to your garden. But is this barrel more than just a pretty face? Yes!
It is made to look like a clay pot, so this barrel can easily blend into almost any garden. You can also grow plants on top of the barrel. And with its brass spigot and 65-gallon capacity, you can rest assured you are getting a lot of functionality.
And that brings us to the only real downside: the price. This barrel is expensive, and you must determine whether the aesthetics and extra features are worth the extra cost.
Pros
Looks great
Brass spigot
Large capacity
Durable
---
6.

FCMP Outdoor Rain Barrel
As far as rain barrel products go, the FCMP Outdoor Rain Barrel is very much a "midrange" choice. And that is appropriate for a product that is mostly good but rarely great.
We liked the oversized opening that helps it collect rainwater that much more easily. And the mesh screen does a good job of protecting the collected water. Finally, the flat back construction makes it easy to install.
Aside from the rather paltry 45-gallon capacity, the main issue with this particular barrel is the questionable overflow protection. It's up to you to figure out how much of a headache dealing with overflow issues in your area will become!
Pros
Oversized opening
Mesh screen
Flat back construction
---
7.

Enviro World EWC-10 FreeGarden Rain Barrel

The Enviro World EWC-10 FreeGarden Rain Barrel comes in as we near the end of our list. And while it has some mild drawbacks, we found this to be a surprisingly great value pick.
First of all, this barrel has a great price. And you still get some awesome features, including convenient flat back construction. You also get the full functionality of a 50-gallon barrel and the protection of an overflow spigot.
Unfortunately, the spigot isn't attached very well. And while most of the barrel is durable, this is likely to be the first thing to go, which can get annoying very quickly.
Pros
Great price
Flat back construction
Overflow protection
---
8.

Suncast 50 Gallon Rain Barrel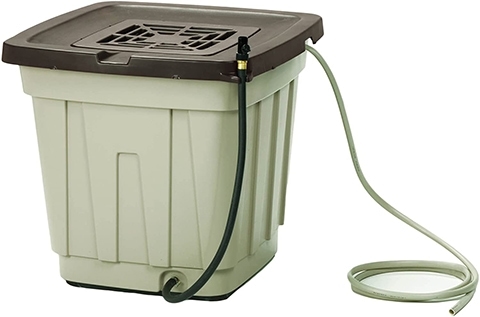 The Suncast 50 Gallon Rain Barrel has a unique construction compared to other barrels. Unfortunately, this barrel ultimately stands out in all the wrong ways.
We liked the resin construction that made the whole thing more durable. And the filter screen keeps your water safe. But this is where the good qualities for this barrel come to an end.
While there is a hose for overflow protection, it actually drains very slowly. And some users report the barrel is flimsier than expected. Finally, the whole thing is simply overpriced. You're better off taking your money and buying almost any other barrel on this list!
Pros
Unique construction
Good filter screen
Cons
Slow draining
Some say it's 'flimsy'
Not a great value
---
9.

Etna 50-Gallon Portable Rain Barrel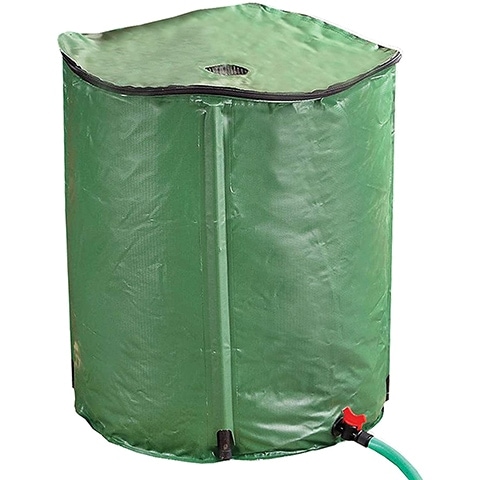 The Etna 50-Gallon Portable Rain Barrel looks more like a sleeping bag than a reliable rain barrel. Sadly, a real sleeping bag might just do a better job!
The PVC tarpaulin construction will help this thing survive the elements, and it's relatively easy to break down and store. Beyond that, though, there are quite a few headaches to consider.
Users report serious communications issues with the seller. And the barrel is surprisingly difficult to assemble. Finally, it leaks very easily, which defeats the whole purpose of using a rain barrel! While this isn't an expensive option, you can still get better performance for your money.
Cons
Poor communication with seller
Tough to assemble
Leaks easily
---
10.

Upcycle Black Rain Barrel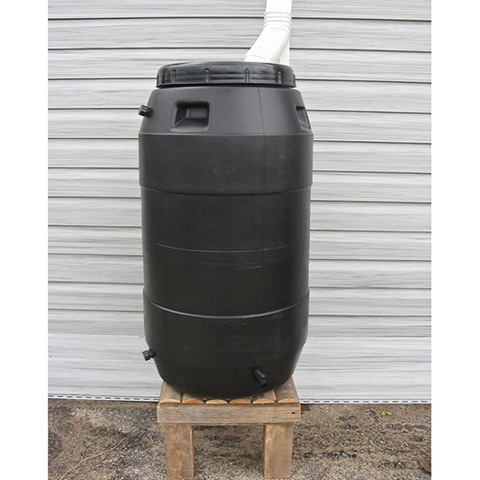 The Upcycle Black Rain Barrel may look like exactly what your garden needs. But take it from us: you'll want to avoid this barrel at all costs.
There are some good qualities to it, including the 55-gallon capacity and the fact that it's made from recycled materials. That makes it environmentally-friendly, but it's not exactly garden-friendly.
It has major overflow problems which should be a big dealbreaker if you get a lot of rain. And the poor quality of the fixtures will give you instant buyer's remorse. Finally, the plastic spigot won't last long at all. Just save some money now by buying a better barrel to begin with!

Buyer's Guide
Have you got a good rain barrel picked out yet? We're hoping that our reviews helped you discover exactly what you're looking for. But you may still have some burning questions that need answering.
That's why we put together this buyer's guide. We're here to answer any and all of your remaining questions while filling you in on everything the world of rain barrels has to offer.
By the time you complete this guide, you'll know which rain barrel that you need for your own home. At that point, all you have to do is set the barrel up, sit back, and watch it work its magic!
Without further ado, here is our rain barrel buyer's guide.
Safety First
Have you ever used a rain barrel before? If the answer is "no," you may not realize how dangerous these things can be. That's why it is so important for you to consider the safety features that a prospective rain barrel does (or doesn't) have.
The biggest example of this is protections against tipping over. Some barrels come with these protections that reduce the chance the barrel will fall over. Preventing this helps protect you while you work outside and can also protect your garden and your pets.
If you have a lot of experience using rain barrels, these safety features aren't as important. But if this is your first time using one, we recommend getting a barrel with protections against tipping over.
Overflow Protection
When you're collecting rainwater, there is such a thing as "too much." If your barrel ends up overflowing, it can cause damage to your barrel and to your garden alike. That's why overflow protection is so important.
Most rain barrels come with some kind of overflow valve. The purpose of this valve is to safely release excess water before it builds up too much and becomes a problem.
Long story short? If your barrel doesn't have appropriate overflow protection, you might as well not have a barrel at all. Be sure to take the time and find a rain barrel that has this important feature.
The Importance of the Filter
It's one thing to collect and contain rainwater. But have you thought about how to protect that water from contamination?
When the water is gathered in your barrel, it is relatively easy for leaves, debris, insects, and other contaminants to make their way into the water. This can impact the safety of the water and possibly render it unusable for your garden.
That is why the filter is so important. A good rain barrel has a filter such as a mesh screen to protect the water from these assorted contaminants. Not only does this keep your water clean, but it can ultimately protect your barrel from contaminant damage, making your purchase that much more durable.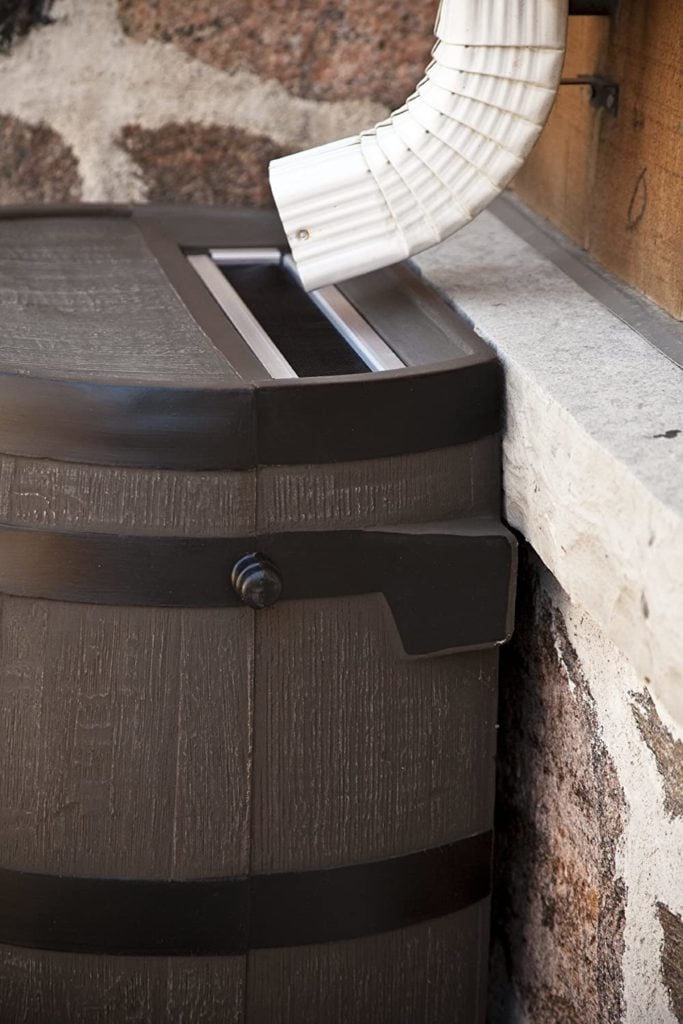 The Power to Expand
Before you buy a rain barrel, chances are that you have an idea of how much water you need to store at once. But ask yourself: what if you buy the rain barrel and soon discover you need to store more water?
Nothing keeps you from buying a second barrel, of course. But doubling the number of barrels can also double how much work you put into everything.
The solution is simple: you can effectively plan for the future by getting an expandable barrel. In this case, "expandable" simply means that you can purchase an additional barrel and attach the original barrel to it. This lets you get the functionality of multiple barrels without adding much to your workload.
Barrel Volume
Before buying a rain barrel, you might be thinking that "bigger is better." After all, a barrel with more volume can always contain more water than a barrel with very little volume. But there are some other factors you need to consider.
For example, larger barrels are going to cost more than smaller barrels. They will also be harder to store when you're not using them. And if you have a relatively small garden, then a giant rain barrel may stick out like a sore thumb.
While some homeowners will seriously benefit from a large rain barrel, most homeowners will be fine with a medium-sized barrel. Such a barrel is easier to use and easier to store, and all without seriously breaking the bank.
Overall Durability
"Durability" is one of the most important factors for all of your tools. But it is arguably more important with rain barrels than other tools. That's because these barrels spend all of their operational hours outside and are constantly fighting against the elements.
As usual, the material the barrel is made from can seriously impact its durability. A wooden barrel provides a very "classic" look and lets you buy a barrel made from recycled materials. At the same time, anything made from wood is going to warp, crack, and splinter over time.
If durability is your primary concern, we recommend going with a material such as plastic resin. And if you're mostly worried about the aesthetics of your purchase (more on this in a moment), it's possible to buy a barrel in some kind of "faux wood" material. This gives you the look of a classic barrel while providing the durability that you want.
Barrel Aesthetic
As handymen, we don't always care that much about what our tools look like. But you should make an exception when it comes to rain barrels.
Why? Simply put, this is a large item that will rest in your garden or other outdoor space. As functional as rain barrels are, putting one in your garden is like adding a giant decoration that everyone will see.
Because of that, it's important to get a barrel that looks good. For this reason, some homeowners choose barrels made of wood or a "faux wood" material because the "natural" look really blends in. Alternatively, you can choose a barrel that matches the aesthetic of your paving stones or other garden decorations.
For a bit more money, you can buy rain barrels made to look like other objects besides a barrel. But you may not want to spend too much for such a feature. After all, chances are that you're buying a rain barrel to ultimately save money rather than lose it.
And you're the only person who can determine how much extra you want to spend on a barrel simply because it looks good.
Warranty
Eventually, you'll need to replace your rain barrel. It sits out in the elements each day, and eventually even the best barrels get damaged past the point of no return.
It's acceptable when a barrel gives up the ghost after a few years. But what if it dies after a few months or even just a few weeks? That's why you should focus on rain barrels that offer some kind of warranty.
Exact warranty plans differ from barrel to barrel, but you'll want to pay attention to the length. A longer warranty is always better because your purchase is protected for that much longer.
On top of that, longer warranties are usually the mark of a trustworthy company. They can afford to offer long warranties because they are confident their rain barrels will last even longer. And this is one purchase where you definitely want it to last as long as possible!
The Right Price
In our reviews, we touched on different rain barrels at different price points. But we never answered the question: is there a magic "right price" for a good rain barrel?
The answer? No, not really. You can usually get a reliable barrel for $100 or less. But you can easily spend more than that on a barrel with many "bells and whistles." And you can easily spend less than that for something that is much more basic.
If you ask us, this is one product that is worth budgeting a little extra money for. Due to the exposure to the elements, cheaper barrels aren't likely to last that long. By spending a little more money upfront, you are likelier to get the kind of rain barrel that can really go the distance.

Conclusion
We've got our fingers crossed that our reviews and our buyer's guide will help you find the best possible rain barrel. But what if you're still on the fence? We may be able to help you out by answering one final question: which rain barrels were the very best in our reviews?
If you simply want our best overall pick, then that honor goes to the RTS Rain Barrel. It provides solid and intuitive performance and may completely change how you approach the topic of gardening.
If you're shopping on a budget, though, then we recommend the Goplus Portable Rain Barrel. It helps you save money while delivering a performance that is heads and shoulders better than its other "budget buy" competition.
Of course, what works best for us may not necessarily work best for you. Every handyman and every garden are different, but there is a perfect rain barrel out there for every buyer and their needs.
The good news is that you don't have to make that decision on your own. Thanks to our reviews and buyer's guide, you have all of the info that you need to make the best buying decision.
Now all you have to do is sit back and let the water collect!