5 Best Safety Glasses for Construction & Woodworking 2022
Construction work consists of many different jobs. No matter what position you hold, you want to make sure that you have the proper protection for your eyes, and finding the right pair of safety glasses can be a daunting job. We have reviewed many different safety glasses and compiled a list of our five favorites for you to look at. We want you to get the best feel that you can for each one, so we will give you some pros and cons of each.
A Quick Comparison (updated in 2022):
Rating
Image
Product
Details

Best Overall

DEWALT Dominator

Rubber-tipped temples and nose piece
Full frame
Large lenses
CHECK PRICE

NoCry Safety Glasses

Polycarbonate wraparound construction
Adjustable side and nose pieces
Fog- and glare-resistant
CHECK PRICE

Best Value

JORESTECH 12 Pack

Polycarbonate lenses
Flexible frame
UV protection
CHECK PRICE

ToolFreak Spoggles

Polycarbonate
Combination of protective glasses and goggles
CHECK PRICE

Carhartt Carbondale

Two-pack
Flexible rubber temples and nosepiece
CHECK PRICE
The 5 Best Safety Glasses:
1.

DEWALT Dominator Safety Glasses – Best Overall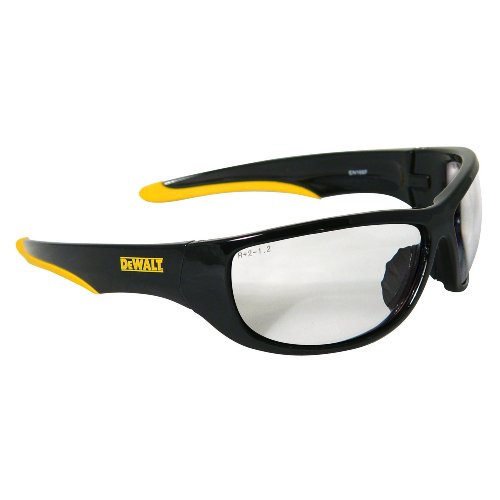 We have voted the DEWALT DPG94-1C Dominator SAFETY Glasses as the best safety glasses for woodworking because they offer excellent protection and are comfortable to wear. They have a full-frame, which gives you some protection from the sides, and larger lenses to provide you with better frontal protection. When worn outdoors, these glasses will protect your eyes from 99.9% of UV rays. The only downside is that they tend to fog up easily. We have included a couple of tips to help with that in the buyer's guide section of this review.
Another reason we love these safety glasses is that they are comfortable to wear. They have rubber tips on the temples and the nose piece. The rubber helps reduce any tension on both your ears and the bridge of your nose. These glasses are a little smaller than many of their competitors. They're great for people with smaller or narrower heads, but if your head is on the large side, you may want to look at a different pair.
Pros
Rubber-tipped temples and nose piece
Full frame
Large lenses
9% UV protection
---
2.

NoCry Safety Glasses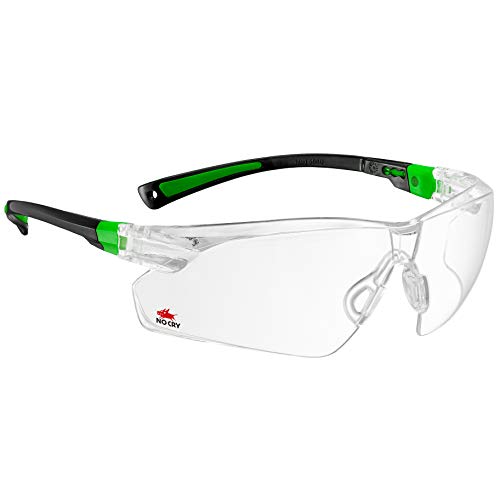 The NoCry Safety Glasses 506UG are made from polycarbonate material that wraps around the sides to give some peripheral safeguard, as well as direct frontal protection. The polycarbonate material will not break, so even if you don't have the quickest reaction time, you won't have to worry about glass shattering and getting tiny shards in your eye.
The sides and the nose piece are adjustable to get the right fit for your face. We have found that they don't adjust enough to fit many women or anyone with a smaller head. If you have a little head, we would recommend our number one DEWALT pick for you.
These particular glasses have a special coating to help them resist fog and glare. This coating works pretty well, but you can only clean them with microfiber. Any other type of material, such as your t-shirt, will wipe the coated layer off and they will no longer be resistant.
NoCry also advertises that these glasses are scratch-resistant. We have found them to scratch quite easily, though. They don't come with a protective carrying case, so we recommend getting one if you will be carrying these around in your toolbox.
Pros
Polycarbonate wraparound construction
Adjustable side and nose pieces
Fog- and glare-resistant
Cons
Can only use microfiber to clean
Scratch easily
Too big for small heads
---
3.

JORESTECH Safety Glasses (12 Pack) – Best Value
We have found the JORESTECH Eyewear Safety Glasses to be the best safety glasses for the money. They have a standard-sized, flexible frame with polycarbonate lenses to protect your eyes from flying debris and UV rays. They do seem to have some sort of coating on them, though, that makes the vision appear cloudy. Even though they are advertised as being scratch-resistant, it doesn't take much to scratch them. They also fog up extremely easily, all of which make seeing clearly difficult.
They come in a pack of 12, so they are great if you need multiple pairs or just want some extras around in case the ones you're wearing get damaged. This is a good thing. Since they are such an inexpensive product, the quality isn't anywhere near that of the DEWALT or NoCry glasses. You may find that some of them come out of the bag with defects.
Pros
Polycarbonate lenses
Flexible frame
UV protection
12-pack
Cons
Cloudy
Scratch easily
Fog up badly
A lot of defects
---
4.

ToolFreak Spoggles Safety Glasses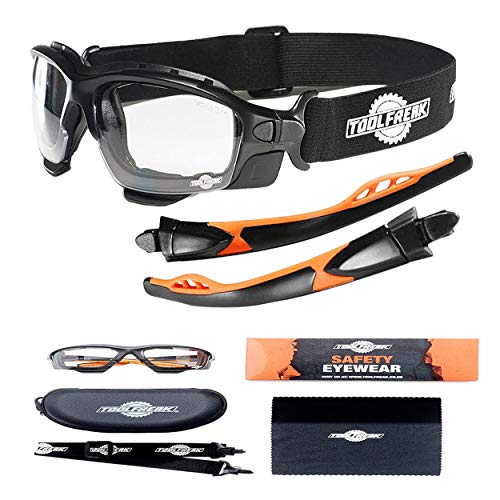 The ToolFreak Spoggles combine the best features of regular safety glasses and goggles. They're made out of polycarbonate material, so they won't break, but they do fog and scratch very easily. Though they're made of good material, the quality of the product overall is inferior to other safety goggles. These spoggles are rather heavy and bulky to wear, and they don't seal around your face very well.
Pros
Polycarbonate
Combination of protective glasses and goggles
Cons
Fog and scratch easily
Don't seal around face
Poor quality
Heavy and bulky
---
5.

Carhartt Carbondale Safety Sunglasses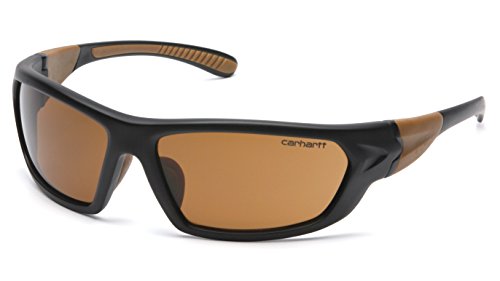 The Carhartt Carbondale Safety Sunglasses are decent safety glasses to have around, especially if you don't have any extra in your budget to afford a better pair. They have flexible dual-injected temples and nosepiece to give you the most comfortable fit possible. The frame on these glasses is small, though, and not made for those with large heads. They come in a pack of two so that you always have a spare pair for those "just in case" instances.
The lenses on the Carhartts are pretty soft and scratch easily. Once they're scratched, it's nearly impossible to buff any of those scratches out. There is also a lot of gap between these glasses and your face, which could allow larger objects to get closer to your eyes.
Pros
Two-pack
Flexible rubber temples and nosepiece
Cons
Soft lenses
Scratch easily
Small
A lot of gap
---
Buyer's Guide
Types of Safety Glasses:
1. Glasses:
These give low-impact protection but don't keep small particles from coming in the sides.
a. Clear lenses give standard protection
b. Amber lenses are great for low-light places because they remove blue light
c. Gray and brown are best for outdoor use. They protect against UV rays and sun glare
d. Sides can be plastic or metal
e. Side protection available
f. Some allow for prescription lenses
2. Goggles:
Goggles are best when you need protection from every direction for the entire eye.
a. Completely encase the eyes and area around them
b. Great for airborne dust and debris
c. Can fit over glasses
d. Clear lenses
e. Come with direct, indirect or no ventilation
f. May be flexible or stiff
3. Face Screens:
Face screens are best when you need protection for your entire face, not just your eyes. For example, if you're welding, you need all-around facial protection. They're intended to be used in conjunction with safety glasses or goggles.
a. Secondary protection
b. Protect against heat, chemicals, and the impact of flyaway materials
c. Come in different thicknesses
4. Visors:
Visors aren't really used too often in the construction industry, but we wanted you to know that they're available.
a. Protects from the front
b. Fits into headbands
c. Can be attached to a safety helmet
d. Clear or tinted lenses
Features To Look For In Your Safety Glasses:
1. UV Protection:
Some construction work is done outside. If you're one of those workers, it is essential to get safety glasses with excellent UV protection. Decent lenses will have at least 90% UV protection, but some have as much as 99.9% protection.
Most safety glasses only offer UVA protection, but some also protects against UVB and UVC. You just have to look a little harder to find them.
2. Comfort:
Safety glasses are worn for extended periods, so they need to be comfortable. Glasses with rubber temple and nose pieces will help cut down the strain on your ears and the bridge of your nose. They should also be lightweight and fit the size and shape of your face. If they're too heavy, you will get headaches. If they're too small, you won't get the protection you need.
3. Adjustability:
Some safety glasses can be adjusted to fit your head size. You can also find some that will tilt if you need to see at a different angle but can't quite get your head turned the way you need it. Some even offer lenses that are exchangeable for the different environments you may be in.
4. Peripheral Vision Coverage:
Your eyes don't just need protection from the front. You'll need side coverage for when you're working near others who may be working with potentially dangerous materials.
5. Impact Resistance:
Make sure that any safety glasses you purchase have polycarbonate lenses. Polycarbonate won't shatter like glass will. It can take massive hits, and you won't have to worry about getting glass shards in your eyes.
RELATED READS: How GPS tracking helps make a construction site safer
Tips to Stop Safety Glasses From Fogging Up:
1. Put bar soap or shaving cream on the lenses and then buff them.
This won't stop fogging completely, but it does slow the process down quite a bit.
2. Buy anti-fog wipes.
3. Find glasses or goggles with ventilation.
Conclusion
Now that we have given you a list of factors to take into account when you are shopping for your safety glasses, let's quickly go over our top five picks for this year.
1. DEWALT DPG94-1C Dominator SAFETY Glasses – Top Pick
2. NoCry Safety Glasses 506UG – The Runner-Up
3. JORESTECH Eyewear Safety Glasses (12 Pack) – Best for the Money
4. ToolFreak Spoggles Protective Eyewear – Clear Lens
5. Carhartt Carbondale Safety Sunglasses
Hopefully, we have given you enough information to provide you with a pretty good idea of what types of safety glasses are best for you. Now, you just have to go out and find the pair that fits you just right.
More work-related gear we've reviewed: